Former Amazon Mexico CEO suspected in wife's murder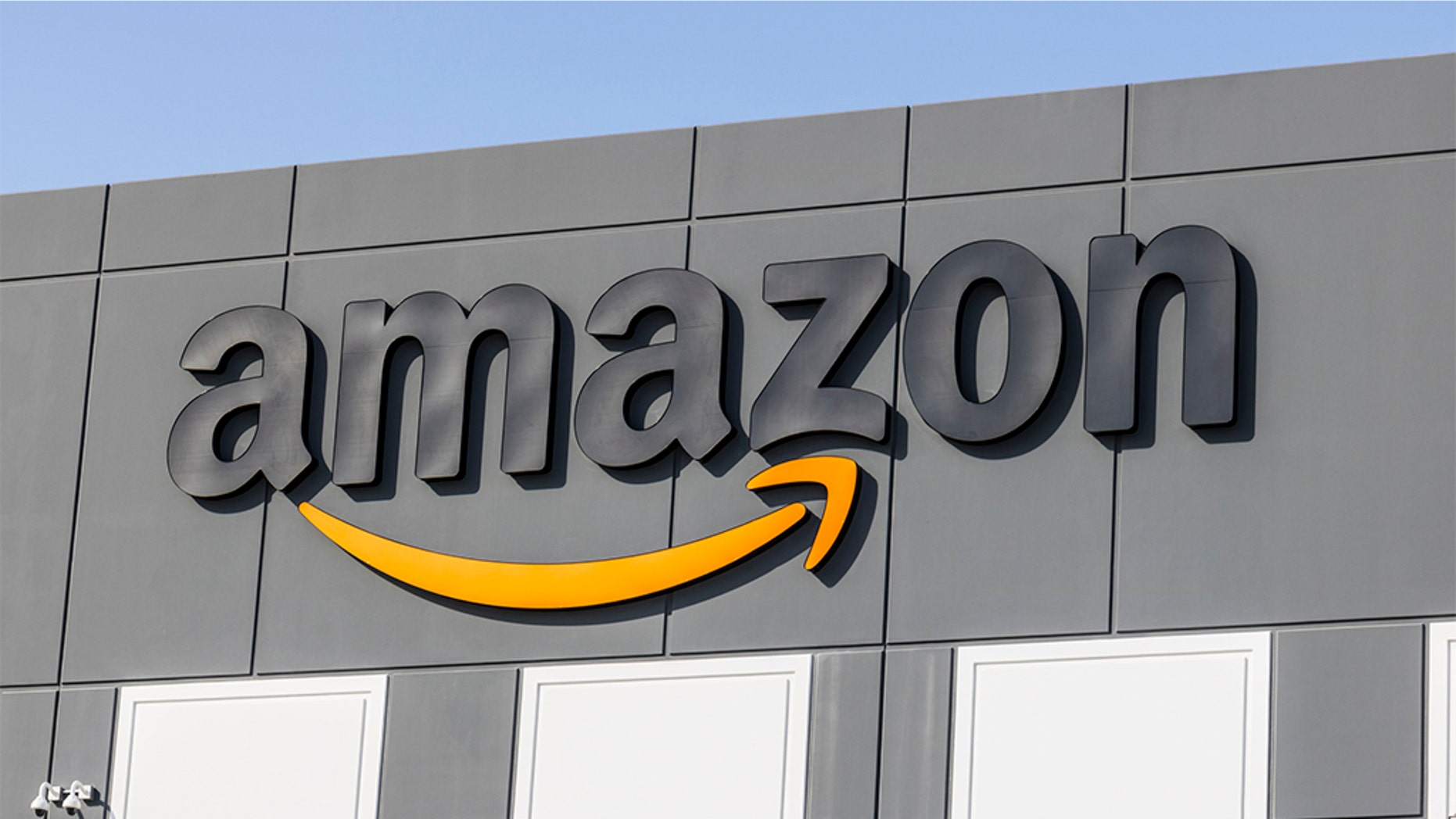 The former CEO of Amazon Mexico is suspected of arranging his wife's murder while engaged in a gritty divorce battle, according to the New York Post.
Juan Carlos García is wanted by the authorities for questioning after his estranged spouse Abril Pérez Sagaón was shot to death by a motorcyclist in front of the couple's two teenage children in Mexico City.
MEXICAN CARTELS POISONING US NATIONAL PARKS THROUGH HIDDEN POT GROWING OPERATIONS: REPORT
According to a report by El Pais, she was shot in the head and neck.
Perez, a mother of three, was in Mexico City for a court hearing regarding custody of their children and was headed to the airport before being ambushed in her car.
According to the BBC, Garcia was taken into custody this January after Perez, who had a restraining order against her husband, accused Garcia of attempted murder, saying he attacked her while she was asleep with a baseball bat.
Garcia was released last month after 10 months in pretrial detention and the judge downgraded the charge to domestic violence.
CLICK HERE TO GET THE FOX NEWS APP
Garcia, who left Amazon Mexico three years ago, is the main suspect although no charges have been filed.
Perez's family believes her husband arranged the assassination.
Read more: https://www.foxnews.com/media/former-amazon-mexico-ceo-suspected-in-wifes-murder
6 'probable' vaping-related lung injury cases linked to Massachusetts dispensaries
(CNN)A state investigation into vaping-related lung injury cases in Massachusetts has found that vape products used in six probable cases were purchased legally from dispensaries. All of the products contained THC or tetrahydrocannabinol, the primary psychoactive component of cannabis.
None of the confirmed cases in the investigation involved products purchased from dispensaries.
Details from this investigation into vape products were released on Thursday and included 49 vaping-related lung injury cases total, 16 of which were "confirmed" and 33 of which were "probable."
The Massachusetts Cannabis Control Commission said in an email Friday that it is reviewing the information and will use it for the commission's ongoing investigation into whether marijuana products manufactured by licensees in Massachusetts contain substances of concern.
"Public health and safety remain paramount to the Commission," the statement said. "The agency continues to test samples from licensed Medical Marijuana Treatment Centers and Marijuana Establishments to understand whether legal products contain vitamin E acetate or other contaminants of concern while its quarantine on marijuana vaping products, except medical-use flower vaporizers, remains in place."
There have been 2,291 cases of lung injury in the United States linked to vaping as of December 4, according to the
US Centers for Disease Control and Prevention
. Vaping-related lung injuries have been reported in all 50 states, the District of Columbia, Puerto Rico and the US Virgin Islands.
In tracking these cases, the CDC has decided to include only cases that resulted in hospitalization. As a result, CDC removed 175 non-hospitalized cases from its previously reported national case counts. The last report, released on November 21,
had recorded 2,290 cases
of lung injury linked to vaping.
The CDC on Thursday also reported 48 confirmed deaths in 25 states and the District of Columbia.
While it appears that vitamin E acetate, a thickener used in some vaping products, is linked to the lung injury cases, the agency said it can't rule out other chemicals.
"CDC recommends that people should not use THC-containing e-cigarette, or vaping, products, particularly from informal sources like friends, family, or in-person or online dealers,"
the agency said
. "In addition, people should not add any substances to e-cigarette or vaping products that are not intended by the manufacturer, including products purchased through retail establishments."
Read more: https://www.cnn.com/2019/12/06/health/vaping-marijuana-massachusetts-bn/index.html
Driver rushing to see girlfriend jailed over crash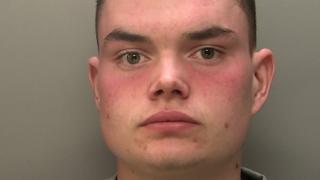 A driver who killed a pedestrian as he rushed to get home to pick up his girlfriend before going on a night out has been jailed.
Ben Jobling crashed while carrying out an illegal overtaking manoeuvre as he drove at 50mph in a 30mph street.
Martin Rogers, 31, was pronounced dead at the scene in Smannell Road in Andover, Hampshire, in February 2018.
Jobling, 20, was jailed for two-and-half-years after being found guilty of causing death by dangerous driving.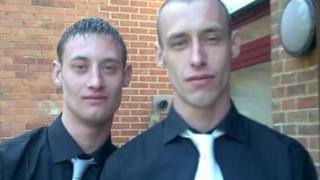 Mr Rogers was with friends when he was hit by Jobling's Vauxhall Corsa at 17:10 GMT on 25 February.
There was "no evidence of braking at all", prosecutors said during Jobling's trial at Winchester Crown Court.
During his journey he had overtaken "slow" vehicles, even doing so on a pedestrian crossing just moments before the crash.
Mr Rogers was probably "drowsy and disorientated" from a "cocktail of drugs" when he entered the road near Icknield Way, the jury was told.
'Moment of madness'
The court heard he had taken cannabis, cocaine, diazepam, methadone and morphine.
Jobling, of Romney Road in Andover, admitted speeding and illegally overtaking but claimed Mr Rogers ran into the road.
He pleaded guilty to causing death by careless driving, but was convicted of the more serious charge after a trial.
Jobling was also disqualified from driving for three years and three months when he was sentenced at Salisbury Crown Court earlier.
Sgt Mark Furse, from Hampshire Constabulary, said: "This was a death that could easily have been avoided. Being in a rush is absolutely no excuse to drive dangerously and at excessive speeds.
"One moment of madness has had a lifelong impact on two families, one of whom will never get to see their loved one again in the case of Mr Rogers' family."
Read more: https://www.bbc.co.uk/news/uk-england-hampshire-50643583
Lib Dems consider hung Parliament options
The Lib Dems' deputy leader says the party can stop Boris Johnson from winning the general election "and through that we can stop Brexit".
Sir Ed Davey told the BBC the most likely outcome on 12 December was a "minority Tory government".
He suggested the Lib Dems would support them, along with other parties, if they agreed to another EU referendum.
The party launched its election manifesto earlier with a pledge to stop Brexit which they say would save £50bn.
If the party wins the general election outright, it says it would revoke Article 50, halting Brexit and keeping the UK in the European Union.
If it does not win, it will continue campaigning for another EU referendum, or "People's Vote".
Sir Ed told the BBC's Andrew Neil Show the party wants to stop the Conservatives getting a majority at the election and then use whatever leverage they have to push for another referendum.
"The most likely result I think, looking at the figures, is probably a minority Tory government," said Sir Ed.
"If it's a minority Tory government, Boris Johnson says he wants to deliver Brexit… The only way he could do that is with a People's Vote and so we will challenge him and we will work with others to say 'if you want to do what you said, Mr Johnson… if you want to do what you said, work for a People's Vote."
He added: "We can stop Boris Johnson getting a majority and through that we can stop Brexit."


Sources inside the party concede now that after the withdrawal of the Brexit Party in Conservative seats, what might have been a wildly unpredictable four-way race, has moved to a scrappy national two-way – with the SNP separately dominant in Scotland, and the third smaller UK-wide party eagerly trying to nibble at the margins to get in.
With Labour yet to make any big breakthrough in the campaign, the Lib Dems claim they are the ones who can nab seats from the Conservatives.
So Lib Dem votes in marginal seats are the ones that could prevent Johnson from a clear run at five years in office.
The party's private hopes a few weeks ago of a massive increase in the number of seats has slipped a lot.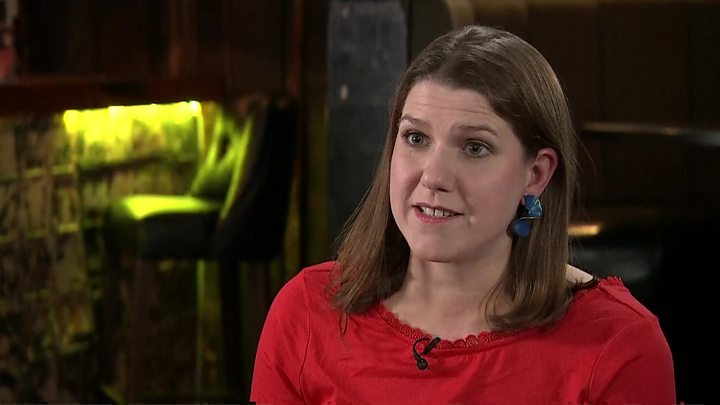 Lib Dem leader Jo Swinson has repeatedly insisted that she is aiming to be the prime minister of a Liberal Democrat government after 12 December's election – but she admitted in a BBC interview that it would be a "big step", given the current opinion polls.
'Government of national unity'
She told the BBC's political editor Laura Kuenssberg her MPs would not actively support a Labour or Tory programme of government as she believes neither Jeremy Corbyn nor Boris Johnson are fit to be prime minister.
But she did not rule out allowing either of them to take office – by abstaining in a vote on their first Queen's Speech – if they agreed to hold another EU referendum.
She also suggested there could be a "government of national unity" – made up of senior figures from different parties – if there was no overall winner at the polls.
"It's certainly something which I put forward and suggested a few months ago, it wasn't something which there was a majority for, ultimately, in the previous Parliament, but we don't know what the arithmetic of the next Parliament will look like.
"And I just don't think that we should be sort of trapped by convention into thinking our politics has to go down the tramlines that we've assumed it would in the past because this is a time of change in politics."
She said people needed to be "more imaginative about what happens" after an election, suggesting that there were MPs in other parties that the Lib Dems could work with.
'Remain bonus'
At her party's manifesto launch, Ms Swinson said the economic boost the UK would get from staying in the EU was at the heart of her plan to build a "brighter future for people".
The so-called £50bn "Remain bonus" would pay for 20,000 new teachers, extra cash for schools and support for the low-paid.
She said the UK "deserved better" than Boris Johnson or Jeremy Corbyn in Number 10.
The largest single spending commitment in the Lib Dems' 96-page manifesto, launched at an event in north London, is a major expansion of free childcare, to be paid for by an increase in corporation tax and changes to capital gains allowances on the sale of assets.
There are also eye-catching pledges to freeze the cost of many rail fares for five years, to legalise and tax cannabis sales to over-18s and to charge those taking frequent international flights more.
The Lib Dems are hoping to significantly boost their presence in Parliament on the back of their opposition to Brexit, as they target pro-Remain seats in the south of England and London held by the Conservatives and Labour.
Speaking at her manifesto launch, she accused Boris Johnson of "lying" when he said a Tory victory on 12 December would "get Brexit done".
What lay ahead instead, she said, were "years and years of endless trade negotiations" with the EU and "more time and energy wasted in getting something we know will not be as good as what we have now".
Read more: https://www.bbc.co.uk/news/election-2019-50497282