This startup is using geo-tagging and blockchain to fight deforestation in Africa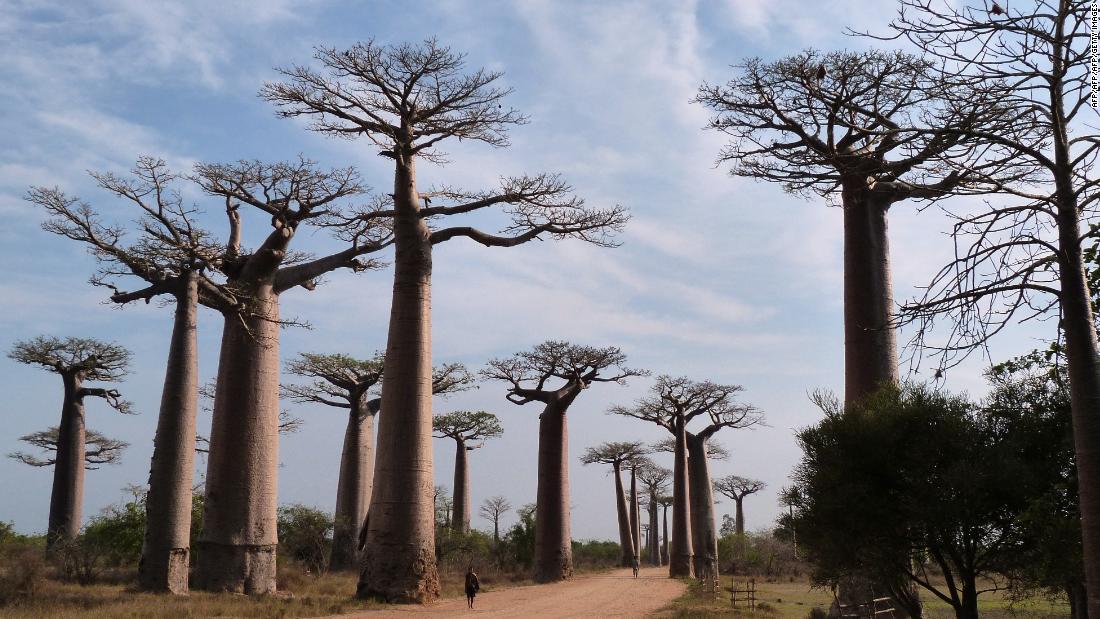 (CNN)Every year, about 15 billion trees are cut down globally, and across Africa, deforestation rates has surpassed the global annual average of 0.8 percent.
One reason for this is that people living in rural areas in Africa still depend on wood from felled trees for their cooking, according to the
Africa Energy Outlook 2019 report
.
'My Roots in Africa'
From any part of the world,
My Roots in Africa Project
, makes it possible for anyone to place a request to have a tree named, planted or gifted in honor of themselves or anyone they love.
"My Roots in Africa is…Uber for trees, connecting local communities impacted by pollution or deforestation, with global citizens looking to plant their roots in Africa," said Kamil Olufowobi, MIPAD's Founder and CEO.
"It presents an opportunity where Africa wins, the diaspora wins, and all of humanity wins. It supports the diaspora to reduce their barrier of entry to Africa.
The new initiative will be officially launched in February 2020 on the sidelines of the African Union Summit and aims to drive support for the
Great Green Wall
while also promoting climate action one of the United Nations' Sustainable Development Goals.
"For every new tree that is planted, we can name one that is existing after you. Many diasporans want to connect to Africa and there is a deep sentimental and emotional connection that this program brings which is 'now I have roots in Africa'," Olufowobi told CNN.
To further personalize the service, MIPAD partnered with
Decagon Institute
to deploy data science and artificial intelligence to identify and geo-tag trees planted using blockchain technology.
This will enable its subscribers to know the exact location of their allocated tree and be able to see it using satellite imagery including Google Maps. It also helps prevent allocating the same tree to more than one person.
Planting trees remotely
MIPAD says it is already working with city parks and forestry departments in every major African city to help people plant their tree remotely.
"We get the orders placed and the park and forestry departments are the ones who do the implementation. They are the owners of the trees, all we are doing is being the voice of Africa to the diaspora saying 'you can support Africa and in return, you can have your root planted," Olufowobi said.
MIPAD is banking on its history of connecting Africans to get them involved in the project.
Several African countries are also planting trees.
In July 2019, Ethiopia
planted 350 million trees in a day
, setting a new world record. The government has also joined more than 20 other African nations in pledging to restore 100 million hectares of land as part of the African Forest Landscape Restoration Initiative.
About five months after this feat, Nigeria's President Muhammadu Buhari announced that the continent's most populous country will plant a further 25 million trees as part of the
Great Green Wall
— an ambitious project aiming to plant trees spanning 8000 km and stretching the breadth of Africa from Senegal to Djibouti.
'Africa is our collective responsibility'
The continuity of long-term projects such as planting millions of trees and combating climate change is a major concern in several African democracies where incoming governments often disregard or abandon long-term projects by their predecessors.
Olumide Idowu, co-founder of the International Climate Change Development Initiative argued that afforestation projects will help Africa to tackle threats posed by climate change such as floods, droughts and heat stress and forests.
Idowu said developed countries can help preserve Africa's forests if they reduce the demand for tropical hardwoods considering that the timber export market is a big driver of deforestation.
To repair the damage that has been done already and to secure the future of the continent's forests, the MIPAD CEO said Africa needs help from around the world.
"All of humanity, we were Africans first before we were anything else."
Therefore, Africa is our collective responsibility. This is not restricted to people of African descent, this is open to all of humanity for you to support Africa and have your root planted right here on African soil," Olufowobi told CNN.
Read more: https://www.cnn.com/2019/12/24/africa/mipad-africa-tree-naming-intl/index.html
Overview and Market Trends of Crypto Games in 2021

The number of gamers worldwide is estimated at around 2.6 billion in 2020. The upward trend will add another 125 million by the end of 2021. About half of them hail from the Asia-Pacific region. The crypto gaming scene is representing an increasingly large portion of that number. Crypto games are still a relatively unknown term, at least to the general public, but in 2021 they are expected to explode due to various trends detected in this year. The potential is just too great to be ignored. Ability to reward players and let them trade for real money their in-game items is something a lot of games have tried – mostly unsuccessfully – to achieve in the past. Thanks to blockchain technology, that goal is possible now.
What Is Crypto Gaming?
Crypto games are a relatively new addition to the gaming world. The first games appeared just a few years ago. The main aspect of crypto games is collecting items that rise or fall in value and that can be sold at any time, provided you can find a buyer. One of the first popular crypto games was CryptoKitties. In the game, you can buy a cat and groom it. You can even buy two and breed new kittens. The price goes up and down and you can sell your cats or buy new ones. The most expensive cat ever sold on CryptoKitties reached an astonishing price of $117,000. It was to be expected that the first crypto games would be about cats, but they came in all shapes and flavors. You can collect heroes, monsters, fish, even hamsters. Considering the choice of genres, it is easy to find a game that suits your preferences.
Crypto and iGaming
The iGaming industry is one of the fastest-growing segments of gaming. It is expected to reach a value of 300 billion by 2025. It is no wonder then that a lot of crypto developers are pivoting to it, making their coins iGaming-friendly. 2021 will be huge in terms of using bitcoin for iGaming, judging by some indicators. There is even talk of creating digital coins exclusively for online gambling, although that is far-fetched at the moment. Already established coins, like Bitcoin, Tether, and Ethereum are functioning just fine and are being adopted by more and more online casinos. At this rate, there won't be an online gambling platform that doesn't accept them by the end of 2021.
The Trending Platform in 2021
Most crypto games available today are based on the Ethereum blockchain and we don't see that changing in 2021. Simply put, the Ethereum blockchain is an extremely convenient platform for this kind of apps. IT is readily available, easily modified, and has great tech support to bail out developers when they hit a snag. All these attributes make Ethereum perfect for crypto gaming since the majority of the studios developing games are independent. As such, they can't afford the muscle power large developers have at their disposal, and having friendly tech support and a platform that can be easily adapted to their needs is crucial. However, this too can change in the upcoming year, but more on that later.
The Developers
As we mentioned earlier, there is only a handful of big names in crypto gaming. Most developers are small indie companies and startups. For the last two or three years, they have been working diligently to create games and in 2021, they are poised to reap the benefits of their hard work. Some of the games, like My Crypto Heroes or Blockchain Cuties, already boast thousands of players and are ready to blow. This will allow their creators to emerge as the first crypto gaming powerhouses on the market. On the other hand, a lot of established studios are eyeing crypto gaming and making plans to join in the fray. They will bring to bear a massive amount of money, influence, and talent, which will affect the segment in a considerable way.
The Benefits of Crypto Gaming
Blockchain technology is on the verge of transforming the Internet. The benefits it offers are huge, but one thing that is slowing its implementation is that most people don't know enough about it. Crypto games can help with that. By presenting this newfangled technology in a familiar manner – and what is more familiar than gaming – crypto games will allow people to get acquainted with it. This familiarity will make the adoption of all other applications of blockchain that much easier. Even casual gamers, who spend just a few hours weekly playing crypto games will be familiar enough with it that blockchain won't sound so alien to them. Crypto games will help the world adjust to blockchain in preparation for its wide application.
Crypto Games That Will Mark 2021
Predicting which games will be huge in 2021 can be ungrateful, but we will give it a try. One of our favorites is Forgotten Artifacts. It appeals to our Dr. Indiana Jones fantasies, as it lets you collect various items and artifacts around the game world. The game is still in beta and one limitation is that it can only be played with an Enjin wallet. My Crypto Heroes is another game that shows tremendous potential. Based on Japanese mythology, it allows you to collect various heroes and train them to add new characteristics and increase their value. For our final recommendation, we have chosen Blockchain Cuties. Think of it as Tamagotchi, but with cute monsters instead. You can collect them, breed them, and train them to increase their skill in battle.