Tesla Cybertruck unveiled – no, it really does look like that
The Tesla pickup truck Elon Musk promised has finally arrived – and it's… err, quite something.
Called Cybertruck, Tesla suggests with its usual modesty a vehicle with 'better utility than a truck, with more performance than a sports car', but it's the Marcello-Gandini-on-acid styling that draws the most attention.
Subscribe to evo magazine
evo is 21 and to celebrate, we're returning to 1998 prices! Subscribe now to SAVE 39% on the shop price and get evo for its original cover price of £3.00 an issue, plus get a FREE gift worth £25!
If most pickups are a trio of boxes, the Cybertruck is more like a high concept house from an episode of Grand Designs. There's not a curve in sight, and you get the impression Musk would have made the tyres polygonal if he could, but if you've grown weary of the brand's smooth but generic shapes so far then the Cybertruck is definitely a wake-up call.
> New Tesla Roadster revealed – 250mph and 0-60 in 1.9 seconds
Tesla claims enormous structural strength and longevity from the chassis too – the body is formed from stainless steel (best known in the automotive sphere from the DeLorean, but also a material Musk is using in SpaceX's cartoonish Starship rocket). Corrosion resistance is obviously a plus, but Tesla's claim that it helps eliminate dents seems more dubious – particularly given the armoured windows smashed during a demonstration at the car's reveal.
It also remains to be seen how the truck fares aerodynamically or in crash testing, but contrary to its appearance in profile the Cybertruck does indeed conceal a proper load bed, with 6.5 feet of length and 100 cubic feet of capacity (including the frunk), and the ability to roll a shutter over the whole bed to conceal smaller items.
Tesla also says the truck has a 3500lb payload capacity (around 1.6 metric tons), and 14,000lb towing capacity, or 6350kg in the highest-spec, three-motor model.
As that suggests, there are different motor options in the Cybertruck, with an entry-level rear-wheel-drive, single-motor variant, an all-wheel drive, two-motor model, and the range-topping tri-motor. Range is quoted as 250+, 300+ and 500+ miles respectively, and while no power outputs are quoted, the performance figures give a reasonable indication of the truck's ability – the single-motor model is claimed to reach 60mph from rest in under 6.5sec, the dual motor under 4.5sec and the tri-motor sub-2.9sec.
While a truck that can accelerate that quickly seems like overkill, Tesla's previous demonstrations with its upcoming electric lorry show the main benefit of that much easily accessible power and torque is the ability to accelerate quicker when pulling heavy loads. Tesla says the low centre of gravity – a virtue of its skateboard-style battery placement – helps traction, another significant factor in towing.
Unladen though, the truck probably feels quite remarkable, particularly given its size and the ability to seat six passengers. The interior carries on Tesla's recent work – a steering wheel and tablet-style 17-inch central touchscreen are really all you get – but it's difficult to imagine the yoke-like steering wheel or marble-effect dashboard reaching production.
It's difficult to imagine any of it reaching production in fact, at least any time soon – there are still a couple of other Tesla production models due before it, including the aforementioned lorry and the Model 3-based Tesla Model Y crossover.
The pricing seems quite reasonable given the truck's listed capabilities though, with a quoted figure of $39,900 for the base model and $69,900 for the tri-motor – a range of around £31,000 to £54,000. Right-hand drive and UK pricing are unconfirmed, but UK buyers can put down a $100 deposit.
Source: https://www.evo.co.uk/tesla/201982/tesla-cybertruck-unveiled-no-it-really-does-look-like-that
An Origin Story, Smart Headlights, and Other Car News
The future comes in fits and starts, and we buckled up and went through a few this week. Cruise, General Motors' self-driving unit, hosted a big party in San Francisco to launch Origin, an electric six-seat, steering wheel-free vehicle that it says is the future of shared autonomy. The vehicle will go into production…sometime, and we still have plenty of questions. Our reporters also learned about little vehicle tweaks coming down the pike that might make your life a bit better: smart headlights that won't blind your fellow drivers, and a system from Hyundai that might cancel out some of the more unpleasant sounds of the road.
Plus, we looked at what it might take to make public transit better for women everywhere, and why you might not see emotional support rabbits on your next flight. It's been a week; let's get you caught up.
Want to receive this roundup as an email every week? Sign up here!
Headlines
Stories you might have missed from WIRED this week
Superstar Bike Lover of the Week
The Lakers' LeBron James has teamed up with Lyft and the YMCA to offer 16-to-20-year-olds access to Lyft-operated bike-share programs, including New York's CitiBike, the Bay Area's Bay Wheels, and Capital Bikeshare in Washington, DC. LeBronb has long been a low key bike commuter, and has been known to cycle to games.
Stat of the Week: 61%
The share of total miles ride-hail vehicles traveled without a passenger in the car in 2018, according to an estimate released by the California Air Resources Board last month. The report also estimated that the ride-hail fleet—Uber, Lyft and others—emitted 50 percent more CO2 than the statewide vehicle fleet average, even though the cars are generally newer, include fewer light trucks and are more fuel efficient than those in the statewide fleet.
Required Reading
News from elsewhere on the internet
Source: https://www.wired.com/story/origin-story-smart-headlights-car-news
New Safety Gizmos Are Making Car Insurance More Expensive
American car insurance rates are going up up up. In the last decade, they climbed 29.6 percent to an average of $1,548 in 2019 from $1,194 in 2011. The surge, detailed in a new report from insurance shopping site The Zebra, outpaced both inflation (by far) and the increase in average car prices (more narrowly). And it came even as the rate of crashes has fallen year over year.
Aggrieved drivers have plenty of directions to point their fingers. Vehicle theft is on the rise, and extreme weather fueled by climate change can destroy swaths of vehicles in short order. Hurricane Harvey wrecked up to 1 million cars in the Houston area in 2017. And while crash rates have dropped, they've been buoyed by increasing urbanization and a strong economy, which put more drivers—many of them distracted by smartphones—in tighter spaces.
A more surprising, counterintuitive culprit isn't the wider world or the person behind the wheel, but the car itself. It turns out that new features designed to keep vehicles in their lanes and out of trouble are contributing to rising insurance rates.
Stay in the know with our Transportation newsletter. Sign up here!
That's because the sensors that power those systems make cars much more expensive to fix when they do crash. Dent a steel bumper, and a few hammer blows gets you back on the road. Smash one on a new car, and it could mean replacing a radar, camera, and ultrasonic sensors, then calibrating them so they work properly. Replacing a cracked windshield now comes with the extra cost of having someone readjust any cameras that look through the glass. "Technology is playing a bigger role than ever in pricing," says Nicole Beck, The Zebra's communications chief. "It's not actually making it cheaper for people."
While some studies have shown the effectiveness of emergency braking, insurance companies haven't yet seen enough evidence to justify a break in rates for most of these features. That's not to say lane keeping, parking assist, and the rest don't work. They're all relatively new, and the actuaries aren't yet confident that their benefits outweigh the extra costs they incur to repair. Complicating the picture is the fact that each automaker offers its own version of each feature, and that drivers may not keep the systems engaged.
"A lot of the developments so far have mixed results," says Tom Karol, general counsel for the National Association of Mutual Insurance Companies. "It's not really been proven out yet, in terms of benefits." Which is why, according to the report, drivers who go for electronic stability control, which keeps cars from spinning out of control, save just $8 a year. Those who pay for blind spot warning, driver alertness monitoring, lane departure warning, night vision, or parking assistance systems save nothing at all.
Still, at least one company sees the upside of sensor-driven driver assistance. "They absolutely lower the frequency of crashes," says Alex Carges, the chief actuary at The Root, an insurance startup that determines rates based on how people drive, using accelerometer and GPS data from their phones.
Source: https://www.wired.com/story/safety-gizmos-making-car-insurance-more-expensive
Elon Musk on road to $50bn payout as Tesla's value passes $100bn
Under pay scheme, founder must build electric carmaker into $650bn company by 2028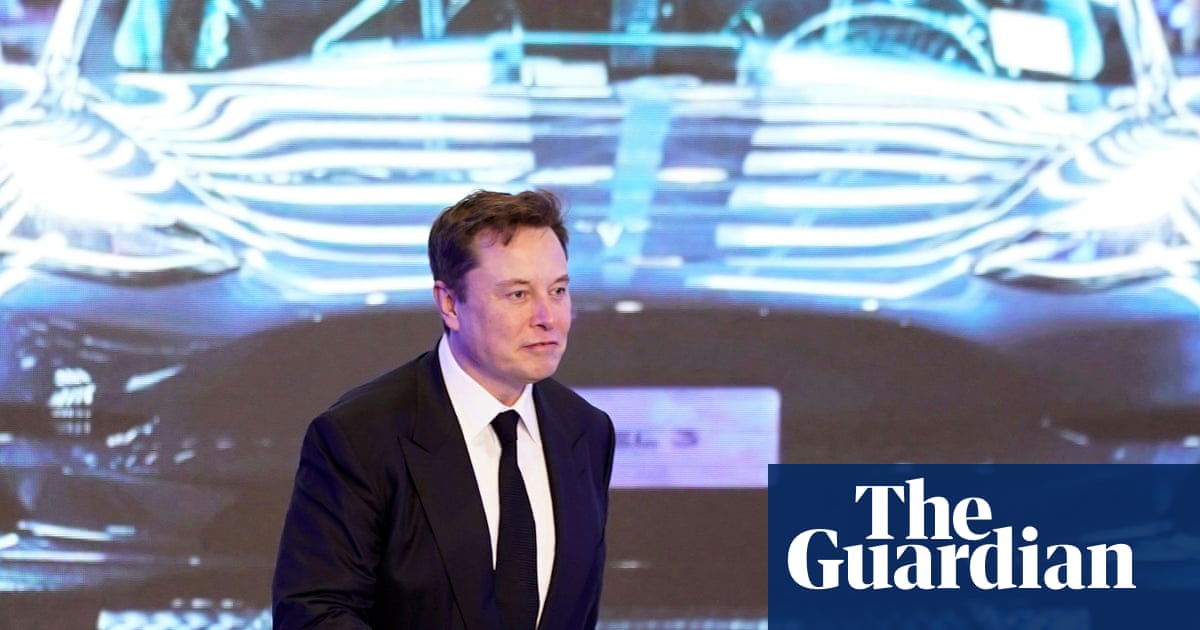 The Tesla founder, Elon Musk, has taken the first step to becoming $50bn (38bn) richer after the value of the electric car company surged past $100bn.
Musk, already a multibillionaire with a net worth estimated at about $30bn, secured approval in 2018 for a pay deal that would dwarf existing records for renumeration if it was paid out in full.
Under the scheme corporate governance experts have described as staggering, Musk must build Tesla into a $650bn company over the next 10 years.
Hitting this landmark would make Tesla one of the worlds most valuable tech companies worth more than seven times the combined value today of automotive powerhouses Ford and General Motors .
Provided Tesla also hits ambitious revenue and profit targets, and assuming Musk remains its chief executive, such growth would also trigger payments in stock worth about $50bn over the course of the scheme.
At the time the deal was agreed in March 2018, Tesla was valued by the stock market at $54.6bn. Its share price has nearly doubled since then, breaking the $100bn barrier on Wednesday.
Improved sentiment about Tesla on Wall Street is partly down to a surprise third-quarter profit of $143m, which bolstered hopes that the company could end its habit of making significant losses.
If Musk can keep the stock market value at above $100bn on average over the next six months, he will be entitled to the first of up to 12 stock payouts, worth around $350m each.
The pay deal is staggered so that he receives further awards for every $50bn Tesla increases in stock market value, up to a maximum of $50bn in shares if the company achieves a valuation of $650bn by 2028.
That is still some way behind trillion-dollar companies such as Apple, the first to reach the Wall Street milestone, and Googles parent company, Alphabet.
Tesla supporters have argued that the way the pay plan is structured will help keep Musk focused on the company at a time when he is also increasingly involved in SpaceX, his space exploration company, and other ventures.
Read more: https://www.theguardian.com/technology/2020/jan/22/elon-musk-on-road-to-50bn-payout-as-teslas-value-passes-100bn