NEC Expands its Collaboration with AWS in Areas Including Global 5G and Digital Government
TOKYO, Sep 08, 2021 – (JCN Newswire) – NEC Corporation (NEC; 6701) has expanded its collaboration with Amazon Web Services, Inc. (AWS) in areas that include global 5G and the digital government in support of accelerating digital transformation for customers.
Toshifumi Yoshizaki, Executive Vice President at NEC Corporation and Matt Garman, Senior Vice President at Amazon Web Services Inc.
In November 2020, NEC and AWS concluded a corporate-level strategic collaboration agreement, and have been developing offerings and strengthening delivery capabilities since then. NEC will now expand this collaboration and strengthen efforts in the following areas:
1. Global 5G
NEC aims to develop an end-to-end 5G offering and to provide it globally by combining NEC's high-performance cloud-native open 5G mobile core, OSS/BSS solutions, local 5G use cases etc., and AWS cloud and edge solutions. NEC will accelerate telecom carriers' cloudification of network workloads and enhance digital transformation for enterprises by deploying 5G-based infrastructure and applications at the network edge. This combined solution stack will be supported by NEC's system integration services to enable customers to efficiently deploy and scale 5G networks, enhance automation and drive significant improvement in operational economics.
2. Digital government
NEC has been certified as an AWS Government Competency Partner based on the strategic collaboration that started last year and its achievements for governments to date. Going forward, NEC will further strengthen its relationship with AWS and focus on developing and providing a menu of offerings to accelerate the digital transformation for government activities in Japan.
3. Hybrid cloud
By collaborating with AWS, NEC aims to develop and provide a menu of offerings that connects on-premises and cloud environments securely, at high speed, and with low latency. This will contribute to the acceleration of digital transformation through modernization that utilizes the customer's existing information technology (IT) assets.
To accelerate these initiatives, the NEC Group has increased the number of AWS-certified engineers to 2,000 at present, aiming for 3,000, double the number from the start of collaboration in 2020, and firmly maintains one of Japan's largest delivery capabilities for cloud projects. Going forward, NEC will continue to strengthen these positions and to ensure that it responds to customers' digital transformation demands.
Comments from both companies on this collaboration are as follows.
"NEC is pleased to announce the expansion of its strategic collaboration with AWS. Last year, NEC announced this global collaboration as the first of its kind between AWS and a Japanese company. It has been a great year, seeing many successes in the areas of government, modernization and in the skill enhancement of NEC engineers. NEC is now expanding the collaboration with AWS in the areas of global 5G, digital government and in enhanced hybrid cloud offerings. With the strong global support from AWS, NEC will help drive digital transformation in the government sector and across industries as part of orchestrating a brighter world," says Toshifumi Yoshizaki, Executive Vice President at NEC Corporation.
"We are delighted to deepen our relationship with NEC. AWS welcomes NEC's commitment and delivery of solutions built on AWS to deliver high-quality solutions that accelerate customers' digital transformations. We look forward to NEC's continued expansion of offerings and further expansion of delivery capabilities to optimize these transformations," says Doug Yeum, Global Head of Alliances & Channels at Amazon Web Services, Inc.
About NEC Corporation
NEC Corporation has established itself as a leader in the integration of IT and network technologies while promoting the brand statement of "Orchestrating a brighter world." NEC enables businesses and communities to adapt to rapid changes taking place in both society and the market as it provides for the social values of safety, security, fairness and efficiency to promote a more sustainable world where everyone has the chance to reach their full potential. For more information, visit NEC at https://www.nec.com.
For the comments from Toshifumi Yoshizaki, Executive Vice President at NEC Corporation and Matt Garman, Senior Vice President at Amazon Web Services Inc, click: https://www.nec.com/en/press/202109/global_20210908_01.html.
PlatoAi. Web3 Reimagined. Data Intelligence Amplified.
Click here to access.
Evans and TOYOTA GAZOO Racing Seal Second in Spain
Toyota City, Japan, Oct 18, 2021 – (JCN Newswire) – Elfyn Evans finished second overall at the Rally de Espana to set up a final-round FIA World Rally Championship title decider with his TOYOTA GAZOO Racing World Rally Team team-mate Sebastien Ogier, who finished fourth.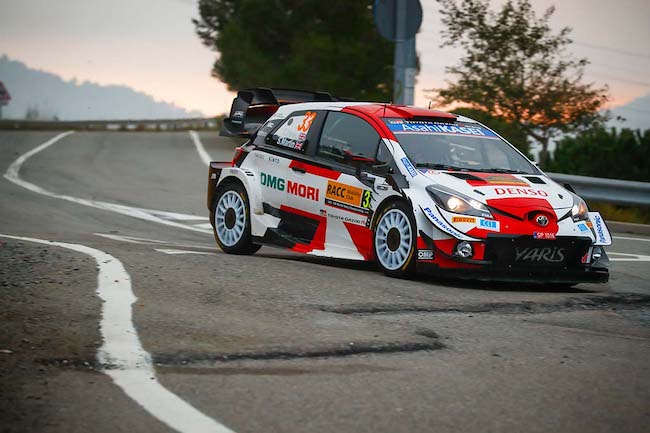 Car 33 (Elfyn Evans, Scott Martin)
Evans and co-driver Scott Martin had led the rally after winning the first three stages on Friday, but despite battling hard didn't quite have the level of performance over the rest of the weekend to maintain the fight for the victory. Still, the second-place finish ensures that Evans remains in with a shot of a maiden drivers' championship going into the final round in Italy.
Ogier was in contention for a podium position all the way to the end of the rally, but just missed out on third position in a closely-fought battle through the final day's four stages – missing out by 6.8 seconds. Nevertheless he and co-driver Julien Ingrassia continue to the lead the standings with a 17-point advantage over their team-mates as they look to claim an eighth world title.
In the manufacturers' championship, the points scored by Evans and Ogier – including those achieved by setting the third and fourth fastest times in a tricky rally-ending Power Stage – have added to the team's tally and brought it a step closer to sealing the title. TOYOTA GAZOO Racing leads by 47 points with a maximum of 52 available from the final round.
All three of the team's cars finished inside the top five places, with Kalle Rovanpera and Jonne Halttunen securing fifth in the overall classification and in the Power Stage on their first time competing in Spain in the top category of the WRC.
TGR WRC Challenge Program driver Takamoto Katsuta also continued his learning alongside co-driver Aaron Johnston as they reached the finish after restarting the event on Saturday morning.
Quotes:
Akio Toyoda (Team Founder)
"Just before this rally, I received a message from Jari-Matti. He told me that regaining the manufacturers' championship as a team principal and celebrating together with me was one of his dreams. Three years ago, as a driver, he was having a very tough season. His first win that year was at the final event in Australia and his victory brought the team's manufacturers' title in 2018. I clearly remember how happy and excited I was. I, as a driver, was participating in a rally in Japan on that day. When I got the news, I shouted with joy and sent him a congratulatory message right away. I am sure that his dream will come true in Monza, and am looking forward to celebrating together with him.
The drivers' and co-drivers' champions were not yet decided either. I simply hope that Seb & Julien and Elfyn & Scott will compete without regrets until the very end, and I'm sure the team will prepare the best cars for them to do that.
The next rally will be the last event we compete in with the current Yaris WRC. Since we came back to WRC in 2017, we have been always saying "let's keep making the Yaris WRC stronger". I hope we can have a solid competition in Monza and that the crews and our fans will see the Yaris WRC is the strongest in the last event. I am confident that the team will make it happen!
P.S. to Julien,
I really hope Monza will be a great event for you as it will be your last rally. I wish I could witness your final event in Japan. I'm still disappointed it didn't happen… Good luck!"
Jari-Matti Latvala (Team Principal)
"In the end this weekend was not as strong for us as it could have been. It's important that we learn for the future about why we were struggling at times and how we can react better. But there are still positives: Firstly, that all three cars finished in the top five without any problems. Also, second place for Elfyn is another good result for him and it keeps the fight for the drivers' title alive until the final round, which is obviously exciting for the championship as a whole. The manufacturers' championship wasn't quite decided in our favour this weekend, but our target now is to secure both titles in style at Monza."
Sebastien Ogier (Driver car 1)
"Coming here I was targeting more than fourth position, but it is still good points towards the championship. It was a close fight today and we definitely tried in the first three stages; then the rain on the last one did not help with my strategy of not taking risks, and I was definitely on the safe side there. But overall, we have to remember that this weekend is another positive step for the championship and that's what matters the most. It's not over yet though, so we'll have to be good at Monza and try to repeat the success we had there last year."
Elfyn Evans (Driver car 33)
"Second place is a positive result but it's not so easy to be happy when we made such a good start to the weekend. Unfortunately it faded away a little bit and I didn't feel completely at one with everything. There was perhaps a little bit more to gain from this weekend. The good thing from the weekend is that we managed to close the points gap and that the championship is still open. Realistically it's a big gap to close in one round, but as we experienced last year, anything can still happen and we'll try our best once again at Monza."
Kalle Rovanpera (Driver car 69)
"Overall it has been quite a good weekend for us. There was a lot of learning, especially on Friday, but it got better with the setup and with my driving as the weekend went on. Today we were aiming for the Power Stage but the conditions were tricky and it was drying for the guys behind us on the road, so we didn't have the chance to fight for more. We didn't quite find the perfect feeling and not the pace that we wanted, but we tried our best and it was a solid weekend."
For the latest results please visit www.wrc.com.
What's next?
Italy's famous Monza racing circuit will host the final round for the second year in a row on November 19-21. This year's event features a greater number of stages on mountainous asphalt roads near Bergamo.
PlatoAi. Web3 Reimagined. Data Intelligence Amplified.
Click here to access.