Ethereum Whale Addresses Are Still Hovering Around an All-Time High
After hitting an all-time high (ATH) of $4,350 in April, Ethereum (ETH) Tuesday plummeted to lows of $2,000 following the recent crypto market crash.
Nevertheless, this price drop seems not to be dampening the spirits of ETH whales because they are still on a record-breaking trend, as acknowledged by Documenting Ethereum. The crypto data provider explained:
"ETH whale addresses are still hovering around an all time high."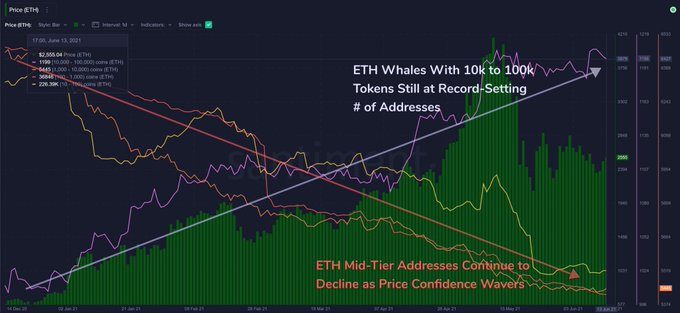 On-chain metrics provider Santiment echoed these sentiments.
"We see that the long-term growth rate of ETH whale addresses with 10k to 100k tokens is staying near AllTimeHighs despite the drop-off from May. Meanwhile, addresses with 10-10k continue falling."
Ethereum whales are, therefore, bullish in the long term as they continue accumulating more coins.
Meanwhile, famous French DJ David Guetta recently revealed that he would accept the sale of a Miami beachfront apartment worth $14 million in Bitcoin or Ethereum.
23% of ETH supply locked in smart contracts
Documenting Ethereum also disclosed that 23% of ETH supply was locked in smart contracts.
Some features on the Ethereum network, like smart contracts, are widely used in the decentralised finance (DeFi) and non-fungible token (NFT) sectors. This trend has been pivotal in aiding Ethereum's recent bull run, which saw the psychological price of $4,000 breached.
Furthermore, the launch of ETH 2.0 in December 2020, which seeks to transit the present proof-of-work (POW) consensus mechanism to a proof-of-stake (POS) platform, has driven more participants to the Ethereum network.
POS is seen as a game-changer because it is environmentally friendly and can tackle the high gas fees challenges.
It, however, remains to be seen how ETH plays out in the short term because market analyst Michael van de Poppe recently stated that Ethereum might experience a period of consolidation based on the formation of a crucial support level.
Image source: Shutterstock Coinsmart. Beste Bitcoin-Börse in Europa
Source: https://Blockchain.News/analysis/ethereum-whale-addresses-are-still-hovering-around-an-all-time-high
Today marks the sixth birthday of the Ethereum network and Ether – the world's second-largest digital asset.
Ethereum was created by the crypto innovator Vitalik Buterin when the project was officially proposed in a white paper in late 2013.
The following January, a 20-year-old Buterin, headed down to the annual North American Bitcoin conference in Miami, Florida, clutching that white paper.
It's there he met his Ethereum co-founders – a group of Canadian crypto evangelists who immediately saw the huge potential of Buterin's idea.
Crammed into a little beach house, they invited Buterin to stay and turn his vision into reality.
Within six months, Vitalik had dropped out of the computer science program at the University of Waterloo, and moved out to Zug, Switzerland (now known as crypto valley) along with the rest of the group-turned-team.
The founding members of the Ethereum network included Gavin Wood (Solidity smart contract language creator), Anthony di Lorio (DeCentral founder), Joseph Lubin (ConsenSys founder), and Charles Hoskinson (Cardano founder).
After the completion of an $18m funding round in 2014, development begun and Ethereum slowly materialised as a viable decentralised network.
However, tensions between members set in and the team begun to unravel.
Charles Hoskinson was the first to go, many others would follow.
Today, only Buterin still works on the project.
After a period of successful testing on July 30, 2015 – the first block of Ethereum was mined and the Ethereum mainnet was launched.
The network has rapidly grown to become one of the most prominent components of DeFi and the crypto industry at large. However, a victim of its own success, gas and transaction fees have begun to slow.
This is why Ethereum is now preparing for an imminent scalability update to Ethereum 2.0.
Watch this space.
More crypto news and information
If you want to find out more information about Bitcoin or cryptocurrencies in general, then use the search box at the top of this page. Here's an article to get you started.
As with any investment, it pays to do some homework before you part with your money. The prices of cryptocurrencies are volatile and go up and down quickly. This page is not recommending a particular currency or whether you should invest or not.
Disclaimer: The views and opinions expressed by the author should not be considered as financial advice
PlatoAi. Web3 Reimagined. Data Intelligence Amplified.
Click here to access.