Crypto "Reserve Currency," Tether (USDT) Hits a $10 Billion Market Cap
Weeks ago, NewsBTC reported that the market capitalization of leading crypto stablecoin Tether (USDT) was on track to $10 billion. This week, after a large minting of coins, the milestone was reached.
Crypto's "Reserve Currency" Hits $10 Billion Market Cap
According to Messari analyst Ryan Watkins, the market capitalization of USDT passed 10 billion on June 30th. It is the third cryptocurrency currently in this 10-figure range."
At the start of the year, the market capitalization of the asset was closer to $4.5 billion. And at the start of 2019, the figure was well under $3 billion.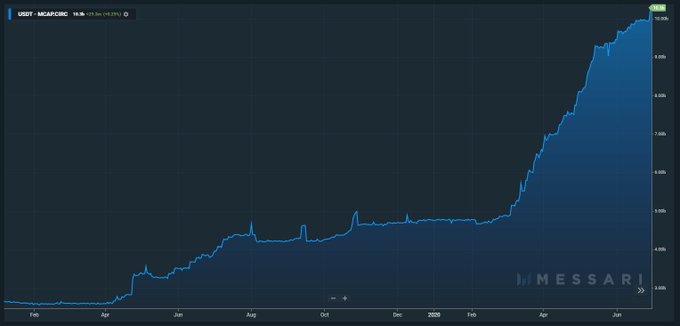 Chart of USDT's market capitalization shared by Messari analyst Ryan Watkins, a former investment banker.
Some see USDT's market cap growth as a sign of increasing interest in cryptocurrency.
Because USDT can be easily transacted into Bitcoin, Ethereum, and others, firms/large traders can theoretically mint the asset via Tether. After that, they can send the coins to exchanges to be traded for the asset.
Though, this goes the other way: Paolo Ardoino said in a podcast that during March, traders that couldn't liquidate their coins into fiat opted for USDT instead. Ardonio is the CTO of Tether and Bitfinex.
The Compound Effect on Tether
USDT's market capitalization may also be benefiting from growth in decentralized finance, specifically the Compound protocol.
Compound is an Ethereum-based money-market protocol that allows investors to borrow and make money by lending out cryptocurrencies. The platform supports assets from Ethereum and Basic Attention Token to stablecoins like DAI and USDT.
Due to a number of variables, USDT has quickly become one of the most popular coins on the platform.
At one time last week, Compound reported that there was more than $150 million worth of USDT deposited in the protocol.
This is but a fraction of the total supply cap. But the increase in demand for the stablecoin may have spurred investors enough to send money to Tether and receive USDT in return.
Importance to Crypto Industry Grows
With USDT's market capitalization surmounting $10 billion, its importance to this industry becomes even more pronounced.
Qiao Wang, an ex-Messari executive and analyst in the space, recently said the following:
"3 companies that, if something catastrophic happened to them today, would cause a tsunami in these markets: Silvergate, crypto banking; Tether, reserve currency of crypto; and Genesis, primary venue of liquidity for crypto loans."
Its market capitalization may only be around 4-5% of the entire crypto market. Yet USDT accounts for a large portion of the volume and on-chain value, with more and more exchanges and other service providers adopting it.
Featured Image from Shutterstock
Price tags: xbtusd, btcusd, btcusdt
Crypto "Reserve Currency," Tether (USDT) Hits $10 Billion Market Capitalization
Source: https://www.newsbtc.com/2020/06/30/429111/?utm_source=rss&utm_medium=rss&utm_campaign=429111
Kraken Security Labs Identifies Ledger Nano X Vulnerabilities: Funds Not at Risk, Ledger CTO Says
Kraken Security Labs found some vulnerabilities in the hardware wallet Ledger Nano X. The wallet is regarded by many as one of the most secure storage devices.
Attackers Can Tamper Wallet Devices to Steal Crypto Funds
On Wednesday, Kraken Security Labs – the exchange's team that checks the security of crypto products – announced that it had detected two new potential attacks that could be executed against Ledger Nano X. If conducted successfully, Kraken claims that the attacks might put the wallet's security at risk.
The attacks might permit malicious actors to get control over the victims' computers connected to the wallets and install malware capable of stealing crypto funds.
Kraken Security Labs explained all the technical details of the two attacks, dubbed Bad Ledger and Blind Ledger.
In the first attack, the Ledger Nano X has to be tampered before reaching the victim. The firmware of the wallet's process is modified with a debugging protocol that behaves like a keyboard. It can send malicious keystrokes to the victim's computer. Kraken demonstrated a video that displays an infected Ledger Nano X that has control over the host computer by acting as a keyboard. It opens a browser and enters the exchange's website by using keyboard shortcuts.
Kraken says that the device and the Ledger Live software application identify the wallet as genuine and don't realize the tampering.
In the second potential attack referred to as Blind Ledger, the wallet's tampered processor can turn off the display. Mixed with a thorough social engineering attack, the display is shutting off while malware on the computer convinces the victim to press several buttons that trigger malicious transactions.
Given that the display is disabled, the victim would not be able to check the transaction on the wallet.
Kraken recommends users to buy Ledger wallets from trusted stores only. Also, users have to be cautious if the display turns off.
Ledger Says the Stored Funds Cannot Be Accessed Despite Potential Vulnerability
CryptoPotato reached Ledger for comment. The company's CTO, Charles Guillemet, explained:
"We are grateful to the Kraken team for bringing this vulnerability to our attention. While we have addressed this issue at length on Ledger, we want to assure our users that funds stored on their Ledger Nano X could never be accessed, since the Ledger Nano X's security relies on the Secure Element – not on the MCU chip. The issue could allow an attacker who intercepted the device during the supply chain to install malware on the user's PC, though the funds would still be safe."
He added that it was extremely unlikely that this kind of attack might be performed successfully. So far, there has been no loss of funds caused by the vulnerability.
Binance Futures 50 USDT FREE Voucher: Use this link to register & get 10% off fees and 50 USDT when trading 500 USDT (limited – first 200 sign-ups & exclusive to CryptoPotato).
Click here to start trading on BitMEX and receive 10% discount on fees for 6 months.
---
Source: https://cryptopotato.com/kraken-security-labs-identifies-ledger-nano-x-vulnerabilities-funds-not-at-risk-ledger-cto-says/
China's CBDC Project to Collaborate With More Domestic Enterprises
Development of China's central bank digital currency, or CBDC, continues to show signs of progress. On July 8, a major domestic e-commerce platform and a video sharing site both joined the CBDC project, according to local news.
Companies Meituan and Bilibilibili have apparently both begun to cooperate with a number of banks involved in the digital Yuan project. Meituan is a major service platform with over 240 million consumers and five million local merchants, and Bilibilibili is known as China's largest video sharing website.
In addition, Chinese multinational tech group, ByteDance, is also said to be in close discussion with the banks about CBDC collaboration.
Cointelegraph reported previously that the ride-sharing giant, Didi, has entered into "a strategic partnership" with the Digital Currency Research Institute of the PBoC.
Source: https://cointelegraph.com/news/chinas-cbdc-project-to-collaborate-with-more-domestic-enterprises
Researcher: Exchanges Could Fight Hackers By Renting Mining Power
Speaking at Unitize virtual event, Coin Metrics researcher Lucas Nuzzi suggested that one way for exchanges to fight back against the hackers is by renting mining power from online marketplaces.
6 confirmations ticking countdown
Nuzzi conjectured that an exchange which has been hacked could rent enough hashpower through an online marketplace to force a favorable network reorganization:
"So it is essentially a technique to try and reorg yourself by renting mining power and doing that work where if you're an exchange and you've been hacked, within those six work confirmations that the network is expecting to be considered final …> But through mining, you could potentially, within those six blocks alter a transaction where your hot wallet has been drained. So that's one of the approaches through mining."
Nuzzi alluded to the fact that Bitcoin (BTC) transactions are not necessarily final prior to confirmation. It is generally assumed that they become final after six block confirmations, which typically take an hour. Thus, an exchange, either by renting the majority of hashpower or in coalition with mining pools could choose to accept a version of the chain where the hack did not happen.
CZ wanted to rollback Bitcoin after Binance hack
This scenario may sound unrealistic to most, at least, when it comes to Bitcoin. However, it was something that Binance (BNB) CEO Changpeng Zhao, or CZ, was seriously considering after an infamous Binance hack, which cost the exchange 7,000 BTC. Later, under the heavy criticism from the crypto community, CZ reconsidered the plan.
Nuzzi confirmed to Cointelegraph that this solution is impractical for bigger coins like Bitcoin, but could be used for smaller ones:
"It'd actually be impossible for exchanges, or any entity really to reorg BTC via NiceHash. This could, however, be an effective counterattack on smaller chains with more niche hashing algos, like lyra, or equihash."
Nuzzi also pointed to the attack on Bitcoin Gold (BTG), where the community was able to repel the attacker to support his theory.
Source: https://cointelegraph.com/news/researcher-exchanges-could-fight-hackers-by-renting-mining-power