CIMB Niaga and JCB launch JCB Contactless Credit Card in Indonesia
JAKARTA & TOKYO, Sep 03, 2021 – (JCN Newswire) – PT Bank CIMB Niaga Tbk (CIMB Niaga) and PT JCB International Indonesia (JCB), as subsidiaries of JCB International Co Ltd., launched the CIMB Niaga JCB Contactless Credit Card in Jakarta, Friday, 3 September 2021. This credit card with contactless technology was developed in line with the rapid growth of credit card technology and the COVID-19 pandemic situation. The Contactless Credit Card can make it easier for customers to transact as well as become an alternative faster payment solution. Supported by dual liaison capabilities, this credit card can still be used for transactions using the dipping method.
CIMB Niaga Consumer Banking Director, Lani Darmawan, said, "CIMB Niaga continues to develop innovative products and services by adopting the latest technology. One of them is through the CIMB Niaga JCB Contactless Credit Card. With this card, customers can transact at various merchants without touching other objects. We hope that this initiative can improve customer experience in the midst of the current situation."
Meanwhile, President Director of PT JCB International Indonesia, Takumi Takahashi, said, "We are delighted that CIMB Niaga is the first bank in Indonesia to implement JCB Contactless through the launch of the CIMB Niaga JCB Contactless Credit Card. This contactless payment is safe and convenient for customers. We believe this new product will contribute to accelerating digitization in the payment industry in Indonesia."
The issuance of the CIMB Niaga JCB Contactless Credit Card is an initiative of CIMB Niaga and JCB to provide an easier, faster and simpler transaction experience. With the contactless method, according to Bank Indonesia regulations, customers do not need to enter a PIN for nominal transactions under Rp. 1 million, while transactions above Rp. 1 million require a PIN. As for the transaction process, customers just need to tap-and-go. This is faster than inserting a card into an Electronic Data Capture (EDC) machine or paying with cash.
In addition, Contactless Credit cards also have the same level of security as dipping cards. Every contactless transaction on the card reader or EDC machine will be processed by the Bank and JCB card processing network through an authorization that is as secure as transactions through the dipping method.
CIMB Niaga JCB Contactless Credit Card customers can use the JCB Contactless feature at more than 100 thousand merchants in Indonesia. In addition, over the past three years, the number of JCB Contactless partners globally has also continued to grow.
About CIMB Niaga
CIMB Niaga was established under the name of Bank Niaga in 1955. Approximately 92.5% of CIMB Niaga's shares (including those owned by PT Commerce Kapital of 1.02%) are owned by the CIMB Group. CIMB Niaga offers complete banking products and services, both conventional and Sharia, through a 428 office network as of 30 June 2021, consisting of 358 branch offices, 37 Digital Lounges and 33 Mobile Branches. CIMB Niaga has 12,389 employees (consolidated) as of June 30, 2021.
CIMB Group is the second largest financial services provider in Malaysia and one of the leading universal banking groups in ASEAN. The products and services it offers include consumer banking products and services, investment banking, Islamic banking, asset management and insurance. CIMB Group is headquartered in Kuala Lumpur, and operates in all ASEAN member countries (Malaysia, Indonesia, Thailand, Singapore, Cambodia, Brunei, Vietnam, Myanmar, Laos, and the Philippines). In addition to the ASEAN region, CIMB Group has also established offices in China, Hong Kong, India, Sri Lanka, the United States, the United Kingdom, and Korea. CIMB Group's shares are listed on Bursa Malaysia through CIMB Group Holdings Berhad. As of 30 June 2021, the group has a market capitalization value of USD 11.1 billion.
About JCB
JCB is a major global payment brand and a leading credit card issuer and acquirer in Japan. JCB launched its card business in Japan in 1961 and began expanding worldwide in 1981. Its acceptance network includes about 36 million merchants around the world. JCB Cards are now issued mainly in Asian countries and territories, with more than 140 million cardmembers. As part of its international growth strategy, JCB has formed alliances with hundreds of leading banks and financial institutions globally to increase its merchant coverage and cardmember base. As a comprehensive payment solution provider, JCB commits to providing responsive and high-quality service and products to all customers worldwide. For more information, please visit: www.global.jcb/en/
Contacts
JCB
Ayaka Nakajima
Corporate Communications
JCB Co., Ltd.
Tel: +81-3-5778-8353
Email: jcb-pr@jcb.co.jp
CIMB Niaga
Deddy T. Hasibuan
Media Relations and Reputation Group Head
PT Bank CIMB Niaga Tbk
Tel: +6221 2700555
Website: www.cimbniaga.com
PlatoAi. Web3 Reimagined. Data Intelligence Amplified.
Click here to access.
Evans and TOYOTA GAZOO Racing Seal Second in Spain
Toyota City, Japan, Oct 18, 2021 – (JCN Newswire) – Elfyn Evans finished second overall at the Rally de Espana to set up a final-round FIA World Rally Championship title decider with his TOYOTA GAZOO Racing World Rally Team team-mate Sebastien Ogier, who finished fourth.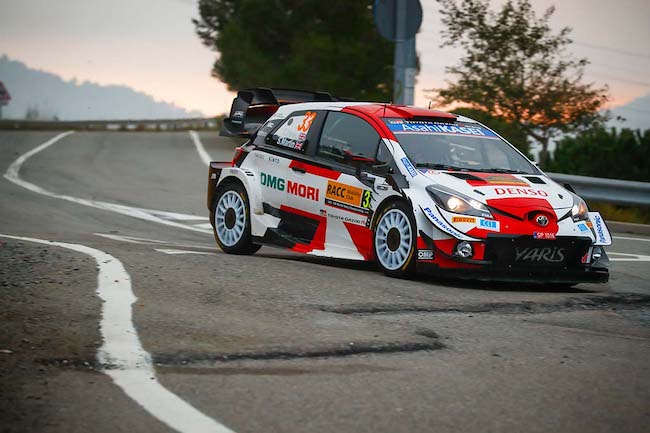 Car 33 (Elfyn Evans, Scott Martin)
Evans and co-driver Scott Martin had led the rally after winning the first three stages on Friday, but despite battling hard didn't quite have the level of performance over the rest of the weekend to maintain the fight for the victory. Still, the second-place finish ensures that Evans remains in with a shot of a maiden drivers' championship going into the final round in Italy.
Ogier was in contention for a podium position all the way to the end of the rally, but just missed out on third position in a closely-fought battle through the final day's four stages – missing out by 6.8 seconds. Nevertheless he and co-driver Julien Ingrassia continue to the lead the standings with a 17-point advantage over their team-mates as they look to claim an eighth world title.
In the manufacturers' championship, the points scored by Evans and Ogier – including those achieved by setting the third and fourth fastest times in a tricky rally-ending Power Stage – have added to the team's tally and brought it a step closer to sealing the title. TOYOTA GAZOO Racing leads by 47 points with a maximum of 52 available from the final round.
All three of the team's cars finished inside the top five places, with Kalle Rovanpera and Jonne Halttunen securing fifth in the overall classification and in the Power Stage on their first time competing in Spain in the top category of the WRC.
TGR WRC Challenge Program driver Takamoto Katsuta also continued his learning alongside co-driver Aaron Johnston as they reached the finish after restarting the event on Saturday morning.
Quotes:
Akio Toyoda (Team Founder)
"Just before this rally, I received a message from Jari-Matti. He told me that regaining the manufacturers' championship as a team principal and celebrating together with me was one of his dreams. Three years ago, as a driver, he was having a very tough season. His first win that year was at the final event in Australia and his victory brought the team's manufacturers' title in 2018. I clearly remember how happy and excited I was. I, as a driver, was participating in a rally in Japan on that day. When I got the news, I shouted with joy and sent him a congratulatory message right away. I am sure that his dream will come true in Monza, and am looking forward to celebrating together with him.
The drivers' and co-drivers' champions were not yet decided either. I simply hope that Seb & Julien and Elfyn & Scott will compete without regrets until the very end, and I'm sure the team will prepare the best cars for them to do that.
The next rally will be the last event we compete in with the current Yaris WRC. Since we came back to WRC in 2017, we have been always saying "let's keep making the Yaris WRC stronger". I hope we can have a solid competition in Monza and that the crews and our fans will see the Yaris WRC is the strongest in the last event. I am confident that the team will make it happen!
P.S. to Julien,
I really hope Monza will be a great event for you as it will be your last rally. I wish I could witness your final event in Japan. I'm still disappointed it didn't happen… Good luck!"
Jari-Matti Latvala (Team Principal)
"In the end this weekend was not as strong for us as it could have been. It's important that we learn for the future about why we were struggling at times and how we can react better. But there are still positives: Firstly, that all three cars finished in the top five without any problems. Also, second place for Elfyn is another good result for him and it keeps the fight for the drivers' title alive until the final round, which is obviously exciting for the championship as a whole. The manufacturers' championship wasn't quite decided in our favour this weekend, but our target now is to secure both titles in style at Monza."
Sebastien Ogier (Driver car 1)
"Coming here I was targeting more than fourth position, but it is still good points towards the championship. It was a close fight today and we definitely tried in the first three stages; then the rain on the last one did not help with my strategy of not taking risks, and I was definitely on the safe side there. But overall, we have to remember that this weekend is another positive step for the championship and that's what matters the most. It's not over yet though, so we'll have to be good at Monza and try to repeat the success we had there last year."
Elfyn Evans (Driver car 33)
"Second place is a positive result but it's not so easy to be happy when we made such a good start to the weekend. Unfortunately it faded away a little bit and I didn't feel completely at one with everything. There was perhaps a little bit more to gain from this weekend. The good thing from the weekend is that we managed to close the points gap and that the championship is still open. Realistically it's a big gap to close in one round, but as we experienced last year, anything can still happen and we'll try our best once again at Monza."
Kalle Rovanpera (Driver car 69)
"Overall it has been quite a good weekend for us. There was a lot of learning, especially on Friday, but it got better with the setup and with my driving as the weekend went on. Today we were aiming for the Power Stage but the conditions were tricky and it was drying for the guys behind us on the road, so we didn't have the chance to fight for more. We didn't quite find the perfect feeling and not the pace that we wanted, but we tried our best and it was a solid weekend."
For the latest results please visit www.wrc.com.
What's next?
Italy's famous Monza racing circuit will host the final round for the second year in a row on November 19-21. This year's event features a greater number of stages on mountainous asphalt roads near Bergamo.
PlatoAi. Web3 Reimagined. Data Intelligence Amplified.
Click here to access.