Why This Blue Chip Cryptocurrency's Parabola Is Approaching a Brutal End
Chainlink, the seemingly unstoppable superstar performer of the cryptocurrency market for nearly the last two years running, may be finally out of steam.
According to the asset's price parabola, the long-standing uptrend could be approaching its end. If and when the parabola does break, massive profit-taking could cut the altcoin's valuation down to size.
Chainlink's Astronomical Rise to Blue Chip Status
From the very bottom of Chainlink's 2018 bear market low, the altcoin had an incredible, over 2,300% climb to its all-time high price of just over $5 per LINK token on the LINKUSD pair.
Few cryptocurrencies have shown such strong performance since the cryptourrency bubble burst.
The cryptocurrency market standout closed 2019 as the industry's top performer, beating Bitcoin, Binance Coin, and the few other winners of the overall bearish year.
The decentralized oracle focused altcoin was on fire and spreading rapidly. Chainlink became so popular due to its performance, it was voted the likeliest crypto asset to bring the best performance in 2020, just like the year before.
Related Reading | Poll Shows Crypto Investors Expect ChainLink To Be Top Performing Altcoin in 2020
They were right. In March 2020, the asset set its all-time high price record just ahead of the Black Thursday madness that wiped out cryptourrency valuations.
Chainlink itself got caught up in the chaos, causing prices to flash crash to nearly zero on some exchanges. Bitcoin and other crypto assets also had historic meltdowns, all while stocks, precious metals, and other markets crashed in tandem.
The seemingly unstoppable altcoin rebounded nearly to the same level as before, but stopped short of another record, instead setting a lower high and kicking off what might be the start of brutal distribution and profit-taking after two years of solid performance.
What Goes Up Must Come Down: Cryptocurrency Superstar Could Soon Fall From Grace
Coinciding with the most recent top in LINKUSD and LINKBTC, each trading pair triggered a TD 9 sell signal, according to the highly reliable TD Sequential technical analysis indicator created by marketing timing guru Thomas Demark.
The tool has been highly accurate across many years of cryptocurrency market price action, calling many tops and bottoms before the trend changes occurred.
The most recent high set, was also a lower high on both short and higher timeframes. The Black Thursday selloff also set a lower low. A lower high combined with a lower low is the exact definition of a downtrend, which may be just beginning and could soon pick up in severity.
Related Reading | Why the Crypto Market's Hottest Altcoin Chainlink May Lose its Momentum
The earliest Chainlink investors bought into the asset at just 15 cents under two years ago. They are up in their investment still by over 2,000%, despite an almost dollar decline on the LINKUSD pair.
Any of these investors could begin to taking profit as the first sign of a selloff, starting or even completing a distribution phase. Distribution phases, according to Wyckoff theory, follow accumulations and mark up phases, and is followed by a markdown phase. This is when asset prices fall to new lows.
The final straw breaking the camel's back, is the fact that the asset's long-term parabola is about to breakdown. This parabolic uptrend first began nearly two years ago, at the start of 2018.
As we've learned by Bitcoin's parabolic advance, when the advance is broken, the asset typically crashes by as much as 80% or more, according to data and performance expectations from industry experts like Peter Brandt.
An 80% decline from its all-time high, would take the price per LINK token to just $1 each. At that level, the asset would likely be reaccumulated before the whole cycle potentially restarts once again.
Source: https://www.newsbtc.com/2020/06/12/cryptocurrency-chainlink-parabola-sell/?utm_source=rss&utm_medium=rss&utm_campaign=cryptocurrency-chainlink-parabola-sell
Bitcoin Lightning Network Goes Parabolic after Hitting ATH Capacity of 2,738 BTC
The Bitcoin (BTC) lightning network has been experiencing an uptick, given that its capacity recently reached a record high.
On-chain metrics provider Glassnode explained:
"The Bitcoin Lightning Network is currently at an all-time-high (ATH) capacity of 2,738 BTC, equivalent to $116.3M in value."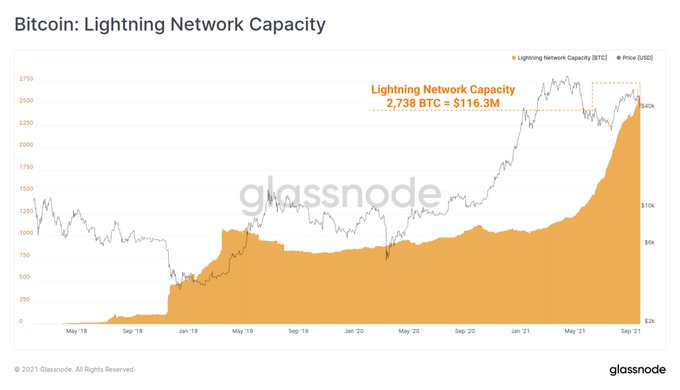 Market analyst Will Clemente echoed these sentiments. He said:
"The capacity of the Lightning Network has now reached 2,738 BTC. In just the last week, we've seen the two largest daily upticks in LN capacity ever. This growth is crucial for BTC to eventually make the transition from primarily being a store of value to a medium of exchange."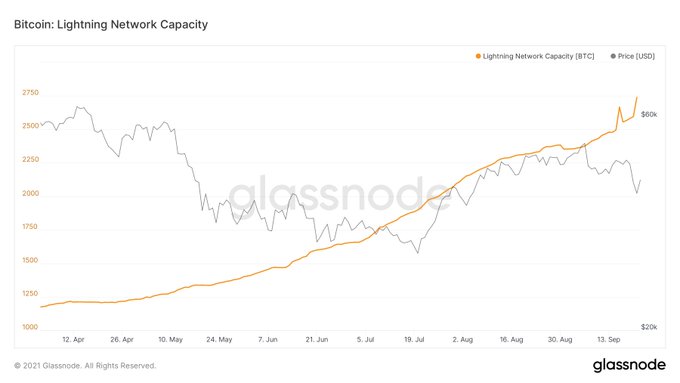 The Lightning Network is a second layer incorporated into the Bitcoin blockchain to undertake off-chain transactions. As a result, micropayment channels are utilized to scale the blockchain's capacity to carry out transactions more efficiently.
Therefore, transactions undertaken on lightning networks are more readily confirmed, cheaper, and faster compared to those processed on-chain or bitcoin mainnet (layer one).
Meanwhile, Bitcoin addresses by holding more than 0.1 coins reached a 4-month high of 3,243. Holding is one of the strategies used in the BTC market because investors store their coins for future purposes rather than speculation.
Bitcoin whales are some of the notable holders, given that they recently added 31,843 BTC to their investment.
Furthermore, Bitcoin supply has been steadily maturing to old hands. Nearly 2 million BTC have transitioned from short-term to long-term holders from the time an ATH price of $64.8K was attained in mid-April.
Nevertheless, BTC's perpetual swap open interest recently dropped below $11 billion for the first time since August. Open interest usually increases with a price surge, thus showing the two are strongly correlated.
Image source: Shutterstock
PlatoAi. Web3 Reimagined. Data Intelligence Amplified.
Click here to access.
Source: https://Blockchain.News/analysis/Bitcoin-Lightning-Network-Goes-Parabolic-After-Hitting-an-ATH-Capacity-of-2738-BTC-abed1c81-37df-4bd5-a058-63d4059e0319