Why is CRO Surging? A Deeper Look Behind the Scenes
The CRO token has nearly quadrupled in price during 2020, becoming the top performer among cryptocurrencies with a market cap of at least $1 billion.
During June, CRO was the best performer on the market. So, why is CRO outperforming other assets? And what's behind the success of Crypto.com?
What is Crypto.com?
According to its website, Crypto.com's mission is to "accelerate the world's transition to cryptocurrency". It looks like they may be onto something.
Crypto.com is a Hong Kong-based company that has been around cryptocurrency for a while. Back in 2017, the company was called Monaco. It raised $26.7 million in 2017 through the sale of its MCO

BUY NOW tokens. One of the main use cases for these tokens was a rewards system for credit card customers.
Later, they created a second token, CRO, that would be used for "cross-asset intermediary currency settlement for the native Crypto.com Chain," according to their website. The CRO token airdrop
Crypto is a rapidly expanding space and new ways to distribute tokens are continually being developed. Airdrops are used by… More to MCO holders began in December 2018, and now more than 20 exchanges offer trading pairs with CRO.
During 2020, CRO has become the best performing cryptocurrency, particularly when compared with projects that have a market cap over $1 billion.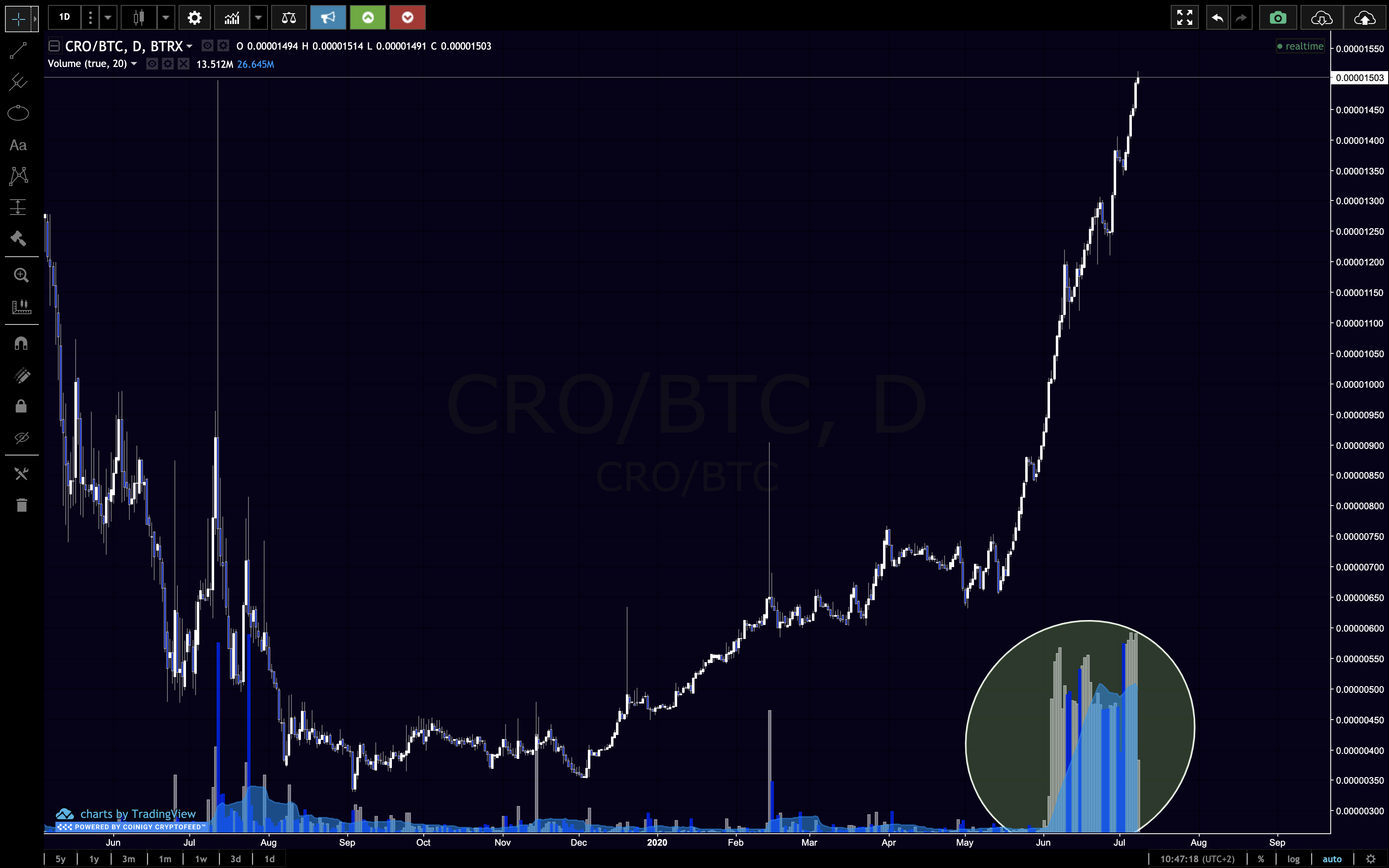 Their user base has grown from 1 million in September 2019 to 2 million in May 2020. Since then, they've reached 3 million in less than two months, with an explosion in CRO price and trading volume.
Crypto.com in a Nutshell
Back in 2018, Monaco bought the domain "crypto.com" in an undisclosed deal. And then the rebrand began, moving from a visa card provider to a more complex project. Crypto.com stands out for its cryptocurrency vision. They are developing a whole ecosystem: easy to use hot wallet, low-fee exchange, and self-developed blockchain.
They also have visa card payments with generous cashback and a payment system that enables businesses to get paid in crypto. Last but not least, they have a lending and interest rate system with attractive rates for staking.
Crypto.com is also the only crypto debit card program working in the U.S., Europe, and Asia. They've been working on their cashback rewards since the inception of the company.
What's the Secret Sauce?
If you go anywhere in the crypto world, you'll likely find an ad from Crypto.com. Their extensive marketing efforts, like promotions and sponsorships, have created lots of interest in the CRO token. Let's take a look at what's making their marketing so successful.
Bring a Friend
As a representative of Crypto.com declared recently to Coindesk: "Our primary source of new customers is word of mouth."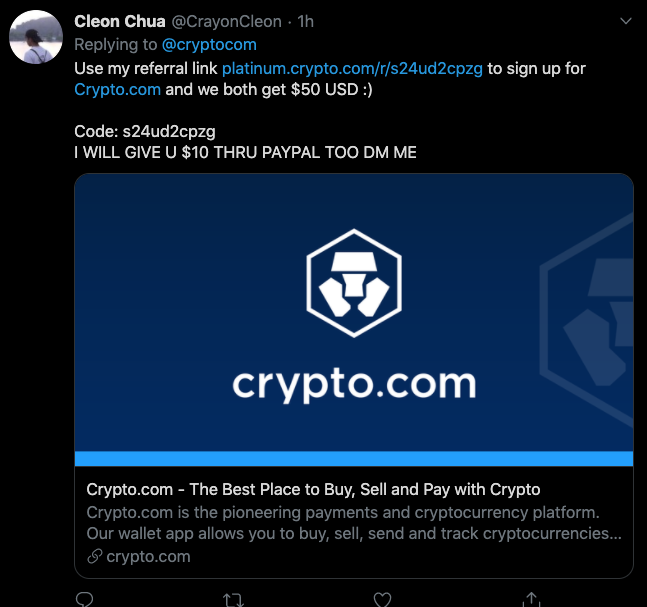 Word of mouth can be promoted with a good referral strategy, influencer reviews, and juicy promotions. And that 's what Crypto.com is doing better than any other project.
You know a referral scheme is doing its job when users offer part of their rewards as payment to compete with others for references. On the other hand, this could also be interpreted as a red flag for "bubble behavior."
Brand Everything
Earlier in June, Crypto.com announced it had obtained its own emoji on Twitter. When Twitter users insert the hashtag #CRO, a branded icon will appear automatically, whether the user wants it to or not.
First #Bitcoin and now #CRO gets its own Twitter emoji!🔥

Try it out for a chance to win $1000 in #CRO! To enter:
1. Put both #BTC and #CRO in your bio
2. Screenshot your bio and share below

4 winners will be announced on 30 Jun, https://t.co/vCNztABJoG's 4th Anniversary🎉! pic.twitter.com/1DaD2rF6I6

— Crypto.com (@cryptocom) June 11, 2020
This crypto hashtag branding began with Bitcoin, and Crypto.com was only the second token to receive it. Many users mistakenly regarded this as a sign of mainstream CRO acceptance. In reality, it's just a service that Twitter offers to anyone willing to pay for it.
There have been reports that this branded service cost more than one million dollars. Binance and Tron have since followed suit.
Always a New Deal
At the end of June, and in celebration of its fourth anniversary, Crypto.com was running a 50% off sale on $2 million worth of BTC. Looking at it from a marketing budget point of view, that's a one million dollar promotion.
Crypto.com's model is a tricky one. They need to create constant demand for their token by increasing their user base. They use discounts and syndicate events to achieve this. Ultimately, they want users to buy tokens and stake them for 180 days, thus maintaining a level of price stability.
Above all, they need to keep increasing demand. Here's where the referral scheme comes into play. Visit YouTube and type "crypto.com" into the search and you'll see hundreds of users shilling their referral codes.
The Red Flags
As with any crypto project, there have been several user accusations against Crypto.com's past activities. On this Reddit thread, a member of the subreddit r/ethfinance draws attention to some technical issues, with customers reporting waiting times of around 72 hours when withdrawing Bitcoin.
The user also points out that part of the leadership team comes from Ensogo. This was an Australian-based e-commerce company that operated in South-Eastern Asia, offering daily deals and flash sales similar to Groupon.
It halted operations leaving some customers with significant losses. Some customers reported that they couldn't use their coupons. It's easy to compare Ensogo's aggressive marketing strategy with Crypto.com.
Especially when considering that they share some of the same leadership team, including the CEO Kris Marszalek and Chief Financial Officer, Rafael Melo. Another issue is Crypto.com's card provider, Wirecard, which recently filed for bankruptcy after former boss Markus Braun was arrested over a $2 billion scandal.
Although not directly related, it remains to be seen where those funds went, and if the scandal will negatively impact Crypto.com's visa card business.
Too Good to Be True?
When something sounds too good to be true, it probably isn't. Crypto.com's products are top of the class and, at the moment, they are delivering on their roadmap probably better than most other crypto projects.
The aggressive marketing strategy built on a strong brand, high ad spending, and referral scheme is stirring up lots of interest and attracting hundreds of thousands of users each week. CRO is gathering lots of momentum, and crypto users are locking up millions of dollars on their platform, thirsty for digital asset yield.
What will happen to CRO's valuation when demand reaches its natural peak? Only time will tell.
---
---
Do you want to Be In Crypto?Join our Telegram Trading Group for FREE Trading Signals,a FREE Trading Course for Beginners and Advanced Tradersand a lot of fun! Images courtesy of Shutterstock, TradingView and Twitter.
Disclaimer. Read MoreRead Less
As a leading organization in blockchain and fintech news, BeInCrypto always makes every effort to adhere to a strict set of editorial policies and practice the highest level of journalistic standards. That being said, we always encourage and urge readers to conduct their own research in relation to any claims made in this article.
This article is intended as news or presented for informational purposes only. The topic of the article and information provided could potentially impact the value of a digital asset or cryptocurrency but is never intended to do so. Likewise, the content of the article and information provided within is not intended to, and does not, present sufficient information for the purposes of making a financial decision or investment. This article is explicitly not intended to be financial advice, is not financial advice, and should not be construed as financial advice. The content and information provided in this article were not prepared by a certified financial professional. All readers should always conduct their own due diligence with a certified financial professional before making any investment decisions. The author of this article may, at the time of its writing, hold any amount of Bitcoin, cryptocurrency, other digital currency, or financial instruments — including but not limited to any that appear in the contents of this article.
Source: https://beincrypto.com/why-is-cro-surging-a-deeper-look-behind-the-scenes/
A senior BOJ official says the digital yen needs public support for it to become a reality.
According to the Bloomberg report, a senior Bank of Japan's official said that there is no final decision has been made yet even after the announcement of testing to start next year. The official revealed that a lot depends on the public support for it to go ahead with its central bank-backed digital currency. Kazushige […]
The central bank of Japan's move to launch a digital currency would be conditional on public support, according to a senior BOJ official.

Enable Notifications


Ok


No thanks



Source: https://coinnounce.com/bank-of-japan-official-says-cbdc-needs-public-support/
Japanese soccer star Keisuke Honda launches his own crypto
Crypto and blockchain matter for the global soccer community.
A Japanese professional soccer player is launching his own cryptocurrency to boost fan engagement.
Keisuke Honda, former Japan midfielder and currently a captain of the Brazilian professional league team Botafogo, has launched his own token to build new connections with his fans, Cointelegraph Japan reported on Oct. 22.
The so-called "KSK Honda Coin" was launched on Thursday via Rally.io, a blockchain platform for creating video streaming and gaming applications. The new coin is intended to enable fans to interact with Honda.
Holders of KSK Honda token will be able to get exclusive content from Honda as well as interact with the player via private channels on Discord. "We decided to create a social token to build new connections with our most loyal fans," Honda said.
The world-known soccer player said that the new token will allow him to connect with fans in a more open manner, providing a 100% transparency in knowing who holds coins in the fan community.
The global soccer community is moving deeper into the crypto and blockchain industry in search of new ways of connecting stars with their fans.
On Oct. 15, a top soccer club in Russia's Premier League — Zenit St. Petersburg — signed on to the blockchain-based gaming platform Sorare to issue collectible and tradeable digital cards. In September 2020, Italian professional sports club SS Lazio signed a multiyear deal with crypto trading platform StormGain, enabling new fan engagement options through crypto.
Source: https://cointelegraph.com/news/japanese-soccer-star-keisuke-honda-launches-his-own-crypto
Grayscale Investments continues to grow its cryptocurrency portfolio by adding $300 million in assets under management (AUM) in a day
Grayscale Investments revealed that it had added $300 million worth of cryptocurrencies to its digital assets portfolio over the past 24 hours and over $1 billion in the last week. This information was relayed by Grayscale CEO Barry Silbert via a tweet yesterday.
The crypto fund manager noted that it had $6.3 billion in AUM as of October 15. However, it has added $1 billion in cryptocurrencies over the past week, and the company now controls $7.3 billion worth of digital assets.
Silbert stated that the company "Added a cool $300 million in assets under management in one day. The additional sum brings the total assets held under management to $7.3 billion".
The funds are held in the company's trust for Bitcoin (BTC) and Ethereum (ETH), in addition to Grayscale's digital large-cap fund. This latest development comes less than 48 hours after PayPal announced its entry into the cryptocurrency market, with Bitcoin surpassing the $13,000 mark afterwards.
Each Grayscale report is delayed by 24 hours, which means that this data refers to the previous day's figure.
The cryptocurrency funds manager reported that its Litecoin (LTC) Trust recorded the highest growth since the last report. Grayscale reported that its LTC Trust increased by 7.5%, while their Zcash (ZEC) Trust increased by more than 6% over the past 24 hours. Grayscale also has extensive holdings in other cryptocurrencies such as Ripple (XRP), Ethereum Classic (ETC), Bitcoin Cash (BCH), Horizen (ZEN) and Stellar Lumens (XLM).
Grayscale might be increasing its cryptocurrency holdings after raising massive funds in the third quarter of the year. Grayscale's financial report for Q3 2020 revealed that it had bought over $1 billion in investment across all its cryptocurrency trusts. This year, Grayscale has raised $2.4 billion, which is more than twice the total amount they obtained for the years 2013 – 2019.
The investment firm revealed that 81% of investment in the third quarter came from institutional investors, while another 57% came from people investing in multiple products.
With the crypto fund manager now holding over $6 billion in AUM, it means that Grayscale controls around 2.5% of the total Bitcoin supply, currently above 18,000 BTC. The Bitcoin supply is capped at 21 million, which means that roughly 2.5 million bitcoins are left to be mined.
Grayscale isn't the only company that is increasing its stakes in cryptocurrencies at the moment. MicroStrategy recently bought $425 million worth of Bitcoin, and Jack Dorsey's Square Inc. invested $50 million in Bitcoin.
Source: https://coinjournal.net/news/grayscale-invests-300m-in-a-day-to-grow-its-crypto-portfolio/