Cannabis Dispensaries Are Essential Services, Whether You Like It Or Not
The coronavirus outbreak in the United States resulted in forced closure for businesses all throughout the country.
However, local governments have mandated that certain essential services will remain open during the lockdown, to provide people with the items they need for survival during the pandemic. These include grocery stores, banks, convenience shops, hardware supplies, pet supplies, laundromats, transportation providers, and plumbers among others.
But certain states have also mandated that cannabis delivery and dispensary services are essential businesses that should stay open.
In California, for example, cannabis was already declared as essential medicine early on. Dispensary businesses were allowed to remain open as long as they put social distancing rules in place. In Colorado, the first state to ever legalize medical cannabis, authorities put in place an emergency rule that would allow cannabis to be purchased online, over the phone, or picked up.
Other states that have joined the bandwagon include New York, Michigan, Illinois, Massachusetts, and Washington.
But people need to keep in mind that while the option to buy cannabis safely and legally should definitely be an essential healthcare service.
However, there are many that argue that cannabis sales as essential services is a risky business, and that this decision is not being made with "sound public health" in mind. Doctors have even claimed that using cannabis can actually be detrimental to the patients' health and can put the public's safety at serious risk.
But a nationwide poll by YouGov.com revealed that 53% of participants think cannabis dispensaries "should be considered essential services." They also found that the support for this cause was highest among Democrats, and was much lower among the Republicans.
Another survey by CivicScience.com found that most Americans think medical cannabis dispensaries are essential for the COVID-19 outbreak. They polled 2,200 adults in the United States, and also found that 15% of them weren't sure about cannabis being deemed essential services.
Around 1/3 of Americans also believe that recreational cannabis dispensaries should remain in business during the outbreak. In fact, even 40% of non-cannabis users agreed that medical cannabis dispensaries should stay open.
According to Carly Wolf, NORML's State Policies Coordinator: "The reality that a growing number of jurisdictions have taken these important steps is further evidence of the degree to which above-ground cannabis access is now widely recognized to be an essential part of the fabric of our society, and is regarded as being crucial to patients' health and welfare."
Cannabis Dispensaries Are as Essential as Toilet Paper
No matter which way you look at it, cannabis dispensaries, or giving people the option to buy cannabis during the pandemic, is essential for surviving this seriously stressful situation.
There is no doubt that the COVID19 pandemic has made already anxious people feel worse, and stressed out people even more stressed. Cannabis lets them cope safely with healthy medicine.
But more importantly, patients with life-threatening conditions still need access to their medicine of choice. Whether or not cannabis smoking can actually put you at risk for COVID19, let people have the choice of what they want to do with their bodies.
"The fact that yesterday's vice is considered today's essential service suggests that we got the potential costs and benefits of marijuana use radically wrong," says Joseph Kenney, a University of North Carolina law professor. "It's evidence of the schizoid attitude our society has towards drugs in general and toward marijuana in particular," he tells the Washington Post.
We've certainly come a long way from just a few years back when many people considered cannabis as a gateway drug that should never ever be legalized. Now we are in the midst of the worst virus outbreak we've ever seen at a global scale, and governments left and right have said that cannabis is an essential service.
This is the common sentiment, whether you like it or not. And when people got a glimpse of what life would be like after the lockdown, with social distancing and businesses that have shut down and all, they hoarded cannabis just like they did toilet paper and groceries – evident in the 33% spike in cannabis sales in one day alone as seen in Washington. Meanwhile, the same surges were observed in San Francisco and Los Angeles.
Having said that, this is by no means at all saying that COVID19 will help bring in more cannabis sales while the pandemic continues. The pandemic has actually been very devastating for the industry, one that's already been hit hard by issues such as the illicit cannabis vaporizer products that resulted in the death of almost 70 people and got 2,800 people sick. Vape businesses were hit especially hard.
So by going out to support your local dispensaries, you're hitting two birds with one stone: you get to use cannabis to keep yourself healthy while addressing stress and anxiety, and you do your part in ensuring these essential businesses stay afloat – for everyone's sake.
MEDICAL MARIJUANA DEEMED ESSETIAL, READ MORE…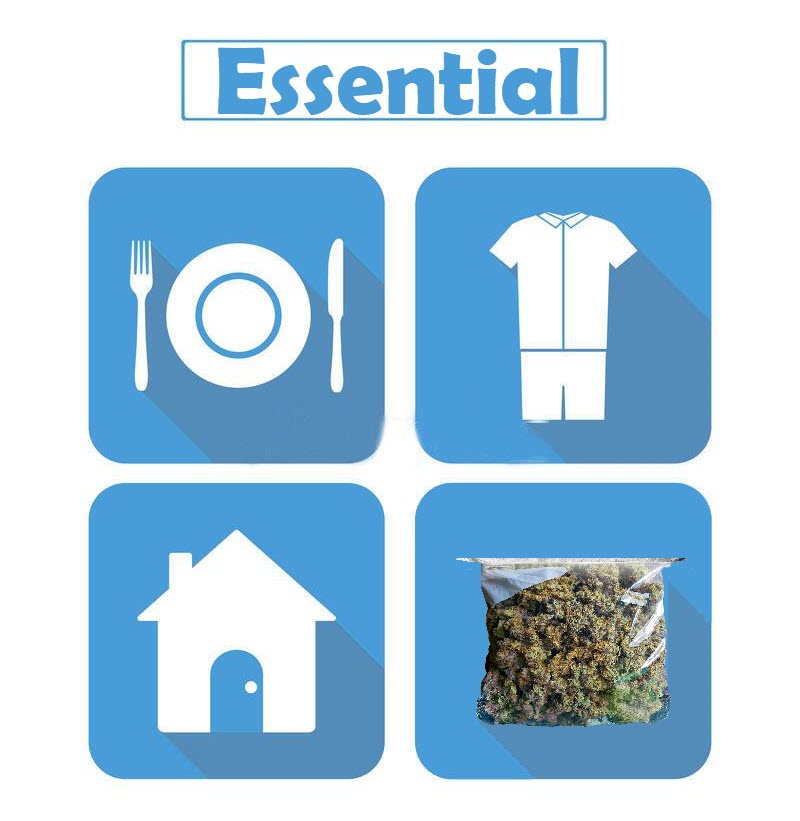 CANNABIS IS NOW DEEMED ESSENTIAL, BUT HOW ESSENTIAL IS IT?
OR..
WHY WEED WHY NOW, WHY IS CANNABIS NOW ESSENTIAL?
OR…
HOW TO GET ESSENTIAL MEDICAL MARIJUANA THESE DAYS?
Source: http://cannabis.net/blog/opinion/whether-you-like-it-or-not-dispensaries-are-now-essential-service-providers-now-and-forever