Warren and group of senators demand Google answer how it will use medical data
2020 candidate, Richard Blumenthal and Bill Cassidy express concerns over Project Nightingale in bipartisan letter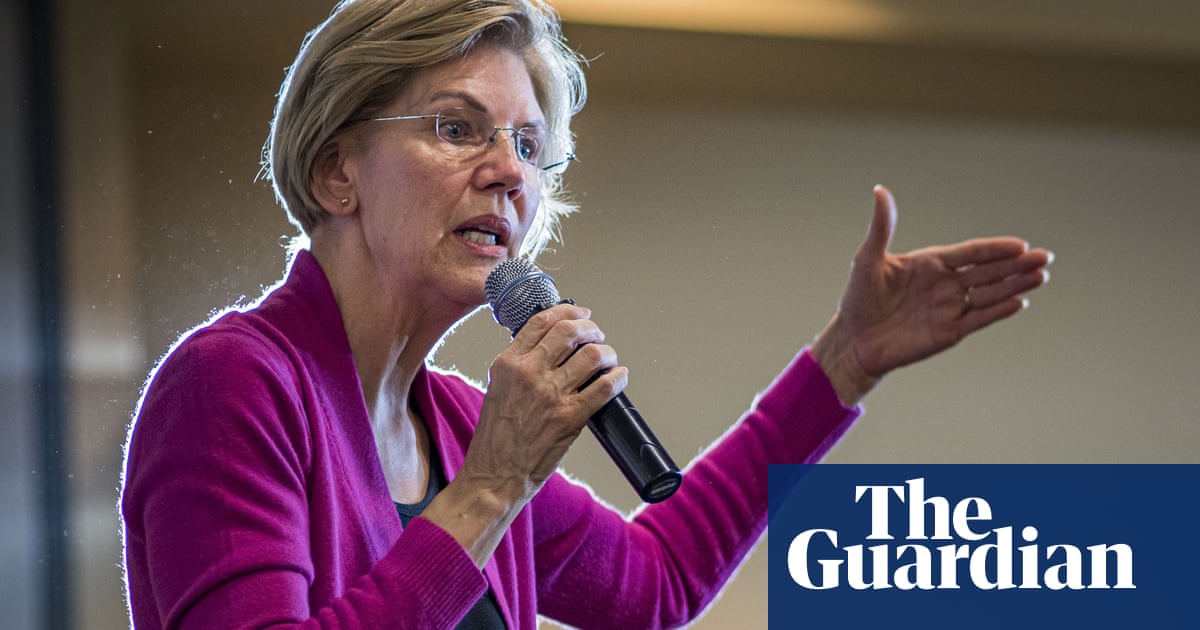 The Democratic presidential candidate Elizabeth Warren has joined a bipartisan group of US senators to express serious concerns over Project Nightingale, Googles secretive acquisition of the health records of millions of Americans that was exposed last week by a whistleblower.
In a joint letter written by Warren, fellow Democrat Richard Blumenthal and Bill Cassidy, a Republican from Louisiana, the three senators demand that Google provides answers to a series of questions.
At the top of the list is how such a vast amount of private, personal health data was surreptitiously collected, and how Google plans to use it.
The existence of Project Nightingale was kept secret, with no patients or doctors being informed, until a whistleblower among the 300 staff working on the data transfer leaked documents to the media. By the time the scheme is completed next summer, the full personal details of more than 50 million patients including names, addresses and medical histories will have been transferred from Ascension, the second-largest health provider in the US, to Google.
The joint senators letter cites an article in the Guardian written by the anonymous whistleblower in which they say they were motivated to expose the project because patients were being withheld the ability to opt in or out of sharing their data with the search giant. Patients and the public have a right to know whats happening to their personal health information at every step along the way, the individual said.
Documents leaked to the Guardian reveal the scale and ambition of Project Nightingale. They show that 126 Google employees working as part of the team known as medical brain that is developing artificial intelligence tools designed to predict disease patterns and search for new treatments were granted access to the health data by Ascension.
Access was approved, the documents show, for discovery purposes though the precise nature of Googles discovery plans remains unclear.
The documents also disclose that concerns about the security of the health data being handed to Google and whether it conformed to federal privacy standards were raised by Project Nightingale staff in group meetings. The whistleblower told the Guardian that those worries had not been answered by the tech giant at the time that they went public.
The data transfer has attracted federal attention. The US Department of Health and Human Services is looking into whether the scheme meets standards on privacy and data protection.
Google has insisted that all of its work with Ascension sticks to federal regulations and come with strict guidance on data privacy, security and usage. But that assurance has not satisfied the three US senators.
Warren and her colleagues note in their letter the Guardians report of Nightingale staff raising concerns about the secrecy and security of the project. Health information and records of medical care are exceptionally sensitive, they write, adding that when mishandled can expose patients to embarrassment, discrimination, exploitation and other harms.
Since news of the project broke, Google and Ascension have been carrying out an aggressive leak inquiry to flush out the whistleblower. All members of the Project Nightingale staff on both sides of the arrangement are being interviewed and computers scoured.
Read more: https://www.theguardian.com/technology/2019/nov/21/google-project-nightingale-elizabeth-warren-letter-blumenthal-cassidy
Coinbase Custody selected by 21Shares for Bitcoin ETP
Today we're proud to announce that 21Shares AG has chosen Coinbase Custody to store its digital assets for its Bitcoin ETP. 21Shares AG is listing its 21Shares Bitcoin ETP (ISIN: CH0454664001 — WKN A2T64E) on the Deutsche Börse's Xetra electronic venue on Thursday July 2nd 2020. Coinbase Custody will serve as custodian for the underlying assets of their Bitcoin ETP.
21Shares selected Coinbase Custody after reviewing our institutional-grade offline storage solution, which includes world-class security, regulatory compliance and insurance coverage. Coinbase is committed to serving a wide spectrum of institutional clients and we are excited to be the chosen custodian for the 21Shares Bitcoin ETP, Europe's first physically-backed bitcoin ETP.
Hany Rashwan, CEO at 21Shares AG, says, "21Shares is delighted to bring this historic product to Europe. We are honored to give investors access to the best performing asset class of the last decade and we believe the next ten years as well, through our simple, transparent, and regulated crypto ETP product suite."
Coinbase Custody is the world's largest and most trusted crypto custodian. To learn more about Coinbase Custody click here.
Source: https://blog.coinbase.com/coinbase-custody-selected-by-21shares-for-bitcoin-etp-a1b5dd380694?source=rss—-c114225aeaf7—4
Compound (COMP) is now available on Coinbase Earn
Earn COMP while learning how to borrow crypto and earn interest with Compound
Coinbase's mission is to create an open financial system, where anyone in the world can participate on equal terms from their computer or smartphone. To bring this vision to life, we'll need to make blockchain technology more accessible, both in the sense of making cryptocurrencies easier to obtain and easier to understand.
Coinbase Earn is a trusted source where customers all around the world can educate themselves about new developments in crypto and earn assets as rewards. Starting today, Coinbase customers can start earning Compound (COMP) by watching lessons and completing quizzes about the Compound protocol and its governance token COMP.
Compound (COMP) is an Ethereum token that governs the autonomous Compound protocol. The protocol allows anyone to borrow and lend Ethereum tokens through a decentralized market. Lenders earn interest on the crypto they supply to the protocol and borrowers pay interest to borrow it.
The ability to earn crypto assets has become an increasingly important function in the crypto ecosystem — alongside buying, staking, voting, and mining — especially when paired with education.
Since the launch of Coinbase Earn in 2018, we've announced nine different assets, including 0x, Basic Attention Token, Zcash, Stellar Lumens, EOS, Dai, Tezos, Orchid and now Compound. In less than a year, asset issuers offered over $100M in crypto to distribute to our customers, and we have launched Earn internationally. As we expand globally, millions of people are gaining access to a trusted, secure, and legal bridge to the crypto economy — even if they don't have a credit card or bank account with which to buy crypto.
Check out all Coinbase Earn campaigns through our homepage or access them directly through the Coinbase mobile app.
You can sign up for a Coinbase account here and download the iOS or Android app to start earning crypto today.
Coinbase receives a servicing fee from the participating asset issuer. Consideration for Coinbase Earn is wholly independent of our digital asset framework for new listings. Click here for our Earn FAQ and terms.
Source: https://blog.coinbase.com/compound-comp-is-now-available-on-coinbase-earn-74cb88acbf78?source=rss—-c114225aeaf7—4
Compound (COMP) is now available on Coinbase
Starting today, Coinbase supports Compound (COMP) at Coinbase.com and in the Coinbase Android and iOS apps. Coinbase customers can now buy, sell, convert, send, receive, or store COMP. COMP will be available for customers in all Coinbase-supported regions, with the exception of New York state.
Compound (COMP)
Compound (COMP) is an Ethereum token that governs the Compound protocol. The protocol allows anyone to supply or borrow Ethereum tokens through a decentralized market. Suppliers earn interest on the crypto they supply to the protocol and borrowers pay interest to borrow it.
One of the most common requests we hear from customers is to be able to buy and sell more cryptocurrencies on Coinbase. We published a process for listing assets, designed in part to accelerate the addition of more cryptocurrencies. We are also investing in new tools to help people understand and explore cryptocurrencies. We launched informational asset pages (see COMP here), as well as a new section of the Coinbase website to answer common questions about crypto.
You can sign up for a Coinbase account here to buy, sell, convert, send, receive, or store COMP today.
Coinbase owns COMP tokens as a result of a 2018 investment in Compound. Coinbase intends to maintain its investment in Compound for the foreseeable future and maintains internal policies that address the timing of permissible disposition of its digital assets, including COMP tokens.
Source: https://blog.coinbase.com/compound-comp-is-now-available-on-coinbase-de42a317790c?source=rss—-c114225aeaf7—4