Unless Bitcoin Breaks Through These 2 Levels, a Crash to $7,000 Is "Logical"
After attempting to rally through $9,500 this week, Bitcoin failed to sustain its bullish momentum yet again. As of this article's writing, the leading cryptocurrency trades for $9,200, having sustained somewhat of a pullback.
The retracement notably wasn't caused by Bitcoin: a drop in the S&P 500 on Wednesday forced the crypto market leader.
Technical analysts, regardless, remain somewhat skeptical of BTC's medium-term outlook.
Bitcoin on Track to Hit $7,000
Despite the strength seen over recent months, Bitcoin remains in a macro consolidation pattern.
A trader shared the chart below on July 9th, showing that BTC is consolidating at a diagonal resistance formed at the $20,000 all-time high. Bitcoin is also trading below the $10,500 horizontal resistance, which has been a level of importance for over a year now.
Bitcoin failing to break past these two pivotal levels will likely lead to an eventual retracement, the analyst said.
"Where are we? What's going on? (1) Weekly. Consolidating at resistance. Until horizontal & diagonal resistance is broken, a drop to the 8ks at least & 7k is logical Can stay in this weekly triangle until Q2 2021."
BTC analysis by trader "Michael's Trading Journal" (@MTTradJournal on Twitter). Chart from TradingView.com
Another analyst has made a similar observation, saying that the bear case he has found predicts a BTC retracement under $7,000.
The trader said that Bitcoin's recent price action looks similar to bearish schematics shared by the late technical analyst Richard Wyckoff. Should BTC follow the schematic, it will likely trade under $7,000, the analyst said:
"A couple more clues developing that lend themselves to HTF distribution. 1. Rising Demand on the verge of failing. 2. Side by side, ascent vs descent with selling the dominant pressure from volume."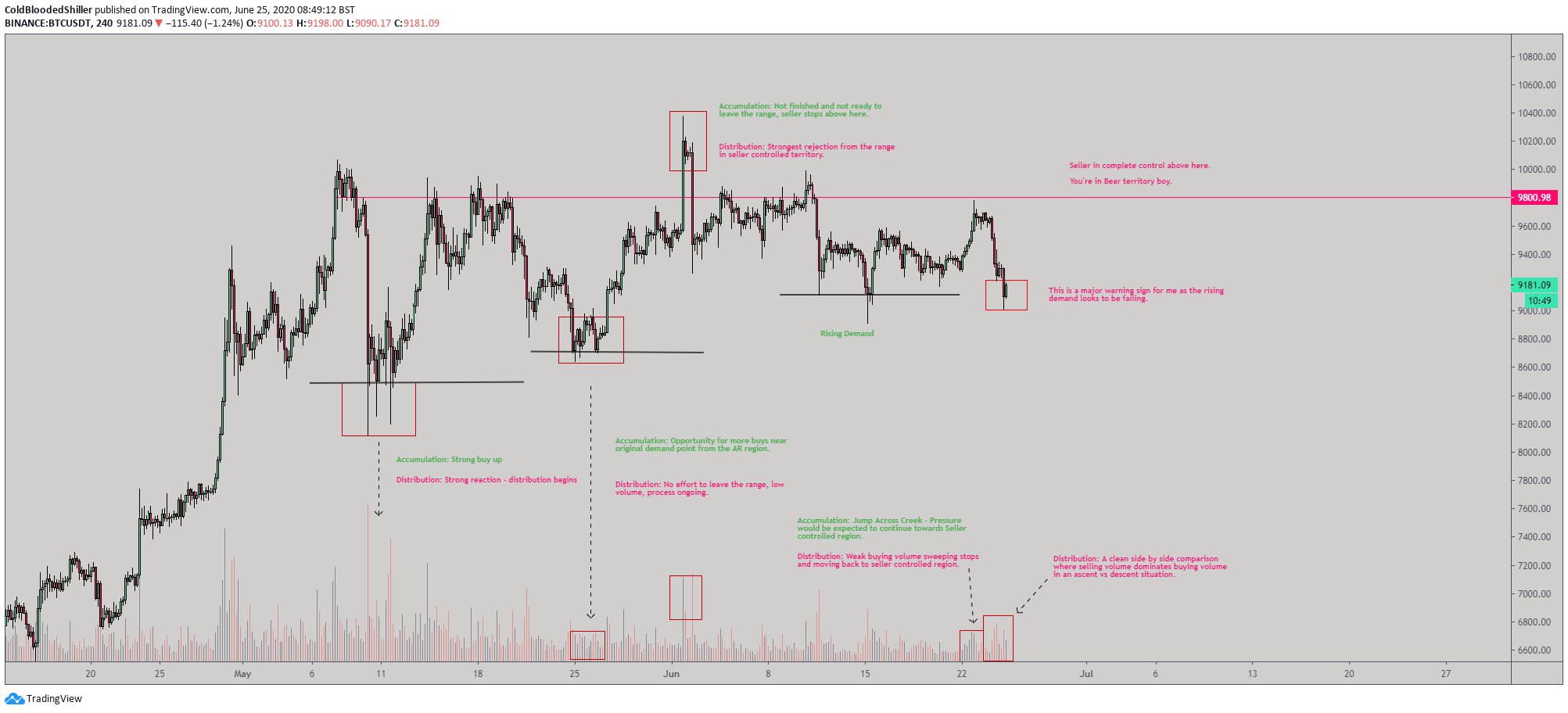 BTC distribution analysis shared by trader "Cold Blooded Shiller" (@Coldbloodshill on Twitter). Chart from TradingView.com
On-Chain Metrics Beg to Differ
On-chain metrics suggest that Bitcoin is not in distribution, but rather at the start of another bull market.
Blockchain analytics firm IntoTheBlock reports that as it stands, Bitcoin is currently in a "mostly bullish" state. Per their data, the underlying network is seeing slight growth while its in-house "concentration" indicator currently in the positive.
Bloomberg senior commodity analyst Mike McGlone has echoed the optimism. In Bloomberg's July Crypto Outlook, the analyst wrote that increasing bTC usage is likely to result in a move to higher prices.
"The number of active Bitcoin addresses used, a key signal of the 2018 price decline and 2019 recovery, suggests a value closer to $12,000, based on historical patterns. Reflecting greater adoption, the 30-day average of unique addresses from Coinmetrics has breached last year's peak."
The exact level McGlone identified is $12,734, the highest price BTC closed at in 2019.
Whether or not the on-chain case will be enough to wrest BTC higher remains to be seen, though.
Featured Image from Shutterstock
Price tags: xbtusd, btcusd, btcusdt
Charts from TradingView.com
Unless BTC Breaks Through These 2 Levels, a Crash to $7,000 Is "Logical"
Source: https://www.newsbtc.com/2020/07/11/unless-bitcoin-breaks-through-these-2-levels-a-crash-to-7000-is-logical/?utm_source=rss&utm_medium=rss&utm_campaign=unless-bitcoin-breaks-through-these-2-levels-a-crash-to-7000-is-logical
BAT, Stellar Lumens, VeChain Price Analysis: 07 August
Bitcoin's latest attempt to climb on the charts has been met by some degree of success, with the world's largest cryptocurrency, after a long time, managing to hold a level above the psychological resistance of $10,000. At press time, Bitcoin was being traded at $11,736 with a trading volume of $8.3 billion.
Such success was underlined by the fact that while BTC failed in its attempt to sustain a breach of $12,000, it didn't fall below $11,000, implying that Bitcoin is again building up strength before its next effort. The same had a profound impact on the performances of alts like Stellar Lumens, VeChain, and Basic Attention Token.
Stellar Lumens [XLM]
Stellar Lumens, the crypto-market's 14th-largest crypto, hasn't had the best of times over the past 8-10 months or so. In fact, while XLM was once a regular in the top-10, it isn't anymore, with XLM overtaken by the likes of Tezos, Cardano, Chainlink, and Crypto.com Coin. However, true to its altcoin credentials, the month of July came as a relief for XLM, which is why at the time of writing, its YTD gains were as high as 135%.
Interestingly, while XLM had stagnated somewhat towards the latter half of July, Bitcoin's resurgence in August came as a godsend. In fact, at press time, XLM was up by over 12% over the last week.
The cryptocurrency's technical indicators were evidence of the recent movement as while the Parabolic SAR's dotted markers were well under the price candles, the Awesome Oscillator pictured a lot of momentum in the XLM market, despite the fact that the histogram was largely bearish.
On the development front, there hasn't been a lot to report. However, U.K-based challenger bank Revolut did announce XLM support.
Basic Attention Token [BAT]
Brave browser's native crypto, Basic Attention Token aka BAT, has done well for itself since the catastrophic market crash back in March. In fact, while recovery has been slow, a look at its charts would reveal that BAT had been on a gradual uptrend for a long time. However, the same seems to have stagnated over the past few weeks.
While BAT did gain on the back of Bitcoin's latest resurgence (7% in the last 5 days), the price hike wasn't enough to rejuvenate the dormant uptrend on the charts.
BAT's technical indicators seemed to correspond with such an observation as while the Bollinger Bands revealed that BAT might continue to trade within a tight channel, the MACD line was pretty close to the Signal line.
The crypto was in the news recently after Brave's new partnership with Japan's BitFlyer meant that local users will finally be rewarded BAT.
VeChain [VET]
The crypto-market's 18th-ranked crypto, VeChain has been one of the market's best-performing assets over the course of 2020. In fact, at the time of writing, VET was noting YTD gains of over 275%. Like XLM, VET too surged on the back of the altcoin market doing so well in the month of July.
While VET had been on a downtrend since it hit a local top in the second week of July, its recent hike of 22% was pushing the crypto into yet another uptrend on the charts.
The latest movement had a significant effect on VET's indicators as while the Chaikin Money Flow surged over zero to underline the fact that there were higher capital inflows, the Relative Strength Index was climbing towards the overbought zone.
Source: https://eng.ambcrypto.com/bat-stellar-lumens-vechain-price-analysis-07-august
Analyst Explains Reasons Bitcoin Price Could Fall Back to Lower $10Ks
Bitcoin is facing risks of a price correction towards $10,000, according to a TradingView analyst.
He spotted the cryptocurrency trading near its weekly resistance level, noting that it may amount to profit-taking action among traders.
Nevertheless, he also asserted that Bitcoin is in a bull market, adding that the price would likely bounce back from its $10,000-lows.
Bitcoin's efforts to log a breakout move above $12,000 may fail as selling sentiment grows near the said level.
The benchmark cryptocurrency risks breaking lower after retesting the $12,000-mark, says a TradingView.com analyst who analyzed the level for its historical significance as a resistance. He said the BTC/USD exchange rate is near its weekly price ceiling, adding that any efforts to push the pair above it is a bad strategy.
"Whether Bitcoin has the momentum to break above $12,000 without longer consolidation, I have no idea. But, buying at the current price is certainly not the best action to take. [One] should always buy at pullback or on the consolidation breakout," the analyst wrote.
Bulls Playing a Blind
He concluded after analyzing three typical trading behavior as Bitcoin trades a hundred dollars below $12,000. Either a trader is opening new long positions near the weekly resistance, or s/he is shorting the rally with risky leverages – a "revenge" for missing out the Bitcoin's second-quarter bull run.
And then, there is a third kind that is taking selling the top to secure short-term profits. The analyst favored the third strategy, stating:
"In my opinion, the best approach is certainly not the 3x actions mentioned above, but to take some profits off long positions at resistance or perhaps put a trailing stop."
A Bitcoin Pullback to $10K
The analyst expected the next pullback move to push prices down towards $10,000. He attached a chart that showed the future potential moves for the cryptocurrency.
It showed the bitcoin price attempting a bounce-back towards $12,000 from a so-called "minor support" level. Nevertheless, an extended move to the downside took the rate to an area called "better support." The range lay in the middle of $10,265 and $9,802.
"Personally, I would only consider once the market touches around $10,200 followed by a change of structure," the analyst added. "Only then I will buy on the pullback with a target of at least 2:1 risk-reward."
He further stated that a pullback move might not necessarily end the bull market. Bitcoin may keep growing higher towards $12,000 or beyond. The strategy is only about spotting the change in short-term bias to secure interim gains.
Bitcoin holds a long history of posting 30-40 percent bearish corrections after every parabolic move to the upside. Other analysts also see the cryptocurrency keeping up with its previous trends, especially given the higher bids for safe-haven assets against a falling US dollar and bond yields.
"Selling your BTC now on a 13% pullback is like selling on the red circle on this chart. Insane gains are coming, don't get shaken out," said Lark Davis, a cryptocurrency analyst.
Bitcoin was trading at 11,791 at the time of this writing.
Source: https://bitcoinist.com/analyst-explains-reasons-bitcoin-price-could-fall-back-to-lower-10ks/?utm_source=rss&utm_medium=rss&utm_campaign=analyst-explains-reasons-bitcoin-price-could-fall-back-to-lower-10ks
Two Macro Calls That Could Propel Bitcoin to $14,000 This Year
Bitcoin may hit $14,000 in the coming quarter.
The analogy appears out of two extremely bullish calls made for the US dollar and Gold.
Bitcoin has shown an extreme correlation with the two macro assets this year.
Bitcoin may have some fuel left to continue its 2020's run-up towards the $14,000-mark.
The level–last approached in 2019 against the backdrop of an escalating US-China trade war and falling yuan– has fallen back into the radar of Bitcoin bulls. Only this time, the weakening US dollar has replaced its Chinese counterpart as the cryptocurrency's bullish catalyst.
Meanwhile, fears of inflation caused by the US Federal Reserve's dovish policies have improved Bitcoin's upside prospects. Bids for safe-havens have gone higher as the central bank maintains its benchmark rates near zero, crushing bond yields. That has sent the price of Bitcoin and its traditional hedging rival, gold, up north.
At the time of this writing, BTC/USD was trading 64 percent higher. The XAU/USD, on the other hand, was up 36.93 percent.
An Ugly US Dollar Quarter Ahead
Technical readings see Bitcoin and gold as overbought assets. In simple words, they both remain under the risks of downside corrections caused by profit-taking behavior. Traders may sell them at their local tops to secure short-term profits, thereby pushing the demand for the US dollar higher.
But then, one analyst sees the greenback in a dangerous zone. Win Thin, the head of global currency strategy at Brown Brothers Harriman, told CNBC that the dollar might drop further into the current and the next financial quarter, blaming the US's inability to contain the COVID pandemic as effectively as Europe and other territories.
"This is one of the rare occasions when Europe will actually outperform the U.S.," the analyst said. "The stars are aligned against the dollar."
He added that the US dollar index, which is on track for its seventh weekly decline in a row, may drop to its 2018 low before the end of 2020.
"I do suspect given the cyclical, we'll test the downside of that range, and for the DXY [dollar index] that's around 88," Thin explained. "So, we've got some ways to go."
The negative correlation between the US dollar index and Bitcoin has grown since March's global market rout. Therefore, any weakness in the greenback could point to a more substantial Bitcoin ahead, bringing its psychological upside target of $14,000 in proximity.
A Bullish Gold Call – and Bitcoin
With sentiments against the US dollar, the first asset that is to benefit the most is gold. EB Tucker, the director of Canada-based Metalla Royalty, told Kitco in his latest interview that he sees the precious metal hitting $2,500 by the end of this year.
"Normally I would say [the bull run is overheated] but what I'm seeing in the daily action is that gold is rising in a very measured way and is not meeting much resistance, so when that's happening you just step out of the way and let it go, that's what you do," he said.
Mr. Tucker had earlier predicted gold to hit $2,000, a forecast that came to be true earlier this week.
A booming gold prediction typically leaves Bitcoin under a similar bullish spell.
The cryptocurrency's one-month realized correlation withe the precious metal hit 68.7 percent on August 6, its highest this year. Given the relationship continues further into the year, Bitcoin may end up hitting $14,000 as gold hits $2,500.
Source: https://bitcoinist.com/two-macro-calls-that-could-propel-bitcoin-to-14000-this-year/?utm_source=rss&utm_medium=rss&utm_campaign=two-macro-calls-that-could-propel-bitcoin-to-14000-this-year