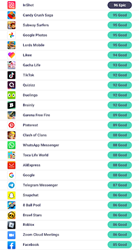 In the company's report, "unitQ Analysis: The State of Mobile Application Product Quality," the company parsed 121.52 million user reviews for the year 2021.
BURLINGAME, Calif. (PRWEB)
May 12, 2022
unitQ, an AI-based product-quality platform enabling organizations to listen to and take action on feedback from their user base, has concluded that iPhone owners expect more from their mobile applications than do Android users, according to unitQ proprietary algorithms and artificial intelligence.
In the company's report, "unitQ Analysis: The State of Mobile Application Product Quality," the company parsed 121.52 million user reviews for the year 2021 to generate actionable insights into what users of those applications are saying about roughly 4,400 of the top applications on the Google Play Store and Apple App Store.
The report also breaks down the top mobile app product quality issues users are complaining about. In addition, the study rates the top 25 mobile apps with the highest product quality according to user feedback unitQ analyzed.
Android v iOS:
unitQ found that 22 percent of all reviews on Android expressed concerns about the quality of their applications. When it comes to the iPhone, 39 percent of all reviews contained issues about product quality.
"Studies suggest iPhone owners generally earn more than Android users and pay more for their phones than their Android counterparts. This might explain why Apple owners are more demanding of higher quality for their applications than their Android counterparts. Let's just call it the Steve Jobs effect," says Christian Wiklund, the unitQ CEO and co-founder.
Top 25 mobile apps with highest product quality for 2021

Judging by what users are saying about the mobile applications that unitQ analyzed, the state of product quality on Android and iOS for 2021 was "fair" with lots of room for improvement. Overall, this equates to an average unitQ Score of 75.
unitQ Score is an organization's product quality metric based on user feedback data gathered automatically in more than 70 languages from the most popular customer channels — including app stores and social media, and may also incorporate internal support and chatbot applications. unitQ Score is a performance indicator that represents the current state of an organization's product health. unitQ Score is the modern, and more accurate way of analyzing customer satisfaction over NPS scoring. Higher unitQ Scores equal better products, and more satisfied customers.
For the purposes of this study, the unitQ Score was based on Google Play Store and Apple's App Store reviews — a metric unitQ calls the public unitQ Score. Read more about unitQ Score and how it is calculated.
Interpreting a unitQ Score

95-100 Epic: Best in class and product quality.
85-95: Good: Strong product quality, room for improvement.
70-85 Fair: Satisfactory product quality, lots of room for improvement
0-70 Poor: Weak product quality, urgent improvement required.
Top Mobile App Product Quality Issues unitQ Discovered for 2021
1. Slow Performance.

2. App Force Closing.

3. Can't Download or Install.

4. Fails to Launch.

5. Can't Access App.

6. App Freezing.

7. Can't Update.

8. Crashes After Update.

9. Can't Play.

10. Bad Experience.

11. Cant Pass Level.

12. Too Many Ads.

13. Payment Required.

14. Technical Difficulties Error.
About unitQ

unitQ is arming organizations with real-time actionable insights from their users to build a better customer experience both immediately and into the future to improve product, reduce churn, boost star ratings and build great experiences. unitQ customers such as Klarna, Pandora, Spotify, and Strava improve product quality by more than 20% within 30 days.
unitQ has raised $41M in funding from Accel, Creandum and Gradient Ventures, Google's AI-focused venture fund. Based in Burlingame, Calif., unitQ is founded by Christian Wiklund and Niklas Lindstrom, entrepreneurs who previously founded Skout, a social app with more than 50 million users that was acquired by The Meet Group in 2016. Learn more at https://www.unitQ.com.
Contact: david@unitq.com for more information.
Share article on social media or email:
Coinsmart. Europe's Best Bitcoin and Crypto Exchange.Click Here

Platoblockchain. Web3 Metaverse Intelligence. Knowledge Amplified. Access Here.

Source:

https://www.prweb.com/releases/2022/05/prweb18671796.htm
This Post was originally published on Computer Databases