Twitch, YouTube, and Reddit Enforce Multiple High-Profile Bans
Twitch, Reddit, and YouTube seem to have coordinated a ban on multiple high-profile accounts, which supposedly breached their content guidelines.
Within one hour, multiple major accounts have been removed from some of the leading platforms. It's yet another example of the recent social media clampdown, except this time, it seems strangely coordinated.
Three Bans Within an Hour
First up was Reddit's banning of r/thedonald, the leading subreddit for Donald Trump supporters. The subreddit is controversial, to say the least, and has been known for conducting raids and conspiring to get posts trending on the front page of Reddit.
It was previously quarantined with several users complaining about 'shadow-bans.' Now, it seems like Reddit has taken the extra step of banning the subreddit outright.
Second in line was the Twitch ban of Trump's channel. Owned by Amazon, Twitch claimed that the channel was producing "hateful content" and was subsequently taken down without warning. It is currently unclear whether other Trump-related channels are affected.
Lastly, YouTube decided it wasn't going to be left out of the fray. The Google-owned video and streaming service banned controversial FreeDomainRadio host Stefan Molyneux for hate speech. Molyneux has regularly been criticized for his strange, sometimes obsessive fixation with IQ and race, among other bizarre topics.
The ban likely comes on the heels of the racially-sensitive issues affecting modern society. Nonetheless, Molyneux has contributed to YouTube for several years, long before Trump's presidency. Curiously, It appears that YouTube has decided to coordinate the ban with the other social media platforms.
One user couldn't help but notice the coincidence:
.@reddit banned /r/thedonald
.@teamyoutube banned @StefanMolyneux's channel
.@Twitch tookdown trumps channel

All in the last hour. That's coordinated.

— 🇸🇴 Jared 🇸🇴 (@EndDemocracy) June 29, 2020
Decentralized Alternatives Become More Attractive
Regardless of whether you find the content posted by these channels repulsive, as many do, it's no reason to ban them entirely. This seems to be a coordinated attack on a particular group of people who largely support Donald Trump's presidency.
The development shouldn't be surprising for anyone who has followed the tech space for some time. President Trump has already claimed that big tech companies are conspiring against him. He now has more ammunition to make his case during the election cycle.
However, criticisms just don't seem to cut it. There must be alternative, decentralized infrastructure to protect the privacy of users and content-producers. This will ultimately prevent a centralized entity from removing content, as has so often been the case.
Twitter CEO, Jack Dorsey, has already committed to developing a 'decentralized media standard,' but details are still sketchy.
Other social media competitors, like Gab, have turned to blockchain to decentralize its platform. The platform's Traffic continues to grow. However, its own set of critics claim that it harbors an echo-chamber of far-right viewpoints.
The problem now, it seems, is that right-wing or extremist individuals congregate on decentralized, 'free speech' alternatives while liberals tend to flock to mainstream social media. The gulf between the two is growing, and there's a serious possibility these echo chambers could become only more entrenched.
The situation ultimately only hurts the discourse at large. Perhaps what's needed is a new, censorship-resistant standard for social media that protects users across all platforms. Decentralization should not be optional. It should become the industry standard. Blockchain provides us with the tools to make this happen.
Another Internet Is Possible
For now, we are caught up in an election year, which will almost certainly see Big Tech clamp down on dissenting voices. However, it doesn't need to be this way. Another internet is possible.
We can likely expect President Trump and other conservatives to comment on the recent bans in the coming days. But as of now, legislative action has been ineffective in remedying the gross overreach of Big Tech conglomerates.
---
---
Do you want to Be In Crypto?Join our Telegram Trading Group for FREE Trading Signals,a FREE Trading Course for Beginners and Advanced Tradersand a lot of fun! Images courtesy of Shutterstock, TradingView and Twitter.
Disclaimer. Read MoreRead Less
As a leading organization in blockchain and fintech news, BeInCrypto always makes every effort to adhere to a strict set of editorial policies and practice the highest level of journalistic standards. That being said, we always encourage and urge readers to conduct their own research in relation to any claims made in this article.
This article is intended as news or presented for informational purposes only. The topic of the article and information provided could potentially impact the value of a digital asset or cryptocurrency but is never intended to do so. Likewise, the content of the article and information provided within is not intended to, and does not, present sufficient information for the purposes of making a financial decision or investment. This article is explicitly not intended to be financial advice, is not financial advice, and should not be construed as financial advice. The content and information provided in this article were not prepared by a certified financial professional. All readers should always conduct their own due diligence with a certified financial professional before making any investment decisions. The author of this article may, at the time of its writing, hold any amount of Bitcoin, cryptocurrency, other digital currency, or financial instruments — including but not limited to any that appear in the contents of this article.
Source: https://beincrypto.com/twitch-youtube-and-reddit-enforce-bans-at-the-same-time/
Ransomware Targets Outdated Microsoft Excel Macros to Deploy Attacks
Microsoft Security Intelligence alerted users to a type of ransomware, called Avaddon, that uses Excel 4.0 macros to distribute malicious emails. These emails contain attachments which deploy an attack when opened in any version of Excel.
Avaddon ransomware emerged in early June through a massive spam campaign that randomly targeted its victims. Some patterns seem to indicate that the ransomware mostly targets Italian users.
Impersonating Italian officials
As BleepingComputer reports, the attackers behind the ransomware are recruiting "affiliates" to spread the payload. According to their analysis, Avaddon's average ransom amount is around $900, paid in crypto.
The attack commonly impersonates officials from Italy's Labor Inspectorate. Messages alert small businesses to alleged work violations during "a period of crisis," referring to the COVID-19 pandemic.
Microsoft said in its Twitter profile:
"While an old technique, malicious Excel 4.0 macros started gaining popularity in malware campaigns in recent months. The technique has been adopted by numerous campaigns, including ones that used COVID-19 themed lures."
Avaddon's messages warn about pending legal actions which will be taken if the user does not open the malicious document.
Numerous victims
A recent study by cybersecurity firm, Proofpoint, shows a recent increase in email-based phishing attacks used to deliver ransomware.
On July 1, Cointelegraph reported that a new ransomware was targeting macOS users who illegally torrent popular apps. The attack, known as EvilQuest, was first spotted by K7 Lab malware researcher, Dinesh Devadoss.
Source: https://cointelegraph.com/news/ransomware-targets-outdated-microsoft-excel-macros-to-deploy-attacks
Analyst Who Predicted Bitcoin's V-Shaped Reversal at $3,700 Is Bullish
It's been a tough past few weeks for the Bitcoin market. Some are skeptical that the cryptocurrency is in a bull trend after BTC has sustained multiple rejections at $10,000.
Yet a trader that nailed a bold prediction remains optimistic, sharing a number of signals indicating imminent upside.
Bitcoin Could Soon See a Bounce, Says Crypto Trader
In March, Bitcoin plunged from the $9,000s to $3,700 in the matter of a week. Considering the severity of the drop, coupled with a collapse in the traditional economy, few expected a rebound.
One analyst, however, was optimistic. Literally hours after BTC tapped $3,700, a trader shared the image below. It shows that the trader believed the bottom was in. He later shared another chart depicting his expectations that there will be a "V-shaped reversal" taking Bitcoin back to $10,000 by May.
Chart by @BTC_JackSparrow (Twitter handle), from TradingView.com
This came true almost to a T, with BTC flirting with $10,000 in May and June.
Despite the recent stagnation, the same analyst remains bullish.
On June 22nd, the analyst speculated that Bitcoin is actually in a textbook Wyckoff Re-Accumulation rather than a Wyckoff Distribution. Re-accumulation patterns are seen in the middle of an uptrend while distribution patterns are formed at the top of bull trends.
Bitcoin will trade above $11,000 within the next two weeks, according to the analyst's interpretation of the chart.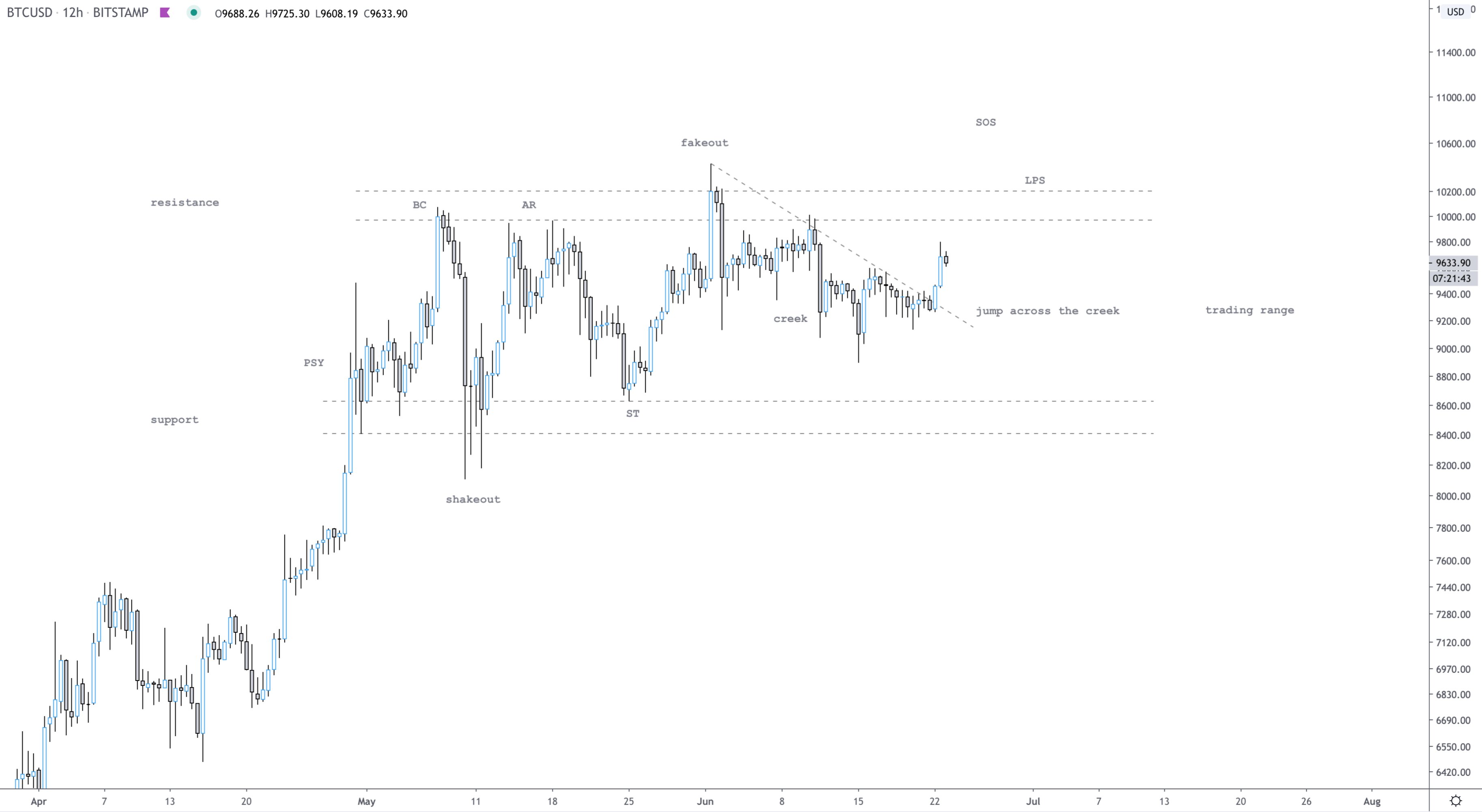 Chart by @BTC_JackSparrow (Twitter handle), from TradingView.com
More recently, he asserted that there's a good likelihood Bitcoin will undergo an "inverse $6,000 capitulation" if BTC holds $10,000. Such a move could take the cryptocurrency to the $14,000-16,000 range, his charts suggest.
The "$6,000 capitulation" mentioned by the analyst was in late 2018, when BTC plunged from $6,000 to $3,000 after ranging for months.
Bloomberg's Mike McGlone Agrees
Bloomberg Intelligence's senior commodity strategist Mike McGlone agrees with the assessment put forth above.
The analyst wrote in Bloomberg's July Crypto Outlook that the increase in the usage of Bitcoin implies a move to higher prices:
"The number of active Bitcoin addresses used, a key signal of the 2018 price decline and 2019 recovery, suggests a value closer to $12,000, based on historical patterns. Reflecting greater adoption, the 30-day average of unique addresses from Coinmetrics has breached last year's peak."
McGlone specifically identified $12,734, which is the highest end-of-day high of 2019.
This comes after he said in June that "something needs to go really wrong for BTC not to appreciate."
Core to this assertion is a number of trends, which include Bitcoin's block reward halving, decreasing market volatility suggestive of institutional adoption, and a correlation with gold.
Featured Image from Shutterstock
Price tags: xbtusd, btcusd, btcusdt
Charts from TradingView.com
Analyst Who Predicted Bitcoin's V-Shaped Reversal at $3,700 Is Bullish
Source: https://www.newsbtc.com/2020/07/03/predicted-bitcoin-reversal-3700-bullish/?utm_source=rss&utm_medium=rss&utm_campaign=predicted-bitcoin-reversal-3700-bullish
Here's Why Ethereum's Consolidation Could Result in an Explosive Move to $480
Ethereum has been consolidating over the past few days within the $220 region.
Although on the surface its price structure seems similar to that of Bitcoin and its peers, it is important to note that it is currently stuck beneath its long-held trading range between $230 and $250.
Its sustained bout of trading below this range is a grim sign, but analysts are noting that the crypto has remained above a couple of crucial technical levels.
The ability to remain above these levels has led one analyst to set his sights on a movement to $480 in the months ahead.
He isn't alone in this target either, as another respected trader offered a similar outlook, noting that whether or not this comes to fruition will depend on whether it can remain above $210.
Ethereum Consolidates Beneath Long-Held Trading Range
At the time of writing, Ethereum is trading up marginally at its current price of $227. The crypto has been trading here for the past several days, unable to garner any clear momentum.
Earlier this week, buyers did attempt to break this consolidation phase when they sent ETH to highs of just over $230, but the selling pressure here proved to be significant.
The reason why $230 is a crucial level is due to it being the lower boundary of a trading range that has been formed over the past two months.
Although Bitcoin has been able to remain firmly within its trading range between $9,000 and $10,000 in recent weeks, Ethereum's buyers have seen waning support as of late.
In spite of this, one popular pseudonymous trader does believe that Ethereum remains technically strong as long as it trades above $210.
He notes that a continued defense of this level could help spark an uptrend that ultimately leads it to $350 this year and $500 next year.
"ETH aiming for $350 this year in my opinion… As long as we hold $210 this is still valid. Thinking we flip $350 and see $500 taken out next year," he said.
Image Courtesy of Cactus. Chart via TradingView.
ETH Holds Above 2 Crucial Technical Levels; Opening the Gates for Massive Upside
Another analyst offered a similar price target for Ethereum, noting it could soon rally towards $480.
He justified this by explaining that ETH is currently consolidating above its 100-day and 200-day moving averages – which is a historically bullish occurrence.
"Ethereum: Acting above the 100-Day and 200-Day MA's, while consolidating in a healthy way. Reminds me a lot of April 2019. Needs to hold; $195-200. Next targets; $290-340 and $425-480," he explained.
Image Courtesy of Crypto Michael. Chart via TradingView.
Unless the aggregated market nosedives in the near-term, it is probable that Ethereum will continue trading above these crucial levels.
Featured image from Shutterstock. Charts from TradingView.
Source: https://www.newsbtc.com/2020/07/03/ethereums-to-see-explosive-move-to-480/?utm_source=rss&utm_medium=rss&utm_campaign=ethereums-to-see-explosive-move-to-480