Travelex being held to ransom by hackers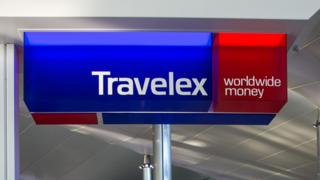 Hackers are holding foreign exchange company Travelex to ransom after a cyber-attack forced the firm to turn off all computer systems and resort to using pen and paper across its thousands of sites.
On New Year's Eve, hackers launched their attack on the Travelex network.
As a result, the company took down its websites across 30 countries to contain "the virus and protect data".
The hackers are demanding a ransom to give the firm access to its systems.
They have demanded payment in exchange for either restoration of IT systems or the preservation of customer data.
It is understood that a deadline for payment has been set by the cyber-criminals.
The Metropolitan Police is leading the investigation into the attack.
In a statement, the force said: "On Thursday, 2 January, the Met's Cyber Crime Team were contacted with regards to a reported ransomware attack involving a foreign currency exchange. Enquiries into the circumstances are ongoing."
Travelex says it is working with police and has deployed teams of IT specialists and external cyber-security experts who have been working continuously.
'Shockingly bad'
The recovery operation is being co-ordinated from a Travelex office in the UK and the company insists that no customer data has been leaked.
But it would not say what data could potentially be at risk.
The Travelex websites across Europe, Asia and the US have been offline since 31 December with a message to visitors that it is down due to "planned maintenance".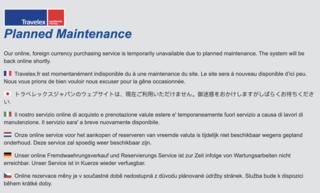 Customers have not been sent any email communication about the cyber-attack, but queries are being replied to on social media by the company.
"The public response from Travelex has been shockingly bad," said security researcher Kevin Beaumont.
"The Travelex UK website still only says 'planned maintenance', a week after the problems began – many customers will be completely unaware hackers gained access to their network, and allegedly their personal data," he said.
"Travelex have a responsibility to clearly communicate with customers and business partners the gravity of the situation."
Travelex's decision to take down its site has meant the large network of other firms that use its services cannot sell currency online.
The company has said it is keeping its partners up to date on the response to the cyber-attack.
Virgin Money's site showed an error message, which said: "Our online, foreign currency purchasing service is temporarily unavailable due to planned maintenance. The system will be back online shortly."
Sainsbury's Bank also said its online travel money services were unavailable, although it said customers could still buy travel money in its stores. In a statement to the BBC, the bank said: "We're in close contact with Travelex so that we can resume our online service as soon as possible."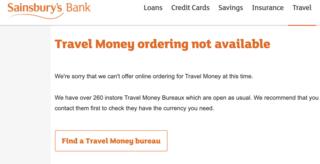 A spokesperson for First Direct, which is owned by HSBC, said: "Unfortunately, our online travel money service is currently unavailable due to a service issue with third party service provider, Travelex."
In a statement on Thursday, Travelex boss Tony D'Souza said: "We regret having to suspend some of our services in order to contain the virus and protect data."
The company has resorted to carrying out transactions manually, providing foreign-exchange services over the counter in its branches.
"We apologise to all our customers for any inconvenience caused as a result," Mr D'Souza said in the statement.
The company has since told the BBC that its systems are currently down and it is unable to sell or reload its pre-paid travel cards. But, it said: "Existing cards continue to function as normal and customers in the UK can continue to spend and withdraw money from ATMs."
"For customers who have ordered money online, please contact Travelex customer services by phone or via social media to discuss their individual situation and requirements."
---
Have you been affected by the cyber-attack on Travelex? Share your experiences by emailing haveyoursay@bbc.co.uk.
Please include a contact number if you are willing to speak to a BBC journalist. You can also contact us in the following ways:
Read more: https://www.bbc.co.uk/news/business-51017852
Pandemic Spurred Identity Fraud; AI and Biometrics Are Responding 
By AI Trends Staff
Cyberattacks and identity fraud losses increased dramatically in 2020 as the pandemic made remote work the norm, setting the stage for AI and biometrics to combine in efforts to attain a higher level of protection.
One study found banks worldwide saw a 238% jump in cyberattacks between February and April 2020; a study from Javelin Strategy & Research found that identity fraud losses grew to $56 billion last year as fraudsters used stolen personal information to create synthetic identities, according to a recent account from Pymnts.com. In addition, automated bot attacks shot upward by 100 million between July and December, targeting companies in a range of industries.
Companies striving for better protection risk making life more difficult for their customers; another study found that 40% of financial institutions frequently mistake the online actions of legitimate customers to those of fraudsters.
"As we look toward the post-pandemic—or, more accurately, inter-pandemic—era, we see just how good fraudsters were at using synthetic identities to defeat manual and semi-manual onboarding processes," stated Caleb Callahan, Vice President of Fraud at Stash Financial of New York, offering a personal finance app, in an interview with Pymnts.
SIM Sway Can Create a Synthetic Identity
One technique for achieving a synthetic identity is a SIM swap, in which someone contacts your wireless carrier and is able to convince the call center employee that they are you, using personal data that may have been exposed in hacks, data breaches or information publicly shared on social networks, according to an account on CNET.
Once your phone number is assigned to a new card, all of your incoming calls and text messages will be routed to whatever phone the new SIM card is in.
Identity theft losses were $712.4 billion-plus in 2020, up 42% from 2019, Callahan stated. "To be frank, our defenses are fragmented and too dependent on technologies such as SMS [texting] that were never designed to provide secure services. Banks and all businesses should be looking at how to unify data signals and layer checkpoints in order to keep up with today's sophisticated fraudsters," he stated.
Asked what tools and technologies would help differentiate between fraudsters and legitimate customers, Callahan stated, "in an ideal world, we would have a digital identity infrastructure that banks and others could depend on, but I think that we are some ways away from that right now."
Going forward, "The needs of the travel and hospitality, health, education and other sectors might accelerate the evolution of infrastructure for safety and security," Callahan foresees.
AI and Biometrics Seen as Offering Security Advantages
AI can be employed to protect digital identity fraud, such as by offering greater accuracy and speed when it comes to verifying a person's identity, or by incorporating biometric data so that a cybercriminal would not be able to gain access to information by only providing credentials, according to an account in Forbes.
"AI has the power to save the world from digital identity fraud," stated Deepak Gupta, author of the Forbes article and cofounder and CTO of LoginRadius, a cloud-based consumer identity platform. "In the fight against ID theft, it is already a strong weapon. AI systems are entirely likely to end the reign of the individual hacker."
While he sees AI authentication as being in an early phase, Gupta recommended that companies examine the following: the use of intelligent adaptive authentication, such as local and device fingerprint; biometric authentication, based on the face or fingerprints; and smart data filters. "A well-developed AI protection system will have the ability to respond in nanoseconds to close a leak," he stated.
Pandemic Altered Consumer Financial Behavior, Spurred Identity Fraud
The global pandemic has had a dramatic impact on consumer financial behavior. Consumers spent more time at home in 2020, transacted less than in previous years, and relied heavily on streaming services, digital commerce, and payments. They also corresponded more via email and text, for both work and personal life.
"The pandemic inspired a major shift in how criminals approach fraud," stated John Buzzard, Lead Analyst, Fraud & Security, with Javelin Strategy & Research in a press release. "Identity fraud has evolved and now reflects the lengths criminals will take to directly target consumers in order to steal their personally identifiable information."
Companies made quick adjustments to their business models, such as by increasing remote interactions with borrowers for loan originations and closings, and criminals pounced on new vulnerabilities they discovered. Nearly one-third of identity fraud victims say their financial services providers did not satisfactorily resolve their problems, and 38% of victims closed their accounts because of lack of resolution, the Javelin researchers found.
"It is clear that financial institutions must continue to proactively and transparently manage fraud as a means to deepen their customer relationships," stated Eric Kraus, Vice President and General Manager of Fraud, Risk and Compliance, FIS. The company offers technology solutions for merchants, banks, and capital markets firms globally. "Through our continuing business relationships with financial institutions, we know firsthand that consumers are looking to their banks to resolve instances of fraud, regardless of how the fraud occurred," he added.
This push from consumers who are becoming increasingly savvy online will lay a foundation for safer digital transactions.
"Static forms of consumer authentication must be replaced with a modern, standards-based approach that utilizes biometrics," stated David Henstock, Vice President of Identity Products at Visa, the world's leader in digital payments. "Businesses benefit from reduced customer friction, lower abandonment rates and fewer chargebacks, while consumers benefit from better fraud prevention and faster payment during checkout."
The 2021 Identity Fraud Study from Javelin is now in its 18th year.
Read the source articles and information from Pymnts.com, from CNET, in Forbes and in a press release from Javelin Strategy & Research.
Coinsmart. Beste Bitcoin-Börse in Europa
Source: https://www.aitrends.com/security/pandemic-spurred-identity-fraud-ai-and-biometrics-are-responding/