These "Dire" On-Chain Metrics Show Bitcoin Is on the Verge of Dropping to $7k
The past few days have seen Bitcoin stagnate into a tight range between $9,300 and $9,500. This is part of a wider two-month consolidation that has seen BTC's price action tighten under the crucial $10,000 resistance.
The cryptocurrency market has been so "boring" that as NewsBTC reported previously, volatility is heading towards lows not seen since the start of the year.
There is evidence, however, starting to show that a breakout is imminent. And the evidence suggests that it will be a breakout in the downward direction.
Bitcoin On-Chain Metrics Are "Dire" — And That's Not Good for BTC's Price
Prices may be holding up rather well, but Bitcoin's on-chain stats are purportedly "dire." The founder of blockchain data firm ByteTree Charlie Morris reported on June 14th that a number of statistics for the leading cryptocurrency are all trending lower, suggesting a price drop to the $7,000s:
"1-week network velocity down to 454%, 5-wk 556%. Tx value down, av tx size down, fees down, MRI shot to pieces. Why the lack of interest? Can't see price holding up. Fair value <$7k," Morris wrote.
#bitcoin on chain stats are dire. 1 week network velocity down to 454%, 5wk 556%. Tx value down, av tx size down, fees down, MRI shot to pieces. Why the lack of interest? Can't see price holding up. Fair value <$7k. https://t.co/5O82LldYl6

— Charlie Morris (@AtlasPulse) June 14, 2020
His prediction of a drop towards $7,000 was derived from ByteTree's Fair Value indicator. The firm says the Fair Value indicator "describes a network value multiple with respect to on-chain transaction volume (the economic value of transactions in USD terms)."
The bearish on-chain outlook can be corroborated by similar metrics from IntoTheBlock, another blockchain analytics firm.
Below is a screenshot of the company's Bitcoin on-chain metrics dashboard. As can be seen, three out of the company's seven core metrics are currently "bearish."
The metrics "bearish" are as follows: 1) net network growth, which tracks the overall trend of the Bitcoin network; 2) in the money, a measure that tracks the profitability of BTC investors; and 3) large transactions, the raw count of how many "large" BTC transactions take place.
Miners Hold Strong
There is one on-chain silver lining though: the mining scene.
Blockchain data firm Coin Metrics observed on June 14th, Bitcoin's hash rate has recovered the losses it incurred after the block reward halving on May 11th:
"The CMBI Bitcoin Hash Rate Index demonstrates that hash rate has now largely recovered to its pre-halving levels."
The strength amongst mining entities may not be enough to stop the confluence of a bearish on-chain and technical outlook for Bitcoin though.
"I've been seeing more and more comments saying BTC going down to support is unlikely because that'd be too big a drop. That's not how BTC works. Retraces are short and vicious. Crashes even more so. 40% down is not unlikely, it's happened before, it'll happen again."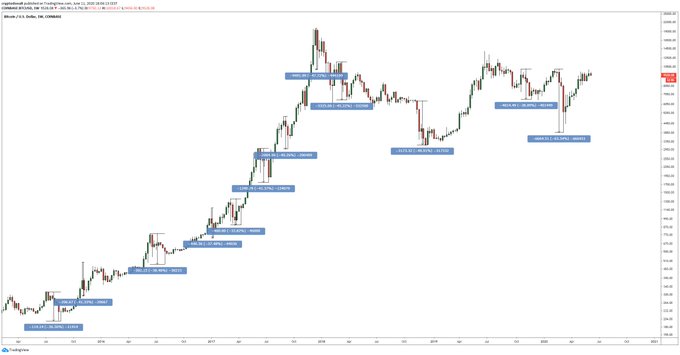 Featured Image from Shutterstock
Price tags: xbtusd, btcusd, btcusdt
These On-Chain Metrics Show Bitcoin Is on the Verge of Dropping to $7k
Source: https://www.newsbtc.com/2020/06/15/on-chain-metrics-bitcoin-7k/?utm_source=rss&utm_medium=rss&utm_campaign=on-chain-metrics-bitcoin-7k
A senior BOJ official says the digital yen needs public support for it to become a reality.
According to the Bloomberg report, a senior Bank of Japan's official said that there is no final decision has been made yet even after the announcement of testing to start next year. The official revealed that a lot depends on the public support for it to go ahead with its central bank-backed digital currency. Kazushige […]
The central bank of Japan's move to launch a digital currency would be conditional on public support, according to a senior BOJ official.

Enable Notifications


Ok


No thanks



Source: https://coinnounce.com/bank-of-japan-official-says-cbdc-needs-public-support/
Japanese soccer star Keisuke Honda launches his own crypto
Crypto and blockchain matter for the global soccer community.
A Japanese professional soccer player is launching his own cryptocurrency to boost fan engagement.
Keisuke Honda, former Japan midfielder and currently a captain of the Brazilian professional league team Botafogo, has launched his own token to build new connections with his fans, Cointelegraph Japan reported on Oct. 22.
The so-called "KSK Honda Coin" was launched on Thursday via Rally.io, a blockchain platform for creating video streaming and gaming applications. The new coin is intended to enable fans to interact with Honda.
Holders of KSK Honda token will be able to get exclusive content from Honda as well as interact with the player via private channels on Discord. "We decided to create a social token to build new connections with our most loyal fans," Honda said.
The world-known soccer player said that the new token will allow him to connect with fans in a more open manner, providing a 100% transparency in knowing who holds coins in the fan community.
The global soccer community is moving deeper into the crypto and blockchain industry in search of new ways of connecting stars with their fans.
On Oct. 15, a top soccer club in Russia's Premier League — Zenit St. Petersburg — signed on to the blockchain-based gaming platform Sorare to issue collectible and tradeable digital cards. In September 2020, Italian professional sports club SS Lazio signed a multiyear deal with crypto trading platform StormGain, enabling new fan engagement options through crypto.
Source: https://cointelegraph.com/news/japanese-soccer-star-keisuke-honda-launches-his-own-crypto
Grayscale Investments continues to grow its cryptocurrency portfolio by adding $300 million in assets under management (AUM) in a day
Grayscale Investments revealed that it had added $300 million worth of cryptocurrencies to its digital assets portfolio over the past 24 hours and over $1 billion in the last week. This information was relayed by Grayscale CEO Barry Silbert via a tweet yesterday.
The crypto fund manager noted that it had $6.3 billion in AUM as of October 15. However, it has added $1 billion in cryptocurrencies over the past week, and the company now controls $7.3 billion worth of digital assets.
Silbert stated that the company "Added a cool $300 million in assets under management in one day. The additional sum brings the total assets held under management to $7.3 billion".
The funds are held in the company's trust for Bitcoin (BTC) and Ethereum (ETH), in addition to Grayscale's digital large-cap fund. This latest development comes less than 48 hours after PayPal announced its entry into the cryptocurrency market, with Bitcoin surpassing the $13,000 mark afterwards.
Each Grayscale report is delayed by 24 hours, which means that this data refers to the previous day's figure.
The cryptocurrency funds manager reported that its Litecoin (LTC) Trust recorded the highest growth since the last report. Grayscale reported that its LTC Trust increased by 7.5%, while their Zcash (ZEC) Trust increased by more than 6% over the past 24 hours. Grayscale also has extensive holdings in other cryptocurrencies such as Ripple (XRP), Ethereum Classic (ETC), Bitcoin Cash (BCH), Horizen (ZEN) and Stellar Lumens (XLM).
Grayscale might be increasing its cryptocurrency holdings after raising massive funds in the third quarter of the year. Grayscale's financial report for Q3 2020 revealed that it had bought over $1 billion in investment across all its cryptocurrency trusts. This year, Grayscale has raised $2.4 billion, which is more than twice the total amount they obtained for the years 2013 – 2019.
The investment firm revealed that 81% of investment in the third quarter came from institutional investors, while another 57% came from people investing in multiple products.
With the crypto fund manager now holding over $6 billion in AUM, it means that Grayscale controls around 2.5% of the total Bitcoin supply, currently above 18,000 BTC. The Bitcoin supply is capped at 21 million, which means that roughly 2.5 million bitcoins are left to be mined.
Grayscale isn't the only company that is increasing its stakes in cryptocurrencies at the moment. MicroStrategy recently bought $425 million worth of Bitcoin, and Jack Dorsey's Square Inc. invested $50 million in Bitcoin.
Source: https://coinjournal.net/news/grayscale-invests-300m-in-a-day-to-grow-its-crypto-portfolio/