The Most Famous Financial Pyramids in the Crypto World
In addition to the obvious advantages in the form of anonymity, accessibility, ease of use and low cost of transactions, cryptocurrencies have some serious drawbacks that impede their global adoption. The main one is the connection between crypto and crime. Everyone who has studied this topic even superficially knows that Bitcoin (BTC) still remains a popular payment method among scammers and criminals on the darknet. Cryptocurrencies are very convenient tools for money laundering, evading taxes and cheating investors.
Today, I will talk about the most famous cryptocurrency pyramids, from which millions of investors suffered and whose activities amounted to billions of dollars in losses. These companies worked on Ponzi schemes, named after an Italian fraudster of the early 20th century. These pyramids do not produce goods and do not provide services — all they do is network marketing, where each member of the pyramid invites several new ones that invite the next ones and so on.
The only people involved who manage to earn in such a system are the organizers and some early investors who managed to withdraw their money in time. The remaining participants in the pyramid are left without money, with debts, or in the case of cryptocurrency pyramids, with no valuable tokens.
OneCoin
OneCoin is considered one of the largest cryptocurrency pyramids, which functioned from 2014 to 2017, deceiving about three million people and defrauding investors of around $5 billion in total. The founder of One Coin is the Bulgarian fraudster Ruzha Ignatova. The pyramid worked according to the classical Ponzi scheme, in which participants receive a reward for each new person invited.
The scammer convinced her audience that OneCoin would soon become the most influential cryptocurrency in the world. There were even promises to "kill Bitcoin." It is worth noting that her coin did not even have its own blockchain and was accepted only on sites associated with the pyramid.
For the first time, the Bulgarian government spoke about the threat from fraudsters by publishing a message about the risks of participating in OneCoin, since the project is not a financial instrument and is not controlled by regulators. This caused the pyramid to "leave" the country and refuse to work with Bulgarian banks.
But soon, criticism and warnings about participating in the scheme came from the United Kingdom, Austria and Thailand. Italy and Germany even banned the activities of OneCoin in the countries and blocked their accounts. Ignatova simply did not attend the next announced meeting with investors in Lisbon, and was never seen again. There is no information on her whereabouts.
The United States government has charged Ruzha Ignatova with fraud and money laundering. While she faces 25 years of imprisonment, law enforcement officers still managed to arrest some of her accomplices, among whom include her lawyer, brother and former business partner.
BitConnect
Another major crypto pyramid functioned from 2016 to 2018: BitConnect. It was created by unknown developers and led by a man named Satao Nakamoto.
Participants had to buy BCC tokens and lock them on a special platform, and the trading bot had to earn profit automatically. Members of the pyramid were promised 40% in profit per month. According to the organizers of BitConnect, from an initial investment of $1,000, investors could expect to withdraw $50 million in three years' time.
The first critic of the pyramid was Vitalik Buterin, who drew attention to the fact that the promise of 1% profit per day is a classic Ponzi scheme. After some time, Mike Novogratz and Litecoin (LTC) creator Charlie Lee agreed with the opinion of the founder of Ethereum. At the same time, questions for the organizers of BitConnect came from the United Kingdom government, which demanded the company to reveal its business model. Yet, this did not prevent fraudsters from participating in crypto events and attracting new investors.
The U.S. authorities helped to end this story, calling BitConnect a financial pyramid and demanding that it cease operations. After that, the BCC token fell by 90%, investors were left with a total loss of $3.5 billion, and one of the organizers of the pyramid was behind bars. Divayesh Darji, the head of the Indian branch of BitConnect, did, however, come out on bail in 2019.
Related: From Bitconnect to SIM-Swap Swindling: 2018's Biggest Scams
PlusToken
The youngest and largest financial pyramid in recent years. Founded in 2018, the pyramid was advertised in Chinese WeChat with promises of 10%–30% of return on investment per month. Around four million people became participants in the PlusToken ponzi scheme. Fraudsters allegedly advocated financial literacy and trained people to use cryptocurrencies, but ultimately aimed to convert them to Plus tokens.
In this case, justice still overtook the organizers of the scheme, and a year ago, six of them were arrested at the request of Chinese authorities. However, the $3 billion lost by investors could not be returned, and remains with the PlusToken team members. More recently, on June 22, all EOS was withdrawn from the pyramid's wallets, and soon enough, this was repeated with all ETH tokens.
Despite the fact that these pyramids have practically ceased their activity, their various "reincarnations" constantly appear, attracting inexperienced investors. The government cannot forever protect citizens from such schemes, since prohibition requires proof of a crime. In this case, the best defense is knowledge. If everyone could recognize the huge profit margins promised by companies in exchange for investment as a red flag rather than a gold mine, there would be significantly fewer fraudsters.
The views, thoughts and opinions expressed here are the author's alone and do not necessarily reflect or represent the views and opinions of Cointelegraph.
Nick Bel is a cryptocurrency enthusiast and tech writer based in London. He is passionate about finance and emerging technologies, such as blockchain, cryptocurrency and artificial intelligence.
Source: https://cointelegraph.com/news/the-most-famous-financial-pyramids-in-the-crypto-world
Ethereum DeFi's Ampleforth (AMPL) Drops 20% Despite "Whale" Accumulation
Ampleforth (AMPL) has been one of the top-performing cryptocurrencies over the past month. The asset, whose long-term price performance is measured by its market capitalization rather than its nominal price, gained ~5,000% in July.
The asset has seen a steep correction over the past week as the focus of crypto investors has been on Bitcoin and Ethereum.
After a recovery, AMPL is dropping once again.
This drop comes in spite of positive on-chain and social media signs, according to blockchain analytics firm Santiment.
Ampleforth Drops 20% Despite On-Chain Data Indicating Accumulation
According to TradingView data, Ampleforth (AMPL) has dropped 20% in the past 24 hours as it has also been impacted by the flash crash in Bitcoin.
Ampleforth is an algorithmic stable coin that attempts to stabilize its price on the U.S. dollar in the long term. It responds to supply and demand by daily "rebasements," which means that long-term holders of the token will have their balance change each day to try and center the price around a dollar. This latest price drop may be a byproduct of Bitcoin's flash crash, coupled with an increase in the supply of AMPL.
Chart of Ampleforth's price action over the past few days from TradingView.com. Depicted is the price action of the Ethereum-based coin on FTX.
Price action may differ from exchange-to-exchange due to inefficiencies in this new(er) market and price action on futures vs. the actual coin.
This price drop in the price of AMPL comes in spite of positive on-chain and social trends, according to Santiment.
The blockchain analytics firm shared the chart below on July 31st. It shows that the weighted social media sentiment of messages regarding Ampleforth has hit a level above 3; a social media sentiment at such a positive reading suggests an extreme number of bulls as opposed to bears.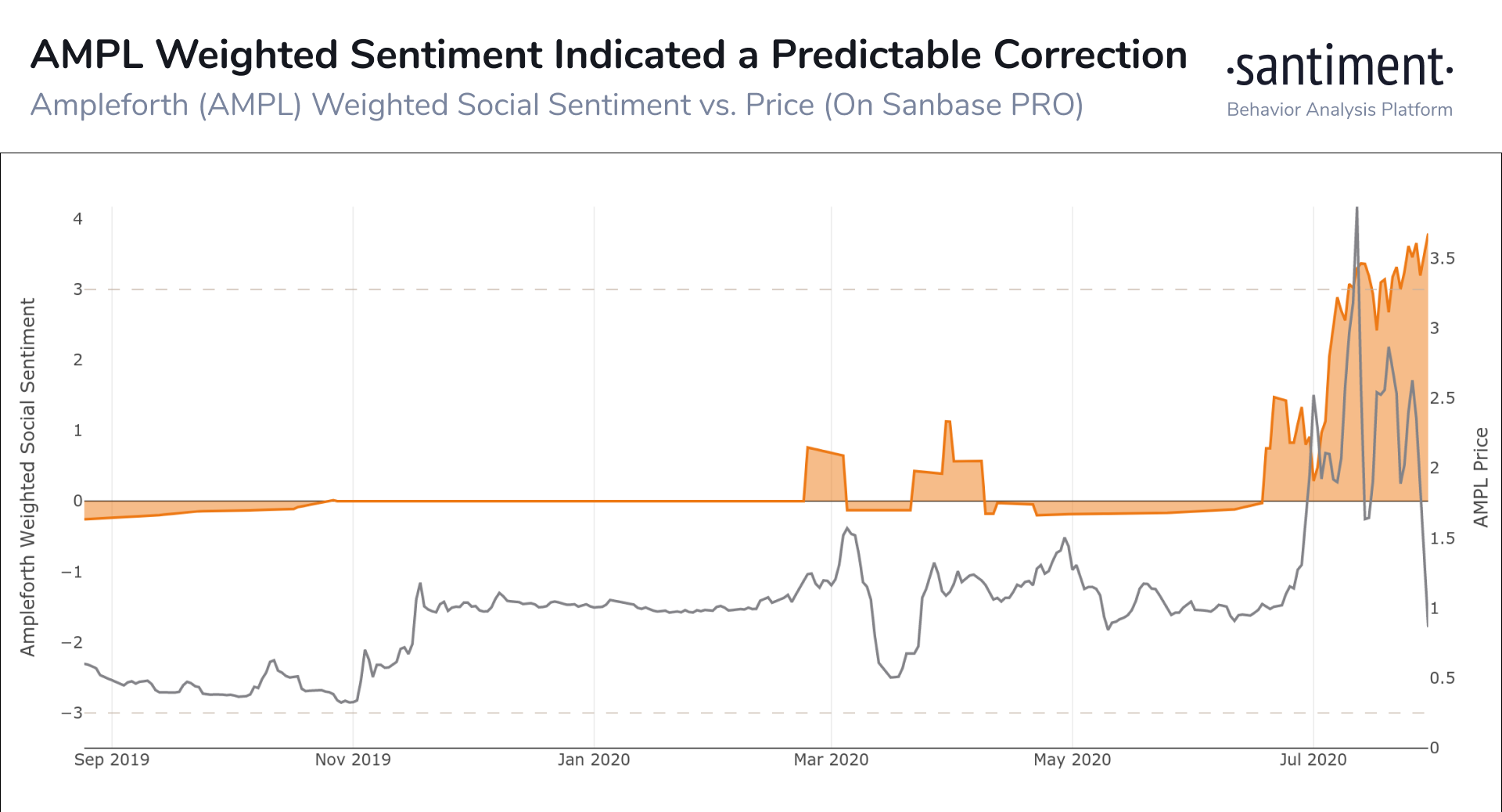 Santiment added that per their data, "whales are accumulating" AMPL. Though, seeing the recent price action, it isn't clear if they are having a big enough effect on the Ethereum-based token's market.
How AMPL Succeeding Could Boost Ethereum
The recent price action has neither confirmed nor denied Ampleforth's long-term goals to be a unique form of money. Thus, analysts have commented on what long-term effect this experiment could have Ethereum and the broader cryptocurrency space.
Ryan Sean Adams, the founder of Mythos Capital, says that he thinks Ampleforth succeeding will be "unbelievably bullish for" ETH.
This is because Amples becoming widely adopted as money will drive record demand for Ethereum transactions, forcing up the price of ETH. Ampleforth's success will also trigger other innovations in money and other facets of society on the network, further driving demand for ETH.
"BCH, ZEC, XMR, BTC, ETH, DOGE, AMPL. Base monies. M0s all competing w/ each other. AMPL is the only one w/o its own chain. It settles on Ethereum. If the AmpleForth experiment is successful, we'll see a rush of M0 monies competing on Ethereum."
BCH, ZEC, XMR, BTC, ETH, DOGE, AMPL

Base monies. M0s all competing w/ each other.

AMPL is the only one w/o its own chain. It settles on Ethereum.

If the AmpleForth experiment is successful, we'll see a rush of M0 monies competing on Ethereum.

This is unbelievably bullish ETH.

— Ryan Sean Adams – rsa.eth 🏴 (@RyanSAdams) July 28, 2020
Adams notably did not comment on whether or not he thinks Ampleforth will succeed or fail as a project. He did, though, call it an "experiment."
Featured Image from Shutterstock
Price tags: ethusd, ethbtc, amplusd
Charts from TradingView.com
Ethereum DeFi's Ampleforth (AMPL) Drops 20% Despite "Whale" Accumulation
Source: https://bitcoinist.com/ethereum-defis-ampleforth-ampl-drops-20/?utm_source=rss&utm_medium=rss&utm_campaign=ethereum-defis-ampleforth-ampl-drops-20
Ethereum's Compound (COMP) Slides to Multi-Month Low Despite DeFi Explosion
While Bitcoin and Ethereum have seen notable bounces since imploding on Saturday evening, Compound and other altcoins are underperforming.
The Ethereum-based coin is down 7.5% in the past 24 hours as per data from Coin Market Cap.
This comes in spite of the fact that decentralized finance (DeFi), which Compound is a market leader in, has seen strong adoption.
Altcoins could see further losses against Bitcoin and the dollar if the market leaders continue to undergo bouts of volatility.
Compound Slides Lower In Spite of DeFi Strength
The Ethereum-based Compound (COMP) was the hottest token of June. But much has changed in the past five weeks.
In the past 24 hours, the Ethereum-based altcoin has dropped by just around 7% against the U.S. dollar. Unlike Ethereum and Bitcoin, it failed to recover a majority of the losses it incurred during Saturday night's flash crash.
With this latest drop, COMP is near multi-month lows not seen since the launch of the asset in the middle of June. At the current price of $128, the asset is also down by approximately 70% from its all-time high price set in late June.
Chart of Compound's price action over the past few days from TradingView.com
This drop comes in spite of the fact that Compound, which the COMP coin is critical to, is the second-largest DeFi protocol and continues to gain traction. In fact, data from DeFiPulse suggests that there is around $767 million worth of cryptocurrency locked in the protocol.
Analysts expect the Ethereum-based coin to decline further as time goes on, unfortunately for its holders.
One trader explained that because the "fundamentals of [Compound's] 'governance', given the public information, don't make too much sense today," a drop under $100 is likely:
"I'm short on $COMP, the fundamentals of the 'governance', given the public information, don't make too much sense today. Won't be surprised to see it fall below $100 unless a revenue model is proposed soon."
His sentiment boiled down to the fact that companies that accomplish what Compound does are valued far below the market capitalization of COMP.
Altcoins Are Unlikely to Benefit if Bitcoin and Ethereum Undergo Further Volatility
Further volatility in the price of Bitcoin could further suppress altcoins, including Compound.
Nik Patel, the author of "An Altcoin Trader's Handbook," recently said on the outlook for altcoins in the current environment:
"Wouldn't surprise me to see dominance now rise until BTC all-time highs (pending a confirmed Weekly breakout above $10,600) > break $20k and alts find another bottom (like Nov/Dec 2016) > they rally concurrently like March-June 2017."
One trader, though, said that Bitcoin and Ethereum are likely to consolidate after Saturday's flash crash. This could trigger rallies in altcoins as money flows from these large caps to smaller players.
Featured Image from Shutterstock
Price tags: ethusd, ethbtc, compusd, compbtc
Charts from TradingView.com
Ethereum's Compound (COMP) Slides to Multi-Month Low Despite DeFi Explosion
Source: https://bitcoinist.com/ethereums-compound-comp-slides-multi-month-low/?utm_source=rss&utm_medium=rss&utm_campaign=ethereums-compound-comp-slides-multi-month-low
Why Analysts Expect Ethereum to See Further Downside Following Intense Selloff
Ethereum witnessed some intense overnight volatility that caused its price to slide as low as $300
This intense selling pressure came about in tandem with that witnessed by Bitcoin – which caused its price to slide down to lows of $11,000
Analysts are now noting that ETH may be positioned to see further downside due to the strength of this movement
Although it has found some support and stability within the mid-$300 region, weakness against its BTC trading pair may also drag it lower
Ethereum and the entire cryptocurrency market is currently trying to stabilize following the unprecedented volatility witnessed overnight.
This came about after Bitcoin rallied to highs of $12,000 while ETH reached highs of $415.
From here, the market's strength began degrading, with BTC ultimately reeling as low as $11,000 while Ethereum plunged to $300.
Both of these assets have since recovered slightly, but they still remain in a precarious position.
While looking towards Ethereum, one analyst is now noting that he is expecting ETH to see further near-term downside in the days and weeks ahead.
That being said, he still believes that the crypto's macro strength makes it so that "dips are for buying."
Ethereum Plunges as Low as $300 Overnight as Selling Pressure Ramps Up
At the time of writing, Ethereum is trading down just under 6% at its current price of $365.
This is a far cry from where it was trading at during the crux of the overnight movement when bears sent it as low as $300 on some platforms.
The drop to this level was incredibly fleeting, and it only traded here for a mere moment before being propelled back up to the mid-$300 region, where it is now consolidating.
While looking at Ethereum's Bitcoin trading pair, one analyst explained that he is expecting it to see a continuation of this downtrend.
"ETHBTC: Channel fakeout? Gray zone is where I would like to reload up on ETH. I'm being patient – may take a few months – may not happen – that's fine by me," he said.
Image Courtesy of TraderXO. Chart via TradingView.
As seen on the chart he offers, the ETH/BTC price he is looking to accumulate at exists around 0.026. It is currently trading at 0.033.
Analyst: BTC Likely to See Further Downside, But Macro Uptrend Remains Strong
Another analyst explained in a recent tweet that he now believes that Ethereum could pull back a bit further against USD before finding meaningful support.
"ETH / USD: Price perfectly tapped our previous highs of $315 overnight and was pretty much instantly bought back, over a 12% wick, bulls seem to be buying back up dips… LTF seems like we could pullback a little more, with some continuation to the downside, dips for buying."
Image Courtesy of Cactus. Chart via TradingView.
As seen in the above chart, the lower-$300 region has been a historically important level for Ethereum, and the overnight dip here further confirms this.
Featured image from Unsplash.
Charts from TradingView.
Source: https://bitcoinist.com/why-analysts-expect-ethereum-to-see-further-downside-following-intense-selloff/?utm_source=rss&utm_medium=rss&utm_campaign=why-analysts-expect-ethereum-to-see-further-downside-following-intense-selloff