The Encrypted Messaging Dilemma: Balancing Censorship and Freedom
Encrypted messaging services have always presented a tough challenge for government agencies all over the world. On one hand, they allow for freedom of speech, but on the other, they enable miscreants and bad actors to facilitate nefarious deeds. In this regard, on July 2, European law enforcement authorities arrested over 800 individuals that were allegedly partaking in shady activities through the use of an encrypted chat service called EncroChat.
The messaging platform has servers based out of France and claims to provide users with "worry-free secure communications." According to the BBC, EncroChat has a customer base of more than 60,000 people, more than 10,000 of whom are based in Britain. Immediately after the incident came to light, EncroChat's official website and messaging service were put on temporary hold. To gain a better overview of the matter, Cointelegraph reached out to Tim Mackey, principal security strategist for design automation company Synopsys, who said:
"Authorities likely balanced the future value associated with identifying additional criminals against the already identified criminal activity. In effect, they may have determined that stopping a specific impending crime outweighed any potential returns from keeping EncroChat operational."
A similar outlook is also shared by Brian Kerr, CEO at Kava, a multi-chain DeFi Lending platform, who said that the government was right in accessing Encrochat's servers to put an end to the criminal activities happening on the network.
Encryption still on the menu?
As issues related to data leakages — especially those in regard to various mainstream messaging services (such as Whatsapp, TrueDialog and Telegram) — continue to surface on a regular basis, many experts believe that it is worth exploring the subject of whether or not most encryption platforms today lay enough importance on privacy and customer security.
On the subject, John Jefferies, CEO of CipherTrace, a crypto forensics firm, told Cointelegraph that customer privacy should always be taken into prime consideration by platform developers of such end-to-end encryption messengers. He further emphasized the point by saying that it was especially important to focus on privacy during times like these (i.e., the COVID-19 pandemic), where increased usage of digital platforms could lead to more instances of hacks, privacy invasions and data leaks. Jefferies further added:
"Encrypted communication is nuanced so platforms must ensure they have effective implementation of SSL with certificates issued from a known root of trust utilizing strong cipher suites. To further improve security, multi-factor authentication should be available for users joining conferences and the system should double-check users on unknown devices."
Similarly, Jonathan Zerah, head of marketing for Status Network, an encrypted messenger, told Cointelegraph that despite there being many "so-called privacy and security-oriented" communication tools available in the market today, most of the security features being offered were built atop protocols that place a large amount of ownership and responsibility on centralized companies.
He further added that more often than not, these centralized communication tools employ a client-server model to transport and route messages throughout the world as well as require users to input their phone numbers or email addresses to set up and create an account — sensitive data that most firms usually store and manage using lax security protocols. Zerah added: "This places a massive responsibility on the companies managing these platforms to protect that data and the servers that store it."
Lastly, to mitigate privacy issues related to popular messaging apps, experts like Zerah agree that it is time to establish newer safety protocols that return ownership of data to the individual, remove centralized chokepoints and attack vectors seamlessly.
Governments purging encryption-based tech?
Recently, a bill was introduced into the United States Senate that effectively seeks to put an end to using end-to-end encryption in messaging services. A similar issue was also raised in the ministerial meeting of the nations that make up the "Five Eyes" intelligence community comprising Australia, Canada, New Zealand, the United Kingdom and the United States. These developments seem to suggest that law enforcement agencies all over the world are making a concerted effort to eliminate encryption-based privacy technologies.
In Mackey's view, due to the growing number of data breaches in the world today, there is a steady increase in the volume of data protection legislation being set into motion. These legislative efforts aim to limit the range of data that businesses can collect while increasing the security of any sensitive information that businesses process and retain.
However, even though it may be appealing for governments to attempt to limit the use of encryption technologies under the auspices reducing criminal activity, the situation around EncroChat clearly shows that criminal groups can easily create their own workarounds if the need arises. In this regard, the recently tabled Lawful Access to Encrypted Data Act — which would require companies to implement ways to decrypt data upon court order — could become a viable way through which a fine balance between regulation and encryption could be established.
That being said, Chris Hauk, a consumer privacy advocate as well as author for Pixel Privacy, an online privacy and security blog, believes that no government agency should ever have the legal right to outlaw encrypted messaging platforms. Furthermore, he believes that providing any sort of backdoor access to law enforcement agencies could end up opening new avenues for bad actors to exploit, thus defeating the primary goal of any encrypted messaging platform.
Collaboration between governments and service providers possible?
While the idea of encryption service providers and government agencies coming to a common consensus on handling privacy-related matters sounds like a perfect outcome on paper, in actuality, such a vision seems far-fetched because any review of "harmful content," by default, requires platform operators themselves to have direct access to their customer information.
Moreover, once such a backdoor is opened, there will be nothing stopping governments from having the ability to go through everyone's personal correspondence under the guise of public safety — something that has already been suggested by whistleblower Edward Snowden and his team. Leaks in recent years have showcased how governments all over the world, particularly the United States, have been proactively working with tech companies to harvest data in a totally indiscriminate manner.
It's also worth mentioning that implementing a blanket ban on end-to-end encryption isn't really possible. While certain legal roadblocks can definitely be deployed, if developers continue to use and devise apps using the technology, there's not much that anyone can really do. Thus, in essence, government agencies should try and come to an agreement with businesses running such services in order to curb illegal activities on their platforms.
Lastly, providing his point of view on this situation, Chris Howell, co-founder and chief technology officer of Wickr, a messenger with end-to-end encryption, told Cointelegraph that any encryption service can be used for good or bad.
Although it is disappointing every time that criminals exploit privacy-oriented messengers for their personal gains, he does believe the answer is not to ban such services or destroy encryption, privacy and security for everyone through the use of backdoor gateways. He said, "Our ability to protect data and intellectual property from these same bad actors via strong encryption, solid security products, etc. does far more good for mankind than harm," adding that:
"I think when a service has privacy and security issues, its legitimate users suffer far more than its bad actors. Of course, no legitimate service wishes to be a haven for bad actors. Most of us expend significant resources honoring law enforcement information requests and believe it is our responsibility to do so. But the reason we build things is for customers and their needs, and I'm not hearing a lot of them ask us to weaken our security so that bad actors might suffer."
Source: https://cointelegraph.com/news/the-encrypted-messaging-dilemma-balancing-censorship-and-freedom
Ethereum DeFi's Ampleforth (AMPL) Drops 20% Despite "Whale" Accumulation
Ampleforth (AMPL) has been one of the top-performing cryptocurrencies over the past month. The asset, whose long-term price performance is measured by its market capitalization rather than its nominal price, gained ~5,000% in July.
The asset has seen a steep correction over the past week as the focus of crypto investors has been on Bitcoin and Ethereum.
After a recovery, AMPL is dropping once again.
This drop comes in spite of positive on-chain and social media signs, according to blockchain analytics firm Santiment.
Ampleforth Drops 20% Despite On-Chain Data Indicating Accumulation
According to TradingView data, Ampleforth (AMPL) has dropped 20% in the past 24 hours as it has also been impacted by the flash crash in Bitcoin.
Ampleforth is an algorithmic stable coin that attempts to stabilize its price on the U.S. dollar in the long term. It responds to supply and demand by daily "rebasements," which means that long-term holders of the token will have their balance change each day to try and center the price around a dollar. This latest price drop may be a byproduct of Bitcoin's flash crash, coupled with an increase in the supply of AMPL.
Chart of Ampleforth's price action over the past few days from TradingView.com. Depicted is the price action of the Ethereum-based coin on FTX.
Price action may differ from exchange-to-exchange due to inefficiencies in this new(er) market and price action on futures vs. the actual coin.
This price drop in the price of AMPL comes in spite of positive on-chain and social trends, according to Santiment.
The blockchain analytics firm shared the chart below on July 31st. It shows that the weighted social media sentiment of messages regarding Ampleforth has hit a level above 3; a social media sentiment at such a positive reading suggests an extreme number of bulls as opposed to bears.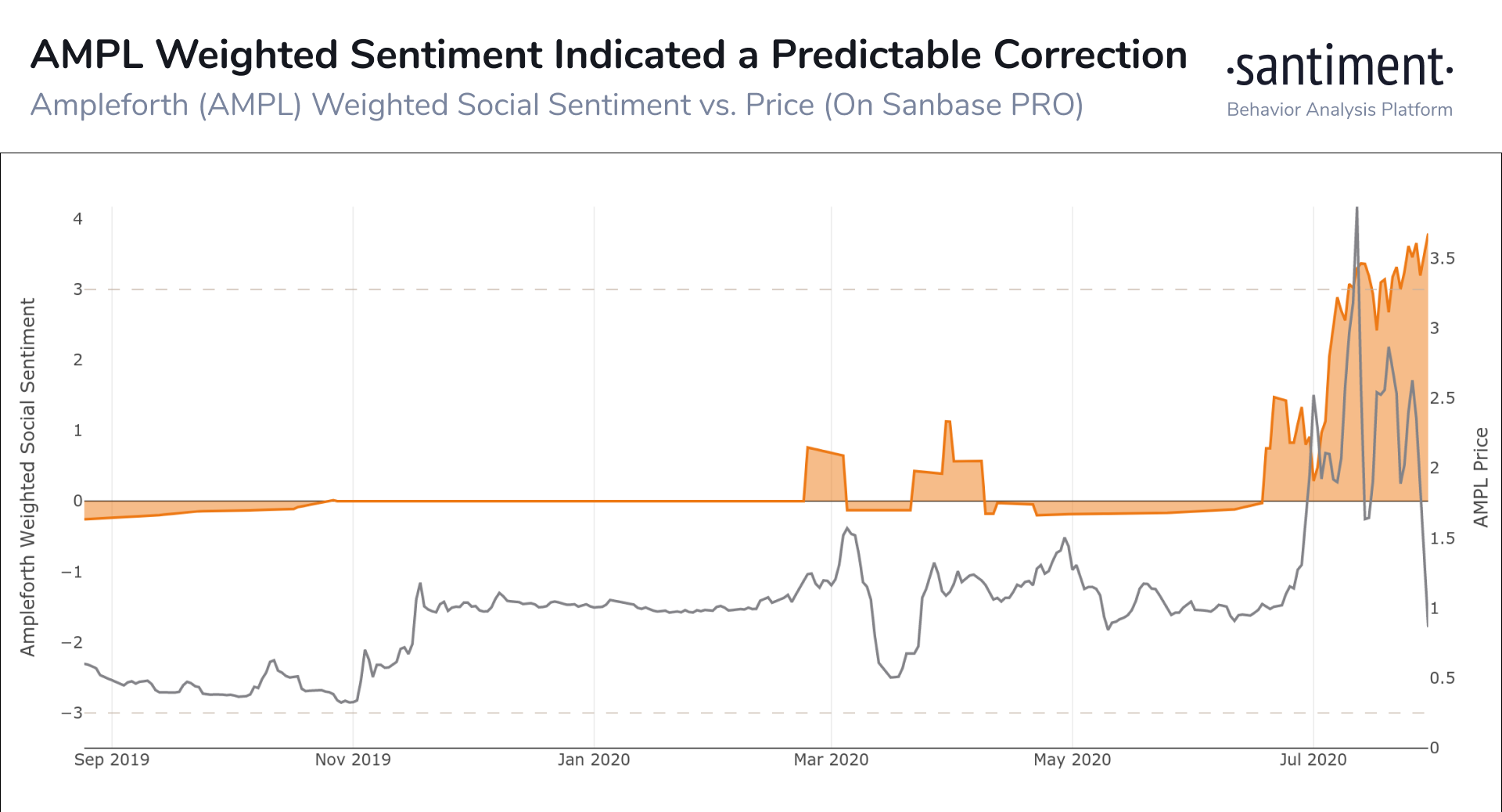 Santiment added that per their data, "whales are accumulating" AMPL. Though, seeing the recent price action, it isn't clear if they are having a big enough effect on the Ethereum-based token's market.
How AMPL Succeeding Could Boost Ethereum
The recent price action has neither confirmed nor denied Ampleforth's long-term goals to be a unique form of money. Thus, analysts have commented on what long-term effect this experiment could have Ethereum and the broader cryptocurrency space.
Ryan Sean Adams, the founder of Mythos Capital, says that he thinks Ampleforth succeeding will be "unbelievably bullish for" ETH.
This is because Amples becoming widely adopted as money will drive record demand for Ethereum transactions, forcing up the price of ETH. Ampleforth's success will also trigger other innovations in money and other facets of society on the network, further driving demand for ETH.
"BCH, ZEC, XMR, BTC, ETH, DOGE, AMPL. Base monies. M0s all competing w/ each other. AMPL is the only one w/o its own chain. It settles on Ethereum. If the AmpleForth experiment is successful, we'll see a rush of M0 monies competing on Ethereum."
BCH, ZEC, XMR, BTC, ETH, DOGE, AMPL

Base monies. M0s all competing w/ each other.

AMPL is the only one w/o its own chain. It settles on Ethereum.

If the AmpleForth experiment is successful, we'll see a rush of M0 monies competing on Ethereum.

This is unbelievably bullish ETH.

— Ryan Sean Adams – rsa.eth 🏴 (@RyanSAdams) July 28, 2020
Adams notably did not comment on whether or not he thinks Ampleforth will succeed or fail as a project. He did, though, call it an "experiment."
Featured Image from Shutterstock
Price tags: ethusd, ethbtc, amplusd
Charts from TradingView.com
Ethereum DeFi's Ampleforth (AMPL) Drops 20% Despite "Whale" Accumulation
Source: https://bitcoinist.com/ethereum-defis-ampleforth-ampl-drops-20/?utm_source=rss&utm_medium=rss&utm_campaign=ethereum-defis-ampleforth-ampl-drops-20
Ethereum's Compound (COMP) Slides to Multi-Month Low Despite DeFi Explosion
While Bitcoin and Ethereum have seen notable bounces since imploding on Saturday evening, Compound and other altcoins are underperforming.
The Ethereum-based coin is down 7.5% in the past 24 hours as per data from Coin Market Cap.
This comes in spite of the fact that decentralized finance (DeFi), which Compound is a market leader in, has seen strong adoption.
Altcoins could see further losses against Bitcoin and the dollar if the market leaders continue to undergo bouts of volatility.
Compound Slides Lower In Spite of DeFi Strength
The Ethereum-based Compound (COMP) was the hottest token of June. But much has changed in the past five weeks.
In the past 24 hours, the Ethereum-based altcoin has dropped by just around 7% against the U.S. dollar. Unlike Ethereum and Bitcoin, it failed to recover a majority of the losses it incurred during Saturday night's flash crash.
With this latest drop, COMP is near multi-month lows not seen since the launch of the asset in the middle of June. At the current price of $128, the asset is also down by approximately 70% from its all-time high price set in late June.
Chart of Compound's price action over the past few days from TradingView.com
This drop comes in spite of the fact that Compound, which the COMP coin is critical to, is the second-largest DeFi protocol and continues to gain traction. In fact, data from DeFiPulse suggests that there is around $767 million worth of cryptocurrency locked in the protocol.
Analysts expect the Ethereum-based coin to decline further as time goes on, unfortunately for its holders.
One trader explained that because the "fundamentals of [Compound's] 'governance', given the public information, don't make too much sense today," a drop under $100 is likely:
"I'm short on $COMP, the fundamentals of the 'governance', given the public information, don't make too much sense today. Won't be surprised to see it fall below $100 unless a revenue model is proposed soon."
His sentiment boiled down to the fact that companies that accomplish what Compound does are valued far below the market capitalization of COMP.
Altcoins Are Unlikely to Benefit if Bitcoin and Ethereum Undergo Further Volatility
Further volatility in the price of Bitcoin could further suppress altcoins, including Compound.
Nik Patel, the author of "An Altcoin Trader's Handbook," recently said on the outlook for altcoins in the current environment:
"Wouldn't surprise me to see dominance now rise until BTC all-time highs (pending a confirmed Weekly breakout above $10,600) > break $20k and alts find another bottom (like Nov/Dec 2016) > they rally concurrently like March-June 2017."
One trader, though, said that Bitcoin and Ethereum are likely to consolidate after Saturday's flash crash. This could trigger rallies in altcoins as money flows from these large caps to smaller players.
Featured Image from Shutterstock
Price tags: ethusd, ethbtc, compusd, compbtc
Charts from TradingView.com
Ethereum's Compound (COMP) Slides to Multi-Month Low Despite DeFi Explosion
Source: https://bitcoinist.com/ethereums-compound-comp-slides-multi-month-low/?utm_source=rss&utm_medium=rss&utm_campaign=ethereums-compound-comp-slides-multi-month-low
Why Analysts Expect Ethereum to See Further Downside Following Intense Selloff
Ethereum witnessed some intense overnight volatility that caused its price to slide as low as $300
This intense selling pressure came about in tandem with that witnessed by Bitcoin – which caused its price to slide down to lows of $11,000
Analysts are now noting that ETH may be positioned to see further downside due to the strength of this movement
Although it has found some support and stability within the mid-$300 region, weakness against its BTC trading pair may also drag it lower
Ethereum and the entire cryptocurrency market is currently trying to stabilize following the unprecedented volatility witnessed overnight.
This came about after Bitcoin rallied to highs of $12,000 while ETH reached highs of $415.
From here, the market's strength began degrading, with BTC ultimately reeling as low as $11,000 while Ethereum plunged to $300.
Both of these assets have since recovered slightly, but they still remain in a precarious position.
While looking towards Ethereum, one analyst is now noting that he is expecting ETH to see further near-term downside in the days and weeks ahead.
That being said, he still believes that the crypto's macro strength makes it so that "dips are for buying."
Ethereum Plunges as Low as $300 Overnight as Selling Pressure Ramps Up
At the time of writing, Ethereum is trading down just under 6% at its current price of $365.
This is a far cry from where it was trading at during the crux of the overnight movement when bears sent it as low as $300 on some platforms.
The drop to this level was incredibly fleeting, and it only traded here for a mere moment before being propelled back up to the mid-$300 region, where it is now consolidating.
While looking at Ethereum's Bitcoin trading pair, one analyst explained that he is expecting it to see a continuation of this downtrend.
"ETHBTC: Channel fakeout? Gray zone is where I would like to reload up on ETH. I'm being patient – may take a few months – may not happen – that's fine by me," he said.
Image Courtesy of TraderXO. Chart via TradingView.
As seen on the chart he offers, the ETH/BTC price he is looking to accumulate at exists around 0.026. It is currently trading at 0.033.
Analyst: BTC Likely to See Further Downside, But Macro Uptrend Remains Strong
Another analyst explained in a recent tweet that he now believes that Ethereum could pull back a bit further against USD before finding meaningful support.
"ETH / USD: Price perfectly tapped our previous highs of $315 overnight and was pretty much instantly bought back, over a 12% wick, bulls seem to be buying back up dips… LTF seems like we could pullback a little more, with some continuation to the downside, dips for buying."
Image Courtesy of Cactus. Chart via TradingView.
As seen in the above chart, the lower-$300 region has been a historically important level for Ethereum, and the overnight dip here further confirms this.
Featured image from Unsplash.
Charts from TradingView.
Source: https://bitcoinist.com/why-analysts-expect-ethereum-to-see-further-downside-following-intense-selloff/?utm_source=rss&utm_medium=rss&utm_campaign=why-analysts-expect-ethereum-to-see-further-downside-following-intense-selloff