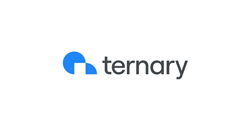 "Ternary's ability to provide granular detail on cost and usage for Cloud SQL is highly important given the wide and increasing adoption of the service," said Sean Anderson, Vice President of Commercial Offers at 66degrees, a leading Google Cloud Premier Partner.
SAN FRANCISCO (PRWEB)
June 20, 2022
Ternary, the leading FinOps platform for Google Cloud Platform (GCP), today announced rapid adoption of its platform now being used to manage over nearly $7B in cloud spend for Google's largest enterprise customers each spending upwards of $200M annually. Additionally, Ternary launched new capabilities to help customers optimize the unit economics of cloud spend with support for Cloud SQL, Multicloud Carbon Footprint Optimization equating cloud spend to carbon usage and a Cost Takeout Tool to automatically generate price comparisons between providers. Ternary will be demonstrating these new features at the FinOpsX Conference, June 20-21, 2022 in Austin, Texas where Co-Founder Patrick Raymond and Head of Products, James Jackson also will be presenting on the topic, Revisiting the False Decision Trap: FinOps at Scale and the Union of Internal and External Tooling.
"Ternary's ability to provide granular detail on cost and usage for Cloud SQL is highly important given the wide and increasing adoption of the service," said Sean Anderson, Vice President of Commercial Offers at 66degrees, a leading Google Cloud Premier Partner. "Equally important is Ternary's ability to compare cloud costs between providers with its new Cost Takeout Tool. Using this tool, 66degrees is helping enterprises make accurate migration business cases for switching to GCP, and automating these analyses helps save valuable analyst time."
Cloud SQL Support: Biggest Cost Driver on GCP

According to Gartner, by the end of this year 75% of all databases will be deployed or migrated to a cloud platform. As enterprises conduct these migrations and rely more heavily on databases for complex analytics, Cloud SQL has emerged as one of the biggest, dedicated cost drivers for GCP and it has become critical to understand spend, usage and growth. However, the need to manage these costs as a compute resource like CPU or RAM which cannot be resized or shrunk, versus a variable service expense presents a unique challenge. In particular, the auto growth of Cloud SQL results in constant scale up of storage usage and costs. Ternary's expanded support for Cloud SQL provides granular visibility cloud administrators need to better manage usage, how resources are allocated and identify opportunities to rightsize.
Carbon Footprint Optimizer: Multi-Cloud Sustainability

While cloud services are more energy efficient than physical data center build outs, they are still a driver of carbon emissions, responsible for an estimated 1.8% of US electricity consumption. Ternary's new Carbon Footprint Optimizer equates cloud spend with carbon usage, visualizing carbon emissions and cloud usage and providing recommendations on how to reduce costs. The feature works with both Amazon Web Services (AWS) and (GCP) and is capable of breaking down gross emissions usage by cloud and region. When coupled with support for Cloud SQL, Ternary provides an unmatched lens into the unit economic view of cloud spend, and visibility into true carbon footprint per transaction rather than simply assessing cost per CPU.
Cost Takeout Comparison: Easy as 1-2-3

Cloud cost comparisons are a time-consuming and painstaking task that take weeks of analyst time to manually convert 100's of 1000's of SKUs. Ternary's Cost Takeout Tool automates the process, delivering a breakout of costs and what they would be on GCP in a matter of minutes versus days. Comprehensive analysis spans 90% of a total bill, including the top-5 biggest cost drivers comprising the majority of enterprise cloud spend. These insights help enterprises ensure they are achieving best pricing scenarios across cloud providers, and arms them with data to negotiate rates.
"With our new set of features, we are reinforcing our holistic approach to cloud cost management at nearly every stage of the lifecycle using data to help customers manage cloud spend as efficiently as possible based on true unit economics measurement," said Sasha Kipervarg, Ternary CEO. "We refer to this continuous lifecycle loop as the 'cloud spend flywheel', starting with forecasting and culminating with measurement and showback for massive data sets."
Ternary is an advanced SaaS platform purpose-built for optimizing the costs of GCP services for cloud engineering and IT finance teams. Ternary provides the automation to empower application development, DevOps/SRE, IT finance, IT executives, and other stakeholders to understand, plan, and optimize GCP costs to control variable cloud spending. With Ternary, teams collaborate to identify unseen savings and ensure they are continuously spending to plan using the granular insights and automation we provide to proactively optimize GCP service costs.
About Ternary

Ternary offers a FinOps platform for Google Cloud (GCP) to empower and inspire cloud engineers, IT finance, and business teams to optimize cloud costs. Purpose-built to address GCP customers' specific cloud cost optimization needs, Ternary is a Google Cloud Partner and a FinOps Foundation certified platform. Since launching in 2021, Ternary has grown to more than 100 active enterprise customers. To learn more about Ternary and FinOps for cloud cost optimization, visit http://www.ternary.app or email success@ternary.app.
Share article on social media or email:
Coinsmart. Europe's Best Bitcoin and Crypto Exchange.Click Here

Platoblockchain. Web3 Metaverse Intelligence. Knowledge Amplified. Access Here.

Source:

https://www.prweb.com/releases/2022/6/prweb18746336.htm