Segment paragraphs and detect insights with Amazon Textract and Amazon Comprehend
Many companies extract data from scanned documents containing tables and forms, such as PDFs. Some examples are audit documents, tax documents, whitepapers, or customer review documents. For customer reviews, you might be extracting text such as product reviews, movie reviews, or feedback. Further understanding of the individual and overall sentiment of the user base from the extracted text can be very useful.
You can extract data through manual data entry, which is slow, expensive, and prone to errors. Alternatively you can use simple optical character recognition (OCR) techniques, which require manual configuration and changes for different inputs. The process of extracting meaningful information from this data is often manual, time-consuming, and may require expert knowledge and skills around data science, machine learning (ML), and natural language processing (NLP) techniques.
To overcome these manual processes, we have AWS AI services such as Amazon Textract and Amazon Comprehend. AWS pre-trained AI services provide ready-made intelligence for your applications and workflows. Because we use the same deep learning technology that powers Amazon.com, you get quality and accuracy from continuously learning APIs. And best of all, AI services on AWS don't require ML experience.
Amazon Textract uses ML to extract data from documents such as printed text, handwriting, forms, and tables without the need for any manual effort or custom code. Amazon Textract extracts complete text from given documents and provides key information such as page numbers and bounding boxes.
Based on the document layout, you may need to separate paragraphs and headers into logical sections to get more insights from the document at a granular level. This is more useful than simply extracting all of the text. Amazon Textract provides information such as the bounding box location of each detected text and its size and indentation. This information can be very useful for segmenting text responses from Amazon Textract in the form of paragraphs.
In this post, we cover some key paragraph segmentation techniques to postprocess responses from Amazon Textract, and use Amazon Comprehend to generate insights such as sentiment and entity extraction:
Identify paragraphs by font sizes by postprocessing the Amazon Textract response
Identify paragraphs by indentation using bounding box information
Identify segments of the document or paragraphs based on the spacing between lines
Identify the paragraphs or statements in the document based on full stops
Gain insights from extracted paragraphs using Amazon Comprehend
After you segment the paragraphs using any of these techniques, you can gain further insights from the segmented text by using Amazon Comprehend for the following use cases:
Detecting key phrases in technical documents – For documents such as whitepapers and request for proposal documents, you can segment the document by paragraphs using the library provided in the post and then use Amazon Comprehend to detect key phrases.
Detecting named entities from financial and legal documents – In some use cases, you may want to identify key entities associated with paragraph headings and subheadings. For example, you can segment legal documents and financial documents by headings and paragraphs and detect named entities using Amazon Comprehend.
Sentiment analysis of product or movie reviews – You can perform sentiment analysis using Amazon Comprehend to check when the sentiments of a paragraph changes in product review documents and act accordingly if the reviews are negative.
In this post, we cover the sentiment analysis use case specifically.
We use two different sample movie review PDFs for this use case, which are available on GitHub. The document contains movie names as the headers for individual paragraphs and reviews as the paragraph content. We identify the overall sentiment of each movie as well as the sentiment for each review. However, testing an entire page as a single entity isn't ideal for getting an overall sentiment. Therefore, we extract the text and identify reviewer names and comments and generate the sentiment of each review.
Solution overview
This solution uses the following AI services, serverless technologies, and managed services to implement a scalable and cost-effective architecture:
The following diagram illustrates the architecture of the solution.
Our workflow includes the following steps:
A movie review document gets uploaded into the designated S3 bucket.
The upload triggers a Lambda function using Amazon S3 Event Notifications.
The Lambda function triggers an asynchronous Amazon Textract job to extract text from the input document. Amazon Textract runs the extraction process in the background.
When the process is complete, Amazon Textract sends an SNS notification. The notification message contains the job ID and the status of the job. The code for Steps 3 and 4 is in the file textraction-inovcation.py.
Lambda listens to the SNS notification and calls Amazon Textract to get the complete text extracted from document. Lambda uses the text and bounding box data provided by Amazon Textract. The code for the bounding box data extraction can be found in lambda-helper.py.
The Lambda function uses the bounding box data to identify the headers and paragraphs. We discuss two types of document formats in this post: a document with left indentation differences between headers and paragraphs, and a document with font size differences. The Lambda code that uses left indentation can be found in blog-code-format2.py and the code for font size differences can be found in blog-code-format1.py.
After the headers and paragraphs are identified, Lambda invokes Amazon Comprehend to get the sentiment. After the sentiment is identified, Lambda stores the information in DynamoDB.
DynamoDB stores the information extracted and insights identified for each document. The document name is the key and the insights and paragraphs are the values.
Deploy the architecture with AWS CloudFormation
You deploy an AWS CloudFormation template to provision the necessary AWS Identity and Access Management (IAM) roles, services, and components of the solution, including Amazon S3, Lambda, Amazon Textract, Amazon Comprehend.
Launch the following CloudFormation template and in the US East (N. Virginia) Region:
For BucketName, enter BucketName textract-demo-

<date>

(adding a date as a suffix makes the bucket name unique).
Choose Next.
In the Capabilities and transforms section, select all three check boxes to acknowledge that AWS CloudFormation may create IAM resources.
Choose Create stack.
This template uses AWS Serverless Application Model (AWS SAM), which simplifies how to define functions and APIs for serverless applications, and also has features for these services, like environment variables.
The following screenshot of the stack details page shows the status of the stack as CREATE_IN_PROGRESS. It can take up to 5 minutes for the status to change to CREATE_COMPLETE. When it's complete, you can view the outputs on the Outputs tab.
Process a file through the pipeline
When the setup is complete, the next step is to walk through the process of uploading a file and validating the results after the file is processed through the pipeline.
To process a file and get the results, upload your documents to your new S3 bucket, then choose the S3 bucket URL corresponding to the s3BucketForTextractDemo key on the stack Outputs tab.
You can download the sample document used in this post from the GitHub repo and upload it to the s3BucketForTextractDemo S3 URL. For more information about uploading files, see How do I upload files and folders to an S3 bucket?
After the document is uploaded, the textraction-inovcation.py Lambda function is invoked. This function calls the Amazon Textract StartDocumentTextDetection API, which sets up an asynchronous job to detect text from the PDF you uploaded. The code uses the S3 object location, IAM role, and SNS topic created by the CloudFormation stack. The role ARN and SNS topic ARN were set as environment variables to the function by AWS CloudFormation. The code can be found in textract-post-processing-CFN.yml.
Postprocess the Amazon Textract response to segment paragraphs
When the document is submitted to Amazon Textract for text detection, we get pages, lines, words, or tables as a response. Amazon Textract also provides bounding box data, which is derived based on the position of the text in the document. The bounding box data provides information about where the text position from the left and top, the size of the characters, and the width of the text.
We can use the bounding box data to identify lots of segments of the document, for example, identifying paragraphs from a whitepaper, movie reviews, auditing documents, or items on a menu. After these segments are identified, you can use Amazon Comprehend to find sentiment or key phrases to get insights from the document. For example, we can identify the technologies or algorithms used in a whitepaper or understand the sentiment of each reviewer for a movie.
In this section, we demonstrate the following techniques to identify the paragraphs:­
Identify paragraphs by font sizes by postprocessing the Amazon Textract response
Identify paragraphs by indentation using Amazon Textract bounding box information
Identify segments of the document or paragraphs based on the spacing between lines
Identify the paragraphs or statements in the document based on full stops
Identify headers and paragraphs based on font size
The first technique we discuss is identifying headers and paragraphs based on the font size. If the headers in your document are bigger than the text, you can use font size for the extraction. For example, see the following sample document, which you can download from GitHub.
First, we need to extract all the lines from the Amazon Textract response and the corresponding bounding box data to understand font size. Because the response has a lot of additional information, we're only extracting lines and bounding box data. We separate the text with different font sizes and order them based on size to determine headers and paragraphs. This process of extracting headers is done as part of the get_headers_to_child_mapping method in the lambda-helpery.py function.
The step-by-step flow is as follows:
A Lambda function gets triggered by every file drop event using the textract-invocation function.
Amazon Textract completes the process of text detection and sends notification to the SNS topic.
The blog-code-format1.py function gets triggered based on the SNS notification.
Lambda uses the method get_text_results_from_textract from lambda-helper.py and extracts the complete text by calling Amazon Textract repeatedly for all the pages.
After the text is extracted, the method get_text_with_required_info identifies bounding box data and creates a mapping of line number, left indentation, and font size for each line of the total document text extracted.
We use the bounding box data to call the get_headers_to_child_mapping method to get the header information.
After the header information is collected, we use get_headers_and_their_line_numbers to get the line numbers of the headers.
After the headers and their line numbers are identified, the get_header_to_paragraph_data method gets the complete text for each paragraph and creates a mapping with each header and its corresponding paragraph text.
With the header and paragraph information collected, the update_paragraphs_info_in_dynamodb method invokes Amazon Comprehend for each paragraph and stores the information of the header and its corresponding paragraph text and sentiment information into DynamoDB.
Identify paragraphs based on indentation
As a second technique, we explain how to derive headers and paragraphs based on the left indentation of the text. In the following document, headers are aligned at the left of the page, and all the paragraph text is a bit further in the document. You can download this sample PDF on GitHub.
In this document, the main difference between the header and paragraph is left indentation. Similar to the process described earlier, first we need to get line numbers and indentation information. After we this information, all we have to do is separate the text based on the indentation and extract the text between two headers by using line numbers.
The step-by-step flow is as follows:
A Lambda function gets triggered whenever a file drop event occurs using the textract-invocation Lambda function.
Amazon Textract completes the process of text detection and sends a notification to the SNS topic.
The blog-code-format2.py function gets triggered based on the SNS notification.
Lambda uses the method get_text_results_from_textract from lambda-helper.py and extracts the complete text by calling Amazon Textract repeatedly for all the pages.
After the text is extracted, we use the method get_text_with_required_info to identify bounding box data and create a mapping of line number, left indentation, and font size for each line of the total document text extracted.
After the text is extracted, we use the method get_text_with_required_info to identify the text bounding box data.
The bounding box data get_header_info method is called to get the line numbers of all the headers.
After the headers and their line numbers are identified, we use the get_header_to_paragraph_data method to get the complete text for each paragraph and create a mapping with each header and its corresponding paragraph text.
With the header and paragraph information collected, we use the update_paragraphs_info_in_dynamodb method to invoke Amazon Comprehend for each paragraph and store the information of the header and its corresponding paragraph text and sentiment information into DynamoDB.
Identify paragraphs based on line spacing
Similar to the preceding approach, we can use line spaces to get the paragraphs only from a page. We calculate line spacing using the top indent. The difference in top indentation of the current line and the next line or previous line provides us with the line spacing. We can separate segments if the line spacing is bigger. The detailed code can be found on GitHub. You can also download the sample document from GitHub.
Identify segments or paragraphs based on full stops
We also provide a technique to extract segments or paragraphs of the document based on full stops. Consider preceding document as an example. After the Amazon Textract response is parsed and the lines are separated, we can iterate through each line and whenever we find a line that ends with a full stop, we can consider it as end of paragraph and any line thereafter is part of next paragraph. This is another helpful technique to identify various segments of the document. The code to perform this can be found on GitHub
Get the sentiment of paragraphs or segments of the page
As we described in the preceding processes, we can collect the text using various techniques. After the list of paragraphs are identified, we can use Amazon Comprehend to get the sentiment of the paragraph and key phrases of the text. Amazon Comprehend can give intelligent insights based on the text, which is very valuable to businesses because understanding the sentiment at each segment is very useful.
Query sentiments per paragraph in DynamoDB
After you process the file, you can query the results for each paragraph.
On the DynamoDB console, choose Tables in the navigation pane.
You should see two tables:
Textract-job-details – Contains information of the Amazon Textract processing job
Textract-post-process-data – Contains the sentiment of each paragraph header
Choose the Textract-post-process-data table.
You can see a mix of review sentiments.
Scan or query the table to find the negative customer reviews.
The DynamoDB table data looks like the following screenshot, file path, header, paragraph data, and sentiment for paragraph.
Conclusion
This post demonstrated how to extract and process data from a PDF and visualize it to review sentiments. We separated the headers and paragraphs via custom coding and ran sentiment analysis for each section separately.
Processing scanned image documents helps you uncover large amounts of data, which can provide meaningful insights. With managed ML services like Amazon Textract and Amazon Comprehend, you can gain insights into your previously undiscovered data. For example, you can build a custom application to get text from a scanned legal document, purchase receipts, and purchase orders.
If this post helps you or inspires you to solve a problem, we would love to hear about it! The code for this solution is available on the GitHub repo for you to use and extend. Contributions are always welcome!
---
About the Authors
Srinivasarao Daruna is a Data Lab Architect at Amazon Web Services and comes from strong big data and analytics background. In his role, he helps customers with architecture and solutions to their business problem. He enjoys learning new things and solving complex problems for customers.
Mona Mona is a Senior AI/ML Specialist Solutions Architect based out of Arlington, VA. She works with public sector customers and helps them adopt machine learning on a large scale. She is passionate about NLP and ML explainability areas in AI/ML and has published multiple blog posts on these topics in the AWS AI/ML Blogs.
Divyesh Sah is as a Sr. Enterprise Solutions Architect in AWS focusing on financial services customers, helping them with cloud transformation initiatives in the areas of migrations, application modernization, and cloud native solutions. He has over 18 years of technical experience specializing in AI/ML, databases, big data, containers, and BI and analytics. Prior to AWS, he has experience in areas of sales, program management, and professional services.
Sandeep Kariro is an Enterprise Solutions Architect in the Telecom space. Having worked in cloud technologies for over 7 years, Sandeep provides strategic and tactical guidance to enterprise customers around the world. Sandeep also has in-depth experience in data-centric design solutions optimal for cloud deployments while keeping cost, security, compliance, and operations as top design principles. He loves traveling around the world and has traveled to several countries around the globe in the last decade.
Coinsmart. Beste Bitcoin-Börse in Europa
Source: https://aws.amazon.com/blogs/machine-learning/segment-paragraphs-and-detect-insights-with-amazon-textract-and-amazon-comprehend/
How Health Tech is Shaping the Future of Healthcare
Writes about tech. Software engineer and digital marketer by profession. Peace.
Technologies like Artificial Intelligence, Big Data, Machine Learning, Telemedicine, Virtual Reality, Augmented Reality, and the Internet of Things play a vital role in shaping the future of Health Tech. The goal is to make it easy for humans to take care of themselves and their overall health.
In this article, we'll discuss some of the ways AI, Telemedicine, AR, VR, IoT, and 3D technologies are improving healthcare and have become the driving forces of some medical technologies.
Artificial Intelligence in Health Tech
One of the top technologies causing a radical change in health tech is Artificial Intelligence. AI is the backbone of all modern emerging technologies. For the healthcare industry, AI-enabled solutions can assist medical research and help with new product development.
With Machine Learning, the most common form of AI, it has become possible for researchers now to reach conclusions easily and with better precision. Big Data, which goes hand in hand with ML, is used to analyze enormous amounts of patient data and detect the patterns of diseases. It includes diagnosing diseases to discovering links between genetic codes and robots assisting surgeries. Altogether, it can lead to better outcomes and patient engagement with immediate returns through cost reduction.
A deep neural network, called the LSAN, is developed by researchers at Penn State University. The new ML model would predict any future health conditions of a patient by scanning and analyzing the electronic health records of the patients.
Image: Fraunhofer FOKUS
AI in Cancer Care
The integration of AI technology in cancer care is one area that can make a breakthrough impact on humanity. Cancer screening today is inconvenient and invasive. The detection of two common cancers, colon and breast, require screening technologies developed 50 years ago.
Cancer patients have a 90% chance of survival if cancer is detected at stage I versus only a 5% chance at stage IV, so early detection is a critical means of improving patient outcomes.
Helio Health is an AI-driven healthcare startup focused on developing and commercializing early cancer detection tests from a simple blood draw. The company's mission is to simplify cancer screening so lives can be saved by detecting cancer earlier. Helio Health has secured $86 million in venture funding and currently in clinical trials for its lead liver cancer detection test, the HelioLiver Test. Helio's development program is currently focused on liver, colon, breast, and lung cancer, and actively collaborating with top national cancer centers.
Telemedicine in Health Tech
Telemedicine technologies have been making a huge impact. Telemedicine boomed during the COVID-19 pandemic and I believe the trend is going to stay. There are plenty of reasons for that, but the real reason is as more and more gadgets, gears, and wearable devices – like Ring, FitBit, or Embr Wave – are becoming part of health tech. Apple announced a breakthrough ECG app – approved by the FDA – empowering patients to maintain a log of their electrocardiogram anytime.
Our smartphones can now also pair with third-party health devices like glucometers, heart monitors, body scales, toothbrushes, and spirometers for other important and vital metrics.
Wearable Devices
Wearable and mobile devices are becoming popular as they are providing more accurate results than before. One of the leading causes of death worldwide is hypertension. But your smartphone can measure your blood pressure as well. The Biospectal OptiBP app, funded by Bill and Melinda Gates, is a mobile-only app that measures your blood pressure at any time. The app is very accurate, and aided by telemedicine, can really make a difference to fight the global hypertension crisis even in low-income countries.
Image: CNET
Health tech devices can even transmit data automatically from such devices to telemedicine service providers. This growing number of health devices and their convenience is not only just helping researchers with day-to-day data but also opening a new era of at-home telehealth.
Eye Exams Can Now be Done Online
Another example of telemedicine is Stanton Optical, a leading eye health provider. During the pandemic, they started to offer all eye care as part of their telemedicine initiative. The optical company offered patients to receive a customized eye care treatment plan and prescription through a virtual video screen with a local Ophthalmologist (MD) or Optometrist. It allowed patients to receive eye care during a pandemic when many eye care providers are turning away patients within the safety of their homes.
Many other startups like DoctorSpring and Second Opinions are providing telemedicine services. DoctorSpring allows you to do a medical consultancy from board-certified doctors 24×7. Second Opinions also let you submit a medical questionnaire before scheduling an online meeting with a board-certified doctor.
Health tech is making it possible for the healthcare industry to manage major diseases like diagnosing and treating cancer, diabetes, hypertension and helping patients suffering from mental health issues.
Neural Interfaces Can Also Improve Health Tech
Elon Musk's neural technology company, Neuralink, is working on a brain chip that will be implanted into the human skull and connected directly to the brain. The goal of the Neuralink chip is to provide an interface to communicate with the brain. It can help to improve mental health and cure brain disorders like Alzheimer's, Parkinson's disease, and spinal cord injuries. It would initially focus on curing and treating major traumas and brain injuries, and can also be used to restore eyesight and hearing. The chip electrodes can read signals from the brain and write them down and will be helpful in curing paralysis as well.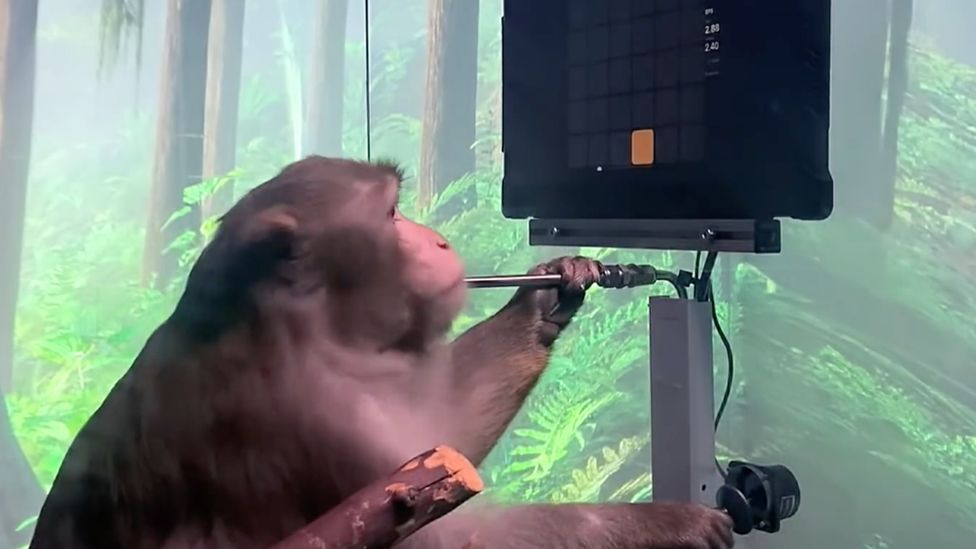 Screengrab: Neuralink YouTube
The brain chip designed by Neuralink is still in the phases of trials. It was first implanted in the brain of a pig for initial trials. The chip was recently implanted in a monkey, and a video showed it playing a video game by using its brain only. Elon Musk claimed in a tweet that his company and the chip will be ready for human trials later this year. However, he made a similar claim in 2019 that the chip would be tested on humans by the end of 2020.
Facebook made a formal entry into the neural world when it acquired CTRL Labs, a startup co-founded by Internet Explorer creator and neuroscientist Thomas Reardon, in 2019. CTRL Labs is working on a similar brain-machine interface, but unlike brain implanted chips by Neuralink, CTRL Labs' mainstream product is their wristband which they demonstrated to transmit electrical signals from the brain into computer input.
CTRL Labs wristband is part of Facebook's AR/VR research group. Facebook plans to use the neural interface technology of CTRL Lab's wristband that connects to their AR/VR devices more naturally and intuitively. Neural technology development is a clear indication that we will see a breakthrough in health tech very soon.
Medical VR/AR Solutions
Virtual Reality (VR) and Augmented Reality (AR) have proved to be significant and useful visual technologies. They have already advanced so much in the healthcare sector that medical practitioners can now render 3D images of human autonomy and their CT scans for better examination and to precisely locate the blood vessels, bones, and muscles.
Osso VR, a startup based in Palo Alto, has raised $14 million in September to build a virtual reality surgical training and assessment platform. This can help surgeons in training to repeat steps many times virtually. Orthopedic residency programs using Osso VR include Columbia University, David Geffen School of Medicine at UCLA, Harvard Medical School, and more.
Image: Osso VR
Organovo has already printed human liver cells and tissues in 3D. Their ExVive3D Liver Tissue is helping the pharmaceutical and the healthcare industry in testing the conditions of the human liver.
The technology is advancing quickly enough that we could soon see surgeons and medical staff frequently use VR or AR glasses during critical surgeries, and it was found that the individuals who take help from this health tech perform surgeries quicker and with better precision. Surgeries are quicker and more precise now with the help of AR and VR.
Final Thoughts on the Current State of Health Tech
Healthcare has always been of immense importance to human beings. Health tech is constantly improving the healthcare sector, and the ways of providing basic healthcare to humans have become easier and more effective.
Do you think I missed an important health tech development? Share your views in the HackerNoon Community.
Want to keep up with all the latest health topics? Subscribe to our newsletter in the footer below.
Join Hacker Noon
Create your free account to unlock your custom reading experience.
Coinsmart. Beste Bitcoin-Börse in Europa
Source: https://hackernoon.com/how-health-tech-is-shaping-the-future-of-healthcare-et1r37zt?source=rss