Protests ignite push to link CDL with concealed carry license
A trucking group formed to fight government overreach wants lawmakers to consider linking commercial driver's licenses (CDLs) to concealed carry permits to help drivers feel safer as their jobs get more dangerous.
"We're discussing how to get legislation introduced that would give active CDL holders an addendum permit to their license that would be connected to their concealed carry gun permit," explained Ingrid Brown, who oversees safety education for the United States Transportation Alliance (USTA).
"The point would be to allow drivers to carry a concealed weapon in their truck – not in just the concealed-carry permit state that they're from, but across all 48 states that allow for concealed carry within the state."
Brown, an independent owner-operator, said that gun laws have always been a topic of discussion among drivers. But dangers to truck drivers posed by protesters demonstrating against police brutality sparked renewed discussions among USTA's board members about easing federal gun restrictions, Brown said.
Earlier this week, Marcus Sommers, a USTA board member, was ambushed by gunfire while driving his rig along I-70 in Ohio in an incident unrelated to the protests. Sommers was not physically hurt, but Brown said the event created even more urgency around concealed carry.
"If I'm on the street waiting to get into the shipper or the receiver, how do I protect myself? We want to do as much of our own homework and research and education on this issue so that we can bring more awareness not just to local and state governments, but also to Congress, on what we're dealing with out here and how we're dealing with it."
An informal survey taken earlier this week by FreightWaves polling a mix of owner-operators, company drivers, and fleet owners revealed that easing restrictions on concealed carry to be widely supported in the industry even by those associated with larger trucking companies that may be more likely to have strict weapons policies in place.
Concealed carry became more controversial, however, when respondents were asked whether internal company policy would be adjusted to allow drivers to carry a concealed weapon if laws regulating concealed carry were to be relaxed.
But Brown contends that while company policy would likely override a federal law, "giving a driver with a CDL the specific right to concealed carry across state lines would provide more leverage on this issue," she said. "Our greatest hope would be for companies to see what's going on out there with a potential law that gives them a reason to change their own policy for drivers that want that protection."
Concealed carry reciprocity legislation aimed at the general public is currently pending in both the U.S. House and Senate. The House bill does not directly link CDLs to concealed carry permits but truckers would benefit from the proposal's provisions, according to U.S. Rep. Richard Hudson (R-North Carolina), who introduced the legislation in 2019.
Click for more FreightWaves articles by John Gallagher
Source: https://www.freightwaves.com/news/protests-ignite-push-to-link-cdl-with-concealed-carry-license
Rivian shares details about the R1T's premium cabin and its amenities
Rivian released details of the R1T pickup truck's interior, specifically those quipped with the company's Adventure Package and Forest Edge interior. Based on the features outlined by the company, it is evident that Rivian brought its A-game when it fitted the all-electric pickup truck with its features and amenities.
Immediately noticeable in the R1T is its generous number of storage options. In both the first and second row, storage spaces are abound. There's an open 14×11-inch space under the center display, a 33-inch wide storage bin under the R1T back seats, and smaller storage pullouts under the driver and passenger seats. These are complemented by four retractable cup holders and space for one 40-ounce water bottle in each door's cargo compartment.
Similar to Tesla's interior, which keeps sustainability in mind, the Rivian R1T is fitted with vegan leather seats. Even the vehicle's microfiber headliner is made from 100% recycled materials, and its lightweight Chilewich floormats are designed to be easily taken off, hosed down, and replaced. These, together with other smudge-resistant accents in the interior, ensure that owners can keep their R1Ts (relatively) clean while they enjoying the outdoors.
The R1T's main controls are accessed through the all-electric pickup's 16-inch center display, which provides pertinent information such as weather and climate controls thanks to its 4G connection. A 6.5-inch rear display, placed at the back of the center console, is also present. Six USB Type-C ports are placed around the cabin: two in the center console, two in the rear center console, and two more in the back of the front seat headrests. A wireless charger is also available, as well as a 12V outlet and a 120V outlet.
A possible favorite feature of Rivian R1T could be its capability to act as a Wi-Fi hotspot using its onboard 4G connection. This feature would likely be appreciated by owners who tend to travel with kids that love to access their favorite streaming services on their devices. Other toys and tools in the vehicle include a 1000-lumen flashlight and a weatherproof Camp Speaker with a dedicated low bass campground mode to keep owners' sonic footprint from disturbing wildlife and fellow campers. An optional 130-piece Rivian Field Kit, which includes emergency essentials like a rescue blanket, poncho, and fold-up shovel, is also available.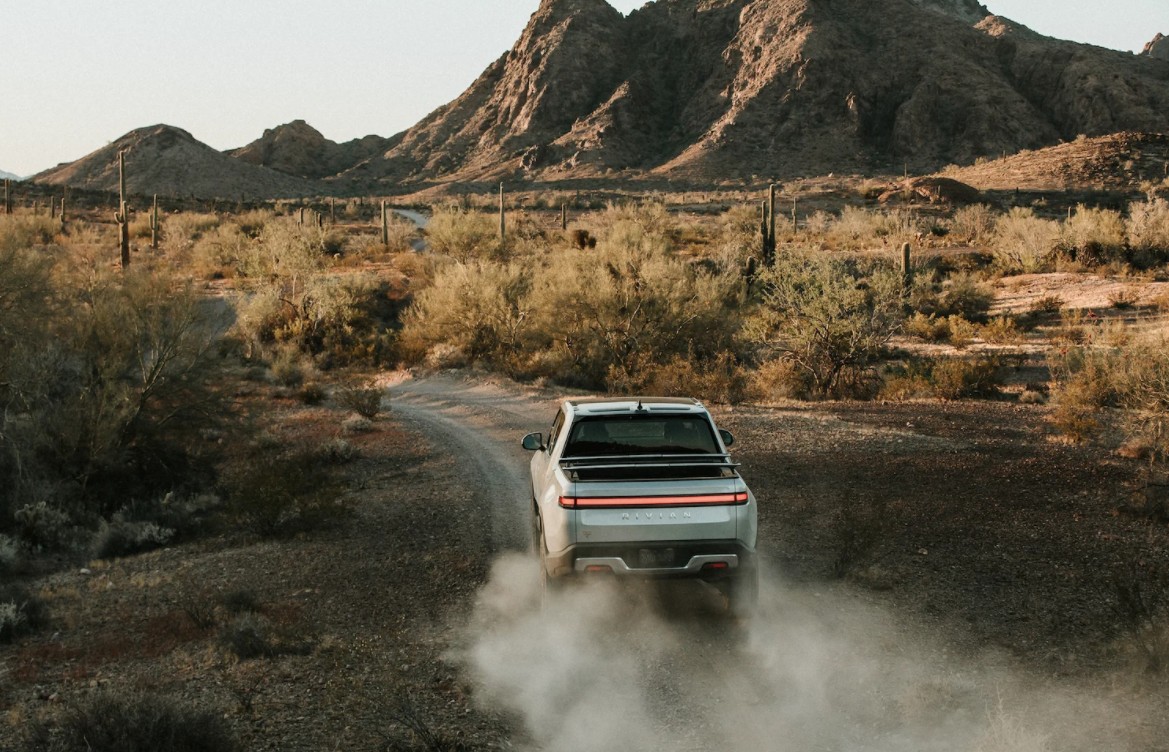 The full details of the Rivian R1T Adventure Package with Forest Edge interior could be accessed here.
Do you have anything to share with the Teslarati Team? We'd love to hear from you, email us at [email protected] or reach out to me at [email protected].
Rivian shares details about the R1T's premium cabin and its amenities
Coinsmart. Beste Bitcoin-Börse in Europa
Source: https://www.teslarati.com/rivian-r1t-final-interior-details/