Paraguayan Congressmen Propose New Bitcoin Bill
Paraguayan lawmaker Carlitos Rejala has drafted and ready to propose the new bitcoin bill to congress, according to TheStreet Crypto report.
After the leakage of the Bitcoin bill draft disclosed to the public Tuesday, Paraguayan congressmen Carlitos Rejala and his companion's politicians have created the bill and ready to propose to the congress for regulating Bitcoin and cryptocurrencies in this South-American country, according to local media TheStreet Crypto report Wednesday.
According to the report, the objective of the new bill is to "regulate the activities of production and commercialisation of cryptocurrencies".
Actors who intend to conduct crypto mining are requested to get virtual assets mining licenses; these mining operations will also be approved and overseen by the authority. The legislation will categorise the mining activities as "innovative and elector-intensive industry".
Rejala welcomed the proposal on Twitter, saying the proposal will allow Paraguaya to get an advantage from this virtual currency, describing it as a competitive industry and plans to lead in sustainable Bitcoin mining by "safeguarding and optimising renewable energy".
"The big day has finally arrived. The future is now #Bitcoin."
Yet, the market tends to remain cautious and polarized about the new bill. "It is important to see if the actual bill turns out to be 'crypto-friendly' because in some cases governments have promised to regulate crypto, but the actual legislation was underdeveloped and put excessive scrutiny on companies and individuals," Kirill Suslov, CEO of trading app TabTrader said.
On the other hand, "Being regulated (the bill) should take away the risk for investors, which makes it easier to attract capital," said Ruud Feltkamp, CEO of crypto trading bot Cryptohopper.
The market also concerns about the issue of the circulation of Bitcoin. About 90% of Bitcoins in existence haven't been converted to fiat currency in over a year, according to JPMorgan's report, which was cited first by Bloomberg. Most of the Bitcoin that people own could be being held in virtual crypto wallets, which means a large part is not being converted to fiat currencies and being locked up in illiquid entities.
Image source: Shutterstock
PlatoAi. Web3 Reimagined. Data Intelligence Amplified.
Click here to access.
Source: https://Blockchain.News/news/paraguayan-congressmen-propose-new-bitcoin-bill
Ethereum is Expected to Undergo a 90% Daily Emission Reduction Following ETH 2.0 Upgrade
Ethereum (ETH) was up by 9.72% in the past week to breach the psychological price of $2K during intraday trading. ETH's price stood at $2,056 as the second-largest cryptocurrency continues to gain momentum.
Market analyst Lark Davis believes that the upgrade of Ethereum 2.0 will prompt a 90% daily emission reduction from 12,800 to 1,280. He explained:
"The other wildly important aspect of The Merger is that ETH will undergo a 90% reduction in daily emission. Basically from 12,800 a day to 1,280 a day. Yearly inflation from 4.3% down to 0.43%. This is equivalent to 3 Bitcoin halvings, and is only months away."
Ethereum 2.0, also known as the Beacon Chain, was launched in December 2020 and was regarded as a game-changer that seeks to transit the current proof-of-work (POW) consensus mechanism to a proof-of-stake (POS) framework.
Davis also noted that Ethereum would experience "Triple Halving" as part of the ETH 2.0 upgrade, a highly significant economic event for the asset's price in the coming years.
Ethereum whales cumulatively hold 60.52 million ETH
According to on-chain metrics provider Santiment:
"Ethereum whales that hold between 10k and 1 million ETH in their respective wallets now own a cumulative total of 60.52m coins. This is the highest amount held by this tier since in 5 weeks, and represents a 1.65million ETH accumulation in the past 6 days."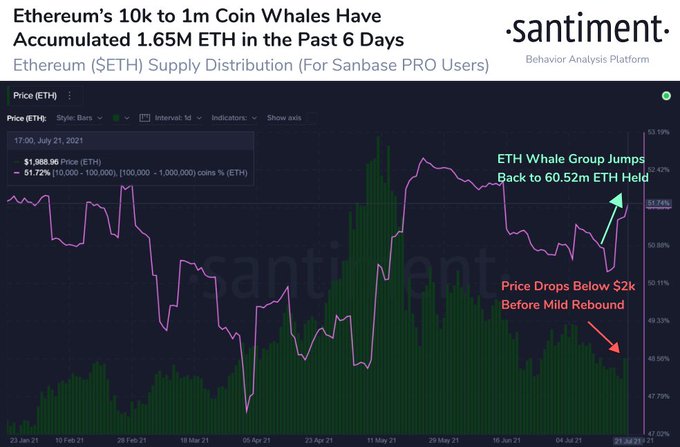 Therefore, ETH whales continue investing in this asset, which indicates high confidence levels.
Ethereum has been making headlines based on its notable strides. For instance, ETH has had an impressive return on investment (ROI) of 171% this year compared to tech stocks like Microsoft, Facebook, and Apple. Furthermore, Davis had previously noted that Ethereum was settling three times more value on-chain than Bitcoin daily.
Image source: Shutterstock
PlatoAi. Web3 Reimagined. Data Intelligence Amplified.
Click here to access.
Source: https://Blockchain.News/analysis/ethereum-is-expected-undergo-a-90-percent-daily-emission-reduction-following-eth-2.0-upgrade