Medium-Duty Sales Tumble 33% in May
[Stay on top of transportation news: Get TTNews in your inbox.]
U.S. retail sales of medium-duty trucks fell across the board in May, landing below 15,000, WardsAuto.com reported — coming amid states' uneven stay-at-home orders and the first nonessential services reopening in limited ways.
Sales of Classes 4-7 trucks in the month dropped 33.2% to 14,809 compared with 22,171 in the 2019 period.
Year-to-date, sales were 81,766, down 18.6% compared with 100,417 a year earlier. Only Classes 4-5 sales were positive in the five-month period, improving 6.3% to 43,370 compared with 40,810.
The diversity of end markets served by medium-duty trucks should continue to help blunt the severity and duration of the downturn, certainly in relation to the much more volatile heavy-duty truck market.

Dan Clark, head of BMO Transportation Finance
"The market for medium-duty trucks, which has been hit particularly hard by the shutdown of nonessential services, remains in the midst of a down cycle that we think will be sharper than the relatively modest pauses that we've become accustomed to," Dan Clark, head of BMO Transportation Finance, told Transport Topics.
"That said, the diversity of end markets served by medium-duty trucks should continue to help blunt the severity and duration of the downturn, certainly in relation to the much more volatile heavy-duty truck market," Clark said.
Class 7 sales dropped 30.2% to 3,442 compared with 4,934 a year earlier, and Class 6 plunged 60.9% to 2,898 from 7,414.
The leasing and rental business — primarily Class 6 — is "almost 50% of the entire medium-duty market, and that is still very constrained," Navistar Inc. Chief Operating Officer Persio Lisboa said during the company's latest earnings conference call.
COVID-19 has placed significant strain on many freight networks. So how are third-party logistics providers adapting to meet these challenges? Host Seth Clevenger chats with two 3PL executives who have had firsthand experience contending with this crisis. Hear a snippet, above, and get the full program by going to RoadSigns.TTNews.com.
Those companies are drawing from their stock of rental units to fulfill requirements for a lease contract "instead of buying a new truck from a truck maker, like us. We haven't seen any material recovery on leasing and rental at this point in time," Lisboa said June 4.
International is Navistar's truck brand. In Class 6, its sales fell to 455 compared with 2,342 a year earlier.
In Classes 4-5, industry sales fell 13.8% to 8,469 compared with 9,823 in May 2019.
Meanwhile, one analyst saw increasing changes in fuel preferences.
"Last-mile delivery companies have taken the lead in requiring alternative fuel vehicles due to their proximity to consumers, favorable economics and the enhancement of brand image," said Andrew Wrobel, a commercial vehicle market forecaster with Rhein Associates. "That said, oil prices have plummeted, and fleets welcome the lower diesel costs, but we still see committed compressed natural gas users striving to meet corporate green initiatives with that fuel."
Clark said accelerating growth in last-mile e-commerce during the shutdown will continue to be a much-needed lifeline for medium-duty truck demand.
Want more news? Listen to today's daily briefing:
Source: https://www.ttnews.com/articles/medium-duty-sales-tumble-33-may
Rivian shares details about the R1T's premium cabin and its amenities
Rivian released details of the R1T pickup truck's interior, specifically those quipped with the company's Adventure Package and Forest Edge interior. Based on the features outlined by the company, it is evident that Rivian brought its A-game when it fitted the all-electric pickup truck with its features and amenities.
Immediately noticeable in the R1T is its generous number of storage options. In both the first and second row, storage spaces are abound. There's an open 14×11-inch space under the center display, a 33-inch wide storage bin under the R1T back seats, and smaller storage pullouts under the driver and passenger seats. These are complemented by four retractable cup holders and space for one 40-ounce water bottle in each door's cargo compartment.
Similar to Tesla's interior, which keeps sustainability in mind, the Rivian R1T is fitted with vegan leather seats. Even the vehicle's microfiber headliner is made from 100% recycled materials, and its lightweight Chilewich floormats are designed to be easily taken off, hosed down, and replaced. These, together with other smudge-resistant accents in the interior, ensure that owners can keep their R1Ts (relatively) clean while they enjoying the outdoors.
The R1T's main controls are accessed through the all-electric pickup's 16-inch center display, which provides pertinent information such as weather and climate controls thanks to its 4G connection. A 6.5-inch rear display, placed at the back of the center console, is also present. Six USB Type-C ports are placed around the cabin: two in the center console, two in the rear center console, and two more in the back of the front seat headrests. A wireless charger is also available, as well as a 12V outlet and a 120V outlet.
A possible favorite feature of Rivian R1T could be its capability to act as a Wi-Fi hotspot using its onboard 4G connection. This feature would likely be appreciated by owners who tend to travel with kids that love to access their favorite streaming services on their devices. Other toys and tools in the vehicle include a 1000-lumen flashlight and a weatherproof Camp Speaker with a dedicated low bass campground mode to keep owners' sonic footprint from disturbing wildlife and fellow campers. An optional 130-piece Rivian Field Kit, which includes emergency essentials like a rescue blanket, poncho, and fold-up shovel, is also available.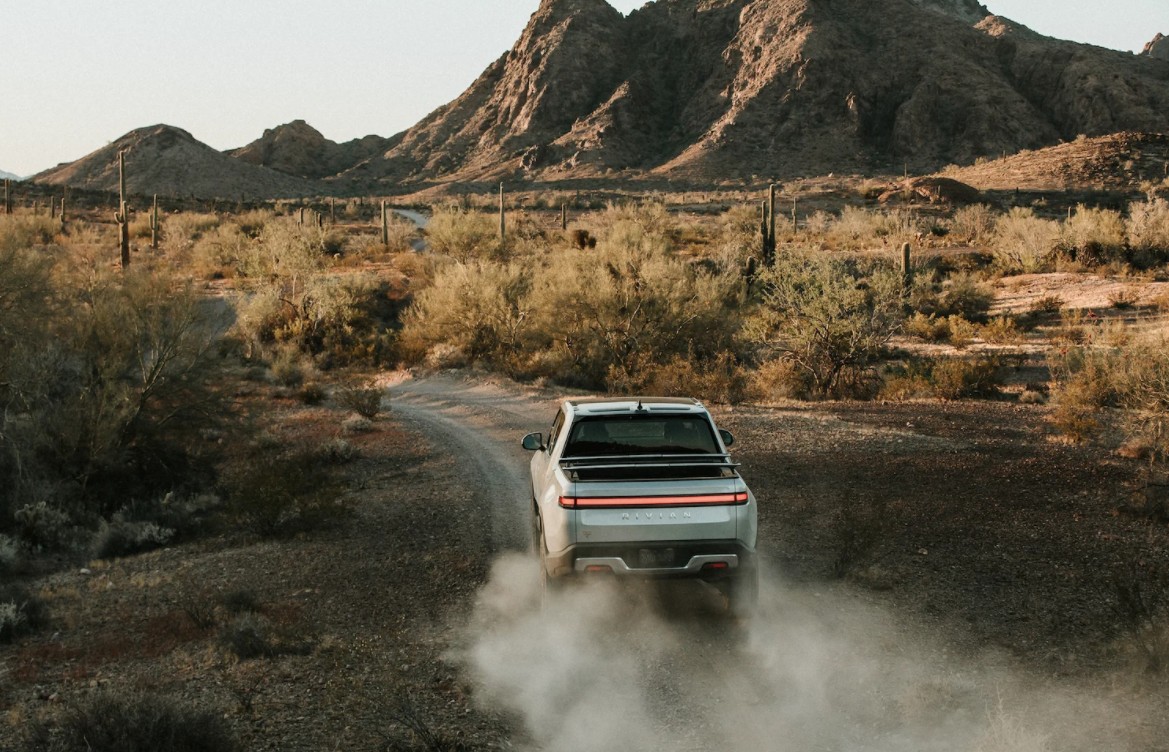 The full details of the Rivian R1T Adventure Package with Forest Edge interior could be accessed here.
Do you have anything to share with the Teslarati Team? We'd love to hear from you, email us at [email protected] or reach out to me at [email protected].
Rivian shares details about the R1T's premium cabin and its amenities
Coinsmart. Beste Bitcoin-Börse in Europa
Source: https://www.teslarati.com/rivian-r1t-final-interior-details/