Last Time Bitcoin Saw This Structure, It Surged 40%. It's About to Happen Again
While history never repeats, history often rhymes for the Bitcoin market.
Each of the asset's market cycles seems to have periods of eerily familiar price action, marked by common chart formations and technical signals that appear time and time again. This allows analysts to predict what comes next by looking at the past.
An analyst recently observed that a chart formation that historically led to a breakout has formed once again, boding well for the Bitcoin bull case.
Bitcoin Bulls Are Still in Control
On June 11th, Bitcoin failed to decisively break past $10,000 for the umpteenth time in weeks. The cryptocurrency dove by approximately 10% after attempting to cross that resistance, crushed as a cascade of longs were stopped out of their positions.
Many were quick to express bearish sentiment after the move transpired.
As reported by NewsBTC previously, one trader even said that Bitcoin could dive by 40% in the coming weeks:
"BTC. I've been seeing more and more comments saying BTC going down to support is unlikely because that'd be too big a drop. That's not how Bitcoin works. Retraces are short and vicious. Crashes even more so. 40% down is not unlikely, it's happened before, it'll happen again," he stated.
A top technician begs to differ, sharing the chart below in the wake of Bitcoin's $1,000 crash on June 11th.
He wrote that technically speaking, the cryptocurrency is still decisively in an uptrend. "This is not 'the big move. Nothing significant happened," the analyst wrote, referencing how the crash did not bring Bitcoin out of the ascending triangle structure he depicted.
TradingView.com Bitcoin price chart annotated by crypto technician "Byzantine Genera" (@ByzGeneral on Twitter).
An ascending triangle is a traditional chart structure that is formed when an asset is trading in an uptrend but continually runs into a horizontal resistance, creating a triangle. Ascending triangles are also marked by decreasing volume.
In Bitcoin's case, an ascending triangle has formed after the cryptocurrency experienced a series of higher lows over the past five weeks and multiple failures at breaking past $10,000.
The ascending triangle is bullish because Bitcoin has historically performed well when it has formed ascending triangles that look like the one the asset is currently stuck in. As the analyst that shared the charts below said in reference to triangle formations:
Triangles are a […] a real strat imo for swing trading bitcoin. Here we have current, PA, slow grind up to 10k and 3 examples of similar structures lasting > than a month. Bullish as long as HL's continue.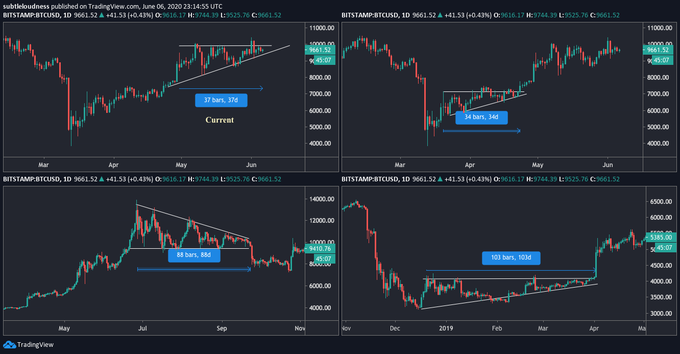 Historical Bitcoin technical formations shared by Sangfroid (@TheFlatlineTA on Twitter). Chart from TradingView.com
The last time BTC formed an ascending triangle like the one it is trading in now, the asset rallied 40%.
This historical precedent suggests that a similar rally may happen again as soon as Bitcoin breaks out of its current ascending triangle, which is literally days away.
Price Is Still Firmly In an Uptrend
Adding to the sentiment that Bitcoin is still in an uptrend, an analyst observed that a confluence of Bitcoin buy orders have appeared from $8,600 to $9,000.
Such a strong confluence of buy orders was last seen prior to BTC rallying from the $7,000s to $10,000.

Featured Image from Shutterstock
Price tags: xbtusd, btcusd, btcusdt
Last Time Bitcoin Saw This Structure, It Surged 40%. It's About to Happen Again

Source: https://www.newsbtc.com/2020/06/13/last-time-bitcoin-structure-rallied-40-percent/?utm_source=rss&utm_medium=rss&utm_campaign=last-time-bitcoin-structure-rallied-40-percent
How Does the Future Look for Cryptocurrencies in the Financial Market?
The trading share of cryptocurrencies in the financial markets is getting bigger by the day, as professional and occasional investors redirect their funds from traditional assets to crypto coins. Billions of dollars, euros, pounds, and of other fiat currencies are used by traders, for the opening of new crypto trading positions, increasing crypto coin values, reputation, and market share. This is also one of the reasons, why new cryptocurrencies are regularly being launched. However, the supply of investment funds is not without limit, and on many occasions, it feels like a number of these new crypto coins are doomed for failure.
Today, cryptocurrency development stretches beyond its original creational limits, as even regulated institutions are investing in the creation of digital coins. These coins are generated to achieve collective wallet digitalization and consequently to gradually eliminate the need for cash. This, of course, is not something for which traders and investors care about, as their primary concern is how these assets will perform in the financial market. That being said, if a crypto asset is trusted and respected in the real world, then this will reflect on its performance in the world of finance. The problem is that for a cryptocurrency to earn the respect of the real economy, it will need to have enough time to mature.
Crypto Trading and Investment Challenges

Trading cryptocurrencies is not an easy task. There is a lot of research required, and there is a lot of work that needs to be done before opening a trading position. Experienced traders know that it is not something as fun and as easy as taking a spin on penny roulette, but those with less experience in crypto trading can end up facing heavy losses, just because they have not invested enough time to prepare for the worst-case scenario. Even though we have not seen any signs of a new cryptocurrency bubble burst for a long time, it does not mean that the threat is not there. This applies both to new cryptocurrencies as well as to those which the market categorizes as established.
Where Do We Go from There?
With a higher demand for digital monetary alternatives, it is only natural that countries, unions of nations, and Central Banks are looking towards finally regulating the crypto market. The regulation of such assets will set new standards for commerce and revolutionize the flow of money. It will, however, limit the profit potential of crypto coins, as it will no longer be possible for a cryptocurrency – whether it is new or old – to go from being worth peanuts to being worth as much as gold in a matter of hours.
👉Not being able to become rich overnight is bad news for those who dream of becoming wealthy through cryptocurrency trading, but it also comes with benefits. A regulated cryptocurrency market will discourage "dodgy trader" activity and reduce the risk of seeing toxicity forming in the crypto market. This will allow for the growth of crypto assets in a positively-charged environment, which will give them the time and stability they need to get to the same level of trust as that of traditional trading assets.
Source: Plato
How Blockchain Can Help Your Business Grow
Ever since the introduction of Bitcoin in 2009, the world has changed the way it views fiat currencies and digital security. People were excited that they could finally transfer digital currency anywhere in the world without exaggerated banking fees or long hours.
The technology, however, proved so versatile that it has found its way into other uses as well. In 2020, there are so many businesses that use blockchain that we simply don't have the time to enumerate them all in a single short article. But we will do our best to give you examples of ways the blockchain could potentially help you.
More Security
Hackers rarely sleep. That's one statement that Sony forgot back in 2011. While it is unclear whether they now use the blockchain or not, many other companies have started implementing it with great results.
The encryption technology that the blockchain employs requires transactions and other processes to go through multiple nodes connected to the blockchain to get approval. This way, if a hacker attempts to do something malicious, the multiple nodes will eventually realize that fraud's at stake and stop the transaction in its tracks.
More Payment Methods
People often think that the blockchain is meant solely for cryptocurrencies. That's not true, at least not anymore. Banks all over the world have started implementing this tech to ease transaction times and lower processing fees.
Moreover, businesses that implement blockchain can use this technology to offer their customers multiple payment methods with seemingly endless currency options. One non-banking company that has proved the efficiency of this method is BetConstruct, offering more than 400 payment methods.
AI Integration
Through the blockchain, you can set up a reliable network of chatbots that can help out your customers.
With the help of the blockchain, these AI bots can easily communicate with one another and learn from each other based on what users respond, how they rate their satisfaction with the chat, and how customer support agents respond to users once the chatbot sends them their way.
Hire Better Employees
Small companies often don't have the time or necessary resources to double-check the information in a CV. But with the help of the blockchain, you won't need any of that.
Even today, there are still a lot of people seeking a job who ungracefully lie in their resumes. The blockchain can process all the data in a resume and send you the verified information to see if it's legitimate.
Not only does this save you time, but it also means you'll have hired the right person for your future projects. And we all know what having the right person can mean if you want your company to be successful.
Improve Your Marketing Campaigns
You're probably aware of the usual marketing techniques like social media, video ads, billboards, SEO, SEM, and more. Look, you won't need the blockchain to implement those tactics.
However, Blockchain can be used by marketers to keep track of client information and consumer behavior. With this data, skilled marketers can craft clever campaigns that bring greater ROI. You can also use the blockchain to track any changes made to your campaigns. If only David Ogilvy has had this tech at his disposal, who knows what he would've been able to craft.
👉🔥The Bottom Line
The blockchain has revolutionized businesses all around the globe the same way it has revolutionized the way people view money.
Implementing this technology for your business will net you tons of long-term benefits for an otherwise small investment considering all the things you'll be getting.
Source: Plato
Why Would Enterprises Use the Public OMG Network?
Q1: One of Reddit's requirements for the bake-off (albeit listed as a bonus) is for users to be able to exit to Ethereum in a "fast & simple" manner. While fast exits are on the way, they only work with liquidity providers. But how would you find a liquidity provider for points that were directly minted on OMG? Would it be possible to have a smart contract on Ethereum that holds a portion of minted tokens and provides liquidity for exiting users?
A: We have a number of designs to provide fast exit liquidity on our Network, one of which acts as a smart contract on the rootchain like the one you described in your question. On Reddit CPE, it's possible to have a portion of the community point tokens sits on Ethereum (points ERC20 tokens are always minted on the rootchain) These pooled points/smart contracts should adequately provide liquidity for fast exits. Of course, more research is needed to ensure that this type of fast exit scheme is practical and does not compromise the security of the Plasma chain.
Q2: While USDt usage is high, it's a token used mostly for trading. By not supporting any of the more major ERC20 tokens (at least ETH), wallets have very little incentive to integrate with the network since users don't usually withdraw USDt from exchanges. This hinders arbitrage too. What exactly is the process for rolling out support for new ERC20 tokens on the OMG Network?
A: The OMG Network already supports ETH and all ERC20 token types. The reason we think USDt is a good first target is because it is generally the base pair for many token trades on most custodial exchanges. Moreover, supporting USDt aligns with our mission of reducing Ethereum congestion, since it is the number one asset that is settled between different exchanges (as evident by the network fees). With all that said, we do expect to have other ERC20 tokens integrated on more exchanges later on. However, the choice of which token to migrate to our Layer-2 sits with the users, for example: exchanges, wallets, etc — and not us.
Q3: There's been some concern in the community lately after the CBDC article. It's easy to understand why a big enterprise would avoid a public chain, but people assumed it was somehow "solved" by the team. So why would an enterprise use the public chain? What benefits would they have over sticking to a private instance? Also, in what case would a private plasma chain need to communicate with the public one?
A: Enterprises would find value in interacting with a public chain for the following reasons:
They want to support a publicly traded token like USDt or ETH for customer transactions. Being directly integrated into the public chain allows for easy movement of those tokens into their system.
Financial companies are slowly beginning to support custodial wallets for customers. This allows them to hold those funds just like they hold a savings account. It also allows customers to use crypto as collateral for traditional financial transactions. For example, the US just legalized the holding of crypto assets by financial institutions.
Smaller companies with lower volumes might find it more cost-effective to pay per transaction instead of paying for the cost of an entire plasma architecture.
Enterprises may want a controlled subset of an internal token to be available publicly to pilot different types of services. Being able to freely use the token on a private instance while still allowing for movement of that token in the public ecosystem allows for a lot of flexibility.
With the possibility to perform "atomic swaps" between private and public plasma instances, enterprises will have interoperability with both network types. Again, allowing for tokens to move freely between both without incurring the fees of the rootchain.
We'll tackle more in upcoming blog posts, webinars, and videos around the CBDC.
Q4: There's the OMG Network Integration Team board on GitHub. It has dozens of tasks for version 2.0 and even 2.1. All have been stale since 2018–2019. Why is this board still there? What caused the priority changes which slowed down this development for more than two years?
A: In late 2019, the integration team began focusing their efforts on the OMG Network V1 Mainnet Beta launch. Now that Mainnet V1 is live, we are shifting resources back to integration work, including the eWallet. In our effort to bring enterprise use cases and traffic to OMG Network, we've also been working on generalizing and honing the eWallet feature set. So you will see a significant shift in the project boards in the near future.
---
Sign up for our newsletter and we'll let you know about everything important at OMG Network.