JP Morgan thinks Bitcoin is trading like the S&P 500, hurting the BTC bull case
This Exchange News was brought to you by OKCoin, our preferred Exchange Partner.
Two weeks ago, two executives of the multinational financial services company Goldman Sachs came out against Bitcoin.
As reported by CryptoSlate previously, the two said in a call to its clients that they currently do not see BTC as a viable investment, citing the asset's lack of cash flow, its inability to properly hedge against inflation risk, and its high levels of volatility.
Bitcoin analysis by Goldman Sachs
Now, JPMorgan is weighing in, with the company's North American Fixed Income Strategy team releasing a report in which they briefly discussed the investment case for the leading cryptocurrency.
Crypto survived its "first real stress test": JPMorgan analysts
On Jun. 11, a team of JPMorgan strategists led by Joshua Younger and Nikolaos Panigirtzoglou, which has been covering Bitcoin on occasion for over a year now, released their latest analysis of the cryptocurrency market.
Unlike the tone of the Goldman analysts, they were somewhat optimistic, explaining that crypto's ability to survive the massive flash of volatility in March and April is "mostly positive."
They explained that even during March's crash, the "liquidity on major Bitcoin exchanges [was…] more resilient than traditional macro asset classes like FX, Treasuries, Gold, and equities."
Moreover, Bitcoin "rarely deviated from the cost of production," outperformed equities even accounting for volatility, and showed "little evidence for a flight to liquidity."
These trends are a likely sign that crypto has "longevity as an asset class."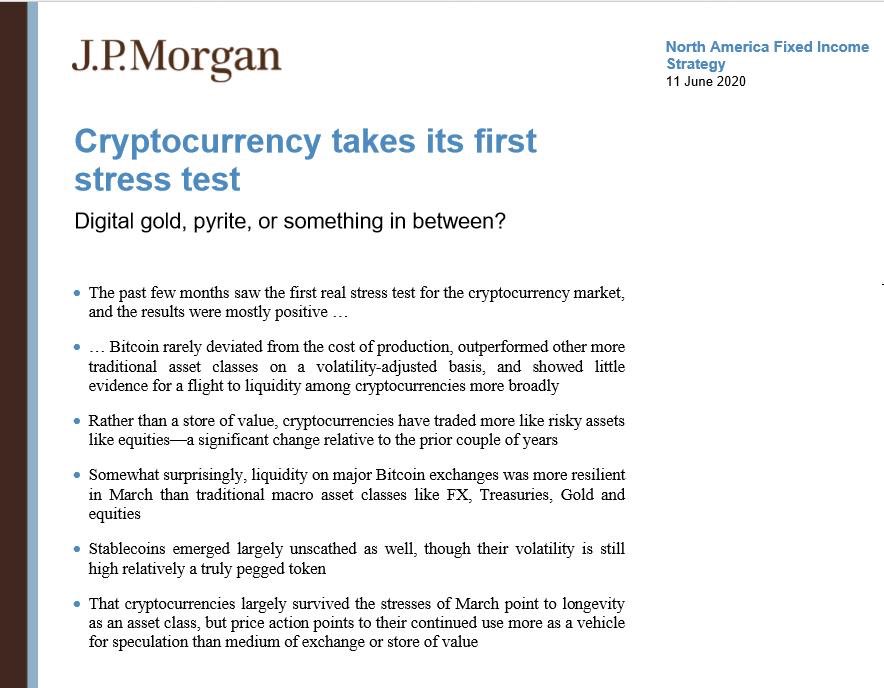 JPMorgan's latest Bitcoin analysis. Shared by digital asset investor @BurgerCryptoAM on Twitter
Falling stocks could crush Bitcoin again
That team at the Wall Street bank may be tentatively bullish on Bitcoin, but the key caveat is their line, "Cryptocurrencies have traded more like risky assets like equities—a significant change relative to the prior couple of years."
They are arguing that should equities fall again as they did in March, so too will BTC. This is similar to a comment made by Arthur Hayes, CEO of BitMEX:
"Bitcoin will be owned unlevered. Could the price retest $3,000? Absolutely. As the SPX rolls over and tests 2,000 expect all asset classes to puke again."
Unfortunately, there are some expecting equities to drop as the World Bank, Federal Reserve, and other entities in that class expect a serious recession — likely one of the worst, if not the worst, since the Great Depression.
The argument is that central banks can only do so much to prop up assets amid one of the worst economies ever before something breaks.
The macro case could change things
It is a common sentiment amongst investors that Bitcoin will trade closely with the S&P 500 and other risk asset classes in times of intense volatility and liquidations. As the JPMorgan analysts noted, that was what happened in March and April.
Yet the macro case could allow BTC to strongly deviate from equities.
Analysts argue that however stocks trade, the macro case for Bitcoin investing has never been stronger.
Crypto fund BlockTower Capital wrote in a May report that they believe that the following five trends have made Bitcoin an extremely attractive asset to own:
The growing geopolitical tensions between the U.S. and China could result in weakness in foreign exchange markets, especially the rate between the U.S. dollar and the Chinese yuan. This could increase the demand for Bitcoin, which is used by Chinese investors as a safe haven play.
The world is increasingly adopting digital technologies due to the pandemic and related lockdowns. BTC is arguably no exception.
Small, emerging market economies are starting to collapse in on themselves. Examples include Syria and Lebanon, whose governments are unstable as these economies experience deep monetary and financial issues.
There has been an "erosion of trust in central banking" and fiat money as a whole.
Governments and central banks are printing more money than ever before.
This is a sentiment that has been echoed by prominent analysts and investors.
Legendary hedge fund manager Paul Tudor Jones branded Bitcoin "the fastest horse in the race" — meaning faster than even equities and gold — in a world where the value of money is being constantly debased.
Tesla's Elon Musk wrote that "Bitcoin […] looks solid in comparison [to fiat money]" due to the mass issuance of money by "government central banks."
And Mike McGlone, a senior commodity analyst at Bloomberg Intelligence, explained in a report published earlier this month that "something needs to go really wrong for BTC not to appreciate."
Like what you see?
Subscribe for daily updates.
Source: https://cryptoslate.com/jp-morgan-thinks-bitcoin-is-trading-like-the-sp-500-hurting-the-btc-bull-case/
A senior BOJ official says the digital yen needs public support for it to become a reality.
According to the Bloomberg report, a senior Bank of Japan's official said that there is no final decision has been made yet even after the announcement of testing to start next year. The official revealed that a lot depends on the public support for it to go ahead with its central bank-backed digital currency. Kazushige […]
The central bank of Japan's move to launch a digital currency would be conditional on public support, according to a senior BOJ official.

Enable Notifications


Ok


No thanks



Source: https://coinnounce.com/bank-of-japan-official-says-cbdc-needs-public-support/
Japanese soccer star Keisuke Honda launches his own crypto
Crypto and blockchain matter for the global soccer community.
A Japanese professional soccer player is launching his own cryptocurrency to boost fan engagement.
Keisuke Honda, former Japan midfielder and currently a captain of the Brazilian professional league team Botafogo, has launched his own token to build new connections with his fans, Cointelegraph Japan reported on Oct. 22.
The so-called "KSK Honda Coin" was launched on Thursday via Rally.io, a blockchain platform for creating video streaming and gaming applications. The new coin is intended to enable fans to interact with Honda.
Holders of KSK Honda token will be able to get exclusive content from Honda as well as interact with the player via private channels on Discord. "We decided to create a social token to build new connections with our most loyal fans," Honda said.
The world-known soccer player said that the new token will allow him to connect with fans in a more open manner, providing a 100% transparency in knowing who holds coins in the fan community.
The global soccer community is moving deeper into the crypto and blockchain industry in search of new ways of connecting stars with their fans.
On Oct. 15, a top soccer club in Russia's Premier League — Zenit St. Petersburg — signed on to the blockchain-based gaming platform Sorare to issue collectible and tradeable digital cards. In September 2020, Italian professional sports club SS Lazio signed a multiyear deal with crypto trading platform StormGain, enabling new fan engagement options through crypto.
Source: https://cointelegraph.com/news/japanese-soccer-star-keisuke-honda-launches-his-own-crypto
Grayscale Investments continues to grow its cryptocurrency portfolio by adding $300 million in assets under management (AUM) in a day
Grayscale Investments revealed that it had added $300 million worth of cryptocurrencies to its digital assets portfolio over the past 24 hours and over $1 billion in the last week. This information was relayed by Grayscale CEO Barry Silbert via a tweet yesterday.
The crypto fund manager noted that it had $6.3 billion in AUM as of October 15. However, it has added $1 billion in cryptocurrencies over the past week, and the company now controls $7.3 billion worth of digital assets.
Silbert stated that the company "Added a cool $300 million in assets under management in one day. The additional sum brings the total assets held under management to $7.3 billion".
The funds are held in the company's trust for Bitcoin (BTC) and Ethereum (ETH), in addition to Grayscale's digital large-cap fund. This latest development comes less than 48 hours after PayPal announced its entry into the cryptocurrency market, with Bitcoin surpassing the $13,000 mark afterwards.
Each Grayscale report is delayed by 24 hours, which means that this data refers to the previous day's figure.
The cryptocurrency funds manager reported that its Litecoin (LTC) Trust recorded the highest growth since the last report. Grayscale reported that its LTC Trust increased by 7.5%, while their Zcash (ZEC) Trust increased by more than 6% over the past 24 hours. Grayscale also has extensive holdings in other cryptocurrencies such as Ripple (XRP), Ethereum Classic (ETC), Bitcoin Cash (BCH), Horizen (ZEN) and Stellar Lumens (XLM).
Grayscale might be increasing its cryptocurrency holdings after raising massive funds in the third quarter of the year. Grayscale's financial report for Q3 2020 revealed that it had bought over $1 billion in investment across all its cryptocurrency trusts. This year, Grayscale has raised $2.4 billion, which is more than twice the total amount they obtained for the years 2013 – 2019.
The investment firm revealed that 81% of investment in the third quarter came from institutional investors, while another 57% came from people investing in multiple products.
With the crypto fund manager now holding over $6 billion in AUM, it means that Grayscale controls around 2.5% of the total Bitcoin supply, currently above 18,000 BTC. The Bitcoin supply is capped at 21 million, which means that roughly 2.5 million bitcoins are left to be mined.
Grayscale isn't the only company that is increasing its stakes in cryptocurrencies at the moment. MicroStrategy recently bought $425 million worth of Bitcoin, and Jack Dorsey's Square Inc. invested $50 million in Bitcoin.
Source: https://coinjournal.net/news/grayscale-invests-300m-in-a-day-to-grow-its-crypto-portfolio/