It's "Decision Time" for Ethereum, and Analysts Bet ETH Surges to the Upside
It's been an explosive past few days for Ethereum.In the past 24 hours alone, the second-largest cryptocurrency is up 10%. As reported by NewsBTC previously, the asset is currently pushing $244, the highest price since early March.This surge is important as it comes at a critical time for cryptocurrency bulls. One prominent trader shared the ETH/BTC chart seen below a few days ago, writing that it's "decision time" for Ethereum.The chart indicates that ETH is soon about to see a massive breakout past a crucial downtrend that has held for nearly three years and past a key relative strength index level. In rallying today by 10%, outpacing Bitcoin, Ethereum may be set to rally even higher in the coming weeks.
Chart of ETH/BTC macro performance from crypto trader FatihSK (@FatihSK87)Related Reading: Crypto Tidbits: Bitcoin Nears $10k, Goldman Sachs Talks Cryptocurrency, Chinese Yuan SlumpsThere Are Reasons to Be Bullish, Analysts ExplainThere are reasons why this rally is taking place and why more upside is expected, analysts have explained.Mythos Capital founder Ryan Sean Adams indicated this week that the fundamentals of ETH have grown over the past few weeks.The increase in transaction demand has increased transaction fees, which is suggestive of a higher Ethereum price, he explained.Adding to the bullish confluence, an analyst noted that ETH/BTC has seen its monthly Moving Average Convergence Divergence (MACD) cross bullish "for the first time since inception."The MACD is a trend-following momentum indicator that shows the relationship between two moving averages of a security's price, as Investopedia explains. Such a trend indicates that the Ethereum trend that has transpired over the past few weeks has been extremely positive.Related Reading: This Eerily Accurate Fractal Predicts Bitcoin Will Rocket to $20,000 in 2020Investors Are Long on EthereumInvestors are picking up on these trends and have flipped bullish on the asset.Blockchain analytics firm Santiment recently found that there has been a rapid increase in accumulation by some of ETH's "whale" addresses over the past few weeks."ETH whale addresses have just hit a 10-month high with the cumulative holdings of the top 100 non-exchange wallets now owning over 21,800,000 Ethereum. This is the largest collective balance held within the top 100 addresses since May, 2019. In the last two days alone, these top ETH whale addresses have added an additional 145,000 coins." Santiment wrote in reference ot the chart below.
Chart of ETH whale holdings from blockchain analytics firm SantimentThere are also prominent venture capitalists like Garry Tan, one of (if not the first) investor in Coinbase, who have recently started to scoop up the asset in anticipation of upside.Started accumulating $ETH again— Garry Tan (@garrytan) May 31, 2020Related Reading: This Crypto Use Case Has Never Been as "Underrated" Due to Twitter and TrumpFeatured Image from Shutterstock Source: https://www.newsbtc.com/2020/05/31/decision-time-ethereum-analysts-expecting-upside/?utm_source=rss&utm_medium=rss&utm_campaign=decision-time-ethereum-analysts-expecting-upside
Altcoins Boosted by Bitcoin Dominance Falling to 10-Week Low
Bitcoin dominance has been caught in a descending channel since May when it reached 69%. At present, BTC represents 64.9% of the total cryptocurrency market cap, a 10-week low.
Bitcoin dominance year to date. (Source: tradingview.com)
The end of last month saw the start of a sharp down leg, which has had the effect of sparking life into the alternative cryptocurrencies.
Today sees a strong performance by the altcoins against Bitcoin, leading many to wonder if the long-awaited altseason is imminent.
Is Bitcoin Dominance Starting to Break Down?
Bitcoin dominance measures the market cap of BTC against that of the rest of the other cryptocurrencies. It serves as an indicator of Bitcoin's strength about the altcoins. As such, when BTC dominance falls, altcoins pump.
The metric has long been used as a guide to predict the coming of the so-called "altseason,
where exponential increases in altcoin valuations lead to a frenzy of activity in the market.
And as Bitcoin dominance continues to show signs of weakness, expectations are heightened for altseason to arrive soon.
With that, a trader noted that BTC dominance had broken down from its bear flag. While he warned of a possible fakeout, he also stated that this move could be the start of a favorable macro trend for the altcoins.
"focus on the next important key level 65,65% (red line), once it breaks ->altcoin party – strongly defended though for now might be a fakeout."
Bitcoin Dominance Update 💯

Accuracy of this thread continues to be 100%

– you see a breakout out of the bearflag as expected, but…
– focus on the next important key level 65,65% (red line), once it breaks ->altcoin party
– strongly defended though for now might be a fakeout pic.twitter.com/1IKfejDOh1

— AN₿ESSA (@Anbessa100) June 26, 2020
Small and Micro-Cap Altcoins Gaining Ground
But before investors can officially call a start to altseason, Bitcoin dominance needs to drop much further, to the 58% level for this to happen. Standing in the way is strong support at around the 64% level.
Despite that, the majority of altcoins listed on Binance have today posting gains against BTC. The list of multiple double-digit gainers includes Aave, Fantom, and Chainlink, with Dogecoin leading the charge against BTC.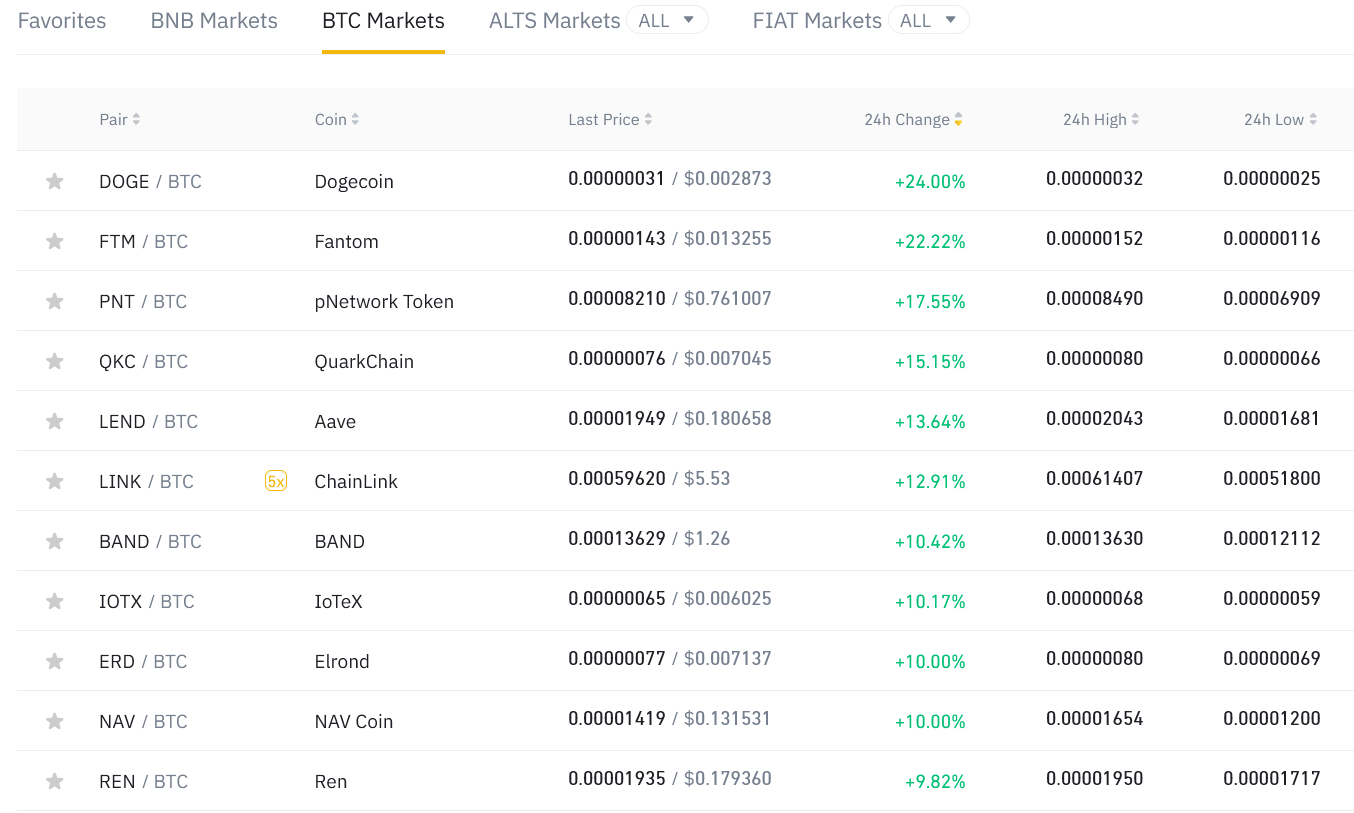 Source: binance.com
Dogecoin's surprising performance is a result of viral exposure on TikTok. Thousands of creators on the social media platform have called on followers to buy Dogecoin in the hopes of driving it up to $1.
Community insights analysts, LunarCRUSH tweeted that social media mentions of Dogecoin were up significantly, having reached 2,294 occurrences within a day.
With 2,294 daily social post mentions, Dogecoin has formed a near-perfect and extremely bullish $doge Twinkie. https://t.co/Xwka6Sxuwl #dogecoin pic.twitter.com/ZoYPoTn251

— LunarCRUSH Social Listening for Cryptocurrencies (@LunarCRUSH) July 7, 2020
Although it's too soon to call a start to altseason, the recent performance of some of the small and micro-cap coins would say otherwise.
That includes the likes of Zilliqa, up 223% in three months, and VeChain, up 214% in three months. Meanwhile, for comparison purposes, Bitcoin is up only 27% over the same period.
Investors have mostly forgotten about Dogecoin, until now. But with its ranking as of today's top performer, it's clear that investor sentiment has already flipped towards the altcoins.
Is this a trend that will continue to spread across the rest of the alt markets?
Source: https://www.newsbtc.com/2020/07/07/altcoins-boosted-by-bitcoin-dominance-falling-to-10-week-low/?utm_source=rss&utm_medium=rss&utm_campaign=altcoins-boosted-by-bitcoin-dominance-falling-to-10-week-low
A look at Fairspin Crypto Casino
Check out our full Crypto Casino List for other betting providers.
It is illegal to gamble under the age of 18 –
Promoted post – Part of our
Bitcoin Gambling
series
---
In this article, we'll have a look at a recently launched Crypto Casino called Fairspin, which is offering both fiat and crypto deposits and a range of games. Registration with the platform is straightforward, although I do note that they require both an email address and a phone number when registering.
The casino uses their own token called TPlay, so any of your deposits will be converted into that, and it's clearly outlined at the time when you're on the deposit screen what these are. When you sign up, it offers you a 120% bonus, as well as 30 free spins with one of the slots. There are options to pay with fiat (visa/mastercard), or cryptocurrencies with Bitcoin, Ethereum, Dash, Litecoin, zCash and Tether available. The bitcoin blockchain was pretty congested at the time of writing, so I made a deposit using ethereum. Once the transaction confirmed a couple of minutes later, I got an alert by email telling me the funds were on my account, as well as the bonus funds. These bonus funds have a 25x wagering requirement to withdraw. The casino also features a cashback, offering 5% for the first couple of days, which then drops to 2% and then 1% after about a month. This gives funds back to your main balance, not your bonus balance.
The casino has a dark colour scheme, with a range of games from betting providers including Spinomenal, Microgaming, Betsoft, QucikSpin, Pragmatic Play, Playson, PGSoft, Booongo & Pragmatic Play Live.
The casino game section features a pretty solid range of tournament slots, slots, roulette, card games, video poker and then a range of live games. There was the option of a lottery, however it was blank at the time of writing.
I started off by having a look through the live casino. here it gave me three types of games, roulette, baccarat and my personal favourite blackjack. Some of them also had localised versions, with German, Russian, Macau & Turkish rooms available for Roulette.
The table I was at had a polite croupier, very high quality video and good audio, with a full table. The bets default to 10 dollars which was the minimum for the rooms available, which did catch me out on my first bet, and bonus funds aren't eligible for play in the live casino. The betting sizes are 1, 5, 10, 20, 100 & 500 dollar bets. I played a couple of hands and unfortunately lost, so decided to move out of the live casino and give the slots a shot.
All the slots have a demo version, so you can give them a bit of a spin before committing real money. I tried a couple, crystal land is a variation more akin to a match 3 game where you spin and if the colours match, they get destroyed and you win. It also had frozen sections on the side so if you get them, it drops more and you can get combinations. There was quite a variety of games, with single line, some video-game style slots, and then a number of multi-line games. All of the games have sound, with some also featuring music, which is easy to switch on or off, and a full screen option if you want to play without distractions.
I then went into have a look at some of the roulette games. Now here I did notice some were using flash, and as I was using Brave browser (which has flash disabled) so I didn't have the full range of games available to me. I played a couple of rounds on European roulette, and thankfully broke even or won on the games I played. So I decided then to move onto classic blackjack and played a couple of hands. I lost most of what I played, not having much luck on the night unfortunately.
Moving on from there, I remembered that I had gotten 30 free spins with my deposit, so when I went into my balance screen, it told me the game was 4 Horsemen. This autostarted, and I won a lot of the rounds, and there was bonus multiplyers on some spins, as well as additional free spins so I actually got about 42 free spins in the end instead of 30. I had no control over it though, as the spins happened automatically and at the end the bonus funds were added to my account.
So now I wanted to see how getting funds off the platform was like. I had several bonuses, one from my first deposit bonus, and the second from my free spins. You can't withdraw without cancelling your bonus funds. Now normally I'd use them first, but as I do want to test getting funds out, I cancelled both the bonuses I had received from my first deposit and the free spins.
I chose to withdraw by ethereum, and for this it told me that the minimum withdrawal was 10 TPlay (equivalent to 0.01 ethereum) which is pretty low, so I went ahead and put in my wallet address. Once concluding the withdrawal, it said it would be processed in about 15 minutes. I did the deposit at 9:15pm and they were confirmed in my wallet by 9:53pm, so there wasn't a major delay on this, and I was pleased with how smooth the process was. I didn't have any KYC to do though when withdrawing, although the T&C's say this may happen with larger withdrawals.
So all in all, summing up my experience of Fairspin casino; the casino is new so it has a solid selection of games, although maybe not the biggest range compared to more established crypto casinos, but more than enough for me to have a good session playing a range of games. Other than the few games that didn't work because of Flash, all the games were bright, had nice graphics, pleasant audio and it was great to be able to do the demo mode on the casino games and figure out if I liked a game before betting real funds. The live casino does have a higher minimum bet than others I've tried, which might put some people off, but they had high quality streams and every table I played on was full with plenty of other players. Getting funds off the Fairspin casino was simple, the conversion between fiat/crypto and TPlay is clear, and getting funds off the platform was a smooth, fast experience and faster than lots of other casino's I've tried.
Our site is largely funded by affiliate links and advertising. If you click a link on our site we may receive renumeration. If you are using adblock, please whitelist us to support us, or if you're a user of

Brave Browser, we're a verified publisher, and welcome any tips!
Source: https://bitcoinsinireland.com/a-look-at-fairspin-crypto-casino/
Litecoin in a Brief Surge, Setting up for a Potential Relief Rally
Jul 07, 2020 at 11:51 //
News
Litecoin rebounded above $41 as the coin reached a high of $43.88 high. Following the recent breakdown on June 27, the bears pushed the coin to $39 low.
The price corrected upward and consolidated above $41 support. The bulls have broken the minor resistance at $42 but the price was stalled at $44.50 resistance.
Litecoin is now fluctuating below the current resistance at $44.50 and above $43 support. A strong bounce above $43 will propel price to break the current resistance and the momentum will extend to retest the $48 and $50 resistance. The crypto will continue to consolidate above $43 if the bulls fail to break above the current resistance.
Litecoin indicator analysis
The price has broken above 12-day EMA and the 26-day EMA. This suggests that LTC will rise if the current momentum is sustained above the EMAs. Presently, LTC is above 40% range of the daily stochastic. It indicates that the market has bullish momentum.
Key Resistance levels: $80, $100, $120
Key Support levels: $50, $40, $20
What is the next move for Litecoin?
Litecoin bulls have successfully defended the $40 support which has not been broken since April. Each time the bears push the coin to $39 low, the bulls will buy the dips to push the coin upward. Nevertheless, buyers have to sustain the current momentum above the EMAs. A downward move will ensue if price breaks below the EMAs.
Disclaimer. This analysis and forecast are the personal opinions of the author that are not a recommendation to buy or sell cryptocurrency and should not be viewed as an endorsement by CoinIdol. Readers should do their own research before investing funds.