How to Become a Shopify Partner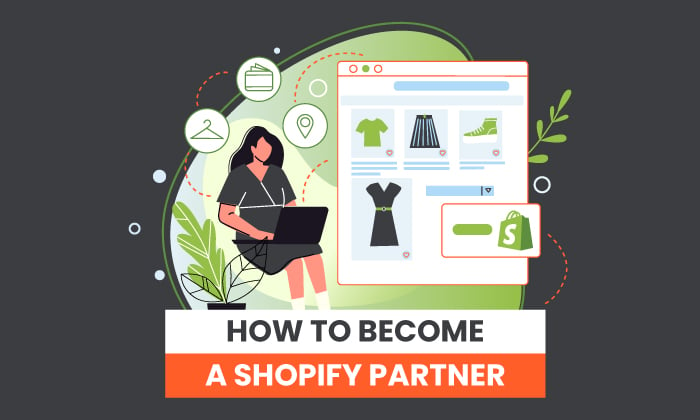 As one of the largest e-commerce platforms on the internet, Shopify offers budding (and established) entrepreneurs a platform to sell their wares and increase their reach.
In fact, Shopify dominates nearly 20 percent of the e-commerce market share.
That's not all. With millions of active buyers on the platform, there is plenty of opportunity for brands to grow their revenue.
In addition to a massive audience, Shopify offers users a simple, streamlined experience that allows store set up in record time.
When you join the Shopify platform, you have immediate access to functionality that allows you to:
build a website
create a domain
multiple payment options
order receiving and processing
In short, Shopify equips sellers with the tools they need to get their store off the ground.
Shopify benefits don't only apply to online vendors—through their unique partnership program, individuals can align with Shopify to grow their business and increase revenue through a variety of functions.
Is the Shopify Partner program right for you? Here's what you need to know.
What Is the Shopify Partner Program?
The Shopify Partner Program is a set of tools and resources Shopify users can leverage to grow their business. This is done through four main categories:
Marketing: For Shopify users in need of a more defined audience, streamlined campaigns, or optimized content, Shopify Marketers can offer their services to help Shopify users increase their reach and employ better marketing strategies.
Shopify Developers: Experts in Shopify store development, can build apps that help Shopify's merchants in a variety of ways, including increased engagement and sales.
Shopify Designers: From graphics to branding, these design experts help stores with design needs, often working collaboratively with developers.
Affiliate Marketing on Shopify: Affiliate marketers can offer nearly any service on the platform, from influencer marketing to content creation.
Shopify Partners can also build and sell Shopify apps and themes to generate income.
In addition to the above different kinds of Partners, there are also different levels of partnership, including:
Shopify Partners: Consider this the entry-level role for Shopify Partners. At this level, you gain access to limitless test stores, allowing you to customize, learn and hone your craft. For each action (client referral, app designed, or graphic completed), you earn a monthly commission.
Shopify Plus Partners: This tier is exclusively for Shopify Partners who do excellent work. This level often includes agencies, enterprise consultants, and system integrators, as well as individuals.
Shopify Fulfillment Partners: Fulfillment partners make up the Shopify Fulfillment Network and can operate inside or outside of the bounds of the Shopify Partner Program.
What Are the Advantages of Becoming a Shopify Partner?
Given that one in three Shopify sellers seek services from Shopify Partners, there's a real opportunity for you to supplement your income when you join the program. In addition to adding some extra padding to your bank account, Partners can access free training resources and perks, including:
FAQs
how-to articles
live chat
the Shopify Academy
The partnership also comes with access to an unlimited number of stores, so you can experiment to your heart's content.
As a Shopify Partner, you gain exclusive access to offers on tools that can help you run and grow your business. Once you have your dashboard set up (more on that later), select the "Partner Perks" section and select the "Claim perk" button.
Even better, when you sign up to become a Shopify Partner, you create opportunities to scale your business. Regardless of whether you're a well-established agency or an individual setting out to grow your skills and client base, enrolling in the Shopify Partner program is a great growth opportunity.
Sound good?
Let's break down how you actually become a Shopify Partner.
5 Steps to Become a Shopify Partner
The Shopify partnership comes with plenty of perks we've already covered, but there's one overarching benefit we haven't covered: Becoming a Shopify Partner is free.
Now that you have a better understanding of the value associated with a Shopify Partnership, follow these five steps to start growing your business today.
1. Learn More About Shopify Partners
This blog explores the surface-level of a Shopify Partnership, however, you'll want to spend more time on the Shopify partner page to read the blog and learn more about partner perks and features.
2. Join the Shopify Partner Program
This is the easiest step yet! Simply head to the sign-up page and enter your name and email address and wait for your verification.
3. Verify Your Email Address
After creating an account, you'll receive an email asking you to follow a link to verify your email address. Be sure to do this within 24 hours, as the window for response closes after that timeframe.
After you select the blue button to confirm your account, you'll land on the Shopify accounts page. From there, choose "Shopify Partners" and then "Create new partner account."
4. Enter Your Information
Now that you've successfully set up an account, you must complete a form that asks for the specifics of your business. Complete all the necessary fields.
After this step, scroll down to the "Business goals" section and choose the function that best suits your offering. Here you can select:
building apps
building new Shopify stores for clients
providing Services to existing Shopify merchants
referring merchants as an affiliate
selling products as a Shopify merchant
other
After you've selected the right category, scroll down the page until you reach the section about platform usage. Here, you'll identify which platforms you're currently using, allowing Shopify to equip you with custom tools.
Categories include:
BigCommerce
Lightspeed
Magento
PrestaShop
Square
Squarespace
Wix
WooCommerce
WordPress
None
Other
After selecting the relevant category, read the Partner Program Agreement at the bottom of the page and check the corresponding box.
5. Meet Your Shopify Dashboard
Your dashboard is the hub of your Shopify business. To get started, select the Shopify Partner programs you'd like to apply to from the "Get started" section.
A short form will ask you to explain your interest in each program.
Even if you're not accepted into a program immediately, you can still use your dashboard to grow and hone your skills. With endless courses available from the Shopify Partner Academy, you can earn certifications in Business Fundamentals, Theme Development, App Development, and Product Fundamentals.
You can take the accompanying test as many times as you like, all while using the resources provided through the Shopify Partner Academy to increase your knowledge base.
After receiving your acceptance to one of the Shopify Programs, you can start earning some cash. Payments occur on a bi-monthly schedule via PayPal.
The Partner Dashboard is also your source for all questions. From the portal, you can contact Shopify support whenever, wherever to get your questions answered.
Measuring the Success of Your Shopify Partnership
You've set up your dashboard, been accepted into a few programs, have been working for a few months, and now you want to know how successful your Shopify partnership actually is.
While there are countless metrics you can use to track the success of your endeavors, here are six key figures to assess the strength and success of your partnership.
Lead Conversion Rate
This metric is exactly what it sounds like: a measurement of how many leads converted into customers in a specific period of time, generally within 30-day increments.
Significant due to its ability to highlight how successful your campaigns are at turning attraction into actual leads, your lead conversion rate is a must-track metric.
How do you calculate lead conversion rate? The formula is pretty simple, as long as you have the numbers.
Lead Conversion Rate = (Number of new customers in the last x days ÷ number of leads in the last x days) x 100
Lead Velocity Rate (LVR)
This figure is representative of real-time sales performance. Given its predictive nature, the metric is perfect for forecasting revenue growth.
How do you calculate lead velocity rate?
Lead velocity rate = (Number of qualified leads this month – number of qualified leads last month) ÷ number of qualified leads last month x 100
Monthly Recurring Revenue (MRR)
This metric represents revenue, rather than what is actually actively collected. A good indicator of success, MRR lets you know if your leads are converting to actual customers within a finite time span.
How do you calculate MRR?
MRR = Number of customers x average billed amount
Churn Rate
This metric refers to the number of customers who stop using your service during a specific time frame. Churn rate is a valuable metric to determine if your marketing strategies and onboarding process is effective.
How do you calculate churn rate? There are two types of churn rate:
User churn = (Cancelled users in the last 30 days ÷ active users 30 days ago) x 100
Revenue churn = (MRR lost to downgrades & cancellations in the last 30 days ÷ MRR 30 days ago) x 100
Average Revenue Per User (ARPU)
Use this metric to learn how much revenue you're creating from each individual user. This statistic is valuable to assess marketing successes and failures and forecast revenue goals.
How do you calculate ARPU?
ARPU = MRR ÷ active users
Lifetime Value (LTV)
This metric represents the amount a user will spend on your service throughout the course of your relationship. This figure helps you assess whether it is more valuable to maintain existing customers or pursue new ones.
How do you calculate LTV?
LTV = Average monthly recurring revenue per customer ÷ user churn rate
I recommend monitoring these figures on a daily, weekly, and monthly basis for a comprehensive view of your success. These metrics let you identify patterns and see if improvements succeed so you can adjust your approach as needed.
Conclusion
Shopify's continuous growth shows no signs of stopping.
For any digital marketers, developers, or graphic designers, becoming a Shopify Partner offers an opportunity to broaden your portfolio, sharpen your skills, and earn some extra cash.
If you're looking to increase your client base and your revenue, Shopify might be the place for you.
If you're considering wading into the world of Shopify partnership, be sure to actively monitor the right metrics and ignore vanity metrics that have little impact on overall success.
What part of the Shopify Partner program is most useful to you?
See How My Agency Can Drive Massive Amounts of Traffic to Your Website
SEO – unlock massive amounts of SEO traffic. See real results.
Content Marketing – our team creates epic content that will get shared, get links, and attract traffic.
Paid Media – effective paid strategies with clear ROI.
Coinsmart. Beste Bitcoin-Börse in Europa
Source: https://neilpatel.com/blog/shopify-partner/
I Outsourced Label Manufacturing To Jump Start My eCommerce Business
Downloading brain dumps before deletion. To the 2nd grader, a 4th grader is a genius.
John Collins, also known as "The Paper Airplane Guy", dreamt of being a Guinness World Record holder. All his life he loved paper airplanes, and he realized early on that he was very good at designing them. Using his in-depth knowledge of origami and airplane aerodynamics, Collins has created dozens of incredible new paper flyers. His ultimate goal — to hold the world record for the longest paper airplane flight. Collins made several attempts to break the record, but on his own, he couldn't do it. He needed help. He needed an arm that could throw a paper airplane world record distance.
That's when Joe Ayoob entered the picture
Ayoob was a professional arena football player. He played quarterback, a position that demanded a strong throwing arm. It turned out that Ayoob's arm had just the right combination of power and finesse.
After eighteen months of practice throwing Collins' paper airplanes, as a team, Collins and Ayoob were ready to attempt a world record. On the twenty-sixth of February 2012, they did it. Ayoob threw Collin's paper airplane at a record distance of 226 feet and 10 inches. Collins' dream had come true. A new Guinness World Record was the result of Ayoob and Collins' teamwork.
Teamwork is critical when starting a new eCommerce business. There are so many tasks that need attention, it's nearly impossible for a single person to handle them all. Perfection in any of them — that's nearly impossible. As business owners, we need to be aware of our strengths, and how best to use our energy. Contracting the production of our products to a private label manufacturer removes many tasks from the dreaded to-do list. They'll have the expertise, the knowledge, and the facilities to produce our products. In this article we're going to discuss why hiring a private label manufacturer will save you time, money, and headaches by covering:
Production costs
Experience
Facilities
Let's get started by going over point #1: production costs.
Do you have the financial means to develop a new product?
Before even a single item is sold, every business invests copious amounts of time, energy, and finances on product development. The product creation process must be understood. Product formulation must be perfected. Once an initial product is finally created, it must go through testing and retesting before there is a final version that is worthy, and suitable, for sale. The initial creation of a product comes at a huge cost. And that's before there's any actual production.
What's in the "bottle" is just the beginning
There's the cost of the bottle, the labeling, the packaging, and the process of filling the bottle itself. Of course, the same applies to any product being produced, not just those going to bottles. Even before bottles are filled, suppliers need to be found for the bottles, the labels, and the ingredients. This isn't the case for a private label manufacturer. If they've been in business for a while, they will already have connections and suppliers for everything that goes into production. There are huge cost savings here, both in time and money.
Speaking of time, how soon do you want to bring your product to market? If your answer is ASAP, then let's get going on part #2: experience.
There's no sales revenue without a sellable product
The longer it takes to bring a product to market, the longer it will take before there is any revenue. All of the design, creation, testing, sourcing, production, testing, trials, and yes, more testing, takes a lot of time. It's more than a matter of weeks or even months. It could be years before a sellable product is produced. Taking advantage of the experience of a private label manufacturer is a huge time-saver in getting a product to market.
Private label manufacturers help you hit the ground running
They have the supplies and means to get a trial product out within days or weeks, not months. You can never short-cut the testing phase, but using a private label manufacturer will shorten the time required. If you're manufacturing your product yourself, you're starting entirely from scratch. Not so with a private label manufacturer — they'll have a prototype ready very quickly. They have everything ready to go from day one. As well, if they need any new products or suppliers, they'll know quickly where to go. There's one more issue to contemplate if you're going to manufacturer your own product — where will you make it? This brings us to our third and final point: facilities.
Does the production of your product require a commercial kitchen?
Or a fully stocked machine shop? Are there any special tools required to manufacture the product you want to sell? When starting out, unless the product you're creating is in the same industry as you've already been working in, you'll need to find the equipment and have the space for production. This is another huge drawback of producing a product yourself over contracting to a private label manufacturer. But wait, there's something else we business owners don't like to think about.
Let's not forget those inspections from government agencies
Are you prepared for them? If you're manufacturing your own product, do your facilities meet all of the government-required safety and cleanliness standards? If your product doesn't have that many requirements, then you're fortunate. But don't think the government agencies will simply overlook your business. Hopefully, you never get an inspection visit, but if you do, do you know how to prepare for or handle it? This is another headache that private label manufacturers have experience with and can take care of.
Does hiring a private label manufacturer mean a loss of control?
It may feel like hiring a different company for the purpose of production will mean you can't control the production process. For the most part, this is true. However, they are intentionally being hired to take care of the entire aspect of production. The fear of loss of control shouldn't stop you from hiring someone. You'll be involved in the initial design process, and all final products should have your absolute approval.
A private label manufacturer is there to remove a major task in the operation of your business. And besides, you'll have done all the necessary research and vetting in finding the perfect producer for your business. Have a read of my article "How To Wisely Choose A Private Label Manufacturer (even if they aren't the least expensive)" if you need a few tips.
TenX Beard Products went from concept to sales in three months
That was because they had no experience in producing their product and found a private label manufacturer with years of experience. Quick disclaimer — I'm the owner of TenX Beard Products. The private label manufacturer we contracted our production to was able to quickly put together prototype samples. After a couple of rounds of testing and tweaking the formulas, production began. It took only months, not years, for TenX Beard Products to go from concept to having a product for sale and revenue coming in.
In summary, a private label manufacturer is there to help
Starting a new business is a very large endeavor. The whole process can be entirely overwhelming. Hiring a private label manufacturer to design and create your products will save you headaches and allow you the time you need to focus on all the other aspects of your business. They'll save you money because the design phase will be shortened. They'll help you get a product to market quicker because of their experience. And they'll help you comply with government regulations because they'll already have the facilities required for production.
John Collins would never have achieved a world record on his own
Collins could have designed the greatest paper airplane in the history of the world, but he didn't have the arm to propel it. Joe Ayoob did have the arm, and he helped Collins set that world record. A private label manufacturer can help quickly get a business idea from paper to production to sales. This frees you to focus on working on your business, rather than in your business.
Thank you for taking the time to read this article. If you enjoyed it and found it helpful, please share this article with your social media. As I recommended earlier, a great next read is an article " How To Wisely Choose A Private Label Manufacturer (Even If They Aren't The Least Expensive)." In that article, I cover how to find and vet a private label manufacturer that is right for your business idea. Cheers.
Join Hacker Noon
Create your free account to unlock your custom reading experience.
Coinsmart. Beste Bitcoin-Börse in Europa
Source: https://hackernoon.com/i-outsourced-label-manufacturing-to-jump-start-my-ecommerce-business-533d35y4?source=rss