How badly must you do your job for your own mother to fire you? Ask Prince Andrew | Marina Hyde
The Duke of York has been sacked, but he is unlikely to show up in the UKs unemployment figures, says Guardian columnist Marina Hyde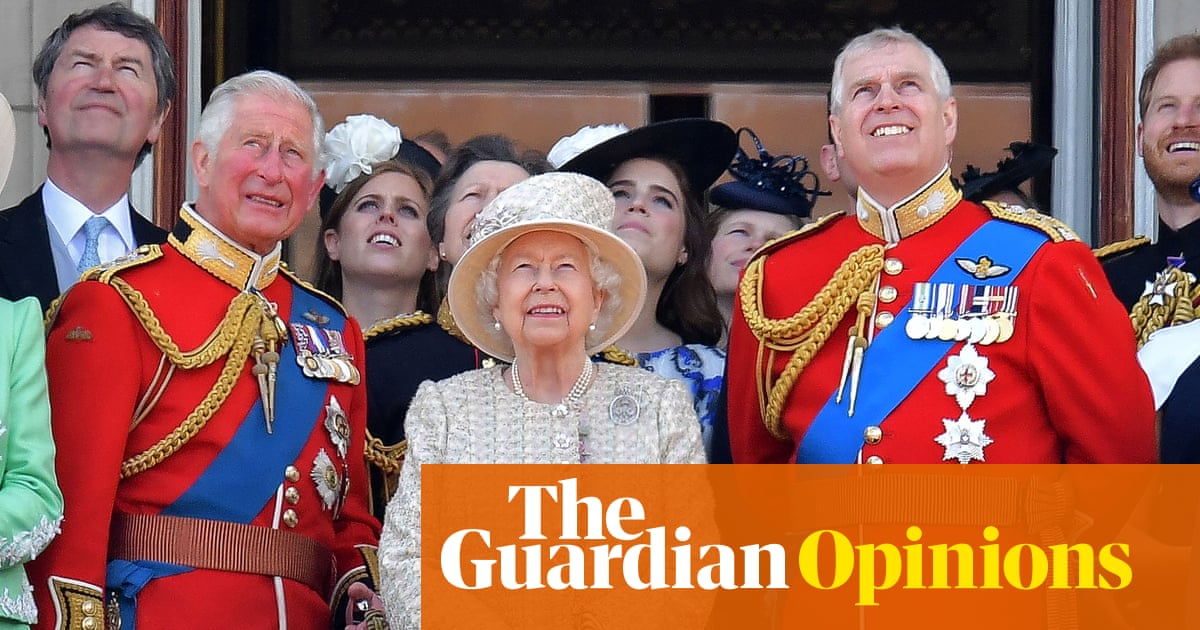 In a development that only someone of his preternatural self-awareness can have seen coming, Prince Andrews family has decided he needs to spend less time with their brand. To put that into perspective, the Duke of York is widely agreed to have done his job so abysmally that a hereditary monarchy has had to resort to a version of meritocracy. The absolute infra dig of it.
The Queens second son was summoned to a Buckingham Palace meeting on Wednesday, where it was revealed the Windsors were reducing the head count/making internal efficiencies/pivoting to video. People love to imagine the royal family is just like us, so this was just your standard meeting with your mother in which youre decruited and offered the chance to retrain as someone who does even less work for a dazzling fortune. A lottery winner, perhaps, or bitcoin thief.
We dont know exactly what Her Majesty said to Andrew, but as a piece of placeholder dialogue, its probably best to imagine the Queen demanding his gun and badge, then barking: Youre on traffic duty! Sex traffic duty. Its a perverse kind of duty then again, it appears to have been that way for a few decades now but please resist the natural urge to see Prince Andrew as the true victim here. He is expected to pick up a zero-hours international golfing contract and consequently will not show up in Britains coercively massaged unemployment statistics.
So yes, we must wait for those ventriloquisers at The Crown to get around to the full dramatisation a few series from now. The bad news is their failure to have bought in early to the character of Prince Andrew, a role they will undoubtedly need to cast in light of events. The good news is they can probably now get actual Prince Andrew to play it, given his revised schedule has more windows than Buckingham Palace.
Still, retiring in your 50s, having enjoyed a consequence-free career: if HRH does ever end up being interviewed by the police, hell have some common ground with them. Some think a subpoena is a gathering possibility, with the former British consul-general in New York questioning Andrews claim to have stayed with him and not Jeffrey Epstein in 2001, on one of the occasions Virginia Roberts Giuffre alleges she was trafficked to have sex with him. Meanwhile, lawyers for some of Epsteins victims are making repeated appearances on US TV to emphasise his legal and moral duty to be interviewed by the FBI about what he knows.
Not that the Duke of York ever seems to have realised how good he had it. Back in August, an email emerged contemporaneous to Andrews highly controversial 2010 stay at Epsteins New York mansion in which the literary agent John Brockman described being in the room as Epstein and Andrew received foot massages from two young, well-dressed Russian women. According to Brockman, Andrew was complaining about his lot. In Monaco, he said, [Prince] Albert works 12 hours a day but at 9pm, when he goes out, he does whatever he wants, and nobody cares. But if I do it, Im in big trouble.
Though not recalled by Andrew, this vignette reminds us that its customary for royals to spend a significant amount of time being jealous of other royals who have it cushier than them. Prince Charles, for instance, has long resented Prince Andrews lifestyle-to-duty ratio. Meanwhile, Prince Harry is believed to resent Prince William for not being caught by the media in the same number of youthful japes/Nazi costumes/racist videos as he was. And so on and so on because theres always a prince or princess who has it better than you. Violin sizes may vary. Informed royal sources suggest that while it was the Queen who formally removed Andrew from public duties, it was Charles the shadow king pulling the strings. The P45 is unlikely to have pained Andrews elder brother too much.
It felt inevitable by Wednesday in any case, despite various hints of rearguard actions as the fallout from the Newsnight interview mushroomed this week. My favourite was the suggestion that the prince could do another interview, to put right the omissions of the first. And in one sense, why not? God knows, there were other places he could have gone claiming to have caught porphyria from a sofa once owned by George III, for instance, or to have been chemically castrated in Nam. Then again, the interview-to-correct-the-interview does vaguely remind me of that answerphone scene in the movie Swingers. Having left a weird, desperate message on a womans answerphone, Jon Favreaus character leaves another to make up for it, which ends up being even more horrendous and excruciating. So he leaves another, and another, until the woman suddenly picks up the phone as hes leaving one and says: Dont ever call me again. This, but with landmark TV interviews drawing a line under stories about your close association with an international child sex offender.
And it really was a landmark, even accounting for the fact that, since George I, this has been a family widely recognised for its lack of intelligence. One of the sensational real-time revelations of the Emily Maitlis masterpiece was the fact that Prince Edward must have been the clever one. Prince Andrew was fully scores of IQ points away from being bright enough to pull his gambit off, yet retained a mesmerisingly misplaced faith in his own charm.
How? He and his far-from-estranged ex-wife were always a pair of rolling liabilities, with Fergies decades of financial incontinence a worthy foe for even the royal familys vast coffers. Incredibly and yet entirely credibly she was in Saudi Arabia at Crown Prince Mohammed bin Salmans summit at the moment he was recording his BBC interview. Everyone has been so nice here in Riyadh, she gushed, presumably lucratively. I think that comes from good leadership. What can you say? Other than never mind the bonesaws; and that there are few people in public life who have provided such a consistently baroque series of answers as the Yorks to the rhetorical question, How stupid do you actually have to be ?
On balance, then, we probably wont be seeing another Prince Andrew interview. It wasnt simply bad. It was the Heavens Gate of royal interviews, basically killing the entire genre. Nobody ever made westerns like they used to after Heavens Gate, and nobody in the royal family is going to be giving carte blanche to a BBC interviewer again in a hurry.
But the more famous thing about Heavens Gate, of course, wasnt that it ended westerns but that it ended its studio. Michael Ciminos monster flop effectively collapsed the entire studio that produced it, United Artists and the question after Andrews interview is how dangerous his monster flop is to the royal family that produced him. In the warp and weft of the UKs royal story, people are always looking for the incident about which they will end up saying: Well, in retrospect, that was the moment Some royal historians are already judging Andrews interview as seismically as Edward VIIIs abdication.
Maybe. Either way, it should always be remembered that the abdication crisis was hugely enjoyed by the public. As Evelyn Waugh remarked in a 1936 diary entry: The Simpson crisis has been a great delight to everyone. At Maidies nursing home they report a pronounced turn for the better in all adult patients. There can seldom have been an event that has caused so much general delight and so little pain.
Of course, events relating to Andrews crisis have been very far from painless despite his stunning failure to mention Epsteins victims. But it has certainly felt like a unifying moment for a divided nation, and that is surely worrying for the royal family. A YouGov poll found a mere 6% of people thought Andrew was telling the truth. This week it has been hard to escape the distinct impression that people from all sides of various divides have come together to agree the prince was a true wrong un. And then to wake up the next morning and think: I am biologically incapable of sweating because I ODed on adrenaline in the Falklands.
So it remains to be seen if this unprecedented Buckingham Palace containment strategy will work. What can be said with some confidence is that Prince Charless forthcoming reign has long felt like a coach crash waiting to happen, and that this grotesque drama feeds into that. Along with David Attenborough, also 93, the Queen is perhaps the last consented-to link with the postwar consensus. Aprs her, the essential personnel are a complete shower.
This week, we caught a glimpse of the Windsors potential exposure when the Queen departs the earthly realm. Members of the royal family are not too big to fail any more. That feels of a piece with our deeply fractured nation, in which so many institutions have revealed themselves as no longer up to the job. Shortly after the EU referendum, a French diplomat likened the British government to a cartoon character that has run off a cliff but not yet realised it: Theyre in the air now, but at some point theyre going to look down and fall. Those words ring uncomfortably true for much beyond government on this septic isle. All sorts of jigs are up, all at once, for a post-imperial country that has been running on its own fumes for decades. Things go along much as before, until seemingly abruptly, but not really they dont. What now for it all? I cant help thinking of that great bit of Hemingway dialogue from The Sun Also Rises. How did you go bankrupt? Two ways, comes the reply. Gradually and then suddenly.
Marina Hyde is a Guardian columnist
Read more: https://www.theguardian.com/commentisfree/2019/nov/22/prince-andrew-duke-of-york-sacked
Ripple Tops List of Blockchain Capital Raisers in 2019
Ripple raised the highest amount of funding among blockchain companies last year, according to a report by CB Insights.
---
Ripple Raises $200 Million at a Valuation of $10B
Last month, we reported that Ripple secured $200 million in a Series C round from investors like SBI Group, Tetragon Financial Group, and Routee 66 Ventures. The blockchain firm led by Brad Garlinghouse was valued at $10 billion at the time.
The investment round helped the XRP issuer to top the list of blockchain firms by the amount of funds secured last year. Ripple plans to use the funds for talent hiring, opening new offices overseas, and enhancing balance sheet flexibility.
Ripple was followed by Figure Technologies in the list of largest funding rounds. The latter raised $103 million to support the expansion of its blockchain-based platform Provenance. Figure uses the platform to help users get home equity loans within minutes.
Digital Asset and PeerNova came next with $35 million and $31 million, respectively. The former intends to fund developer community project related to its Digital Asset Modeling Language (DAML), which is used to faster asset settlement. Elsewhere, PeerNova is eyeing expansion of its technology that helps financial institutions handle their data workflows.
Investment to Blockchain Firms Declined in 2019
Even though blockchain has gone mainstream, 2019 was not as successful for specialized startups as the previous year in terms of raised funds.
According to CB Insights, total equity funding to blockchain startups dropped more than 30% last year compared to 2018. Mentions of blockchain in public earning reports also declined. Ripple's $200 million wouldn't have even made the top 3.
The research authors suggest that the reason for the decline is that many startups are still trying to figure out product market fit.
In the last quarter of 2019, blockchain firms raised a combined $785 million across 164 deals, down 36% compared to the same period in the previous year.
In 2018, blockchain giants like Bitmain and Coinbase had great contribution, being among the top two fundraisers with $400M and $321M, respectively. Ripple raised only half of the amount secured by Bitmain.
Do you think 2020 will be a better year for blockchain startups? Share your expectations in the comments section!
---
Image via Shutterstock, CB Insights
Source: https://bitcoinist.com/ripple-tops-list-of-blockchain-capital-raisers-in-2019/
Securities Regulator of India Bets on Blockchain
The Chairman of Security and Exchange Board of India(SEBI), Ajay Tyagi makes a bet on blockchain technology and urges exploration of the best possible usage of blockchain in securities markets.
SEBI is the regulator of the Indian securities market. On Jan 23, speaking at a research conference on 'Changing Landscape of Securities Market' organized by the National Institute of Securities Markets, Patalganj, Tyagi said that applications of blockchain, artificial intelligence and machine learning have the potential to bring a paradigm shift in the securities markets landscape.
"Blockchain could be used in clearing, settlement and record-keeping given its benefits in maintaining records in distributed ledgers, while still being a single source of truth."
He takes example of some international blockchain projects and asks for research in these areas.
"Blockchain-based solutions are being developed by some foreign exchanges for settlement and by domestic exchanges for KYC recordkeeping purposes. There is a need for active research into these technologies to explore their best possible usage in securities markets."
More weight on the latest technologies
Tyagi also emphasized the use of the latest technologies, including artificial intelligence, machine learning and blockchain to streamline the securities market. Technology has played a major role in transforming the capital markets. He said:
"Catching malpractices in the market using the standard tools is increasingly getting difficult. SEBI has already planned Data Lake project to augment analytical capability with advance analytical tools viz., AI/ML, deep learning, big data analytics, and natural language processing, etc."
Although the Indian government is positive about the use of blockchain in multiple cases, it is not specifically positive on cryptocurrency. As Cointelegraph reported, the Supreme Court of India is hearing a petition filed against the ban on the banking channel imposed by Reserve Bank of India. The next hearing on this case is scheduled for Jan. 28.
Source: https://cointelegraph.com/news/securities-regulator-of-india-bets-on-blockchain
How Payswap Can Confuse Blockchain Analysts, Benefiting Bitcoin Privacy for All
Although Satoshi Nakamoto's white paper suggests that privacy was a design goal of the Bitcoin protocol, blockchain analysis can often break users' privacy. This is a problem. Bitcoin users might not necessarily want the world to know where they spend their money, what they earn or how much they own, while businesses may not want to leak transaction details to competitors — to name some examples.
But there are solutions to regain privacy. A new solution was proposed on the bitcoin-dev mailing list this week, by the Bitcoin and Lightning developer who goes by the pseudonym "ZmnSCPxj." Called Payswap, the proposed solution offers a simple-yet-effective trick to confuse blockchain analysis by inverting the relation between payer and payee.
Here's how that works.
The Traceability of Bitcoin Payments
A typical bitcoin transaction is a payment from one person (the payer) to another (the payee). Let's say, for example, Alice wants to pay Bob 3 bitcoin. If Alice owns a chunk of coins (a UTXO) worth exactly 3 coins, and we for simplicity ignore fees, she could create a transaction with one input (referring to her address holding 3 coins) and one output (referring to Bob's Bitcoin address). The chunk of 3 coins would essentially move from Alice's address to Bob's address. Simple.
However, more often than not, Alice won't have a chunk of the exact right amount of coins she needs to pay Bob. Alice may, for example, only have chunks of 2 coins. In this case, she can still create a transaction. This transaction would have two inputs (two chunks of 2 coins, presumably from two different addresses), and also two outputs: one output worth 3 coins attributed to Bob's address, and one output worth 1 coin, which she sends back to one of her own addresses as change.
Unfortunately, exactly because such a transaction is so typical, it would reveal information to blockchain analysts. They will assume that the chunk of 3 coins constitutes the payment (to Bob), and that the 1 coin is change (back to Alice). After all, if the payment only constituted 1 coin, Alice wouldn't have needed to include two inputs. This enables blockchain analysts to trace payments over the blockchain and ultimately allows for address clustering and more privacy-infringing strategies.
Enter Payswap
Payswap essentially replaces the payment from Alice to Bob with two payments: one from Alice to Bob, and one from Bob to Alice. Doing this securely requires some technical complexity — more on that below — but let's for now ignore that.
In this case, Alice would still create a transaction with two inputs: two chunks of 2 coins. But this time, the transaction would include only one output: She would send all 4 coins to Bob. Already, this may confuse blockchain analysts. Because most typical payment transactions include a change address, and this transaction doesn't, they may (falsely) assume that this is a transaction in which someone is, for example, moving their own funds around to a new wallet.
Meanwhile, Bob would also create a transaction to Alice. Let's say Bob has chunks of 0.6 coin. He would create a transaction that includes two inputs (chunks of 0.6 coin), and two outputs: 1 coin for Alice, and 0.2 coin as change. This would look just like a regular transaction (1 coin from Bob to Alice).
If different Bitcoin addresses are used, a blockchain analyst will not be able to tell that the two transactions described here happened between the same two people (Alice and Bob). Instead, on top of the false assumption they may have made about Alice's transaction to Bob, they may now also have a wrong assumption about Bob's transaction to Alice. Overall, they may think that Bob paid Alice 1 bitcoin, while in reality Alice paid Bob 3.
Blockchain analysts, by their false assumptions, would have been misled, benefiting both Alice and Bob's privacy. By extension, if blockchain analysts' assumptions are broken through these kinds of tricks often enough, their assumptions become useless overall.
Adding CoinSwap
In reality the Payswap trick would be slightly more complicated.
In the example above, there is a problem left to solve. Since Alice and Bob don't trust each other, neither is willing to make their payment first, as this would allow the other to disappear without returning the payment.
This can be taken care of with an older trick, called CoinSwap. Based on atomic swaps (an even older trick), two otherwise separate transactions can be made dependent on one another; neither party could refuse to return the payment.
If you know how CoinSwap and/or atomic swaps work, the idea behind Payswap is actually very simple. Instead of using (near-)equal amounts in the atomically-linked transactions, Payswap uses unequal amounts; the difference constitutes the payment. (If this is clear to you, there's no need to read the rest of this section of the article.)
In a little more detail, Payswap introduces two additional transactions into the equation.
First, instead of creating a transaction that sends 4 coins directly to Bob, Alice creates a transaction that sends the coins to a very basic smart contract. The coins can be claimed from this smart contract in two ways. It can either be claimed by Bob, if he also includes a secret number that Bob himself generated. Or, if the coins aren't claimed by Bob, the coins can be claimed back by Alice after some time has passed.
Second, instead of creating a transaction that sends a coin directly to Alice, Bob also creates a transaction that sends the coin to a basic smart contract. (And 0.2 coin back to himself as change.) Again, the coin can be claimed in two ways. Either, it can be claimed by Alice, if she includes the same secret number that Bob generated. Or, it can be claimed by Bob after some time has passed. (Slightly more time than in the first smart contract.)
Both transactions are broadcast to the Bitcoin network to be included in a block.
Now, when Bob wants to collect his payment (4 coins), he'd create a transaction from the smart contract that Alice created, thus including the secret code he generated, claiming the money. Importantly, by doing so, he reveals his secret code on the Bitcoin blockchain for Alice to see. With it, Alice can in turn create a transaction from the smart contract that Bob created, claiming 1 coin back to her address.
In other words: Bob can only claim 4 coins by letting Alice claim 1 coin. Either both transactions come through or neither does.
If, for whatever reason, Bob does not claim his payment, the timelock on the basic smart contract Alice created will expire, and she can claim her 4 coins back. Bob, a little later, can also claim his 1 coin back. No harm done.
It's worth pointing out that these smart contracts can be created with fancy mathematical tricks to hide the secret codes in the cryptographic signatures, to prevent the two transactions from being linked by blockchain analysts through the code. The details of how this is done falls outside of the scope of this article, however; if you're interested in learning more, see this article on Scriptless Scripts.
In the end, while using atomic swaps adds some complexity, blockchain analysts would be confused just the same.
Drawbacks of Payswap
Payswap does come with some trade-offs.
The most obvious drawback is that a payment would require four transactions, instead of just one. Two transactions are needed to get the funds from Alice to Bob, and two transactions are needed to get the "change" back from Bob to Alice. This requires more blockspace and, therefore, more fees.
Additionally, the payment requires Alice and Bob to interact. Alice can't simply send funds to Bob's address; instead, the two have to communicate outside of the Bitcoin protocol to also settle on an identifier (hash) of Bob's secret number.
The solution might, therefore, actually be more useful in the context of Lightning. Payment routing on the Lightning Network is entirely based on the exchange of secret numbers, much like the one Bob generated in the example above, so it's not difficult to see how the same trick would apply. Yet, on the Lightning Network, the extra transactions wouldn't hit the blockchain, while payments require interaction anyway.
In fact, mostly focused on Bitcoin's Layer 2 network for fast and cheap payments, ZmnSCPxj originally came up with the idea for Payswap in the context of the Lightning Network, where he simply refers to it as a "self-payment." But more on this proposal in a future article…
Source: https://bitcoinmagazine.com/articles/how-payswap-can-confuse-blockchain-analysts-benefiting-bitcoin-privacy-for-all