Homeland Security backs off on scanning US citizens, Amazon ups AI ante, and more
Roundup Hello, welcome to this week's machine learning musings. We bring you news about the hottest topics in AI: Facial recognition, the so-called AI arms race between the US and China, and erm, GPUs in the cloud.
US citizens won't be subjected to facial biometric scans as they fly in and out of America, after all: The Department of Homeland Security has withdrawn a proposal asking for everyone – including US citizens – to pass through facial recognition cameras as they travel in and out of the country.
Documents filed to the Office of Information and Regulatory Affairs, a government bureau that reviews policies and regulations, revealed that the DHS wanted to expand its border security rights.
But after the DHS faced public backlash, including from Senator Edward Markey (D-MA) and the American Civil Liberties Union (ACLU), a non-profit group based in New York, it withdrew its decision.
"Customs Border Patrol is committed to keeping the public informed about our use of facial comparison technology," John Wagner, deputy executive assistant commissioner for the Customs and Border Patrol field operations, said in a statement.
"We are implementing a biometric entry-exit system that protects the privacy of all travelers while making travel more secure and convenient."
Under current rules, US citizens and permanent residents can refuse to have their faces scanned at airport terminals by talking to a CBP officer or an airline representative. Non-US citizens, however, do not have that choice and must go through a more rigorous process that involves having a photo taken and fingerprints scanned.
Senator Markey, however, said that extending the process to include American citizens was too risky. "This proposal would amount to disturbing government coercion, and as the recent data breach at Customs and Border Protection shows, Homeland Security cannot be trusted to keep our information safe and secure. I will soon introduce legislation to ensure that innocent American citizens are never forced to hand over their facial recognition information."
Jay Stanley, a senior policy analyst, at the ACLU was more worried about the invasion of privacy.
"Travelers, including US citizens, should not have to submit to invasive biometric scans simply as a condition of exercising their constitutional right to travel. The government's insistence on hurtling forward with a large-scale deployment of this powerful surveillance technology raises profound privacy concerns," he said in a statement sent to The Register.
AWS is fastest cloud provider if you want to train BERT or Mask R-CNN: Amazon claimed to have achieved "the world's fastest model training times to date on the cloud" for BERT and Mask R-CNN, popular machine learning models used in natural language and computer vision at its re:Invent conference this week.
It takes just 69 minutes to train BERT written in PyTorch using 1,536 Nvidia V100 GPUs on 192 P3 instances and 62 minutes if you use TensorFlow with 2,048 V100 GPUs on 256 P3 instances. Of course it's going to fast with that amount of hardware, and although that might beat other cloud platforms there's probably not many customers willing to splash that much cash spinning up thousands of GPUs. The same goes for Mask R-CNN. You'll have to fork out for 192 V100 GPUs to shorten the training time from hours to 26 minutes across PyTorch, TensorFlow, and MXNet.
"Over the past several months, AWS has significantly improved the underlying infrastructure, network, machine learning framework, and model code to achieve the best training time for these two popular state-of-the-art models," it said this week.
In other AI-related re:Invent news, Amazon also announced it was releasing a physical keyboard to help tinkerers automatically compose music using machine learning, a speech-to-text transcriber for medical physicians, and a new cloud instance that uses the company's own custom-built inference chip.
China isn't spending as much as it says it is on AI R&D: An academic report from the Center for Security and Emerging Technology at Georgetown University disputed the common belief that China is pouring tens of billions of dollars into AI.
"We assess with low to moderate confidence that China's public investment in AI R&D was on the order of a few billion dollars in 2018," the report said. "With higher confidence, we assess that China's government is not investing tens of billions of dollars annually in AI R&D, as some have suggested."
China's pledge to become the world leader in AI by 2030 has sparked the idea of an AI arms race between between the US and China. The efforts made by the Trump Administration to advance AI have often been viewed as lackluster. The US government is often criticized for not having a clear strategy and for not investing enough money and resources.
But the latest finding reveals that China isn't spending as much money as people believe. "China's spending in 2018 was on the same order of magnitude as U.S. planned spending for FY 2020," it said.
Researchers studied public data from China's Ministry of Finance and two of its biggest science and technology investment programs taken from 2018 to arrive at their conclusion. You can read the report in more detail here. ®
Republished from https://go.theregister.co.uk/feed/www.theregister.co.uk/2019/12/09/ai_roundup_061219/
How Health Tech is Shaping the Future of Healthcare
Writes about tech. Software engineer and digital marketer by profession. Peace.
Technologies like Artificial Intelligence, Big Data, Machine Learning, Telemedicine, Virtual Reality, Augmented Reality, and the Internet of Things play a vital role in shaping the future of Health Tech. The goal is to make it easy for humans to take care of themselves and their overall health.
In this article, we'll discuss some of the ways AI, Telemedicine, AR, VR, IoT, and 3D technologies are improving healthcare and have become the driving forces of some medical technologies.
Artificial Intelligence in Health Tech
One of the top technologies causing a radical change in health tech is Artificial Intelligence. AI is the backbone of all modern emerging technologies. For the healthcare industry, AI-enabled solutions can assist medical research and help with new product development.
With Machine Learning, the most common form of AI, it has become possible for researchers now to reach conclusions easily and with better precision. Big Data, which goes hand in hand with ML, is used to analyze enormous amounts of patient data and detect the patterns of diseases. It includes diagnosing diseases to discovering links between genetic codes and robots assisting surgeries. Altogether, it can lead to better outcomes and patient engagement with immediate returns through cost reduction.
A deep neural network, called the LSAN, is developed by researchers at Penn State University. The new ML model would predict any future health conditions of a patient by scanning and analyzing the electronic health records of the patients.
Image: Fraunhofer FOKUS
AI in Cancer Care
The integration of AI technology in cancer care is one area that can make a breakthrough impact on humanity. Cancer screening today is inconvenient and invasive. The detection of two common cancers, colon and breast, require screening technologies developed 50 years ago.
Cancer patients have a 90% chance of survival if cancer is detected at stage I versus only a 5% chance at stage IV, so early detection is a critical means of improving patient outcomes.
Helio Health is an AI-driven healthcare startup focused on developing and commercializing early cancer detection tests from a simple blood draw. The company's mission is to simplify cancer screening so lives can be saved by detecting cancer earlier. Helio Health has secured $86 million in venture funding and currently in clinical trials for its lead liver cancer detection test, the HelioLiver Test. Helio's development program is currently focused on liver, colon, breast, and lung cancer, and actively collaborating with top national cancer centers.
Telemedicine in Health Tech
Telemedicine technologies have been making a huge impact. Telemedicine boomed during the COVID-19 pandemic and I believe the trend is going to stay. There are plenty of reasons for that, but the real reason is as more and more gadgets, gears, and wearable devices – like Ring, FitBit, or Embr Wave – are becoming part of health tech. Apple announced a breakthrough ECG app – approved by the FDA – empowering patients to maintain a log of their electrocardiogram anytime.
Our smartphones can now also pair with third-party health devices like glucometers, heart monitors, body scales, toothbrushes, and spirometers for other important and vital metrics.
Wearable Devices
Wearable and mobile devices are becoming popular as they are providing more accurate results than before. One of the leading causes of death worldwide is hypertension. But your smartphone can measure your blood pressure as well. The Biospectal OptiBP app, funded by Bill and Melinda Gates, is a mobile-only app that measures your blood pressure at any time. The app is very accurate, and aided by telemedicine, can really make a difference to fight the global hypertension crisis even in low-income countries.
Image: CNET
Health tech devices can even transmit data automatically from such devices to telemedicine service providers. This growing number of health devices and their convenience is not only just helping researchers with day-to-day data but also opening a new era of at-home telehealth.
Eye Exams Can Now be Done Online
Another example of telemedicine is Stanton Optical, a leading eye health provider. During the pandemic, they started to offer all eye care as part of their telemedicine initiative. The optical company offered patients to receive a customized eye care treatment plan and prescription through a virtual video screen with a local Ophthalmologist (MD) or Optometrist. It allowed patients to receive eye care during a pandemic when many eye care providers are turning away patients within the safety of their homes.
Many other startups like DoctorSpring and Second Opinions are providing telemedicine services. DoctorSpring allows you to do a medical consultancy from board-certified doctors 24×7. Second Opinions also let you submit a medical questionnaire before scheduling an online meeting with a board-certified doctor.
Health tech is making it possible for the healthcare industry to manage major diseases like diagnosing and treating cancer, diabetes, hypertension and helping patients suffering from mental health issues.
Neural Interfaces Can Also Improve Health Tech
Elon Musk's neural technology company, Neuralink, is working on a brain chip that will be implanted into the human skull and connected directly to the brain. The goal of the Neuralink chip is to provide an interface to communicate with the brain. It can help to improve mental health and cure brain disorders like Alzheimer's, Parkinson's disease, and spinal cord injuries. It would initially focus on curing and treating major traumas and brain injuries, and can also be used to restore eyesight and hearing. The chip electrodes can read signals from the brain and write them down and will be helpful in curing paralysis as well.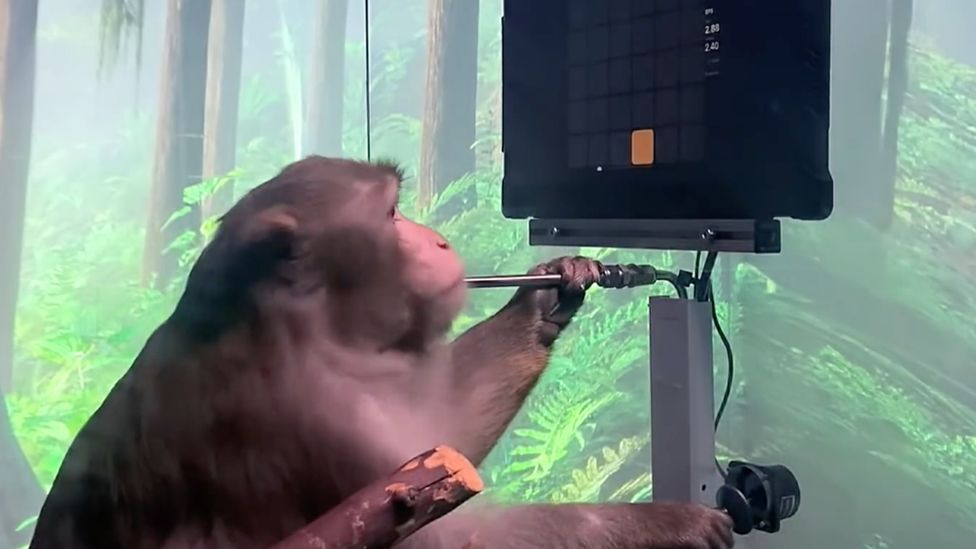 Screengrab: Neuralink YouTube
The brain chip designed by Neuralink is still in the phases of trials. It was first implanted in the brain of a pig for initial trials. The chip was recently implanted in a monkey, and a video showed it playing a video game by using its brain only. Elon Musk claimed in a tweet that his company and the chip will be ready for human trials later this year. However, he made a similar claim in 2019 that the chip would be tested on humans by the end of 2020.
Facebook made a formal entry into the neural world when it acquired CTRL Labs, a startup co-founded by Internet Explorer creator and neuroscientist Thomas Reardon, in 2019. CTRL Labs is working on a similar brain-machine interface, but unlike brain implanted chips by Neuralink, CTRL Labs' mainstream product is their wristband which they demonstrated to transmit electrical signals from the brain into computer input.
CTRL Labs wristband is part of Facebook's AR/VR research group. Facebook plans to use the neural interface technology of CTRL Lab's wristband that connects to their AR/VR devices more naturally and intuitively. Neural technology development is a clear indication that we will see a breakthrough in health tech very soon.
Medical VR/AR Solutions
Virtual Reality (VR) and Augmented Reality (AR) have proved to be significant and useful visual technologies. They have already advanced so much in the healthcare sector that medical practitioners can now render 3D images of human autonomy and their CT scans for better examination and to precisely locate the blood vessels, bones, and muscles.
Osso VR, a startup based in Palo Alto, has raised $14 million in September to build a virtual reality surgical training and assessment platform. This can help surgeons in training to repeat steps many times virtually. Orthopedic residency programs using Osso VR include Columbia University, David Geffen School of Medicine at UCLA, Harvard Medical School, and more.
Image: Osso VR
Organovo has already printed human liver cells and tissues in 3D. Their ExVive3D Liver Tissue is helping the pharmaceutical and the healthcare industry in testing the conditions of the human liver.
The technology is advancing quickly enough that we could soon see surgeons and medical staff frequently use VR or AR glasses during critical surgeries, and it was found that the individuals who take help from this health tech perform surgeries quicker and with better precision. Surgeries are quicker and more precise now with the help of AR and VR.
Final Thoughts on the Current State of Health Tech
Healthcare has always been of immense importance to human beings. Health tech is constantly improving the healthcare sector, and the ways of providing basic healthcare to humans have become easier and more effective.
Do you think I missed an important health tech development? Share your views in the HackerNoon Community.
Want to keep up with all the latest health topics? Subscribe to our newsletter in the footer below.
Join Hacker Noon
Create your free account to unlock your custom reading experience.
Coinsmart. Beste Bitcoin-Börse in Europa
Source: https://hackernoon.com/how-health-tech-is-shaping-the-future-of-healthcare-et1r37zt?source=rss