Hodling Pays Off as Buying Bitcoin Has Been Profitable 95.4% of Days
With the Bitcoin (BTC) halving happening in less than 4 hours there is strong evidence that investors are continuing to accumulate Bitcoin.
Readers will recall that on March 12, a day now referred to as Black Thursday, the price of the top-ranked crypto asset on CoinMarketCap crashed more than 50%, registering its second biggest daily drop in history.
While this was an incredibly painful 48-hours for over leveraged traders, the resulting bargain bin prices on and other cryptocurrencies presented a potential once-in-a-lifetime opportunity for long term investors.
Bitcoin's impressive rise from $3,750 to $9,450 aside, just how much of an opportunity these past few weeks have been is also clear to see in a number of on-chain and market cycle sources.
On-chain data provides unique insight into the behaviour of market participants by analyzing transactions that take place on the blockchain. From the size of transactions and wallets, to more complex tools, blockchains offer a wealth of data.
The information drawn from blockchains can help investors and researchers understand what has happened to price in the past and it can also offer guidance on what to expect in the future.
Bitcoin price briefly dropped below its cost basis
Bitcoin MVRV Z-Score. Source: lookintobitcoin.com
The MVRV Z-score is an on-chain indicator that uses blockchain analysis to identify periods where Bitcoin is extremely over or undervalued relative to its 'fair value'. The MV part of the name stands for Market Value which is essentially the market cap of Bitcoin, or the number of coins in circulation multiplied by price.
The RV part stands for Realized Value, which uses the price of coins when they were last sent from one wallet to another, rather than the current price. So we can think of Realized Value as the average cost basis investors paid for their Bitcoin.
In the week following Black Thursday, Market Value (blue line on the chart below) was lower than Realized Value (orange line). This moment is highlighted by the arrow on the chart. This is a rare occurrence in Bitcoin's history due to the digital currency's aggressive price growth over time, and whenever this occurs it signals an incredible buying opportunity for long term investors.
In addition to this, the indicator also uses a standard deviation line called the z-score (red line on the chart) which pulls apart differences in the MVRV data. The z-score can call market bottoms (green zone) and tops (red zone) very effectively.
It has called the previous market cycle tops to within 2 weeks! After a brief dip into the green 'buy' zone, the z-score has now excited and has been rising rapidly since, resulting in the recent price spike up beyond $10,000.
Whales buy the dip following a simple indicator
The 200-week moving average has been a consistently resolute support for Bitcoin over time. As shown below, when the price retraces back to this moving average it has historically been a great 'buy-the-dip' opportunity.
BTC USD 1-week chart. Source: TradingView
Whales are known to seize on the opportunity and start buying whenever price hits this key level. CryptoCobain a Bitcoin OG and whale was not shy about his buying at these levels during the recent market crash. The Bitcoin whale humorously tweeted:
I call upon the old gods. I call upon the new gods. I summon you. In the words of the elders, pump it
In addition to just using the standard 200 (WMA) line, it is possible to create a heatmap from its movement over time, given its role as a key support for Bitcoin price.
The 200-WMA heatmap chart shows that while Bitcoin price has bounced hard from this important moving average over the past few weeks, there is still a long way to go before the market becomes overheated.
200 Week Moving Average Heatmap. Source: lookintobitcoin.com
The orange and red dots on the Bitcoin price line represent high monthly changes of between +12 and +16% to the 200WMA. Historically these colours have highlighted the months where Bitcoin price is becoming over extended and where the market begins to top out.
Currently, the price remains firmly in the dark blue so one could interpret this as meaning that price has plenty of room to increase based on Bitcoin's previous market structures.
Long term investors continue to HODL
On-chain data continues to show that sentiment among mid to long-term investors remains positive and that they are not prepared to sell their holdings any time soon.
Despite the major volatility in Bitcoin price in recent months, the percentage of Bitcoin that has not moved on-chain for over a year has remained around 60%. This indicates there are strong hands among Bitcoin investors.
1 Year+ HODL Wave. Source: lookintobitcoin.com
The chart also shows the cyclical nature of HODL'ing. There is typically a sustained drop in the number of coins held for over a year as the market approaches the late stages of a Bitcoin bull market.
This is shown by the green down arrows on the chart below. Currently there is no sustained drop in +1yr HODL'ing which again suggests the market is just starting to enter a new bull market with investors accumulating more Bitcoin.
1 Year+ HODL Wave. Source: lookintobitcoin.com
As the wider market becomes more aware of these levels of HODL'ing, this will put further demand side pressure on an already scarce asset.
Recent weeks show rapid changes in investor sentiment
Relative Unrealized Profit/Loss. Source: lookintobitcoin.com
After briefly dipping into the capitulation level six weeks ago, the market spent the past few weeks in the hope and fear area. The most recent pump shows investor sentiment entering the optimism and denial stage.
The Relative Unrealized Profit/Loss metric is able to monitor market sentiment through actual market activity, rather than just claimed behaviour. It is able to achieve this by looking at the ratio between the Bitcoin market cap and when investors are taking profit.
In doing so it has consistently highlighted the key market stages throughout Bitcoin's history, including market tops and bottoms.
In fact, looking back at previous cycles we can see that it is likely to be some time before investor sentiment reaches the greed level which has historically proven to be an excellent time to take profit for the smart investors.
BTC days in profit continues to rise
While Bitcoin volatility over recent months has had some traders feeling queasy, zooming out to view the long term shows long-term HODL'ers continue to benefit from the asset's remarkable ascent over time.
Bitcoin Profitable Days. Source: lookintobitcoin.com
Reviewing the percentage of days in Bitcoin's history where buying Bitcoin would have put investors in profit at today's prices, we see it stands at a staggering 95.4%. For those who can stomach the short term price swings, patience clearly pays.
As the halving draws ever closer and central banks across the globe continue to print without pause, any of the significant downside risks associated with Bitcoin are beginning to look increasingly limited.
Thus, the only thing left for investors to wonder about is how soon will it be before the percentage of profitable days for holding Bitcoin reaches 100% as the price breaks out into new all-time highs?
The views and opinions expressed here are solely those of the author and do not necessarily reflect the views of Cointelegraph. Every investment and trading move involves risk. You should conduct your own research when making a decision.
Source: https://cointelegraph.com/news/hodling-pays-off-as-buying-bitcoin-has-been-profitable-954-of-days
Ethereum DeFi's Ampleforth (AMPL) Drops 20% Despite "Whale" Accumulation
Ampleforth (AMPL) has been one of the top-performing cryptocurrencies over the past month. The asset, whose long-term price performance is measured by its market capitalization rather than its nominal price, gained ~5,000% in July.
The asset has seen a steep correction over the past week as the focus of crypto investors has been on Bitcoin and Ethereum.
After a recovery, AMPL is dropping once again.
This drop comes in spite of positive on-chain and social media signs, according to blockchain analytics firm Santiment.
Ampleforth Drops 20% Despite On-Chain Data Indicating Accumulation
According to TradingView data, Ampleforth (AMPL) has dropped 20% in the past 24 hours as it has also been impacted by the flash crash in Bitcoin.
Ampleforth is an algorithmic stable coin that attempts to stabilize its price on the U.S. dollar in the long term. It responds to supply and demand by daily "rebasements," which means that long-term holders of the token will have their balance change each day to try and center the price around a dollar. This latest price drop may be a byproduct of Bitcoin's flash crash, coupled with an increase in the supply of AMPL.
Chart of Ampleforth's price action over the past few days from TradingView.com. Depicted is the price action of the Ethereum-based coin on FTX.
Price action may differ from exchange-to-exchange due to inefficiencies in this new(er) market and price action on futures vs. the actual coin.
This price drop in the price of AMPL comes in spite of positive on-chain and social trends, according to Santiment.
The blockchain analytics firm shared the chart below on July 31st. It shows that the weighted social media sentiment of messages regarding Ampleforth has hit a level above 3; a social media sentiment at such a positive reading suggests an extreme number of bulls as opposed to bears.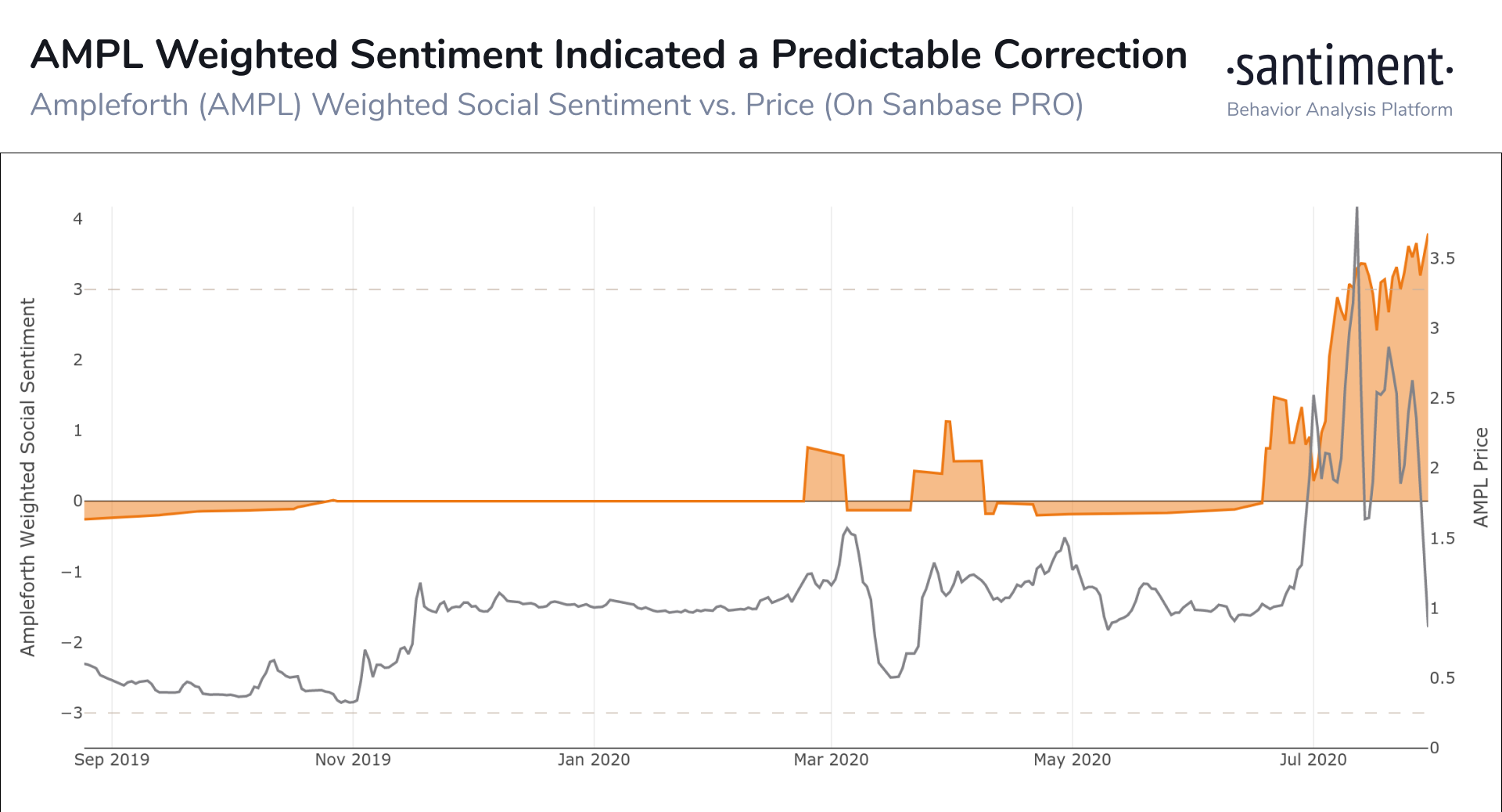 Santiment added that per their data, "whales are accumulating" AMPL. Though, seeing the recent price action, it isn't clear if they are having a big enough effect on the Ethereum-based token's market.
How AMPL Succeeding Could Boost Ethereum
The recent price action has neither confirmed nor denied Ampleforth's long-term goals to be a unique form of money. Thus, analysts have commented on what long-term effect this experiment could have Ethereum and the broader cryptocurrency space.
Ryan Sean Adams, the founder of Mythos Capital, says that he thinks Ampleforth succeeding will be "unbelievably bullish for" ETH.
This is because Amples becoming widely adopted as money will drive record demand for Ethereum transactions, forcing up the price of ETH. Ampleforth's success will also trigger other innovations in money and other facets of society on the network, further driving demand for ETH.
"BCH, ZEC, XMR, BTC, ETH, DOGE, AMPL. Base monies. M0s all competing w/ each other. AMPL is the only one w/o its own chain. It settles on Ethereum. If the AmpleForth experiment is successful, we'll see a rush of M0 monies competing on Ethereum."
BCH, ZEC, XMR, BTC, ETH, DOGE, AMPL

Base monies. M0s all competing w/ each other.

AMPL is the only one w/o its own chain. It settles on Ethereum.

If the AmpleForth experiment is successful, we'll see a rush of M0 monies competing on Ethereum.

This is unbelievably bullish ETH.

— Ryan Sean Adams – rsa.eth 🏴 (@RyanSAdams) July 28, 2020
Adams notably did not comment on whether or not he thinks Ampleforth will succeed or fail as a project. He did, though, call it an "experiment."
Featured Image from Shutterstock
Price tags: ethusd, ethbtc, amplusd
Charts from TradingView.com
Ethereum DeFi's Ampleforth (AMPL) Drops 20% Despite "Whale" Accumulation
Source: https://bitcoinist.com/ethereum-defis-ampleforth-ampl-drops-20/?utm_source=rss&utm_medium=rss&utm_campaign=ethereum-defis-ampleforth-ampl-drops-20
Ethereum's Compound (COMP) Slides to Multi-Month Low Despite DeFi Explosion
While Bitcoin and Ethereum have seen notable bounces since imploding on Saturday evening, Compound and other altcoins are underperforming.
The Ethereum-based coin is down 7.5% in the past 24 hours as per data from Coin Market Cap.
This comes in spite of the fact that decentralized finance (DeFi), which Compound is a market leader in, has seen strong adoption.
Altcoins could see further losses against Bitcoin and the dollar if the market leaders continue to undergo bouts of volatility.
Compound Slides Lower In Spite of DeFi Strength
The Ethereum-based Compound (COMP) was the hottest token of June. But much has changed in the past five weeks.
In the past 24 hours, the Ethereum-based altcoin has dropped by just around 7% against the U.S. dollar. Unlike Ethereum and Bitcoin, it failed to recover a majority of the losses it incurred during Saturday night's flash crash.
With this latest drop, COMP is near multi-month lows not seen since the launch of the asset in the middle of June. At the current price of $128, the asset is also down by approximately 70% from its all-time high price set in late June.
Chart of Compound's price action over the past few days from TradingView.com
This drop comes in spite of the fact that Compound, which the COMP coin is critical to, is the second-largest DeFi protocol and continues to gain traction. In fact, data from DeFiPulse suggests that there is around $767 million worth of cryptocurrency locked in the protocol.
Analysts expect the Ethereum-based coin to decline further as time goes on, unfortunately for its holders.
One trader explained that because the "fundamentals of [Compound's] 'governance', given the public information, don't make too much sense today," a drop under $100 is likely:
"I'm short on $COMP, the fundamentals of the 'governance', given the public information, don't make too much sense today. Won't be surprised to see it fall below $100 unless a revenue model is proposed soon."
His sentiment boiled down to the fact that companies that accomplish what Compound does are valued far below the market capitalization of COMP.
Altcoins Are Unlikely to Benefit if Bitcoin and Ethereum Undergo Further Volatility
Further volatility in the price of Bitcoin could further suppress altcoins, including Compound.
Nik Patel, the author of "An Altcoin Trader's Handbook," recently said on the outlook for altcoins in the current environment:
"Wouldn't surprise me to see dominance now rise until BTC all-time highs (pending a confirmed Weekly breakout above $10,600) > break $20k and alts find another bottom (like Nov/Dec 2016) > they rally concurrently like March-June 2017."
One trader, though, said that Bitcoin and Ethereum are likely to consolidate after Saturday's flash crash. This could trigger rallies in altcoins as money flows from these large caps to smaller players.
Featured Image from Shutterstock
Price tags: ethusd, ethbtc, compusd, compbtc
Charts from TradingView.com
Ethereum's Compound (COMP) Slides to Multi-Month Low Despite DeFi Explosion
Source: https://bitcoinist.com/ethereums-compound-comp-slides-multi-month-low/?utm_source=rss&utm_medium=rss&utm_campaign=ethereums-compound-comp-slides-multi-month-low
Why Analysts Expect Ethereum to See Further Downside Following Intense Selloff
Ethereum witnessed some intense overnight volatility that caused its price to slide as low as $300
This intense selling pressure came about in tandem with that witnessed by Bitcoin – which caused its price to slide down to lows of $11,000
Analysts are now noting that ETH may be positioned to see further downside due to the strength of this movement
Although it has found some support and stability within the mid-$300 region, weakness against its BTC trading pair may also drag it lower
Ethereum and the entire cryptocurrency market is currently trying to stabilize following the unprecedented volatility witnessed overnight.
This came about after Bitcoin rallied to highs of $12,000 while ETH reached highs of $415.
From here, the market's strength began degrading, with BTC ultimately reeling as low as $11,000 while Ethereum plunged to $300.
Both of these assets have since recovered slightly, but they still remain in a precarious position.
While looking towards Ethereum, one analyst is now noting that he is expecting ETH to see further near-term downside in the days and weeks ahead.
That being said, he still believes that the crypto's macro strength makes it so that "dips are for buying."
Ethereum Plunges as Low as $300 Overnight as Selling Pressure Ramps Up
At the time of writing, Ethereum is trading down just under 6% at its current price of $365.
This is a far cry from where it was trading at during the crux of the overnight movement when bears sent it as low as $300 on some platforms.
The drop to this level was incredibly fleeting, and it only traded here for a mere moment before being propelled back up to the mid-$300 region, where it is now consolidating.
While looking at Ethereum's Bitcoin trading pair, one analyst explained that he is expecting it to see a continuation of this downtrend.
"ETHBTC: Channel fakeout? Gray zone is where I would like to reload up on ETH. I'm being patient – may take a few months – may not happen – that's fine by me," he said.
Image Courtesy of TraderXO. Chart via TradingView.
As seen on the chart he offers, the ETH/BTC price he is looking to accumulate at exists around 0.026. It is currently trading at 0.033.
Analyst: BTC Likely to See Further Downside, But Macro Uptrend Remains Strong
Another analyst explained in a recent tweet that he now believes that Ethereum could pull back a bit further against USD before finding meaningful support.
"ETH / USD: Price perfectly tapped our previous highs of $315 overnight and was pretty much instantly bought back, over a 12% wick, bulls seem to be buying back up dips… LTF seems like we could pullback a little more, with some continuation to the downside, dips for buying."
Image Courtesy of Cactus. Chart via TradingView.
As seen in the above chart, the lower-$300 region has been a historically important level for Ethereum, and the overnight dip here further confirms this.
Featured image from Unsplash.
Charts from TradingView.
Source: https://bitcoinist.com/why-analysts-expect-ethereum-to-see-further-downside-following-intense-selloff/?utm_source=rss&utm_medium=rss&utm_campaign=why-analysts-expect-ethereum-to-see-further-downside-following-intense-selloff