Google workers call on company to adopt aggressive climate plan
Letter signed by more than 1,000 employees calls for zero emissions by 2030 in latest wave of industry climate activism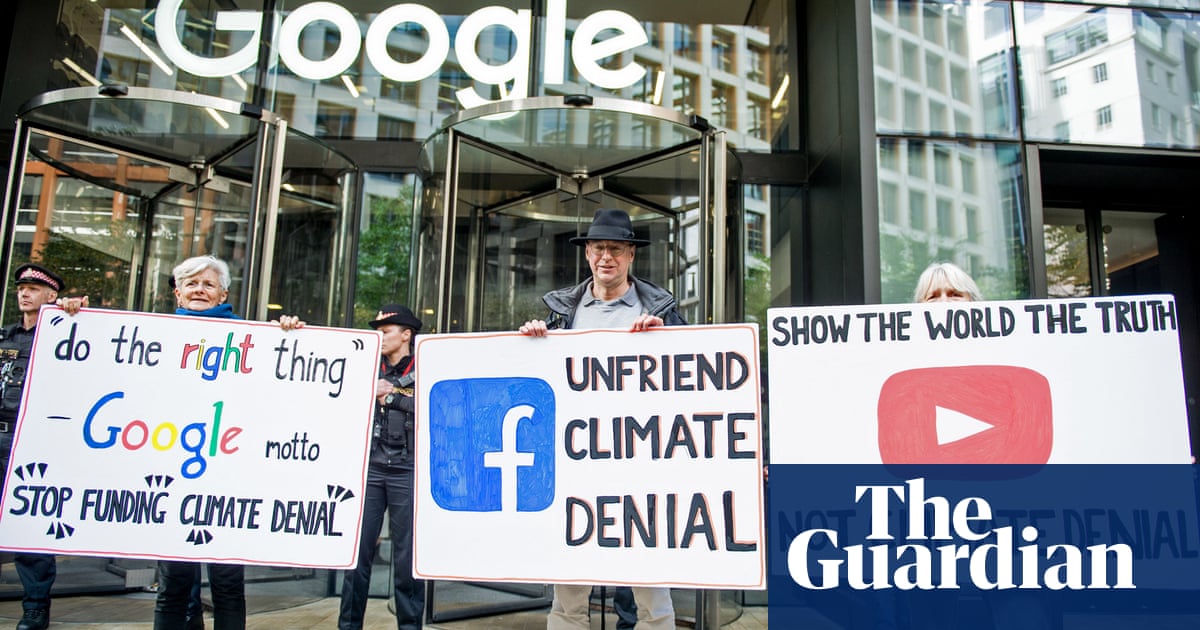 More than 1,000 Google workers have signed a public letter calling on their employer to commit to an aggressive company-wide climate plan that includes canceling contracts with the fossil fuel industry and halting its donations to climate change deniers.
The letter, which is addressed to Googles chief financial officer, Ruth Porat, also calls for zero emissions by 2030 and zero collaboration with entities enabling the incarceration, surveillance, displacement or oppression of refugees or frontline communities.
Were excited to keep building momentum as tech workers join millions of people all over the world acting boldly for a livable future, said Sharon Campbell-Crow, a senior technical writer for Google, by email. Marginalized communities have worked for climate justice for decades; Google needs to catch up and stop funding climate denial.
The public campaign by Google workers follows similar efforts by employees of Amazon and Microsoft. Workers across the tech industry participated in the global climate strike on 20 September.
Like many corporations, Google boasts about its sustainability and says that it supports global action on climate change. According to its annual environmental report, Google has been carbon neutral since 2007, and uses 100% renewable energy for its operations.
But Google has also made large donations to more than a dozen organizations that have worked against climate action or sought to roll-back environmental protections, the Guardian revealed in October. Those contributions include funds to the Competitive Enterprise Institute, which helped convince the Trump administration to withdraw from the Paris climate agreement.
The letter calls for zero funding for climate-denying or -delaying think tanks, lobbyists and politicians.
In a blogpost announcing their participation in the global climate strike, the group calling themselves Google Workers for Action on Climate wrote: In 2018 the company funded 111 members of Congress who voted against climate legislation at least 90% of the time.
Google chief executive Sundar Pichai responded to the demand for zero emissions by 2030 in an interview with the Financial Times on the day of the global climate strike.
It doesnt seem unreasonable to me, he said. We want to be ambitious in how we think about it. It definitely seems the kind of timeline by which we want to accomplish those things.
We stand by our call for Google to make a clear public commitment to all four demands, said Campbell-Crow.
The letter also takes aim at the companys contracts with fossil fuel companies. Google provides cloud computing services for the oil and gas industry, including using its artificial intelligence technology to help fossil fuel companies perform data analysis, according to Gizmodo.
I cant feel good about my job if the profits I help generate and the codebases I contribute to can be leveraged to accelerate fossil fuel extraction or fund groups that delay or deny urgent climate action, said Sam Kern, a UX engineer at Google. Its unacceptable for Google to build technologies that help oil and gas companies identify new reserves, accelerate extraction, and prolong reliance on fossil fuels.
The letter comes just over a year after approximately 20,000 Google employees staged a walkout in protest of the companys handling of sexual harassment. The company has been at the center of a wave of employee activism in the tech industry, with employees speaking out over issues ranging from the ethics of supplying artificial intelligence to the US defense department to the treatment of subcontracted workers.
Google declined to comment but provided a link to Porats recent blogpost on sustainability.
Read more: https://www.theguardian.com/technology/2019/nov/04/google-workers-climate-plan-letter
Coinbase Custody selected by 21Shares for Bitcoin ETP
Today we're proud to announce that 21Shares AG has chosen Coinbase Custody to store its digital assets for its Bitcoin ETP. 21Shares AG is listing its 21Shares Bitcoin ETP (ISIN: CH0454664001 — WKN A2T64E) on the Deutsche Börse's Xetra electronic venue on Thursday July 2nd 2020. Coinbase Custody will serve as custodian for the underlying assets of their Bitcoin ETP.
21Shares selected Coinbase Custody after reviewing our institutional-grade offline storage solution, which includes world-class security, regulatory compliance and insurance coverage. Coinbase is committed to serving a wide spectrum of institutional clients and we are excited to be the chosen custodian for the 21Shares Bitcoin ETP, Europe's first physically-backed bitcoin ETP.
Hany Rashwan, CEO at 21Shares AG, says, "21Shares is delighted to bring this historic product to Europe. We are honored to give investors access to the best performing asset class of the last decade and we believe the next ten years as well, through our simple, transparent, and regulated crypto ETP product suite."
Coinbase Custody is the world's largest and most trusted crypto custodian. To learn more about Coinbase Custody click here.
Source: https://blog.coinbase.com/coinbase-custody-selected-by-21shares-for-bitcoin-etp-a1b5dd380694?source=rss—-c114225aeaf7—4
Compound (COMP) is now available on Coinbase Earn
Earn COMP while learning how to borrow crypto and earn interest with Compound
Coinbase's mission is to create an open financial system, where anyone in the world can participate on equal terms from their computer or smartphone. To bring this vision to life, we'll need to make blockchain technology more accessible, both in the sense of making cryptocurrencies easier to obtain and easier to understand.
Coinbase Earn is a trusted source where customers all around the world can educate themselves about new developments in crypto and earn assets as rewards. Starting today, Coinbase customers can start earning Compound (COMP) by watching lessons and completing quizzes about the Compound protocol and its governance token COMP.
Compound (COMP) is an Ethereum token that governs the autonomous Compound protocol. The protocol allows anyone to borrow and lend Ethereum tokens through a decentralized market. Lenders earn interest on the crypto they supply to the protocol and borrowers pay interest to borrow it.
The ability to earn crypto assets has become an increasingly important function in the crypto ecosystem — alongside buying, staking, voting, and mining — especially when paired with education.
Since the launch of Coinbase Earn in 2018, we've announced nine different assets, including 0x, Basic Attention Token, Zcash, Stellar Lumens, EOS, Dai, Tezos, Orchid and now Compound. In less than a year, asset issuers offered over $100M in crypto to distribute to our customers, and we have launched Earn internationally. As we expand globally, millions of people are gaining access to a trusted, secure, and legal bridge to the crypto economy — even if they don't have a credit card or bank account with which to buy crypto.
Check out all Coinbase Earn campaigns through our homepage or access them directly through the Coinbase mobile app.
You can sign up for a Coinbase account here and download the iOS or Android app to start earning crypto today.
Coinbase receives a servicing fee from the participating asset issuer. Consideration for Coinbase Earn is wholly independent of our digital asset framework for new listings. Click here for our Earn FAQ and terms.
Source: https://blog.coinbase.com/compound-comp-is-now-available-on-coinbase-earn-74cb88acbf78?source=rss—-c114225aeaf7—4
Compound (COMP) is now available on Coinbase
Starting today, Coinbase supports Compound (COMP) at Coinbase.com and in the Coinbase Android and iOS apps. Coinbase customers can now buy, sell, convert, send, receive, or store COMP. COMP will be available for customers in all Coinbase-supported regions, with the exception of New York state.
Compound (COMP)
Compound (COMP) is an Ethereum token that governs the Compound protocol. The protocol allows anyone to supply or borrow Ethereum tokens through a decentralized market. Suppliers earn interest on the crypto they supply to the protocol and borrowers pay interest to borrow it.
One of the most common requests we hear from customers is to be able to buy and sell more cryptocurrencies on Coinbase. We published a process for listing assets, designed in part to accelerate the addition of more cryptocurrencies. We are also investing in new tools to help people understand and explore cryptocurrencies. We launched informational asset pages (see COMP here), as well as a new section of the Coinbase website to answer common questions about crypto.
You can sign up for a Coinbase account here to buy, sell, convert, send, receive, or store COMP today.
Coinbase owns COMP tokens as a result of a 2018 investment in Compound. Coinbase intends to maintain its investment in Compound for the foreseeable future and maintains internal policies that address the timing of permissible disposition of its digital assets, including COMP tokens.
Source: https://blog.coinbase.com/compound-comp-is-now-available-on-coinbase-de42a317790c?source=rss—-c114225aeaf7—4