George Floyd: What happened in the final moments of his life
The US has been convulsed by nationwide protests over the death of an African-American man in police custody.
George Floyd, 46, died after being arrested by police outside a shop in Minneapolis, Minnesota.
Footage of the arrest on 25 May shows a white police officer, Derek Chauvin, kneeling on Mr Floyd's neck while he was pinned to the floor.
Mr Chauvin, 44, has since been charged with murder.
The key events that led to Mr Floyd's death happened within just 30 minutes. Based on accounts from witnesses, video footage and official statements, here's what we know so far.
It began with a report of a fake $20 (£16.20) bill.
A report was made on the evening of 25 May, when Mr Floyd bought a pack of cigarettes from Cup Foods, a grocery store.
Believing the $20 bill he used to be counterfeit, a store employee reported it to police.
Mr Floyd had been living in Minneapolis for several years after moving there from his native Houston, Texas. He had recently been working as a bouncer in the city but, like millions of other Americans, was left jobless by the coronavirus pandemic.
Mr Floyd was a regular at Cup Foods. He was a friendly face, a pleasant customer who never caused any trouble, the store owner Mike Abumayyaleh told NBC.
But Mr Abumayyaleh was not at work on the day of the incident. In reporting the suspicious bill, his teenage employee was just following protocol.
In a call to 911, made at 20:01, the employee told the operator he had demanded the cigarettes back but "he [Floyd] doesn't want to do that", according to a transcript released by authorities.
The employee said the man appeared "drunk" and "not in control of himself", the transcript says.
Shortly after the call, at around 20:08, two police officers arrived. Mr Floyd was sitting with two other people in a car parked around the corner.
After approaching the car, one of the officers, Thomas Lane, pulled out his gun and ordered Mr Floyd to show his hands. In an account of the incident, prosecutors do not explain why Mr Lane thought it necessary to draw his gun.
Mr Lane, prosecutors said, "put his hands on Mr Floyd, and pulled him out of the car". Then Mr Floyd "actively resisted being handcuffed".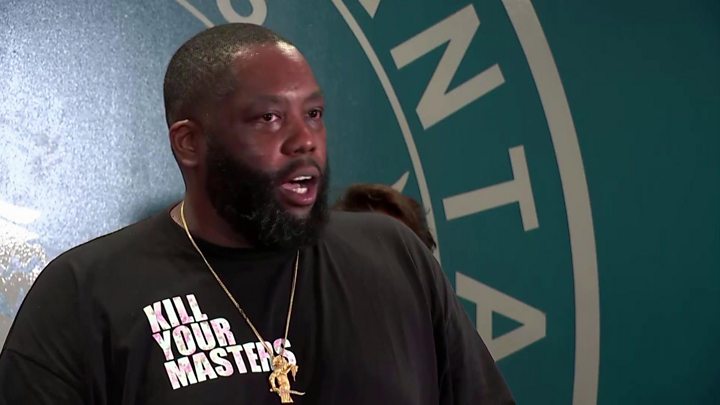 Once handcuffed, though, Mr Floyd became compliant while Mr Lane explained he was being arrested for "passing counterfeit currency".
It was when officers tried to put Mr Floyd in their squad car that a struggle ensued.
At about 20:14, Mr Floyd "stiffened up, fell to the ground, and told the officers he was claustrophobic", according to the report.
Mr Chauvin arrived at the scene. He and other officers were involved in a further attempt to put Mr Floyd in the police car.
During this attempt, at 20:19, Mr Chauvin pulled Mr Floyd away from the passenger side, causing him to fall to the ground, the report said.
He lay there, face down, still in handcuffs.
That's when witnesses started to film Mr Floyd, who appeared to be in a distressed state. These moments, captured on multiple mobile phones and shared widely on social media, would prove to be Mr Floyd's last.
Mr Floyd was restrained by officers, while Mr Chauvin placed his left knee between his head and neck.
"I can't breathe," Mr Floyd said repeatedly, pleading for his mother and begging "please, please, please".
For eight minutes and 46 seconds, Mr Chauvin kept his knee on Mr Floyd's neck, the prosecutors' report says.
About six minutes into that period, Mr Floyd became non-responsive. In videos of the incident, this was when Mr Floyd fell silent, as bystanders urged the officers to check his pulse.
One of the other officers, JA Kueng, did just that, checking Mr Floyd's right wrist, but "couldn't find one". Yet the other officers did not move.
At 20:27, Mr Chauvin removed his knee from Mr Floyd's neck. Motionless, Mr Floyd was rolled on to a gurney and taken to the Hennepin County Medical Center in an ambulance.
He was pronounced dead about an hour later.
On the night before his death, Mr Floyd had spoken to one of his closest friends, Christopher Harris. He had advised Mr Floyd to contact a temporary jobs agency.
Forgery, he said, was out of character for Mr Floyd.
"The way he died was senseless," Harris said. "He begged for his life. He pleaded for his life. When you try so hard to put faith in this system, a system that you know isn't designed for you, when you constantly seek justice by lawful means and you can't get it, you begin to take the law into your own hands."
What is Forex IB? How to earn with Forex IB? The best IB companies. Details about the IB system
The system known as Forex IB has been one of the most interesting topics recently. The forex IB stands for "Introducing Broker" with its original name, that is, people called promoting brokers share their forex transactions at certain companies or deliver them to more people through different methods. Forex IBs are a business model in which they earn income from these promotions to the extent that they enable them to turn to these markets with their sharing and methods.
Let's go into the details of how the Forex IB system works and start removing the question marks in your mind.
Why does the Forex IB system exist?
Before moving on to Forex IB, let's first explain why forex IB is needed by answering the question of what is the forex market.
As it is known, forex markets see the opportunity to sell certain securities or securities at different prices in different countries of the world, with the price of the same commodity here, for example; It is the name given to the markets where profit is made by taking advantage of the difference between its price in China.
All types of commodities and securities can be traded in a forex market. Among them; There are also products such as coffee, wheat or money such as dollars and euros. Following the value of the same foreign currency amount in a different country instantly and selling it expensive after being bought cheap is the main gain gate of the forex markets.
Forex transactions are transactions performed by forex brokerage firms. organizations in Turkey, which will perform a forex transactions must be authorized by the CMB. It is not possible to make forex transactions through an organization that does not receive the necessary authorization from the CMB.
However, despite this it is increasing day by day the number of forex entity that is authorized in Turkey. This brings competition to the agenda. In addition, forex organizations are introducing different advantages to the market in order to attract more customers to them. This is also a situation that increases competition.
Here, forex IBs emerged as a result of this competition.
How does the Forex IB system work?
Of course, if you want to work in an investment company as forex IB, you must have a certain degree of forex knowledge. If you do not have a certain experience and an infrastructure to acquire customers for yourself, you cannot make forex companies take care of you.
Deal with investment company to become Forex IB
The first requirement to become Forex IB is of course to have an audience that follows you and takes your investment suggestions into account. If you have such an audience, the first thing you will do is sign up for the IB affiliate program part of a forex investment company.
After completing your registration, the forex firm will ask you for details about the task you want to do. These details include topics such as where to find customers, how to keep your customers' bond with you sustainable, and how much you can predict the revenue you will earn from your customers.
Obtaining Forex IB promotional materials
If you are evaluated by the company that you are eligible for forex IB, the promotional products you need to start your studies are provided. If we say product, of course, don't just think of concrete things. You can do these promotional activities only on the internet, as well as with traditional methods. However, nowadays, the internet is generally preferred because it is the largest area of ​​influence and it is possible to reach thousands of people using the internet at the same time with a single click. According to the method you determined, you will be provided with the relevant material whichever is the most appropriate form of promotion.
Customer tracking
Through the materials provided to you, it is tracked whether a customer is registered in the forex system of that company with your reference. This tracking is a channel that will be determined according to which channel you decide to acquire customers for the company. For example; If you have decided to make a Forex IB transaction on your personal website, it can be easily determined whether a person has come with your reference or not with the banner or links given to you.
How much are Forex IB revenues?
As Forex IB, you will have partnered with companies in exchange for enabling people to use forex exchanges. In this way, if there is a customer who starts doing business with that company with your guidance, the company will give you a certain part of its earnings.
Of course, how much this gain will be varies between companies. At this point, our recommendation for forex IB will be AMarkets, which gives the best commission rate among forex exchanges working with forex IBs.
Although Amarkets distributes profits at different rates depending on the number of customers a forex IB brings and the amount that customer spends on the site, it is still the forex exchange that gives the best rates compared to other sites.
Forex IBs AMark
Level by level is positioned according to working times in ets. There are 3 levels of forex IB on the site. In order to rise between the levels, it is sufficient that the investment amount of the customers brought is high.
Let's make this more concrete. For example; Let's say you found 10 people with a capital of $ 10,000. With this amount of money, you can buy 100 lots of any product per month. If you are a level 1 Forex IB for lots bought, you will earn an amount of $ 10 for each 1 lot purchase. So, with a simple account, you can earn $ 1000 per month on Amarkets as a forex IB.
However, it is also stated as a necessity for a forex IB to have at least 3 active customers.
Register with AMarkets and benefit from this unique opportunity to earn by sharing your knowledge and experience.