Founder´s Packs now available for the first AAA blockchain game BLANKOS BLOCK PARTY
Mythical Games, a next-generation game technology studio driving mass adoption of blockchain, today announced the upcoming private beta for Blankos Block Party, an open-world multiplayer game with a heavy focus on player-designed levels and collectible assets, will begin on Tuesday, Nov. 17, 2020, with open beta to follow later this year. Players eager to start their collection of the digital vinyl toys come to life can now purchase a Founder's Pack, starting at $24.99 (USD), to receive exclusive and limited in-game content, as well as guaranteed priority access to the game's private beta and Founder's status in both Discord and in-game.
Blankos Block Party is an online game world that integrates blockchain to facilitate the economy and allow players to buy and sell their in-game items in exchange for real-world currencies, using Mythical's proprietary technology to track and verify all purchases across any platform, creating a safe transaction for all involved. With this model, Mythical is eliminating the need for grey markets and allowing the community to dictate the value of what is bought and sold in secondary marketplaces.
Limited quantities of the Founder's Packs are available now for purchase via fiat or supported cryptocurrencies in four different package options, which provide limited-edition Blankos and themed accessories designed by some of the world's top vinyl toy artists, priority access to the private beta, 100% in-game currency match and other items only available while these packs last. Each Founder's Pack will be numbered in order of purchase and recorded on blockchain to enhance collectibility and future resale value for players.
Ice Pack: RSVP to the ultimate block party with the Ice Pack, and receive the exclusive Lolli Blanko and three themed Lolli accessories, Founder Status and Lolli emoticon and 2,500 Blankos Bucks. ($24.99)

Tako Pack: Start your collection with the exclusive Tako Blanko designed by multimedia artist Junko Mizuno, two themed Tako accessories, as well as one unique Tako-themed Build Mode asset and one Build Mode item wrap, Founder Status with Lolli and Tako emoticons and 5,000 Blankos Bucks. ($49.99)

Bite Me Pack: Be the life of the party with the Bite Me Pack, which delivers the exclusive 'Bite Me' Billy Bones Blanko, six Bite Me-themed accessories, rare gold and black Build Mode materials, plus Bite Me brand Build Mode basic set, Build Mode items and the Bite Me rocket launcher, as well as Founder Status with Lolli, Tako and Bite Me emoticons and 10,000 Blankos Bucks. ($99.99)

Boss Pack: Become a VIP with the Boss Pack and show off your status with the exclusive Boss Dino Blanko designed by legendary toy artist James Groman, two Boss Dino-themed accessories, two Build Mode Materials, three Build Mode items and two themed weapons for Build Mode, not to mention Founder Status with Boss Dino, Bite Me, Tako and Lolli emoticons and 15,000 Blankos Bucks. ($149.99)
Founder's Pack items will only be available for a limited time, or until the limited quantities sell out; Mythical will not reissue these special-edition Blankos or their accessories in the future. These exclusive Founder's Pack items will be available for purchasers to unbox and play immediately in the private beta, and can also be sold to other players when the Blankos secondary market launches.
For additional details on Founder's Packs and their contents and benefits, or to purchase one of the limited edition packs, please visit Blankos.com. Packs can be purchased with fiat currency, or supported crypto payment options via BitPay (Binance USD/BUSD, Bitcoin/BTC, Bitcoin Cash/BCH, XRP, ETH, Gemini US Dollar/GUSD, Circle USD/USDC and Paxos Standard USD/PAX). In addition to purchasing a Founder's Pack to receive priority access to the private beta, players can reserve their free accounts now on the Blankos website to get on the waiting list for the chance to be included in the private beta without purchase (subject to capacity).
Source: https://www.fintechnews.org/founders-packs-now-available-for-the-first-aaa-blockchain-game-blankos-block-party/
Ethereum Token Circulation Hit Levels Last Seen in June Amid ETH Realized Cap Reaching ATH
Ethereum has been experiencing an uptick in different activities, despite the crypto market bleeding triggered by factors like a major liquidity crisis witnessed by leading Asian property developer China Evergrande.
The amount of unique tokens moving on the Ethereum network, known as token circulation, is uptrending. On-chain metrics provider Santiment said:
"Ethereum's token circulation soared yesterday to its highest level since June 22nd. If signs of ETH utility and tokens being moved continue to rise, the price will generally follow."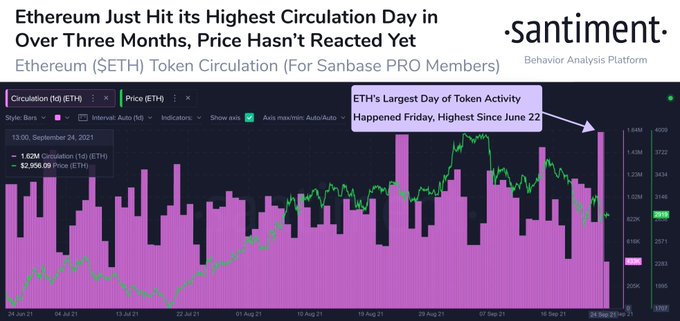 Santiment noted that this was a bullish sign because the price would soon follow suit if token circulation were on an uptrend.
Ethereum has been stamping its authority in the financial market. Reportedly, the second-largest cryptocurrency based on market capitalization recently topped traditional markets.
Ethereum realized capitalization reaches a record high
According to crypto analytic firm Glassnode:
"ETH realized cap just reached an ATH of $168,760,319,570.33. Previous ATH of $166,629,459,955.06 was observed on 20 September 2021."
Realized market capitalization is a metric calculated by valuing each supply unit at the exact price it last moved on-chain or at the last time it was transacted.
As a result, it does not calculate coins that remain unmoved because cryptocurrencies can be lost, unreachable, or unclaimed. This contrasts with the standard market capitalization that values every supply unit evenly at the current market price.
Meanwhile, Ethereum transaction volume hit a monthly high, thanks to continued adoption in decentralized finance (DeFi) and non-fungible tokens (NFTs). For instance, ETH locked in DeFi edged closer to a new ATH of $8 million.
DeFi is founded on blockchain-based smart contracts that fulfil certain financial functions based on the underlying code.
This industry took the world by storm in 2020 after its value grew by fourteen times. Its presence in the crypto space continues to be felt because it has become a billion-dollar industry valued at $81.85 billion.
Image source: Shutterstock
PlatoAi. Web3 Reimagined. Data Intelligence Amplified.
Click here to access.
Source: https://Blockchain.News/analysis/ethereum-token-circulation-hit-levels-last-seen-in-june-amid-eth-realized-cap-reaching-ath