Financial Services Dominate European Blockchain Dev: Report
Financial services, healthcare, and energy are the primary focus industries for blockchain development in Europe.
BUY NOW, the second-largest network by market capitalization, is the base layer for almost a third of decentralized ledger technology (DLT) startups coming out of Europe.
While European corporations are increasingly adopting the emerging tech, funding figures from the region are still significantly below the numbers seen in places like the U.S. This investment deficit could potentially open doors to non-European VC firms looking to put up equity in local blockchain startups.
Ethereum Dominates Europe's Blockchain Startup Scene
In its Enterprise Blockchain 2020 report, European VC firm LeadBlock revealed that Ethereum is the leading network for enterprise DLT startups in the region. Figures from the report show that 27% of blockchain startups in Europe build their solutions on the Ethereum base layer.
Ethereum aside, Hyperledger, Corda, and two other popular protocols engage with European startups. According to the LeadBlock report, the competition among these networks is helping create a more mature DLT tech ecosystem in Europe.
In addition to building blockchain-based solutions, the Paris and London-based LeadBlock teams reported that 70% of these startups also combine DLT with at least one complementary tech like artificial intelligence (AI), internet of things (IoT), and Machine Learning. An excerpt from the report reads:
"We view Blockchain technologies as an enabler becoming particularly powerful when combined with other technologies. Start-ups leveraging convergence are more likely to create long term value because of tech complementarity."
E.U. Lags Behind the U.S. in DLT Investment
From a funding perspective, LeadBlock says European startups lag behind their U.S. counterparts. Indeed, America reportedly accounts for half of all global blockchain investments. As a result, DLT startups in the U.S. hold 20 times the total assets under management (AUM) of Europe-based blockchain firms.
The funding problem for European blockchain startups results partly from a lack of understanding of either the technology or the focus market segment of the company. Some investors also reportedly have trouble understanding the difference between blockchain and cryptocurrencies.
According to the report, the European blockchain ecosystem requires greater investment participation from VC firms. In terms of growth, the region is witness to over 500 new startups per year. About 6,000 founders lead a diverse collection of project teams looking to create cutting-edge solutions.
Healthcare and Agriculture Becoming Major Focus Points
Finance is still the main adoption channel for blockchain in Europe. Given that the earliest DLT implementations focused on payments, it's no surprise that the novel tech is finding greater use in the financial services sector.
Finance accounts for 28% of European enterprise startups. Healthcare, Energy, and Agriculture are the other major focus points for blockchain development in Europe. Together, all four industries make up almost two-thirds of the collective European enterprise DLT adoption.
Corda is the leading infrastructure platform for blockchain-based financial service applications in Europe. Hyperledger accounts for the majority of the activities in the agriculture industry, with most of these projects focusing on food traceability.
The focus for European enterprise DLT devs appears to be tokenization
Tokenization has been around for a long time. To give a very broad definition; a token is a representation of… More. Thus, Ethereum is leading the way in industries like real estate and the arts.
On the whole, the LeadBlock report indicates a growing appreciation for enterprise blockchain use in Europe. According to the document, the current trend of corporate DLT adoption is replacing the digital asset craze of the early days.
As previously reported by BeInCrypto, a recent Deloitte survey showed that the novel tech is gaining wider enterprise adoption across the globe. Deloitte said that more than one-third of global organizations use blockchain in their operations.
---
---
Do you want to Be In Crypto?Join our Telegram Trading Group for FREE Trading Signals,a FREE Trading Course for Beginners and Advanced Tradersand a lot of fun! Images courtesy of Shutterstock, TradingView and Twitter.
Disclaimer. Read MoreRead Less
As a leading organization in blockchain and fintech news, BeInCrypto always makes every effort to adhere to a strict set of editorial policies and practice the highest level of journalistic standards. That being said, we always encourage and urge readers to conduct their own research in relation to any claims made in this article.
This article is intended as news or presented for informational purposes only. The topic of the article and information provided could potentially impact the value of a digital asset or cryptocurrency but is never intended to do so. Likewise, the content of the article and information provided within is not intended to, and does not, present sufficient information for the purposes of making a financial decision or investment. This article is explicitly not intended to be financial advice, is not financial advice, and should not be construed as financial advice. The content and information provided in this article were not prepared by a certified financial professional. All readers should always conduct their own due diligence with a certified financial professional before making any investment decisions. The author of this article may, at the time of its writing, hold any amount of Bitcoin, cryptocurrency, other digital currency, or financial instruments — including but not limited to any that appear in the contents of this article.
Source: https://beincrypto.com/financial-services-dominates-european-blockchain-dev-report/
Ethereum DeFi's Ampleforth (AMPL) Drops 20% Despite "Whale" Accumulation
Ampleforth (AMPL) has been one of the top-performing cryptocurrencies over the past month. The asset, whose long-term price performance is measured by its market capitalization rather than its nominal price, gained ~5,000% in July.
The asset has seen a steep correction over the past week as the focus of crypto investors has been on Bitcoin and Ethereum.
After a recovery, AMPL is dropping once again.
This drop comes in spite of positive on-chain and social media signs, according to blockchain analytics firm Santiment.
Ampleforth Drops 20% Despite On-Chain Data Indicating Accumulation
According to TradingView data, Ampleforth (AMPL) has dropped 20% in the past 24 hours as it has also been impacted by the flash crash in Bitcoin.
Ampleforth is an algorithmic stable coin that attempts to stabilize its price on the U.S. dollar in the long term. It responds to supply and demand by daily "rebasements," which means that long-term holders of the token will have their balance change each day to try and center the price around a dollar. This latest price drop may be a byproduct of Bitcoin's flash crash, coupled with an increase in the supply of AMPL.
Chart of Ampleforth's price action over the past few days from TradingView.com. Depicted is the price action of the Ethereum-based coin on FTX.
Price action may differ from exchange-to-exchange due to inefficiencies in this new(er) market and price action on futures vs. the actual coin.
This price drop in the price of AMPL comes in spite of positive on-chain and social trends, according to Santiment.
The blockchain analytics firm shared the chart below on July 31st. It shows that the weighted social media sentiment of messages regarding Ampleforth has hit a level above 3; a social media sentiment at such a positive reading suggests an extreme number of bulls as opposed to bears.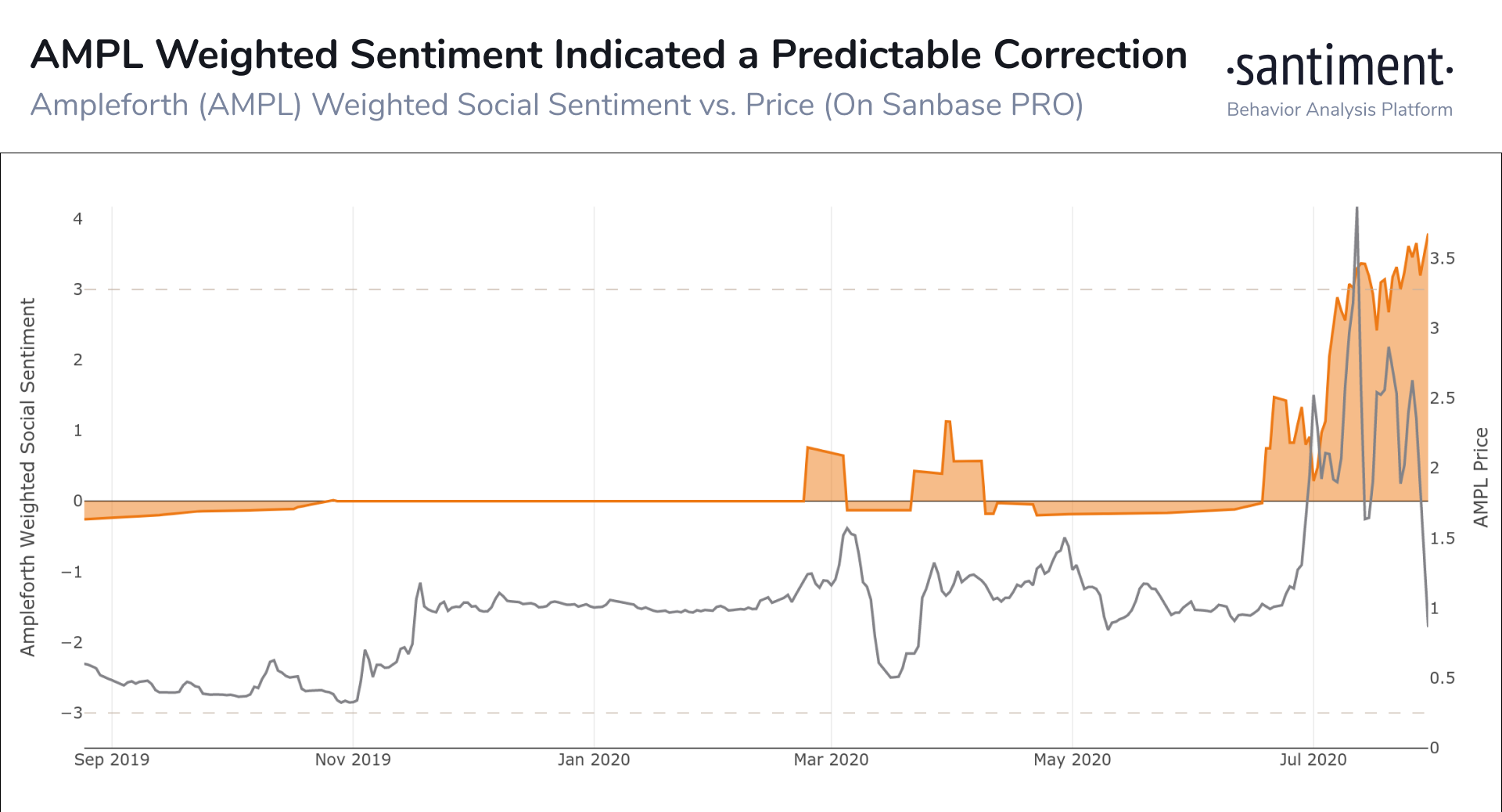 Santiment added that per their data, "whales are accumulating" AMPL. Though, seeing the recent price action, it isn't clear if they are having a big enough effect on the Ethereum-based token's market.
How AMPL Succeeding Could Boost Ethereum
The recent price action has neither confirmed nor denied Ampleforth's long-term goals to be a unique form of money. Thus, analysts have commented on what long-term effect this experiment could have Ethereum and the broader cryptocurrency space.
Ryan Sean Adams, the founder of Mythos Capital, says that he thinks Ampleforth succeeding will be "unbelievably bullish for" ETH.
This is because Amples becoming widely adopted as money will drive record demand for Ethereum transactions, forcing up the price of ETH. Ampleforth's success will also trigger other innovations in money and other facets of society on the network, further driving demand for ETH.
"BCH, ZEC, XMR, BTC, ETH, DOGE, AMPL. Base monies. M0s all competing w/ each other. AMPL is the only one w/o its own chain. It settles on Ethereum. If the AmpleForth experiment is successful, we'll see a rush of M0 monies competing on Ethereum."
BCH, ZEC, XMR, BTC, ETH, DOGE, AMPL

Base monies. M0s all competing w/ each other.

AMPL is the only one w/o its own chain. It settles on Ethereum.

If the AmpleForth experiment is successful, we'll see a rush of M0 monies competing on Ethereum.

This is unbelievably bullish ETH.

— Ryan Sean Adams – rsa.eth 🏴 (@RyanSAdams) July 28, 2020
Adams notably did not comment on whether or not he thinks Ampleforth will succeed or fail as a project. He did, though, call it an "experiment."
Featured Image from Shutterstock
Price tags: ethusd, ethbtc, amplusd
Charts from TradingView.com
Ethereum DeFi's Ampleforth (AMPL) Drops 20% Despite "Whale" Accumulation
Source: https://bitcoinist.com/ethereum-defis-ampleforth-ampl-drops-20/?utm_source=rss&utm_medium=rss&utm_campaign=ethereum-defis-ampleforth-ampl-drops-20
Ethereum's Compound (COMP) Slides to Multi-Month Low Despite DeFi Explosion
While Bitcoin and Ethereum have seen notable bounces since imploding on Saturday evening, Compound and other altcoins are underperforming.
The Ethereum-based coin is down 7.5% in the past 24 hours as per data from Coin Market Cap.
This comes in spite of the fact that decentralized finance (DeFi), which Compound is a market leader in, has seen strong adoption.
Altcoins could see further losses against Bitcoin and the dollar if the market leaders continue to undergo bouts of volatility.
Compound Slides Lower In Spite of DeFi Strength
The Ethereum-based Compound (COMP) was the hottest token of June. But much has changed in the past five weeks.
In the past 24 hours, the Ethereum-based altcoin has dropped by just around 7% against the U.S. dollar. Unlike Ethereum and Bitcoin, it failed to recover a majority of the losses it incurred during Saturday night's flash crash.
With this latest drop, COMP is near multi-month lows not seen since the launch of the asset in the middle of June. At the current price of $128, the asset is also down by approximately 70% from its all-time high price set in late June.
Chart of Compound's price action over the past few days from TradingView.com
This drop comes in spite of the fact that Compound, which the COMP coin is critical to, is the second-largest DeFi protocol and continues to gain traction. In fact, data from DeFiPulse suggests that there is around $767 million worth of cryptocurrency locked in the protocol.
Analysts expect the Ethereum-based coin to decline further as time goes on, unfortunately for its holders.
One trader explained that because the "fundamentals of [Compound's] 'governance', given the public information, don't make too much sense today," a drop under $100 is likely:
"I'm short on $COMP, the fundamentals of the 'governance', given the public information, don't make too much sense today. Won't be surprised to see it fall below $100 unless a revenue model is proposed soon."
His sentiment boiled down to the fact that companies that accomplish what Compound does are valued far below the market capitalization of COMP.
Altcoins Are Unlikely to Benefit if Bitcoin and Ethereum Undergo Further Volatility
Further volatility in the price of Bitcoin could further suppress altcoins, including Compound.
Nik Patel, the author of "An Altcoin Trader's Handbook," recently said on the outlook for altcoins in the current environment:
"Wouldn't surprise me to see dominance now rise until BTC all-time highs (pending a confirmed Weekly breakout above $10,600) > break $20k and alts find another bottom (like Nov/Dec 2016) > they rally concurrently like March-June 2017."
One trader, though, said that Bitcoin and Ethereum are likely to consolidate after Saturday's flash crash. This could trigger rallies in altcoins as money flows from these large caps to smaller players.
Featured Image from Shutterstock
Price tags: ethusd, ethbtc, compusd, compbtc
Charts from TradingView.com
Ethereum's Compound (COMP) Slides to Multi-Month Low Despite DeFi Explosion
Source: https://bitcoinist.com/ethereums-compound-comp-slides-multi-month-low/?utm_source=rss&utm_medium=rss&utm_campaign=ethereums-compound-comp-slides-multi-month-low
Why Analysts Expect Ethereum to See Further Downside Following Intense Selloff
Ethereum witnessed some intense overnight volatility that caused its price to slide as low as $300
This intense selling pressure came about in tandem with that witnessed by Bitcoin – which caused its price to slide down to lows of $11,000
Analysts are now noting that ETH may be positioned to see further downside due to the strength of this movement
Although it has found some support and stability within the mid-$300 region, weakness against its BTC trading pair may also drag it lower
Ethereum and the entire cryptocurrency market is currently trying to stabilize following the unprecedented volatility witnessed overnight.
This came about after Bitcoin rallied to highs of $12,000 while ETH reached highs of $415.
From here, the market's strength began degrading, with BTC ultimately reeling as low as $11,000 while Ethereum plunged to $300.
Both of these assets have since recovered slightly, but they still remain in a precarious position.
While looking towards Ethereum, one analyst is now noting that he is expecting ETH to see further near-term downside in the days and weeks ahead.
That being said, he still believes that the crypto's macro strength makes it so that "dips are for buying."
Ethereum Plunges as Low as $300 Overnight as Selling Pressure Ramps Up
At the time of writing, Ethereum is trading down just under 6% at its current price of $365.
This is a far cry from where it was trading at during the crux of the overnight movement when bears sent it as low as $300 on some platforms.
The drop to this level was incredibly fleeting, and it only traded here for a mere moment before being propelled back up to the mid-$300 region, where it is now consolidating.
While looking at Ethereum's Bitcoin trading pair, one analyst explained that he is expecting it to see a continuation of this downtrend.
"ETHBTC: Channel fakeout? Gray zone is where I would like to reload up on ETH. I'm being patient – may take a few months – may not happen – that's fine by me," he said.
Image Courtesy of TraderXO. Chart via TradingView.
As seen on the chart he offers, the ETH/BTC price he is looking to accumulate at exists around 0.026. It is currently trading at 0.033.
Analyst: BTC Likely to See Further Downside, But Macro Uptrend Remains Strong
Another analyst explained in a recent tweet that he now believes that Ethereum could pull back a bit further against USD before finding meaningful support.
"ETH / USD: Price perfectly tapped our previous highs of $315 overnight and was pretty much instantly bought back, over a 12% wick, bulls seem to be buying back up dips… LTF seems like we could pullback a little more, with some continuation to the downside, dips for buying."
Image Courtesy of Cactus. Chart via TradingView.
As seen in the above chart, the lower-$300 region has been a historically important level for Ethereum, and the overnight dip here further confirms this.
Featured image from Unsplash.
Charts from TradingView.
Source: https://bitcoinist.com/why-analysts-expect-ethereum-to-see-further-downside-following-intense-selloff/?utm_source=rss&utm_medium=rss&utm_campaign=why-analysts-expect-ethereum-to-see-further-downside-following-intense-selloff