Ethereum is Settling Three Times More Value On-Chain Than Bitcoin Daily
Ethereum (ETH) continues to surpass Bitcoin in terms of the value settled on-chain daily, as acknowledged by market analyst Lark Davis.
He pointed out:
"Ethereum is still settling 3X as much as Bitcoin every day on-chain! Incredible! I highly suspect this gap will increase now that we have layer twos like Optimism coming online."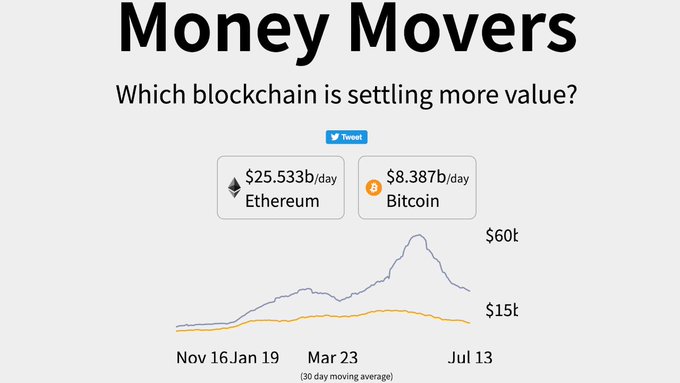 Despite Ethereum plummetting to lows of $2,000 based on the recent market crash, its network continues enjoying notable activities because of a drop in average fees.
Recently, Ethereum's average fees fell to $2.19, which was the lowest level it had gotten since December 2020. As a result, crypto analytic firm Santiment believes that this was a promising sign that ETH's utility could rise.
The neck-to-neck dominance battle between Ethereum and Bitcoin continues to play out. For instance, in late June, ETH's daily active addresses surpassed Bitcoin for the first time in crypto history. Precisely, Ethereum's daily active addresses shot up to 649,000, whereas those of Bitcoin stood at 580,000.
ETH top 10 largest addresses continue to accumulate
According to Santiment:
"Ethereum's top 10 largest addresses now own the highest percentage of ETH's overall supply (20.58%) since May 2017. After dropping as low as 18.46% after the All-Time-High, they've now accumulated 2.12% more of ETH's total supply in the last 41 days."
Therefore, ETH whales see the current consolidation as the perfect storm to accumulate more holdings.
The number of active wallets on Ethereum-based DeFi protocols also topped the 3 million mark, as disclosed by data firm Dune Analytics.
ETH was down by 4.35% in the last 24 hours to hit $1,938 during intraday trading, according to CoinMarketCap. As Ethereum locked in the ETH 2.0 deposit contract continues to outway the one being mined daily, it remains to be seen whether this will kickstart the much-needed upward momentum.
Image source: Shutterstock
PlatoAi. Web3 Reimagined. Data Intelligence Amplified.
Click here to access.
Source: https://Blockchain.News/analysis/ethereum-is-settling-three-times-more-value-on-chain-than-bitcoin-daily
Ethereum is Expected to Undergo a 90% Daily Emission Reduction Following ETH 2.0 Upgrade
Ethereum (ETH) was up by 9.72% in the past week to breach the psychological price of $2K during intraday trading. ETH's price stood at $2,056 as the second-largest cryptocurrency continues to gain momentum.
Market analyst Lark Davis believes that the upgrade of Ethereum 2.0 will prompt a 90% daily emission reduction from 12,800 to 1,280. He explained:
"The other wildly important aspect of The Merger is that ETH will undergo a 90% reduction in daily emission. Basically from 12,800 a day to 1,280 a day. Yearly inflation from 4.3% down to 0.43%. This is equivalent to 3 Bitcoin halvings, and is only months away."
Ethereum 2.0, also known as the Beacon Chain, was launched in December 2020 and was regarded as a game-changer that seeks to transit the current proof-of-work (POW) consensus mechanism to a proof-of-stake (POS) framework.
Davis also noted that Ethereum would experience "Triple Halving" as part of the ETH 2.0 upgrade, a highly significant economic event for the asset's price in the coming years.
Ethereum whales cumulatively hold 60.52 million ETH
According to on-chain metrics provider Santiment:
"Ethereum whales that hold between 10k and 1 million ETH in their respective wallets now own a cumulative total of 60.52m coins. This is the highest amount held by this tier since in 5 weeks, and represents a 1.65million ETH accumulation in the past 6 days."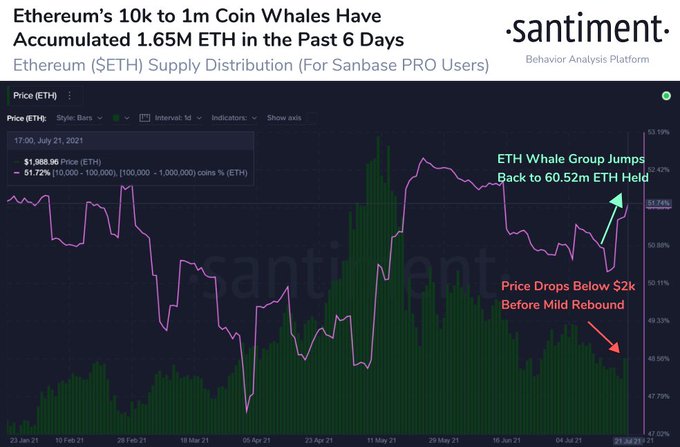 Therefore, ETH whales continue investing in this asset, which indicates high confidence levels.
Ethereum has been making headlines based on its notable strides. For instance, ETH has had an impressive return on investment (ROI) of 171% this year compared to tech stocks like Microsoft, Facebook, and Apple. Furthermore, Davis had previously noted that Ethereum was settling three times more value on-chain than Bitcoin daily.
Image source: Shutterstock
PlatoAi. Web3 Reimagined. Data Intelligence Amplified.
Click here to access.
Source: https://Blockchain.News/analysis/ethereum-is-expected-undergo-a-90-percent-daily-emission-reduction-following-eth-2.0-upgrade