Ethereum Addresses with at least 0.1 ETH Hit All-Time High as Amount Held on Exchanges Drops
Pundits, investors, and traders are keeping a keen eye on Ethereum (ETH) as it continues to show budding potential. The second-largest cryptocurrency by market capitalization has been up by 15.54% in the past week and is currently trading at $1,218 at press time, according to CoinMarketCap. This price brings it a lot closer to its record-high of $1,400.
New data by Glassnode reveals that the number of crypto addresses holding more than 0.1 coins has broken a record. The on-chain data provider noted:
"Number of Ethereum addresses Holding 0.1+ coins just reached an ATH of 3,716,113."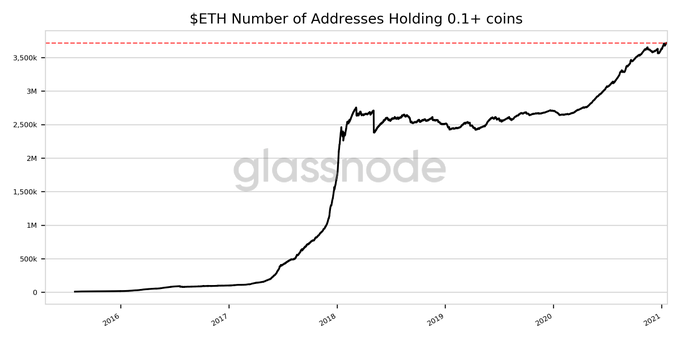 These statistics show that more participants are joining the Ethereum bandwagon as its fame continues to rise in the crypto space. The future looks bright for ETH based on notable developments in its network.
For instance, the launch of Ethereum 2.0 has gained considerable attention in the crypto sector, as Ethereum seeks to transit to a proof-of-stake consensus mechanism, where validation of block transactions is based on the number of ETH held and this approach is deemed more environmentally friendly than mining. Furthermore, a boom in the decentralized finance (DeFi) sector is the icing on the cake for Ethereum.
Ethereum in exchanges shrinks
Data by IntoTheBlock, a blockchain analytic firm, shows that Ethereum in exchanges is leaving in droves. For instance, 621,000 ETH recently exited exchanges, which cements the confidence of hodlers.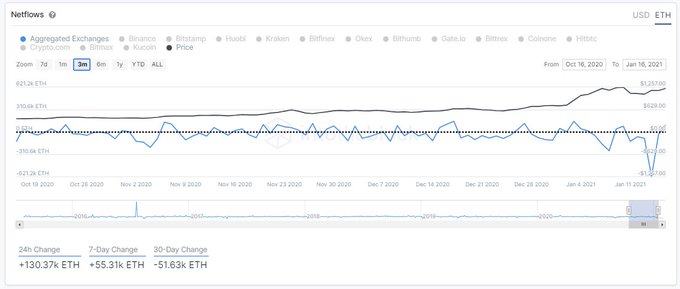 Notably, whenever coins leave crypto exchanges, they are stored in cold wallets for long-term purposes and this boils down to more faith on the part of whales and other hodlers. This trend may be in anticipation of the fact that Ethereum's price will go to the moon in the near future.
For instance, crypto analyst Michael van de Poppe recently revealed that ETH price might go ballistic in late 2021. His sentiments are echoed by veteran Wall Street trader Raoul Pal who stipulated that Ethereum's price might reach $20,000 in price, based on Metcalfe's Law.
Image source: Shutterstock Source: https://Blockchain.News/news/ethereum-addresses-with-least-0.1-eth-hit-all-time-high-amount-held-exchanges-drops
Bitcoin down 3.5% as MicroStrategy confirms $1bn purchase
Bitcoin is currently trading 3.5% down from today's high of $51,500 following MicroStrategy's announcement that it had purchased more than $1 billion worth of Bitcoin.
MicroStrategy CEO Michael Saylor revealed that the Bitcoin was purchased at an average price of $52,765, taking the company's overall holdings of BTC up to 90,531 ($4.44 billion).
Whilst many would expect this news to have a bullish reaction, the market immediately sold-off as it suppressed rumours that MicroStrategy was yet to buy after it raised $1 billion in the form of an unsecured loan last week.
Despite rallying alongside Bitcoin's increase in value earlier this year, MicroStrategy's share price is 43% down from its peak of $1,320 on February 8.
MicroStrategy has purchased an additional ~19,452 bitcoins for ~$1.026 billion in cash at an average price of ~$52,765 per #bitcoin. As of 2/24/2021, we #hodl ~90,531 bitcoins acquired for ~$2.171 billion at an average price of ~$23,985 per bitcoin. $MSTRhttps://t.co/FbsRYhXEhn

— Michael Saylor (@michael_saylor) February 24, 2021
The high risk and potentially high reward approach from MicroStrategy has not yet converted to many other companies with the exception of Tesla and Square, with the former investing $1.5 billion in January.
This may be due to the volatile nature of cryptocurrencies in general, with market cycles being susceptible to 80% drawdowns once the hype and euphoria around respective bull markets subside.
At the time of writing Bitcoin is trading at $49,450, a stark contrast to this time last year when Bitcoin was valued at $10,000 before it crashed to $3,800 in March.
For more news, guides and cryptocurrency analysis, click here.
Source: https://coinrivet.com/bitcoin-down-3-5-as-microstrategy-confirms-1bn-purchase/