Devs are trying to copy the Ethereum DeFi token that rallied 100,000% in a week
If you've been following Ethereum, decentralized finance, or crypto in general over the past week, you likely know of the native coin of yearn.finance, YFI.
The cryptocurrency, based on the Ethereum network, has been dubbed the "fairest cryptocurrency since Bitcoin," which is in reference to its scarce supply, lack of ICO, and its seemingly benevolent developers.
Crypto investors have paid heavily for this fairness. As reported by CryptoSlate, in the span of eight days, YFI gained literally 100,000 percent. The token is now one of the top-100 cryptocurrencies, despite it launching just earlier this month.
What's even funnier is that when YFI launched, the crypto token was pitched as one with literally zero value. Here's an excerpt from the Medium of the project's lead developer:
"We have released YFI, a completely valueless 0 supply token. We re-iterate, it has 0 financial value. There is no pre-mine, there is no sale, no you cannot buy it, no, it won't be on uniswap, no, there won't be an auction. We don't have any of it."
The resounding and somewhat puzzling success of YFI hasn't gone unnoticed. Far from. YFI has created such a stir that there are other developers trying to copy it.
Enter YFII.
Developers launch YFI copy-cat on Ethereum
Yeah, that's not a typo — some developers just rolled out a project that added an extra I to YFI. According to data from CoinGecko, this new altcoin has already amassed a market capitalization in excess of $7 million and has gained over 50 percent in the past 24 hours.
This token was launched on July. 26, more than a week after the launch of the original token, and is reportedly being managed by a team of Chinese developers.
The story here is purportedly that there were governance issues with yearn.finance over proposal #8, which suggested YFI's distribution should be done in a similar to how Bitcoin has block reward halvings.
Wanting to run with this idea, which wasn't implemented in the "legitimate" yearn.finance, developers purportedly forked the protocol to create YFII.
It's a fork over proposal #8 which was the emulate the $BTC halvening distribution

It had 80% yes, but didn't meet the minimum qurourm so was rejected$YFII is $YFI but with proposal #8 implemented and the admin keys burned

Not a scam, but also not worth anything either pic.twitter.com/2XDfesLHyf

— ChainLinkGod.eth 👨‍🌾🌽💾 (@ChainLinkGod) July 29, 2020
In a sense, YFII was created for a similar reason as Bitcoin Cash.
Developers attempted to replicate the "virgin birth" of YFI by burning their admin keys to the contract of the cryptocurrency, meaning they cannot create the asset out of thin air or do anything else nefarious.
A topic of controversy
Although the admin keys have been burned and YFII is appreciating at a rapid clip, not everyone in the Ethereum and DeFi community think the project is legitimate or has merit.
One commentator noted that Brave Browser labeled the website of the project as a potential phishing site, while this own writer faced a similar issue when he was on his computer with McAfee anti-virus.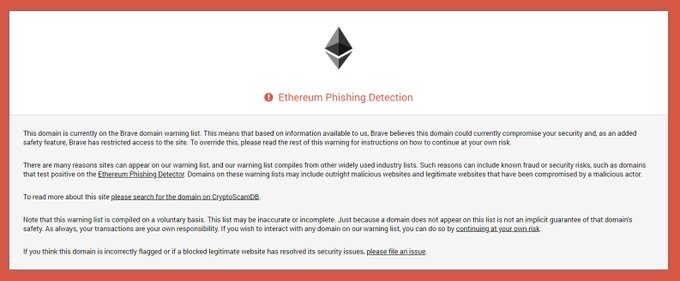 Then prominent Ethereum commentator "Safetythird" wrote:
"Yes the contracts & website may (or may not) be ok, But YFII doesn't have any function or value. I wouldn't touch it, and wouldn't advise you to either."
How YFII plays out, in the long run, isn't clear. But from a pure numbers standpoint, factoring in its market capitalization and the total value of tokens locked in the protocol, it is seeing some success.
Like what you see?
Subscribe for daily updates.
Source: https://cryptoslate.com/devs-are-trying-to-copy-the-ethereum-defi-token-that-rallied-100000-in-a-week/
Eyeing EU Banks, Hex Trust Teams With SIA on Crypto Custody
A multinational payments firm is partnering with cryptocurrency custodian Hex Trust to help its European banking clients hold digital assets.
Multinational payments firm Sia is partnering with cryptocurrency custodian Hex Trust to help its European banking clients hold digital assets.
"When you have one bitcoin, it's not a big problem, but when you start adding 10, 20 or 100, you have a treasury and you have to decide where to store this," said Daniele Savarè, SIA's innovation and business solutions director. "We are discussing digital custody needs with banks in Europe."
The firm is also helping banks manage and safekeep security tokens and central bank digital currencies, he added.
Through SIA, Hex Trust plans to offer European banks the software to custody digital assets on behalf of their customers. Hex Trust will also act as a sub-custodian for banks that don't want to directly offer the service, said Hex Trust CEO Alessio Quaglini.
Currently, Hex Trust works with three banks – Mason Privatbank Liechtenstein AG and two unnamed Asian banks. Quaglini said Hex Trust has 10 other banks that are exploring the custodian's products.
Going forward, SIA will be the primary distribution partner for Hex Trust to offer digital-asset services to banks in Europe, Quaglini said.
Source: https://www.coindesk.com/hex-trust-sia-crypto-custody-eu-banks
Collider Labs Raises $1M to Invest in Blockchain Startups
The venture builder is seeking to invest in early-stage startups with a focus on transparency, privacy and "fairness."
Collider Labs has raised $1 million to be invested in early-stage blockchain and cryptocurrency startups.
In an announcement Thursday, the venture builder said the raise had brought on board several notable limited partners including Efficient Frontier CTO Alon Elmaliah and Follow [the] Seed Founding Partner Andrey Shirben.
Collider provides funding and liquidity and actively participates in building up startups alongside their communities and founders, according to the firm's founding partner, Avishay Ovadia.
The company is actively seeking to invest in early-stage blockchain and crypto startups globally, with a focus transparency, privacy and "fairness."
Collider "is a venture builder that somewhat resembles an accelerator" Ovadia said. With some "key characteristics" that differentiate it from a typical accelerator.
Venture builders, also known as startup studios, pair with early-stage startups and utilize their own ideas and resources to, if all goes according to plan, construct viable enterprises.
According to Ovadia, Collider forms partnerships with founders, invests in teams and works alongside them as what he calls "Investors in Residence."
Source: https://www.coindesk.com/collider-labs-raises-1m-to-invest-in-blockchain-startups
Voyager Agrees to Buy LGO Markets and Merge 2 Firms' Tokens
Two cryptocurrency trading firms are merging, and in a rare twist, so are their tokens.
Two cryptocurrency trading firms are merging, and in a rare twist, so are their tokens.
Voyager Digital, a publicly traded digital asset brokerage with offices in New York, has agreed to buy LGO, a French crypto exchange primarily serving institutional investors, as the company expands to Europe.
The transaction requires regulatory approval, which the parties said they expect to receive by the end of this year, along with the token swap. The value of the deal will depend on the value of Voyager's shares, and the firms' tokens, at closing; at current prices, it would be in the low seven figures.
What makes this deal unusual is that the two companies' utility tokens, VGX and LGO, will be swapped into newly minted tokens featuring decentralized finance (DeFi) functions such as community governance and staking at an initial interest rate of 7%.
"We think this is really taking the old-school mergers and acquisitions to the token world, which hasn't been done before," Steve Enrlich, Voyager's co-founder and chief executive officer, told CoinDesk.
Upon completion, Voyager, which is publicly listed on the Canadian Securities Exchange, will issue one million shares for the acquisition and operate in the European retail market with LGO's Virtual Asset Service Provider registration with the French Financial Markets regulator (AMF). All activities will be conducted under the Voyager brand and LGO will discontinue its institutional services on Oct. 31. Shares of Voyager closed at C$0.67 ($0.51) on Wednesday.
Hugo Renaudin, co-founder and chief executive officer of LGO, told CoinDesk that the French company made the deal after it decided to shift its focus from institutional clients to increasing value for its token holders.
"The key decision-maker is what will bring the most value to our tokens," Renaudin said. "So we have this token. We have token holders and they're mostly retail [clients]."
LGO launched an initial coin offering (ICO) in February 2018, according to its website, which raised 3,600 bitcoin (worth about $36 million at the time). The company's white paper shows that 60% of the tokens were distributed through a pre-sale process, while 20% of the supply went to LGO's founders and advisors.
At its peak in April 2018, the LGO token's market cap was nearly $40 million, according to data from CoinMarketCap. On Wednesday, that value was calculated to be $1.5 million.
Renaudin told CoinDesk that the company's other option would have been focusing on better serving its institutional clients, which means its spot exchange would have to provide new and exotic derivatives products. After consideration, he said that the team had decided to change its focus to retail customers instead.
The merger comes during a time of regulatory crackdown on crypto derivatives trading around the globe. Popular crypto derivatives exchange BitMEX was charged by the U.S. Commodity Futures Trading Commission (CFTC) with facilitating unregistered trading activities, while in the UK, the Financial Conduct Authority (FCA) has banned crypto derivatives for retail consumers.
This is not the first acquisition by Voyager, which went public in early 2019 in a reverse merger with the shell of a Canadian mineral exploration company. Previously, it acquired wallet startup Ethos.io for about $4 million.
"We are becoming the financial service firm of the future, which means I will look at acquisitions that can add products, customer assets to the platform, or tokens and other communities that can be accretive to what we are trying to do," Enrlich said. "And adding these pieces together we are going to either do it organically or through more acquisitions."
Source: https://www.coindesk.com/voyager-acquires-lgo-token-merger