DeFi Uncovered: What's Next for DeFi?
The NFT market has continued to outperform and command the primary attention within the Ethereum ecosystem, despite relatively high network congestion and fees pricing out many retail users.
We can see the magnitude of impact simply by looking at the gas consumption rankings, where NFT projects sit on top of the leaderboard. One-off NFT minting events typically consume relatively large volumes of gas, and secondary trading activity on OpenSea remains the firm leader in gas consumption.
In this piece, we will study the impacts of this NFT momentum, and assess whether any user activity and attention is starting to leak back into the DeFi ecosystem.
To keep up to date with the latest Glassnode analysis of the DeFi ecosystem, be sure to subscribe to this content series here.
NFT Growth Continues
OpenSea has managed to bring significant attention to the ecosystem, both from a retail and institutional perspective. More than 200k users (unique addresses) are trading monthly on OpenSea secondary markets. This marks an acquisition of 150k+ users for the platform in August alone.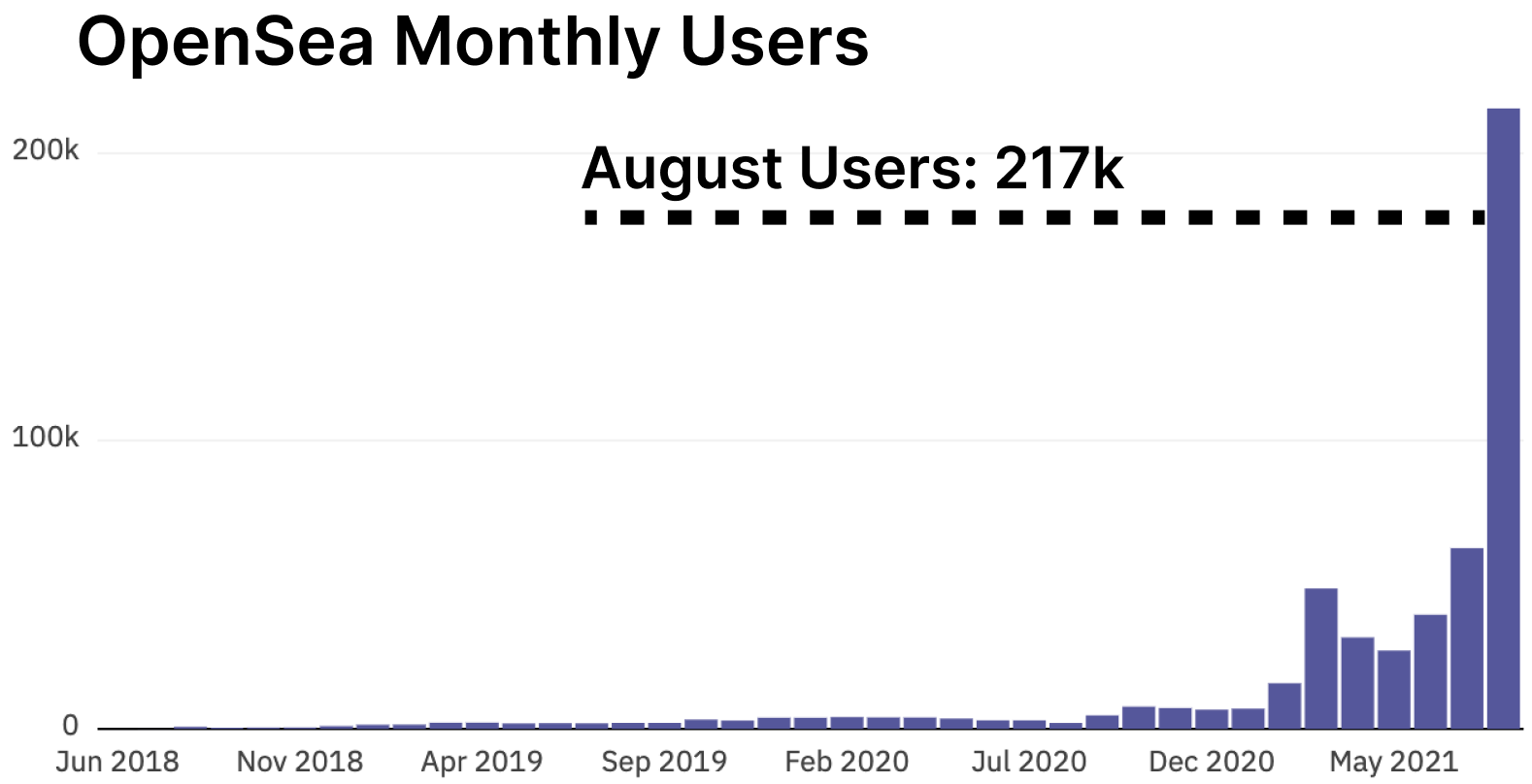 For comparison, crypto's most used protocol Uniswap acquired 183,000 users in the month of August. These new Uniswap traders do however demonstrate less daily trading activity when compared to OpenSea active users. In other words, Uniswap traders are performing fewer trades and are less active than the equivalent NFT traders on OpenSea. NFT activity has consistently outpaced Uniswap in daily active users throughout the month.
These OpenSea users have brought monumental trading volume. In our intro piece on NFTs we projected >$1B in volume. Actual realized volume for the month of August has since closed at over $3.3B, an incredible 3.3x from start of month projections.
Again adding context, through August, Uniswap did $50.6B, still dominating in cumulative volume amongst any types of exchanges across crypto, despite losing the lead in gas consumption to OpenSea. OpenSea ended strong with a daily cross over the $300M volume mark on the 29th. For comparison, Uniswap did $1.3B in volume on the 29th. 7-day mean volume for OpenSea sits at $223M, a truly historic rise for the leading secondary market for NFTs.
Certainly this volume has come on the back of massive speculation and wild pumps in the prices of many NFT collections. Leading the charge have been Cryptopunks and Bored Apes, as both have seen their floor prices and average sales rise by >400% over the month. Cryptopunks are the highest value collection with total value estimated in the multiple $Billions while Bored Apes hover around the $1B mark. Note that a total collection valuation is not as straightforward as for fungible tokens as not all of the pieces are listed for sale.
Cryptopunks have reached an average sale price exceeding $400k, with the lowest sales coming in at a floor around that same price.
Meanwhile, amongst increased interest from celebrity figures, and an additional collection drop of Mutant Apes for Bored Ape holders, Bored Apes have watched their floor skyrocket, reaching 48 ETH ($158k).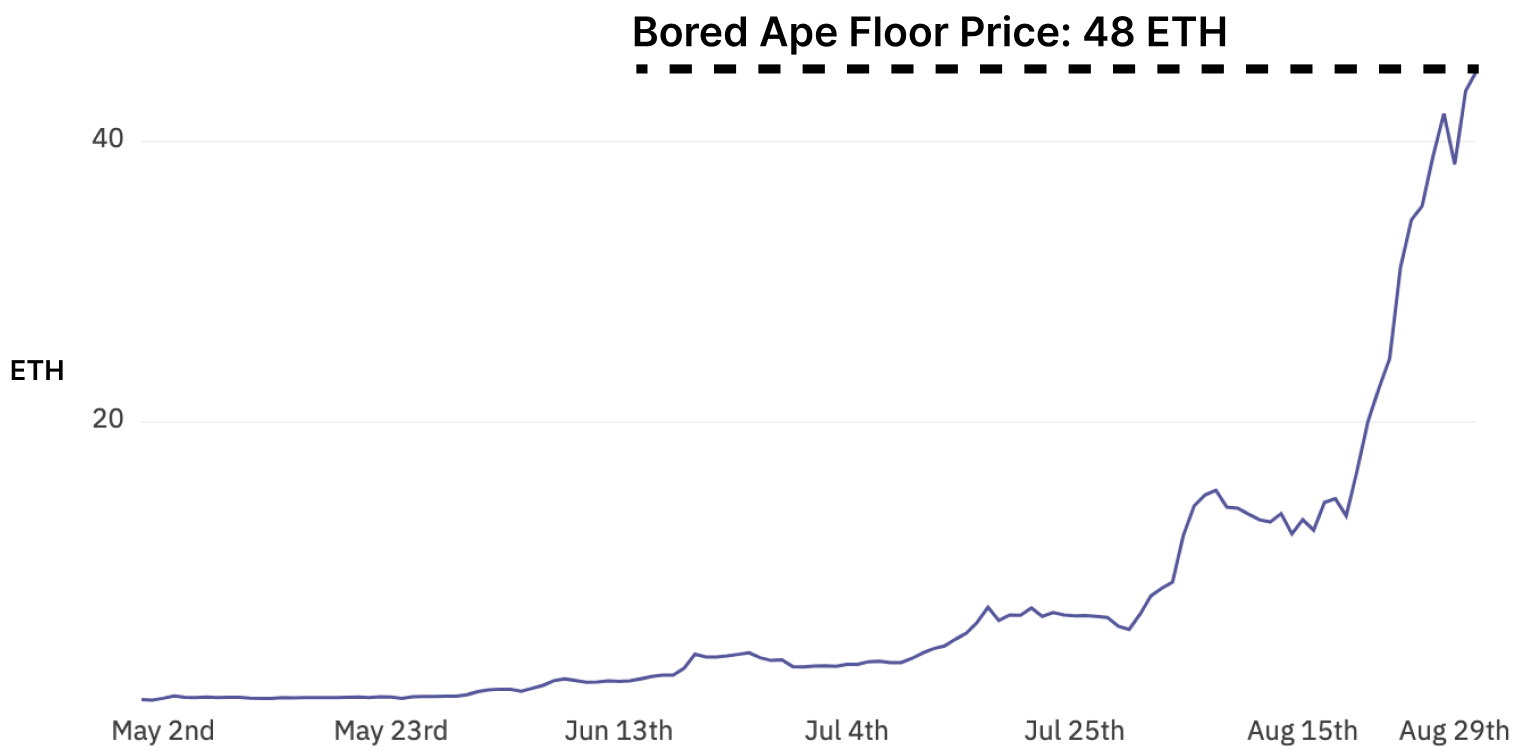 Is the Energy of NFTs Trickling Into DeFi?
It stands to reason that as both retail and institutional users move assets from centralized exchanges to their personal wallets on-chain to buy NFTs, these assets become more likely to interact with the DeFi ecosystem. As users may need to trade assets on-chain between ETH and stablecoins in order to transact on their secondary NFT market of choice, some portion of this volume is likely to end up in liquidity pools and money markets.
This story begins with exchange balances, where Ethereum has now flipped Bitcoin for having the lowest percentage of the coin supply held on exchanges for the first time since late 2018. This shouldn't come as a surprise at a time where the Ethereum ecosystem is creating a plethora of on-chain destinations for ETH outside the confines of centralized exchanges.
Core examples are NFT purchasing power, chasing yield in DeFi protocols, and increasingly gaming projects. Meanwhile, Bitcoin on exchanges remains mostly flat, as few incentives exist for deploying the assets outside centralized exchanges or cold storage.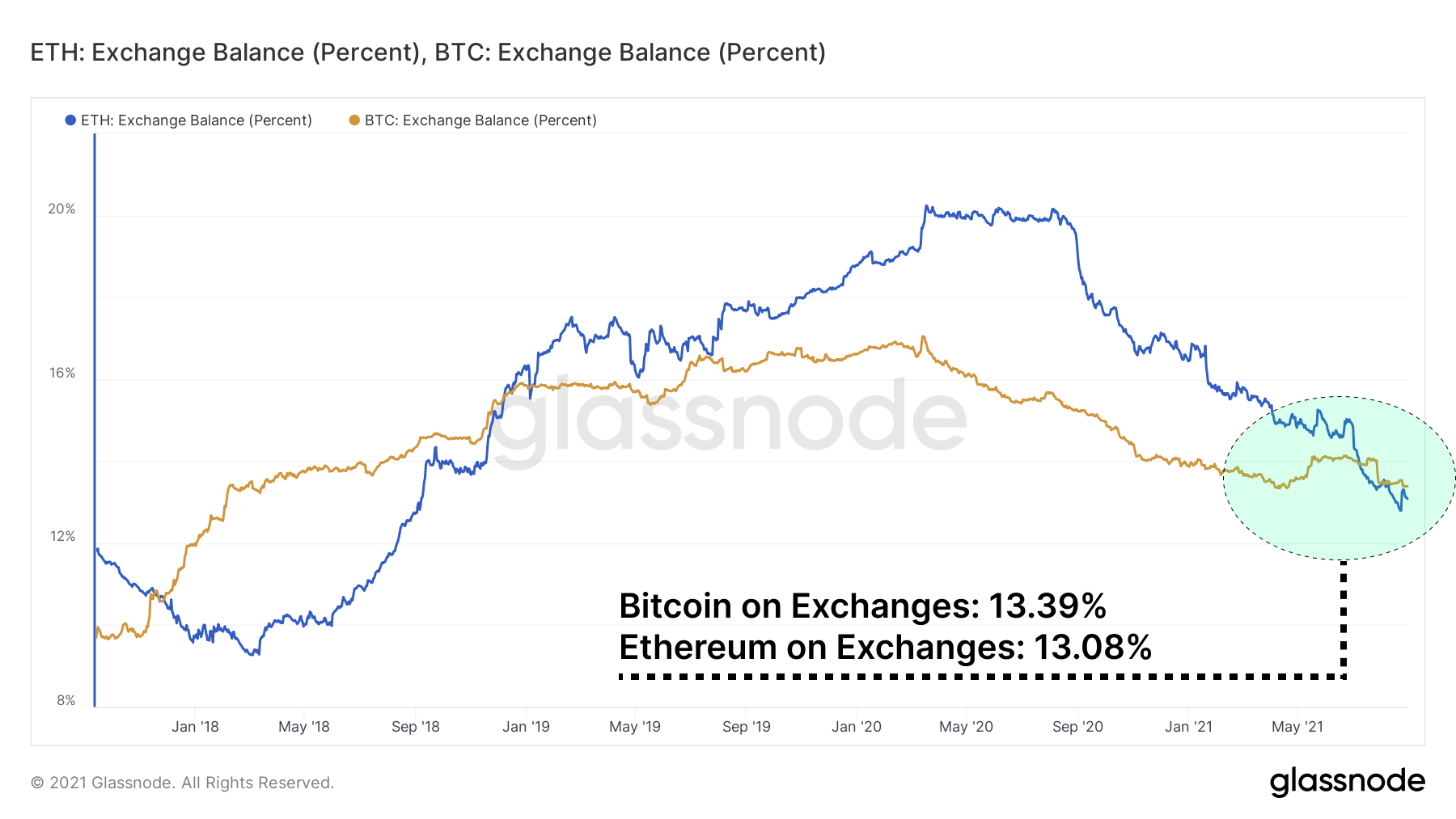 After months of risk-off activity in stablecoin lending, markets have finally woken up as much of the ecosystem shows early signs of risk-on appetite. Whether to borrow funds, purchase NFTs, or chase yields in DeFi across L1 incentive programs, rates have finally found some upward momentum.
Despite this blip in risk-on attitude, TVL remains firmly led by stablecoins deployed in lending and DEX pools. For a true signal of risk-on appetite, we would see a shift in liquidity to encompass riskier assets like governance tokens, however this has not yet materialized.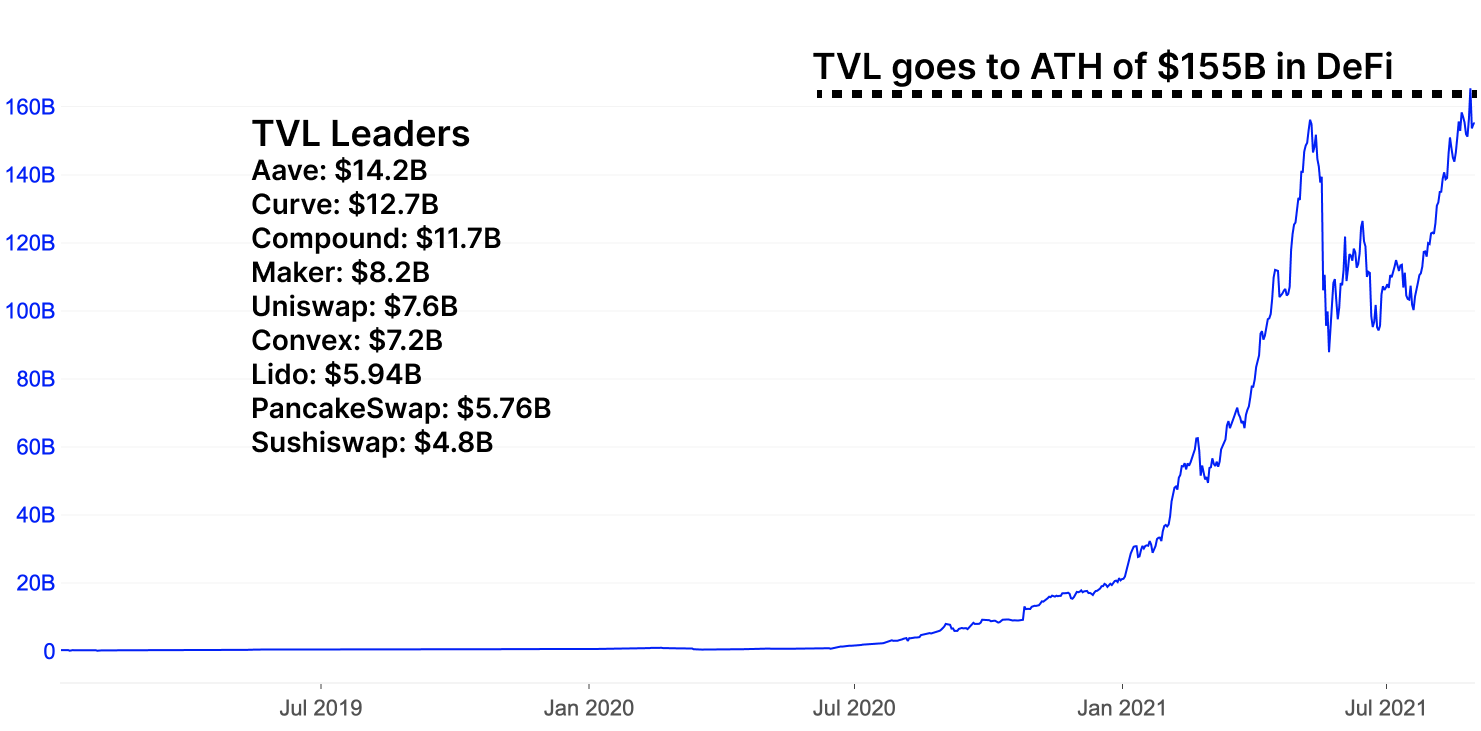 Users can currently earn 7%+ by simply holding and supplying stablecoins like DAI, USDC, and USDT to lending protocols. DAI and USDC have seen ~6-10% APY for a few weeks, while USDT has regularly exceeded 10% APY. These volatile rates have been the state of play for a few weeks on Aave while Compound has remained relatively quiet by comparison, remaining a more attractive market for borrowers and less so for lenders.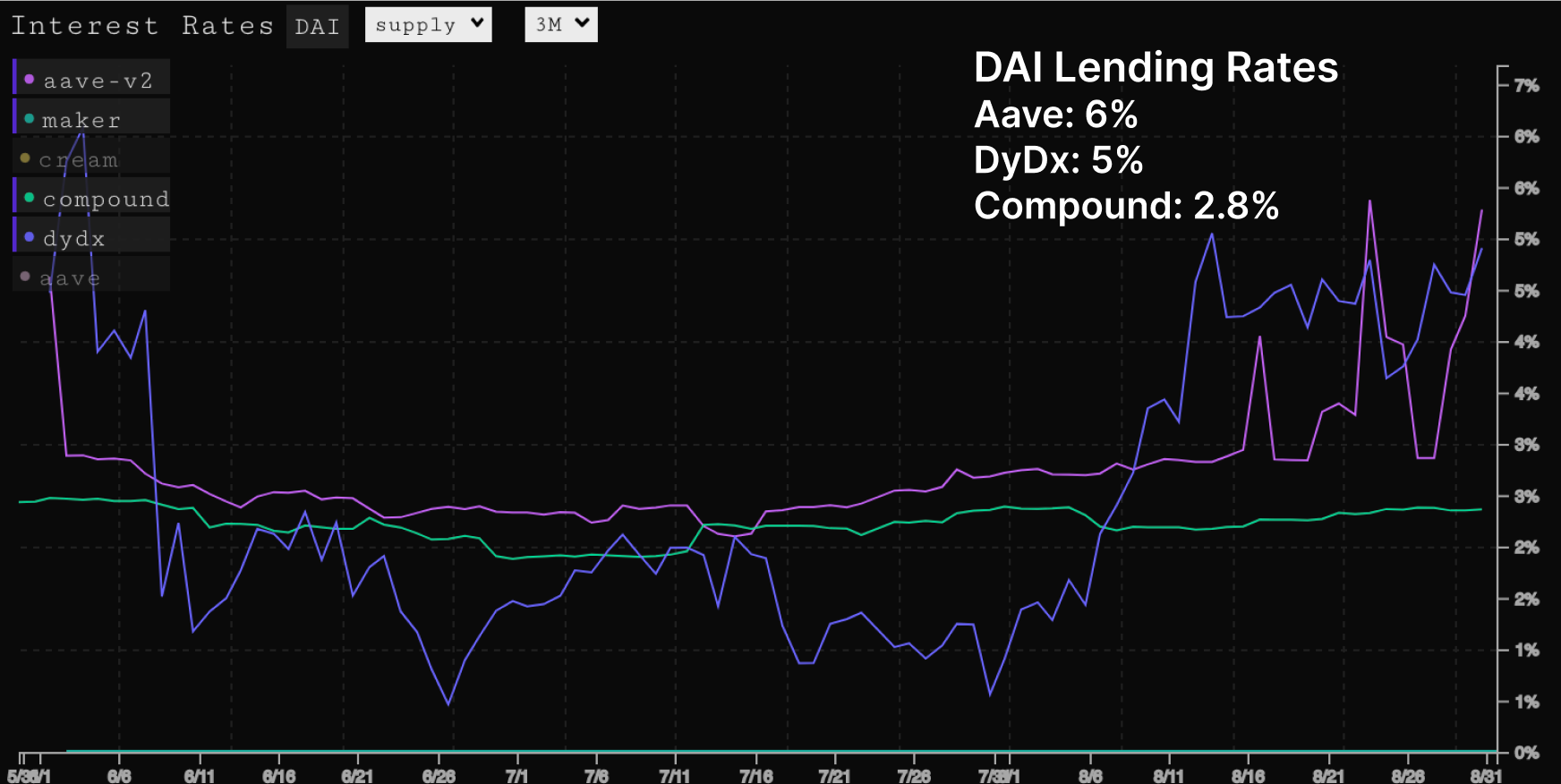 As NFT activity commands ecosystem attention, gas prices have risen to daily levels that price out many retail traders. At > 100 Gwei the current daily mean price to perform a swap on Uniswap, Sushiswap, or elsewhere is valued > $50.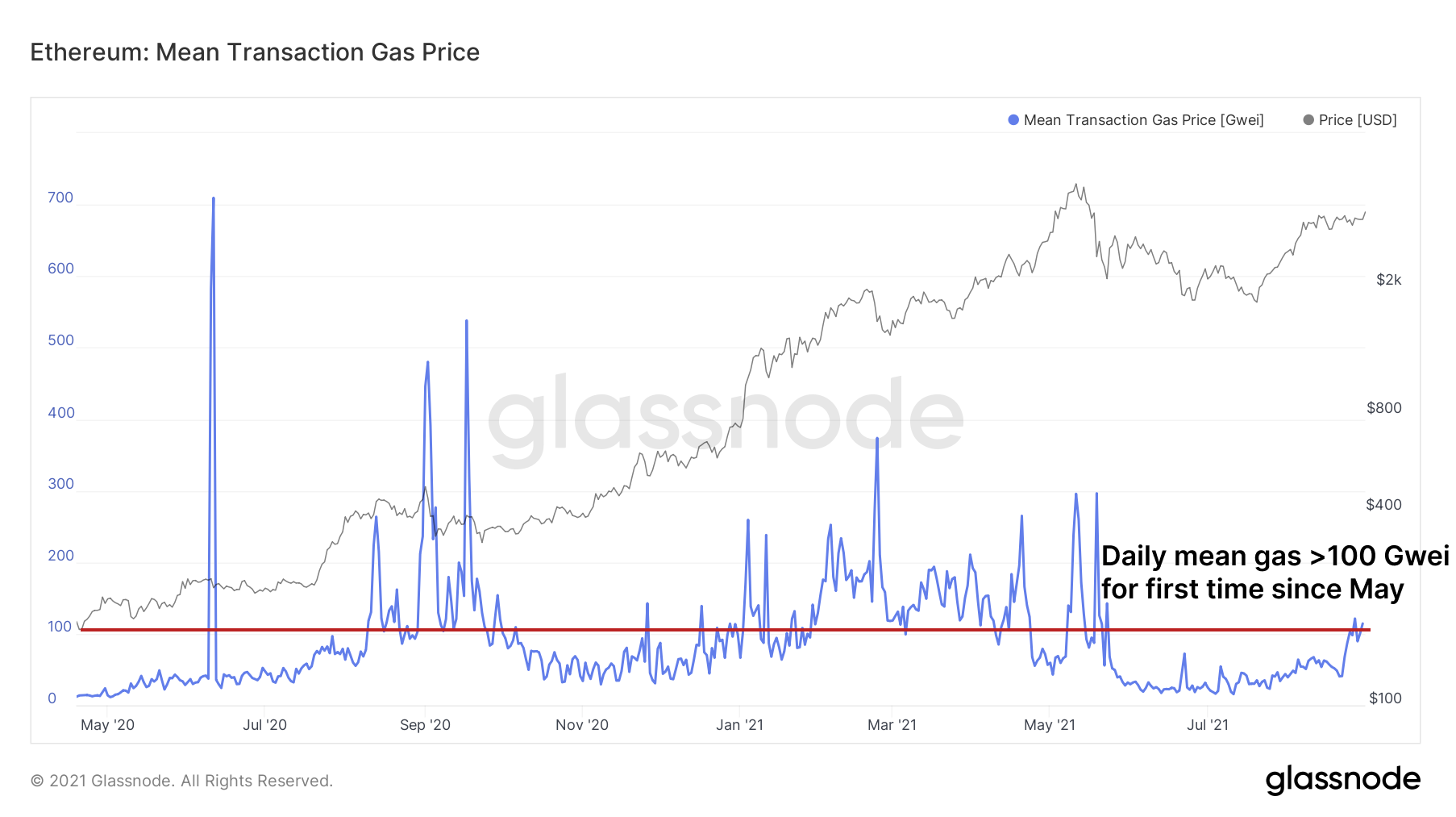 Among this massive rise in transaction costs on-chain, Sushiswap has been a benefactor of significant user growth, outpacing its user-base expansion from previous months.

Another winner has been 1Inch Exchange, the top DEX aggregator of choice with 366k trades over the course of August. This compares to the second place Matcha's 54k trades over the same period. 7-day 1Inch volume sits at $1.5B vs $0.3B for Matcha. This means average size/trade is larger for Matcha, with 1/7th the # of trades but 1/5th the volume.
Despite 1Inch's dominance among aggregators, usage across aggregators remains mostly flat over the past 5 months.

Alternative Layer 1 Performance
Across the layer one ecosystem, Avalanche has seen a minor pullback in liquidity, as many of the associated DeFi token assets in Avalanche additionally see downside price action after showing some strength the last two weeks prior.
In our piece last week we covered the nature of capital rotating into various Layer One ecosystems among their liquidity incentives. Despite hype and incentives, the three largest Avalanche tokens have all seen 50%+ drawdowns since last week's peak. This ball of liquidity bouncing from chain to chain has showed its complete disregard for loyal liquidity, quick to bounce from one opportunity to the next.
Meanwhile, Fantom and its ecosystem have been the latest Layer One ecosystem to find renewed attention. This follows the launch of a $370M liquidity mining program for projects bridging assets into the ecosystem. Let's see how the story unfolds as this hot ball of capital moves from one layer one ecosystem to the next.
Closing Thoughts
As OpenSea continues its relentless run to new heights for NFTs, Cryptopunks and Bored Apes Yacht Club (BAYC) have found wildly high floor prices at $400k+ and $130k+, respectively. Countless other NFT projects continue to launch to varying levels of success. DeFi has simultaneously shown hints of renewed appetite for risk-on, however remains largely driven by stablecoin borrow, rather than token speculation. Accordingly, stablecoin capital has pushed the value locked in DeFi to new heights as higher interest rates create attractive risk-off return profiles.
Simultaneously, a few $Billion in value has been transitioning between Layer one ecosystems to arbitrage newly launched liquidity incentives, first by Avalanche, and now Fantom and Celo. The question is whether these rewards create any measurable sticky liquidity and user retention in the long run.
Uncovering Alpha
PlatoAi. Web3 Reimagined. Data Intelligence Amplified.
Click here to access.
Source: https://insights.glassnode.com/defi-uncovered-whats-next-for-defi/
What does swapping crypto mean?
Has the number of cryptocurrencies ever piqued your interest? Are we talking about a couple of hundred here? Maybe a zillion people? According to CoinMarketCap, that number is now well over 7,000. With so many options, you may want to test a new cryptocurrency at some time. However, how do you go about doing it?
Good news, then! Making a switch will allow you to test out a different cryptocurrency with ease. Swapping is the process of swapping one coin for another. In other words, how does it all work?
Let's assume you have some
Ethereum, but you'd like to have Bitcoin. Certain services are available to assist you with this. Swap service providers allow you to trade your Ethereum for Bitcoin, with a value close to the actual exchange rate. To put it simply:
Why would I want to swap?
Now you know what it means to exchange cryptocurrency. On the other hand, why on earth would you want to? Anyone's motives for wanting to swap their crypto assets for anything else are wide open. So, without further ado, here we go.
Profiting
Making money, that's right. It's a hit with everyone. Trading cryptocurrencies have the potential to bring you a sizable return because of how rapidly their prices can shift. You might make a lot of money by trading your crypto at the appropriate time if you are timing the market perfectly and are a little bit lucky.
Increasing your investment options by utilizing diversification
Those sudden price adjustments, on the other hand, are not to everyone's taste. In general, diversification is seen as a valuable tool for reducing the impact of risk. Having a diverse portfolio of cryptocurrencies may help mitigate the effects of price fluctuations.
A source of ongoing revenue
Wouldn't it be great if you could receive money for doing nothing? Staking is a method of earning additional crypto without having to do any work on your part. You might try this out by exchanging some of your bitcoin for fiat currency.
But be on the lookout!
Trading cryptocurrency is inherently hazardous, even if you don't consider security issues. Remember how we said that by timing the market right, you might make a significant profit? If you're not careful, you might suffer losses of all sizes. Don't invest or trade money you can't afford to lose, and do your homework before you get involved.
Additionally, there is generally a charge associated with trading bitcoins. You should expect a somewhat lesser return on your investment.
What is 123swap?
123swap offers an ecosystem of products and services that enables consumers to swap, keep, send, receive, earn, and invest tokens across various chains in a single place of business. To remove difficulties such as complex interface, hidden fees, and a time-consuming registration procedure, the platform has designed its conversion method to simplify the process for the end-user.
Why 123swap?
Users can pick from among more than 500 cross-chain liquidity pools (Ethereum, Binance, Polkadot, and many more). In addition to supporting the most popular protocols, the platform also offers the lowest costs and the highest annual percentage yield (APY) (Annual Percentage Yield).
123swap will differentiate apart from other DeFi platforms thanks to the following features:
In the Smart Economy, 123swap is a prominent crypto swap protocol that enables users to – Swap favoured assets in several chains; hold them; send them; receive them; earn from them; and invest in them. In this approach, crypto assets may be exchanged between peers without the need to put their faith in a third-party custodian or counterparty. The platform offers non-custodial services and aims to provide optimum safety, ease, and comfort for its users. Customers may browse all of the swaps offers gathered from the most important crypto exchanges in one location.
The platform's goal is to develop a stronghold community. Members of the community will be able to make essential choices on things like team tokens vs. advisory tokens, lock length, and so on through a fair voting mechanism.
Problems solved by 123swap
Exchanges performed by hand are old-fashioned and time-consuming. By utilizing smart contracts, the platform will streamline and automate the swapping process. Smart and autonomous financial management will be available in one location thanks to the cross-chain smart contracts. The platform would promote decentralized financial management via smart contracts. As a result of its technological innovations, 123swap is poised to surpass the competition, improve speed, and establish itself as the world's leading exchange.
Final Thoughts
Swapping is the process of swapping one coin for another. Certain services are available to assist you with this. You might make a lot of money by trading your crypto at the appropriate time. If you're not careful, however, you might suffer losses of all sizes. 123swap is poised to surpass the competition, improve speed, and establish itself as the world's leading exchange.
The platform would promote decentralized financial management via smart contracts. Users can choose from among more than 500 cross-chain liquidity pools (Ethereum, Binance, Polkadot, and many more).
Source: Plato Data Intelligence