Customer engagement strategies that heed power of social media
The power of social media to alter customer engagement strategies — for a product rollout, an executive hire, a policy change — is impressive.
Case in point: Legendary Entertainment did not anticipate the kind of response it would get when it released its trailer for The Great Wall. The decision to cast Matt Damon as the hero in a film centered around the iconic Chinese landmark drew immediate criticism on Twitter and Facebook as another example of a white savior narrative and of whitewashing.
"The whole storyline was meant to be about someone coming into a new culture and learning and growing in that culture," Matt Marolda, chief analytics officer at Legendary, said at the recent HUBweek, an arts, science and innovation festival in Boston. "But the perception was not that."
Social media platforms and the swift judgment of the internet are forcing companies to engage in ways they've never had to before. And executives from Legendary and Microsoft are sharing their experiences with the new tools for — and rules for — customer engagement.
New tools of engagement
On paper, The Great Wall made sense, according to Marolda. It was 2016, and the U.S. and China were the two biggest movie markets in the world; the East-meets-West film reflected Legendary's sale to Wanda Group, a massive entertainment company in China. And, based on an analysis Marolda and his applied analytics team did, Damon had an active following and a reputation for taking on high-quality projects.
But what looked good on paper did not translate well to audiences — especially those in the U.S. Marolda said the company reacted to the criticism quickly. For example, the company released a statement from Zhang Yimou, the film's director whom Marolda characterized as "the Steven Spielberg of China," defending the casting decision.
After that, the team stood still and observed. "We had time on our side," said Marolda, adding that the film wasn't scheduled to be released for nine months. "We could see analytically that the best thing to do was nothing."
The public ire did cool, but the film couldn't completely escape the negative press it had received, according to Marolda. The company ultimately decided to shift its marketing strategy. "We then realized that emphasizing the movie's possibilities outside of the U.S. was as important as emphasizing the movie's possibilities inside the U.S.," he said.
The decision appears to have been a good one. While the film bombed in the U.S., it was moderately successful worldwide, and has helped spark a larger conversation about how to make blockbuster films for a global market.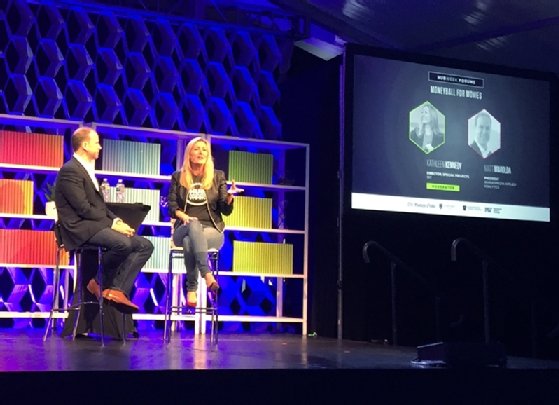 Customer engagement strategies: Ask three questions
How do companies develop customer engagement strategies that acknowledge the power of social media? A reactive approach — no matter how swift the response or how successful in the short term — doesn't cut it.
Brad Smith, president and chief legal officer at Microsoft, talked about the role companies should play in the public discourse and stressed that companies need a moral compass today.
"You have to know the issues for which you're going to take a stand. And you have to be grounded in a certain set of principles," he said during a fireside chat at HUBweek with Adi Ignatius, the editor in chief of the Harvard Business Review.
Before weighing in on a controversial issue, Smith suggested that companies ask three questions. First, is the issue important to the business? Smith described this question as "an easy space," and can include tax law or intellectual property law — topics companies have always weighed in on.
Second, is the issue important to its customers? As data has moved to the cloud, companies have entered into a new kind of relationship with their customers, according to Smith. He said it's vital that they think about the security and protection and actively take a stand on issues like surveillance and privacy.
Third, is the issue important to employees? The company believes a safe work environment doesn't automatically equate to employee success. Employees could be hindered by issues outside of the office such as an inability to buy the home they want to buy, get the kind of healthcare coverage they need, or marry the person they want to marry, according to Smith.
So when a bill in North Carolina looked like it would restrict LGBT rights, Smith said it "was not a difficult decision" for Microsoft to voice its opposition. The company has a pretty significant presence in Charlotte, employing about 1,000 people there, and Smith said the issue was "important for our employees outside of the workplace."
In an effort to be as effective as possible and preserve its relationship with the community, Microsoft will often seek out a local business community — a trusted organization that uses its voice to speak up on issues such as these — to partner with. "I prefer a course that's going to maximize our chances of being effective and not just maximize our chances of being seen," he said.
Coinsmart. Beste Bitcoin-Börse in Europa
Source: https://searchcio.techtarget.com/news/252451024/Customer-engagement-strategies-that-heed-power-of-social-media
The rising importance of Fintech innovation in the new age
The rise of fintech has opened an array of opportunities for smart cities to develop and thrive. Its importance has actually increased in the age of the pandemic that calls for social distancing or contactless transactions.
The leading global payment solutions provider Visa recently indicated the increasing role of digital payments. Thanks to the expanding role of fintech, digital payments are expected to enter different smart city sectors.
Reportedly, fintech application is going to be instrumental in the transportation sector. It will come to people in different forms of contactless payments. It will also ease the process of paying for parking or hiring bikes and scooters.
More than that, whether it's about loans, money transfer, investment, accounting and bookkeeping, airtime or fundraising. Smart cities and businesses are going to hugely rely on fintech in the coming future.
Going ahead, we are delving into understanding the fintech situation in three smart cities. All three are important fintech hubs that the entire world looks upon.
London
In the smart city culture, London has the reputation of being the 'fintech capital' of the world. The number of fintech giants in the city is valued at more than $1 billion.
However, the pandemic has caused a number of businesses to shut down. At the same time, it has also catalysed the shift to digital and contactless. Businesses are now adopting new ways to support their customers.
Even in this time of crisis, London is at the foremost position of producing the next generation of fintech leaders. This is as per the Ed Lane, VP of Sales for the EMEA region at nCino, a US-based cloud banking provider.
Remote work is becoming a necessity due to COVID-19. Hence, investments in different technologies and solutions in financial organisations and service providers are "more important than ever". And so Lane claims that this has increased the adoption of cloud-based banking software developed by his firm.
The UK recently introduced the Bounce Back Loan Scheme and the Coronavirus Business Interruption Loan Scheme (CBILS). This is helping Lane's company nCino and others. They are offering a Bank Operating System to aid SMEs with effective processing of loan applications.
Fintech companies are surviving and tapping into benefits in the COVID-19 age due to their disruptive mindset. The dot.com crash of 2001 and the financial crash of 2008 are drivers that lead them to become proactive.
Innovatively, fintech companies started offering mobile banking, online money management tools and other personalised solutions. Today, the same is enabling them to prevail during this pandemic. Besides all, partnerships have proven to be key strategies in achieving even the impossible, as experts say.
Singapore
Singapore is showcasing a pioneering move in the fintech industry. Fintech is at the core of Singapore's vision to become a 'Smart Nation' with a "Smart Financial Centre."
To achieve the dream, the city-state has been showing constant efforts by using innovative technology. With this, it intends to pave the way for new opportunities, enhance efficiency and improve national management of financial risks.
Until 2019, Singapore was already home to over 600 fintech firms. These companies attracted more than half of the total funding for the same year. And amidst the COVID-19 pandemic, the Monetary Authority of Singapore (MAS) introduced two major support packages.
First on April 8, 2020, it announced a S$125 million COVID-19 care package for the financial and fintech sectors. This package aims at aiding the sectors in fighting the challenges from the COVID-19 health crisis. It will help in supporting workers, accelerate digitalisation, and improve operational readiness and resilience.
Second, on May 13, 2020, MAS, the Singapore Fintech Association (SFA) and AMTD Foundation launched the MAS-SFA-AMTD Fintech Solidarity Grant. The S$6 million grant proposes to support Singapore-based fintech firms.
A specific focus is on managing cash flow, producing new sales and seeking growth strategies. At the individual level, many industry participants have launched their own initiatives to support the sector.
Hong Kong
HongKong's fintech startup sector tells us a different story which involves the role of blockchain. Blockchain-based companies are dominating the city's startup sector.
In 2019, enterprise DLT and crypto-assets exchanges earned rankings as the most popular sectors in Hong Kong's fintech industry. The report comes from the Financial Services and Treasury Bureau. It confirms that blockchain startups make up 40% of the 57 Fintech firms established in the city in 2019.
As per reports, 45% of new companies are focused on developing applications for large businesses. This is the reason that enterprise blockchain firms were the most popular. Another 27% account for blockchain-related firms in Hong Kong involved in digital currency.
The increase in the number of blockchain-based fintech startups is due to the Special Administrative Region of the People's Republic of China. The authority introduced new policies towards blockchain tech development – making it a priority.
Blockchain is thriving in Hong Kong due to a number of reasons. The city has laid down clear regulatory guidelines for blockchain-related businesses. Many have leveraged the benefits of the QMAS program. It enables applicants to settle down in the region before having to look for employment. This has immensely encouraged several blockchain specialists to move to Hong Kong.
The city government is also entering partnerships to expand its fintech footprint in the right direction. For example, in November 2019, the government collaborated with Thailand's officials to explore the development of Central Bank Digital Currencies (CBDCs). Blockchain is a promising technology for the fintech industry. It supports quick, secure and cost-effective transaction-related services.
More importantly, it provides transparency that other traditional technologies were not capable of. Thanks to the use of encrypted distributed ledgers. These enable real-time verification of transactions without the need for mediators such as correspondent banks.
Why Is Fintech Innovation Important For The Development Of Smart Cities?
Advanced cities that are now smart cities have been using fintech for their development. With that, they are also leading the way for others to follow. Many experts confirm that innovation in fintech is a must for any city to become a 'smart city.'
It enables easy national as well as international business. For the residents, it makes life more convenient by encouraging contactless, economical, sustainable and efficient payment-related operations.
One important aspect that smart city development and fintech innovation has in common is their determination to cut bureaucracy. A city that manages to enable speedy and inexpensive international transfers will also enable its citizens with greater access to the global market. This is as said by Hans W. Winterhoff from KPMG in one of his articles.
Furthermore, fintech innovations of the past have demonstrated their success. Some fintech applications have simplified procedures that became unnecessarily complex over time. Traditional banking services are one of the biggest examples.
The innovative fintech services opened doors for online shopping and easy international money transfers. Fintech is able to provide the same product or service to consumers. But that's happening in less time, with fewer steps, and at more affordable rates.
Besides, transparency is another important factor that is allowing consumers to have faith in fintech services. With the current potential of fintech, we can now say that it is one of the essential pillars of successful smart city development. The results are already here in the age of this pandemic.
Coinsmart. Beste Bitcoin-Börse in Europa
Source: https://www.fintechnews.org/the-rising-importance-of-fintech-innovation-in-the-new-age-2/