Comparing Apple to Bitcoin? Crypto Occupies a Class of Its Own
A recent article by a Cointelegraph Markets contributor proclaimed that "Bitcoin is the 'new' Apple," explaining just how Bitcoin's (BTC) price could reach $60,000 by 2023: "Bitcoin hangs near the chasm of the adoption curve, and its price looks similar to Apple's stock in 2008 before it broke out with a 520% rally."
The technology adoption curve referenced was Everett Rogers' famous "diffusion of innovations" model, published in 1962, which described the five stages through which technology becomes "diffused" — i.e., goes mainstream: innovators, early adopters, early majority, late majority and laggards.
In 2008, manufacturer Apple's United States smartphone penetration was stalled at about 11% and still waiting to cross the "chasm," the gap between the "early adopter" stage and the "early majority" stages in the Rogers lexicon. Any technical innovation worth its salt needs to cross that threshold. Apple's smartphone surmounted that chasm, of course: Usage exploded, and Apple's share price soared into the ionosphere. Bitcoin may well be in a similar place today.
But this comparison, satisfying as it may be, raises some questions. Is BTC even a technology — like radios, PCs, and smartphones — or is it something different: unique, sui generis — i.e., in a class by itself? Is BTC's global penetration really anywhere close to 11% — its putative U.S. penetration rate? Also, while smartphone usage indubitably crossed the chasm more than a decade ago, how does one extrapolate BTC's future price from AAPL's share price? Shouldn't it be compared with smartphones' price?
The resemblance between Bitcoin and Apple in terms of growth and adoption is indeed there, but in short, is it fair to compare Bitcoin to younger versions of tech giants like Apple?
Not so simple
Arvind Singhal, a professor of communication at the University of Texas at El Paso, whose academic research has focused on the diffusion of innovation, told Cointelegraph that Bitcoin did indeed seem singular: "It has tremendous barriers to adoption for most individuals and operates in a space of multiple familiar currencies — and that peculiarity would greatly influence its adoption."
Michel Rauchs, the head of Paradigma — a consulting firm focusing on the digital assets sector — and a former research affiliate for the cryptocurrency and blockchain research program at the Cambridge Centre for Alternative Finance at the University of Cambridge, told Cointelegraph: "Bitcoin is not a technology in itself, and any comparison [with traditional technologies] is misguided." He added: "It is a social/economic system," a new monetary order that uses technology to represent its unit of accounts. "Technology is just a secondary component, a means to an end."
Additionally, it may be important here to separate Bitcoin from the more generalized blockchain technology in which it partakes — or risk misapplying Rogers's diffusion of innovation theory — suggested Theophanis Stratopoulos, PwC Chair Associate Professor at the University of Waterloo's School of Accounting and Finance, who further explained to Cointelegraph:
"When decision-makers consider whether to implement blockchain — in, let's say, their supply chain — they develop expectations in terms of the cost of making the investment — e.g., paying for the implementation of the software — versus the benefits, such as increased revenues or cost savings. It is the difference in expectations among decision-makers that explains the adoption cycle that was observed by Rogers."
But Bitcoin does not behave the same way as other technologies typically adopted by firms — like CRM systems, for instance. "When it comes to Bitcoin, it's the expected price that drives people to 'invest' in Bitcoin." It is a matter of speculation, Stratopoulos continued, closer to a pyramid scheme than a capital expenditure. "If I believe that more people will want to hold Bitcoin in the future, the price of the Bitcoin will rise. In a case like this, it makes sense for me to 'invest' today rather than tomorrow."
A paradox: More users, less efficiency
Oliver von Landsberg-Sadie, the CEO and founder of the BCB Group — a digital assets financial services group — agreed that BTC's adoption cycle was anomalous, telling Cointelegraph: "The reason Bitcoin's adoption path has broken formation with established adoption curves is quite technical: In the short term, the more users there are, the less useful it is as a currency."
With more users, the Bitcoin network "self-regulates by raising the network fees as the mem pool bulges up in busy periods and breathes out in quieter ones." But this makes Bitcoin less effective as a payments processing system. As von Landsberg-Sadie explained: "When fees are high, no one is going to pay a $5 transaction fee on a $5 coffee."
Many technical solutions have been proposed to solve this dilemma, some in the form of forks, others like the Lightning Network project that makes use of a second layer, "but none have truly stuck in the core Bitcoin protocol, which has been the slowest to evolve." The good news is that it is evolving, and the increase in off-chain transactions is reducing barriers, but all of this means one can't expect Bitcoin to follow a classic Rogers technical adoption curve, according to von Landsberg-Sadie.
Price volatility in 2008 and 2020
When U.S. smartphone penetration stalled at around the 11% mark in December 2008, Apple's share price became volatile — three-month volatility stood at 92%, according to the July 6 Cointelegraph article. In June 2020, with BTC penetration at 11%, three-month volatility was at 64%, indeed also a very high figure.
But Stratopoulos was unimpressed. "I would not compare Bitcoin to the performance of Apple or Amazon or any other high-tech company. Rogers's adoption cycle applies to innovations — emerging technologies — not to the price of stock." Kevin Dowd, a professor of finance and economics at Durham University in the United Kingdom, agreed, telling Cointelegraph:
"Since BTC is a form of product, then the natural comparison is with Apple's smartphone product. Apple's share price might have risen strongly, but the better comparison is with the price of smartphones, which have not."
"It is relatively easy to find correlations" — like between AAPL in 2008 and BTC in 2020, commented Stratopoulos. "It does not mean that there is causation," or it could be just a spurious correlation.
What stage is Bitcoin at?
What, then, can be said about Bitcoin adoption? If measured by awareness — e.g., recognition of the term Bitcoin — "then it has already entered the mainstream," said Rauchs. A Blockchain Capital survey reported 89% awareness of Bitcoin in the U.S. as of Spring 2019. A U.K. Financial Conduct Authority survey conducted in December 2019, which was recently published, found that 73% have heard about crypto, compared to 58% in 2019.
As for BTC ownership, the Blockchain Capital survey reported: "In total, 9% of the [U.S] population owns Bitcoin — including 18% of those aged 18–34 and 12% of those aged 35–44." The firm originally reported 11% but that was later corrected. In the U.K. survey, by comparison, an estimated "3.86% of the general population currently own cryptocurrencies." This projects to approximately 1.9 million adults within the U.K. population (over 18) of roughly 50 million.
Rauchs finds the lower U.K. adoption estimate "more realistic" if generalizing; that is, he would peg crypto ownership at 3%–5% of the global population, which also includes indirect ownership — e.g., individuals participating in a pension fund that invests in Bitcoin. But this clearly means that all crypto is in the first half of the early adopter stage — nowhere near the so-called chasm.
It's not much different for blockchain technology. Stratopoulos co-authored a paper on blockchain technology adoption — exclusive of cryptocurrencies — that concluded: "Despite the recent hype, the current adoption rate is relatively low, and blockchain has not become mainstream yet."
Different applications, different adoption scenarios
Bitcoin clearly means different things to different people. "It's most popular use today is as a store of value, while back in 2011, its principal use was as a payment method — for gaming" and other purposes, said Rauchs. Depending on its applications, different adoption curve scenarios are possible. For his part, Rauchs believes that BTC's most likely future usage will be as an alternative, non-sovereign store of value.
According to von Landsberg-Sadie, Bitcoin's true adoption pattern will be "more like a wave, oscillating higher at each cycle." In this view, "the biggest bets are on the most extreme outcomes: Bitcoin will either ripple slowly out of relevance, or it will amplify meaningfully into the mainstream. My money is on the latter."
In sum, BTC following the same growth pattern as Apple sounds like a fun version of what may happen, but ultimately, one shouldn't quibble that it is "not based on a statistically valid experiment," as Dowd reminded Cointelegraph. Still, according to several experts, it doesn't make sense to compare Bitcoin to traditional technologies "because Bitcoin does not have the ability to create value — either in the form of increasing revenues or reducing costs," as Stratopoulous noted. Moreover, global BTC penetration is arguably closer to 4% than to the 11% mark where smartphones stood in 2008, immediately before they went mainstream.
Source: https://cointelegraph.com/news/comparing-apple-to-bitcoin-crypto-occupies-a-class-of-its-own
Ethereum DeFi's Ampleforth (AMPL) Drops 20% Despite "Whale" Accumulation
Ampleforth (AMPL) has been one of the top-performing cryptocurrencies over the past month. The asset, whose long-term price performance is measured by its market capitalization rather than its nominal price, gained ~5,000% in July.
The asset has seen a steep correction over the past week as the focus of crypto investors has been on Bitcoin and Ethereum.
After a recovery, AMPL is dropping once again.
This drop comes in spite of positive on-chain and social media signs, according to blockchain analytics firm Santiment.
Ampleforth Drops 20% Despite On-Chain Data Indicating Accumulation
According to TradingView data, Ampleforth (AMPL) has dropped 20% in the past 24 hours as it has also been impacted by the flash crash in Bitcoin.
Ampleforth is an algorithmic stable coin that attempts to stabilize its price on the U.S. dollar in the long term. It responds to supply and demand by daily "rebasements," which means that long-term holders of the token will have their balance change each day to try and center the price around a dollar. This latest price drop may be a byproduct of Bitcoin's flash crash, coupled with an increase in the supply of AMPL.
Chart of Ampleforth's price action over the past few days from TradingView.com. Depicted is the price action of the Ethereum-based coin on FTX.
Price action may differ from exchange-to-exchange due to inefficiencies in this new(er) market and price action on futures vs. the actual coin.
This price drop in the price of AMPL comes in spite of positive on-chain and social trends, according to Santiment.
The blockchain analytics firm shared the chart below on July 31st. It shows that the weighted social media sentiment of messages regarding Ampleforth has hit a level above 3; a social media sentiment at such a positive reading suggests an extreme number of bulls as opposed to bears.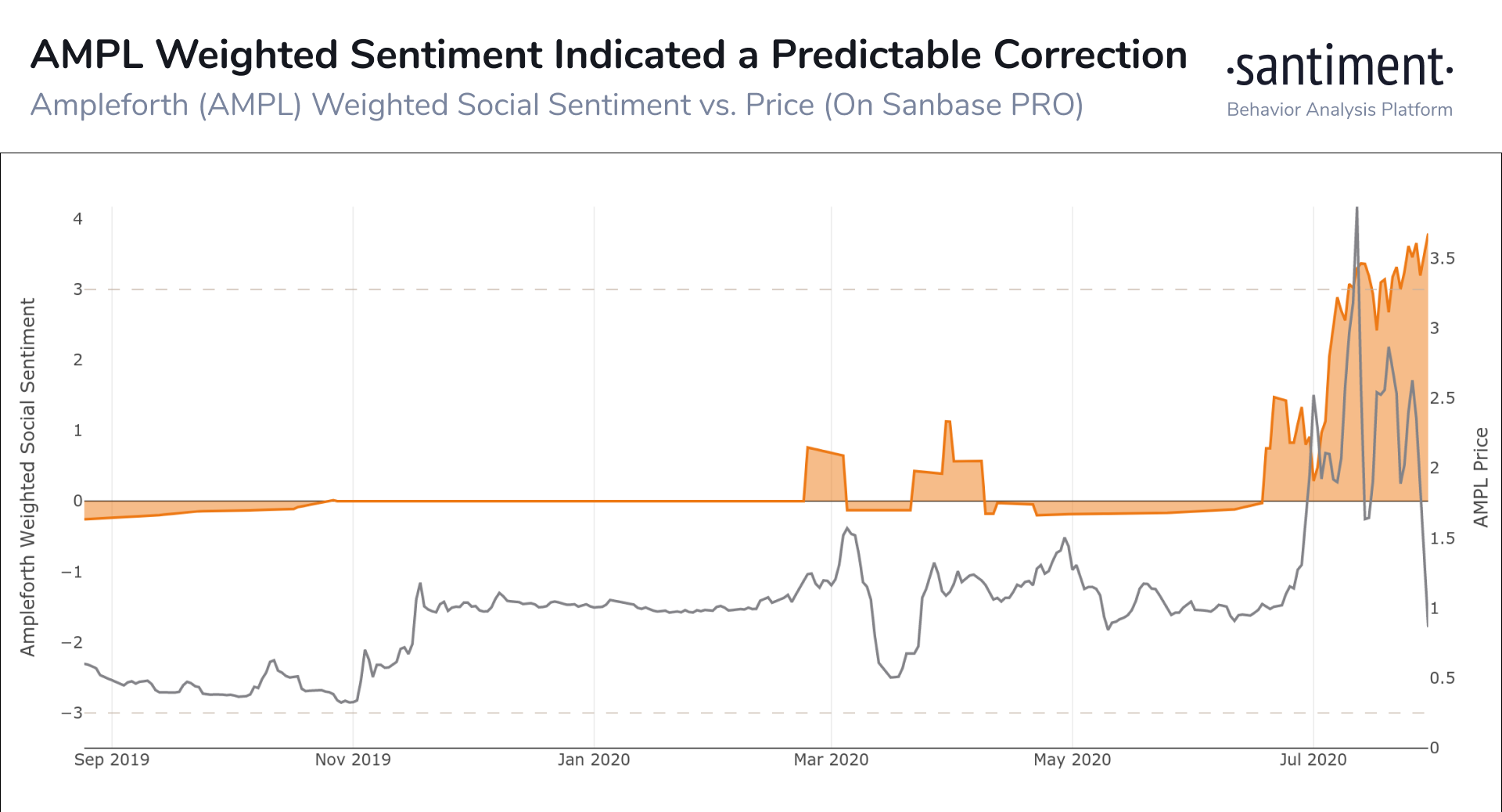 Santiment added that per their data, "whales are accumulating" AMPL. Though, seeing the recent price action, it isn't clear if they are having a big enough effect on the Ethereum-based token's market.
How AMPL Succeeding Could Boost Ethereum
The recent price action has neither confirmed nor denied Ampleforth's long-term goals to be a unique form of money. Thus, analysts have commented on what long-term effect this experiment could have Ethereum and the broader cryptocurrency space.
Ryan Sean Adams, the founder of Mythos Capital, says that he thinks Ampleforth succeeding will be "unbelievably bullish for" ETH.
This is because Amples becoming widely adopted as money will drive record demand for Ethereum transactions, forcing up the price of ETH. Ampleforth's success will also trigger other innovations in money and other facets of society on the network, further driving demand for ETH.
"BCH, ZEC, XMR, BTC, ETH, DOGE, AMPL. Base monies. M0s all competing w/ each other. AMPL is the only one w/o its own chain. It settles on Ethereum. If the AmpleForth experiment is successful, we'll see a rush of M0 monies competing on Ethereum."
BCH, ZEC, XMR, BTC, ETH, DOGE, AMPL

Base monies. M0s all competing w/ each other.

AMPL is the only one w/o its own chain. It settles on Ethereum.

If the AmpleForth experiment is successful, we'll see a rush of M0 monies competing on Ethereum.

This is unbelievably bullish ETH.

— Ryan Sean Adams – rsa.eth 🏴 (@RyanSAdams) July 28, 2020
Adams notably did not comment on whether or not he thinks Ampleforth will succeed or fail as a project. He did, though, call it an "experiment."
Featured Image from Shutterstock
Price tags: ethusd, ethbtc, amplusd
Charts from TradingView.com
Ethereum DeFi's Ampleforth (AMPL) Drops 20% Despite "Whale" Accumulation
Source: https://bitcoinist.com/ethereum-defis-ampleforth-ampl-drops-20/?utm_source=rss&utm_medium=rss&utm_campaign=ethereum-defis-ampleforth-ampl-drops-20
Ethereum's Compound (COMP) Slides to Multi-Month Low Despite DeFi Explosion
While Bitcoin and Ethereum have seen notable bounces since imploding on Saturday evening, Compound and other altcoins are underperforming.
The Ethereum-based coin is down 7.5% in the past 24 hours as per data from Coin Market Cap.
This comes in spite of the fact that decentralized finance (DeFi), which Compound is a market leader in, has seen strong adoption.
Altcoins could see further losses against Bitcoin and the dollar if the market leaders continue to undergo bouts of volatility.
Compound Slides Lower In Spite of DeFi Strength
The Ethereum-based Compound (COMP) was the hottest token of June. But much has changed in the past five weeks.
In the past 24 hours, the Ethereum-based altcoin has dropped by just around 7% against the U.S. dollar. Unlike Ethereum and Bitcoin, it failed to recover a majority of the losses it incurred during Saturday night's flash crash.
With this latest drop, COMP is near multi-month lows not seen since the launch of the asset in the middle of June. At the current price of $128, the asset is also down by approximately 70% from its all-time high price set in late June.
Chart of Compound's price action over the past few days from TradingView.com
This drop comes in spite of the fact that Compound, which the COMP coin is critical to, is the second-largest DeFi protocol and continues to gain traction. In fact, data from DeFiPulse suggests that there is around $767 million worth of cryptocurrency locked in the protocol.
Analysts expect the Ethereum-based coin to decline further as time goes on, unfortunately for its holders.
One trader explained that because the "fundamentals of [Compound's] 'governance', given the public information, don't make too much sense today," a drop under $100 is likely:
"I'm short on $COMP, the fundamentals of the 'governance', given the public information, don't make too much sense today. Won't be surprised to see it fall below $100 unless a revenue model is proposed soon."
His sentiment boiled down to the fact that companies that accomplish what Compound does are valued far below the market capitalization of COMP.
Altcoins Are Unlikely to Benefit if Bitcoin and Ethereum Undergo Further Volatility
Further volatility in the price of Bitcoin could further suppress altcoins, including Compound.
Nik Patel, the author of "An Altcoin Trader's Handbook," recently said on the outlook for altcoins in the current environment:
"Wouldn't surprise me to see dominance now rise until BTC all-time highs (pending a confirmed Weekly breakout above $10,600) > break $20k and alts find another bottom (like Nov/Dec 2016) > they rally concurrently like March-June 2017."
One trader, though, said that Bitcoin and Ethereum are likely to consolidate after Saturday's flash crash. This could trigger rallies in altcoins as money flows from these large caps to smaller players.
Featured Image from Shutterstock
Price tags: ethusd, ethbtc, compusd, compbtc
Charts from TradingView.com
Ethereum's Compound (COMP) Slides to Multi-Month Low Despite DeFi Explosion
Source: https://bitcoinist.com/ethereums-compound-comp-slides-multi-month-low/?utm_source=rss&utm_medium=rss&utm_campaign=ethereums-compound-comp-slides-multi-month-low
Why Analysts Expect Ethereum to See Further Downside Following Intense Selloff
Ethereum witnessed some intense overnight volatility that caused its price to slide as low as $300
This intense selling pressure came about in tandem with that witnessed by Bitcoin – which caused its price to slide down to lows of $11,000
Analysts are now noting that ETH may be positioned to see further downside due to the strength of this movement
Although it has found some support and stability within the mid-$300 region, weakness against its BTC trading pair may also drag it lower
Ethereum and the entire cryptocurrency market is currently trying to stabilize following the unprecedented volatility witnessed overnight.
This came about after Bitcoin rallied to highs of $12,000 while ETH reached highs of $415.
From here, the market's strength began degrading, with BTC ultimately reeling as low as $11,000 while Ethereum plunged to $300.
Both of these assets have since recovered slightly, but they still remain in a precarious position.
While looking towards Ethereum, one analyst is now noting that he is expecting ETH to see further near-term downside in the days and weeks ahead.
That being said, he still believes that the crypto's macro strength makes it so that "dips are for buying."
Ethereum Plunges as Low as $300 Overnight as Selling Pressure Ramps Up
At the time of writing, Ethereum is trading down just under 6% at its current price of $365.
This is a far cry from where it was trading at during the crux of the overnight movement when bears sent it as low as $300 on some platforms.
The drop to this level was incredibly fleeting, and it only traded here for a mere moment before being propelled back up to the mid-$300 region, where it is now consolidating.
While looking at Ethereum's Bitcoin trading pair, one analyst explained that he is expecting it to see a continuation of this downtrend.
"ETHBTC: Channel fakeout? Gray zone is where I would like to reload up on ETH. I'm being patient – may take a few months – may not happen – that's fine by me," he said.
Image Courtesy of TraderXO. Chart via TradingView.
As seen on the chart he offers, the ETH/BTC price he is looking to accumulate at exists around 0.026. It is currently trading at 0.033.
Analyst: BTC Likely to See Further Downside, But Macro Uptrend Remains Strong
Another analyst explained in a recent tweet that he now believes that Ethereum could pull back a bit further against USD before finding meaningful support.
"ETH / USD: Price perfectly tapped our previous highs of $315 overnight and was pretty much instantly bought back, over a 12% wick, bulls seem to be buying back up dips… LTF seems like we could pullback a little more, with some continuation to the downside, dips for buying."
Image Courtesy of Cactus. Chart via TradingView.
As seen in the above chart, the lower-$300 region has been a historically important level for Ethereum, and the overnight dip here further confirms this.
Featured image from Unsplash.
Charts from TradingView.
Source: https://bitcoinist.com/why-analysts-expect-ethereum-to-see-further-downside-following-intense-selloff/?utm_source=rss&utm_medium=rss&utm_campaign=why-analysts-expect-ethereum-to-see-further-downside-following-intense-selloff