Bringing AI Education Online Around the World
Education Entrepreneur Sees AI and Human History at a Crossroads
Enver Yucel is the founder of BAU Global, a broad education network headquartered in Turkey, consisting of five universities, three language schools, four academic centers and one boarding school spread across North America, Europe, Africa and Asia. Yucel has devoted his life to education, having served an estimated 150,000 students since starting his first institution with three class rooms in Istanbul in 1974. He is also a member of the Advisory Board of the UN Institute for Training and Research. He was invited to speak at the AI World Conference & Expo in Boston in the fall of 2019, the first Turkish speaker in the four years of the conference. He recently took some time to answer questions posed by AI Trends Editor John P Desmond, who was in the audience for his Boston talk.
(Ed. Note: He delivered his address in Boston in Turkish, and a translator repeated it in English. This interview was conducted via email with Enver and his team answering questions we posed based on his talk in Boston, in Turkish, then translating them for us into English. We received the interview in early February 2020.)
AI Trends: Where does artificial intelligence fit in the historical context? (foundation of the universe, birth of life, beginning of artificial intelligence)
Yucel: Steam, electricity and computers … The inventions discovered in every industrial revolution have been used in all areas of life, in all sectors, all over the world. Transportation, production, agriculture, health and education…It is a stubborn fact that artificial intelligence has created a similar effect and will continue to do so. It is possible to see Artificial Intelligence applications in all areas of our life and in every sector. Artificial Intelligence supported systems; decide whether we can get a bank loan or not, and our waiting time when we order food to home; they draw a route on how to deliver it not only for the shortest but also for the easiest distance, conduct identification in the security field and even estimation who can pose a danger and enable unmanned vehicles to decide. That is to say, just as electricity transformed all sectors a century ago, now artificial intelligence does the same and enables the age to keep up with it.
According to some scientists it is the new electricity of the twenty-first century; according to others it is the birth of new hominid line. Whatever you call it, I can say that artificial intelligence and human history are at a crossroads and we will witness much more important changes in the coming years.
How can artificial intelligence be applied in the field of education?
The use of Artificial Intelligence in the field of education comes into question in many areas such as passing automation from administrative processes in schools to exam evaluations of teachers, preparation of the course contents clear-headedly, providing personalized education, providing education independent from time and place.
In addition to office automation in administrative processes in schools, thousands of applications can be automatically evaluated by artificial intelligence systems in matriculation transactions. Teachers can spend much more time with students by leaving their exams, homework evaluations, and feedback to the application of artificial intelligence. As we have been defending for decades, all education and learning models are specific to a person. A separate content and model can be determined for each student to provide student-based education. Student's deficiencies are determined; accordingly, a lesson plan and content can be prepared appropriate for their deficiencies with much more detailed analysis except for orientation specific to course and subject.
What we have been defending in education from of old is while some students in the classroom are looking for total silence in the study environment, some provide concentration by listening to the latest music. From this point of view, thanks to virtual reality and the mixed reality environments that have emerged recently, those who wish can receive education in the way they want and wherever they want. Today, anyone can take online video lectures from the most prestigious educational institutions in the world. Why does not the student take this lesson interactively with the teacher's hologram in his room? If technology makes this possible, why should education not keep up with it?
While today's technology is developing accordingly, it is unacceptable that education continues with old methods. In order to catch up with the age, we must keep up with these changes, and even be pioneers. If a generation that no longer uses a computer and believes that it can handle everything with its mobile device is catching up, it is unacceptable to try to adapt this generation to the existing system; the system should embrace the needs of this generation.
What are the three most important issues facing humanity? (Ethics/values, inequality, poverty)
Poverty, inequality of income, environment and ethical values, culture of coexistence. We cannot live together. Secondly, we pollute the environment and the ethical world, and thirdly, we cannot live together. These 3 main fundamentals are the problems of the world.
What is Bau's education mission?
Bahçeşehir University is a foundation university that aims to develop research and development for production, protection and dissemination of information that will raise the living standards of humanity; to raise critical, creative and entrepreneurial people who can carry out pioneering and innovative initiatives and studies which will increase the prosperity and happiness of Turkey and people of the world; to contribute to the problems faced by our people, government, industry and non-governmental organizations with creative solutions. BAU is a university that has adopted internationalization and acts with the vision of raising transnational global citizens.
What distinguishes BAU from other programs providing AI education?
Artificial Intelligence is one of the primary fields of our university. We attach importance to this issue both in terms of education and research. In our Faculty of Engineering and Natural Sciences, in addition to our many courses related to Artificial Intelligence at the undergraduate and graduate levels, "Artificial Intelligence for All" course is provided to all faculties in order to increase the awareness of artificial intelligence in our university. This course is open to all students, from our faculty of law to our faculty of communication. As of next year, we have plans to open an Artificial Intelligence program within our Computer and Software Engineering Departments and to accept students to these programs.
At the graduate level, we have applied for an Artificial Intelligence master program. In addition, we have been conducting Big Data, Cyber Security and Industry 4.0 graduate programs, perhaps the first in our country, in our Institute of Science for the last 4-5 years.
In terms of research, I can give an example of our Artificial Intelligence and Big Data Education and Research Centre, which we have established with the funds of Istanbul Development Agency, as well as national and internationally supported projects currently carried out by our faculty members. Through this centre, short-term training is given in line with the needs of the sector, and joint projects are carried out with different companies through our university-industry cooperation model.
Can you tell us which artificial intelligence technologies you use in your training presentation?
Big data analyses based applications are used in our institutions for years, especially in measurement and evaluation. However, I would like to tell you about our Metodbox Distance Education Platform, which we have launched in the past months and have introduced at the world's largest training technologies fair last week.
The Metodbox Artificial Intelligence application is used in Bahcesehir Colleges and Ugur Schools in order to provide personalized education to our students. The Metodbox platform is a digital guide. The most important difference from its counterparts is that the student can follow what he can learn, and what the teacher can teach in this system, and they can develop themselves. The teacher can gather those, who know a subject the best, and can direct them to a higher level and students can continue their education on the subject with the difficulty they want. It is possible with the artificial intelligence-supported program that the teacher can make special procedures for the whole class or for every student in the class in the fields of exam preparation and reading the result, determining the subject of the lesson.
Which institutions or alternative programs for artificial intelligence education have you completed?
As a part of my profession and vision, I spend almost half of the year studying programs and institutions using the latest technology abroad. The seminars and briefings I received at the highest level in every institution I visit are training for me in a sense. In other words; I personally visit the most important centers of the world on site and receive training directly in the field.
How does your system support teachers?
Our primary goal is to increase the awareness of artificial intelligence of all our employees in our institutions and to ensure the use of the latest educational technologies in all of our training processes. In this sense, under the leadership of our university, all of our teachers in Bahçeşehir Colleges and Uğur Schools are provided with on-the-job training and their participation in external seminars is supported. For example, at the 'Artificial Intelligence Conference in K12' we will organize on February 10, panels, seminars and promotions will be held to teach our school principals about K12-level Artificial Intelligence with Artificial Intelligence.
Do you see potential dangers in the future of artificial intelligence? What kind of warnings do you have for taking measure?
The questions "Will the robots beat us? "Will they invade the world?" are continuously engaging people's attention. At this point, perhaps the most important matter to be worried about is the "conscience" and "ethical" attribution to be made on artificial intelligence. The matters which are objective and will be accepted by everyone are absolutely available but how will subjective approaches be handled?
I think optimistically about this matter. There is no need to be afraid of Artificial Intelligence, it is in our hands to embrace it in an ethical framework and develop and use it in such a way that it will serve humanity. For this purpose, priority should be given to Human-Centred Artificial Intelligence studies, and Artificial Intelligence systems that learn from and collaborate with people should be developed.
I also think that research and discussions on Artificial Intelligence Ethics should be done in different platforms along with the academic world. Both the developed technologies should be ethical in terms of content and the studies on the R&D and ethical execution of the production process should be increased. However, I believe that politicians should be guided on the subject of legal regulations.
Learn more at BAU Global.
Source: https://www.aitrends.com/executive-interview/bringing-ai-education-online-around-the-world/
Sony Envisions an AI-Fueled World, From Kitchen Bots to Games
In 1997, Hiroaki Kitano, a research scientist at Sony, helped organize the first Robocup, a robot soccer tournament that attracted teams of robotics and artificial intelligence researchers to compete in the picturesque city of Nagoya, Japan.
At the start of the first day, two teams of robots took to the pitch. As the machines twitched and surveyed their surroundings, a reporter asked Kitano when the match would begin. "I told him it started five minutes ago!" he says with a laugh.
Such was the state of AI and robotics at the time. It took a machine minutes to interpret its situation and work out what to do next. But much has changed, with AI increasingly helping machines, from self-driving cars to surveillance cameras, perceive and behave in clever ways.
Kitano now leads a new effort at Sony, announced in November, to infuse cutting-edge AI across the company. The Japanese giant believes AI will create smarter cameras, more cunning videogame characters, and even the first helpful kitchen robots. Kitano says Sony believes AI is making such rapid progress that the company needed to make the technology central to its strategy.
"We have decent AI researchers and engineers at Sony, and we have a good sense of what's going on," says Kitano, who was attending the Association for the Advancement of Artificial Intelligence conference in New York this week. "We decided now is a moment that we should really push."
Sony's move stands out among big companies' efforts to embrace AI. It lags behind Silicon Valley giants in researching and harnessing AI. It also has different aims: Sony is more focused on content creation and entertainment than the likes of Google, Facebook, or Apple. The Japanese giant is now looking to match America's AI titans by betting heavily on a powerful but still relatively experimental approach to AI known as reinforcement learning. Google parent Alphabet and Amazon have made notable investments in this technology too.
Alphabet's DeepMind famously used reinforcement learning to create a program capable of beating one of the world's best Go players in 2016. Inspired by animal behavior, it involves an algorithm refining its behavior in response to positive or negative feedback.
"We consider reinforcement learning is equally or possibly even more important," than the technologies that have driven most progress in AI to date, Kitano says. "It's going to be the key."
Besides research demos, reinforcement learning is being tested in areas ranging from finance to logistics. It is also emerging as a powerful way for robots to learn to deal with the real world and for training software agents to behave intelligently in simulated environments. So it may have huge potential to generate compelling videogame characters and scenarios.
Reinforcement learning has been part of AI for decades, but its promise has become apparent thanks to powerful neural network algorithms, roughly modeled on the way learning happens in the brain, as well as far more powerful computers and large amounts of training data. Even so, it is experimental and notoriously difficult to get right. Research has shown, for example, how reinforcement-learning algorithms can sometimes fixate on a reward that results in repetitive and useless behavior.
Sony will focus its AI on three domains, Kitano says: gaming, sensors, and, more curiously, culinary arts. These areas reflect the company's current business focus and an aspirational direction for the future.
Sony is well known for making the PlayStation and games, but it also gets a large share of its revenue from digital sensors and imaging technology. It isn't hard to see how AI could improve these areas, by making games more compelling or lively or helping cameras perceive the world more intelligently.
The effort to put AI to culinary use is about advancing robotics. So far, Sony has demonstrated a robot capable of placing food items on a plate in an artistic but preplanned way. Future systems might be able to recognize and grasp things without careful coding. Handling food is especially challenging for a robot because items are often irregularly shaped and arranged, and need to be handled with care.
Sony is, of course, no stranger to robots. A few years after the first Robocup, the company released Aibo, a doglike toy that gained a cult following but was canceled in 2006 amid a corporate streamlining. A new version of Aibo, released in 2018, includes some AI capabilities such as object and voice recognition. But it's still relatively dumb. When I met with Kitano at the AAAI conference, one of the robots, brought by a Sony rep, explored the room and yapped away behind him.
Some outsiders see big potential in Sony investing in reinforcement learning. "It makes a ton of sense," says Pieter Abbeel, a professor at UC Berkeley and cofounder of Covariant.ai, a company using reinforcement learning to make more adaptive warehouse robots.
Abbeel points out that it's expensive and time consuming to create videogames, and he notes that reinforcement learning has shown potential to take on much of the drudge work. He points to a project called DeepMimic, which shows how virtual characters trained with reinforcement learning can exhibit lifelike behavior. A character placed in a physically accurate environment and given a specific goal, like climbing over an obstacle, will eventually work out how to vault it. This could automate the process of programming videogame characters or even allow behavior to emerge on the fly in a game. "It has the potential to facilitate much faster content creation," Abbeel says.
Abbeel says robots preparing meals are probably some way off, but he expects reinforcement learning to change the way these machines are programmed. "It will be really exciting to see a push there," he says.
To fuel its AI endeavor, Sony last year acquired Cogitai, a company cofounded by Peter Stone, a professor at the University of Texas at Austin. Stone has successfully pioneered the use of reinforcement learning in a virtual version of the Robocup contest with trophy-winning success. Stone now leads the Sony AI operation in the US.
Before being acquired, Cogitai launched a platform designed to make reinforcement learning easier to use. Stone says this and other tools will now be made available to researchers and engineers throughout Sony. A game developer or a hardware designer should be able to use these tools to explore new ideas and innovations. He says the focus on reinforcement learning reflects Sony's desire to get ahead of the curve in AI—by betting on what looks likely to be the next big thing.
Today's Robocup matches show how rapidly things are moving. Players can be seen passing, moving, and shooting with remarkable speed and skill.
According to Stone, this also points to the next stage of progress in AI. "There's been a revolution in perception and supervised learning," he says. "The whole premise of Sony AI is that there are huge opportunities for automated decision-making in AI too. It's really everywhere, and in some sense it's untapped."
---
Read more: https://www.wired.com/story/sony-envisions-ai-fueled-world-kitchen-bots-games/
How 4 Chinese Hackers Allegedly Took Down Equifax
In September 2017, credit reporting giant Equifax came clean: It had been hacked, and the sensitive personal information of 143 million US citizens had been compromised—a number the company later revised up to 147.9 million. Names, birth dates, Social Security numbers, all gone in an unprecedented heist. On Monday, the Department of Justice identified the alleged culprit: China.
In a sweeping nine-count indictment, the DOJ alleged that four members of China's People's Liberation Army were behind the Equifax hack, the culmination of a years-long investigation. In terms of the number of US citizens affected, it's one of the biggest state-sponsored thefts of personally identifiable information on record. It also further escalates already tense relations with China on multiple fronts.
"This kind of attack on American industry is of a piece with other Chinese illegal acquisitions of sensitive personal data," US attorney general William Barr said at a press conference announcing the charges. "For years we have witnessed China's voracious appetite for the personal data of Americans."
That aggression dates back to a hack of the Office of Personnel Management, revealed in 2015, in which Chinese hackers allegedly stole reams of highly sensitive data relating to government workers, up through the more recently disclosed breaches of the Marriott hotel chain and Anthem health insurance.
Even in that group of impactful attacks, Equifax stands out both for the sheer number of those affected and the type of information that the hackers obtained. While some had previously suspected China's involvement—that none of the information had made its way to the dark web indicated a state actor rather than a common thief—Monday's DOJ indictment lays out a thorough case.
The Big Hack
On March 7, 2017, the Apache Software Foundation announced that some versions of its Apache Struts software had a vulnerability that could allow attackers to remotely execute code on a targeted web application. It's a serious type of bug, because it gives hackers an opportunity to meddle with a system from anywhere in the world. As part of its disclosure, Apache also offered a patch and instructions on how to fix the issue.
Equifax, which used the Apache Struts Framework in its dispute-resolution system, ignored both. Within a few weeks, the DOJ says, Chinese hackers were inside Equifax's systems.
The Apache Struts vulnerability had offered a foothold. From there, the four alleged hackers—Wu Zhiyong, Wang Qian, Xu Ke, and Liu Lei—conducted weeks of reconnaissance, running queries to give themselves a better sense of Equifax's database structure and how many records it contained. On May 13, for instance, the indictment says that one of the hackers ran a Structured Query Language command to identify general details about an Equifax data table, then sampled a select number of records from the database.
Eventually, they went on to upload so-called web shells to gain access to Equifax's web server. They used their position to collect credentials, giving them unfettered access to back-end databases. Think of breaking into a building: It's a lot easier to do so if residents leave a first-floor window unlocked and you manage to steal employee IDs.
From there, they feasted. The indictment alleges that the hackers first ran a series of SQL commands to find especially valuable data. Eventually, they located a repository of names, addresses, Social Security numbers, and birth dates. The DOJ says the interlopers ran 9,000 queries in all, not stopping until the end of July.
Amassing that much data is one thing; getting it out undetected is another. China's hackers allegedly used a few techniques to maintain access to the motherlode.
According to the DOJ, they stored the stolen data in temporary files; especially large files they compressed and broke up into more manageable sizes. (At one point, the indictment says, they split an archive containing 49 directories into 600-megabyte chunks.) That kept their transmissions small enough to avoid suspicion. After they had exfiltrated the data, they deleted the compressed files to minimize the trail. It also helped that they were deep enough inside Equifax's network that they could use the company's existing encrypted communication channels to send their queries and commands. It all looked like normal network activity.
The indictment also details how the PLA team allegedly set up 34 servers across 20 countries to infiltrate Equifax, making it difficult to pinpoint them as a potential problem. They used encrypted login protocols to mask their involvement in those servers, and in at least one instance wiped a server's log files every day. They were effectively ghosts.
Take one incident detailed by the DOJ: On July 6, 2017, one of the hackers accessed the Equifax network from a Swiss IP address. They then used a stolen username and password for a service account to get into an Equifax database. From there, they queried the database for Social Security numbers, full names, and addresses, and stored them in output files. They created a compressed file archive of the results, copied it to a different directory, and downloaded it. Data safely in hand, they then deleted the archive.
Repeat over the course of several weeks, and you wind up with 147.9 million people's information allegedly in the hands of a foreign government.
While the operation had a certain degree of complexity, Equifax itself made their job much easier than it should have. It should have patched that initial Apache Struts vulnerability, for starters. And an FTC complaint from last summer also found that the company stored administrative credentials in an unsecured file in plaintext. It kept 145 million Social Security numbers and other consumer data in plaintext as well, rather than encrypting them. It failed to segment the databases, which would have limited the fallout. It lacked appropriate file integrity monitoring and used long-expired security certificates. The list goes on. Equifax didn't just let the alleged Chinese hackers into the vault; it left the skeleton key for every safe deposit box in plain sight.
"We are grateful to the Justice Department and the FBI for their tireless efforts in determining that the military arm of China was responsible for the cyberattack on Equifax in 2017," Equifax CEO Mark Begor said in a statement. "It is reassuring that our federal law enforcement agencies treat cybercrime—especially state-sponsored crime—with the seriousness it deserves."
"Our goal collectively here, aside from just being sure this doesn't happen to us again, is really to help to the best degree possible to help reduce the likelihood that it'll happen with other organizations," Jamil Farshchi, chief information security officer at Equifax, told WIRED.
Name Game
Some elements of the Equifax hack—particularly the role of the Apache Struts vulnerability—had been public for some time. But pinning the attack on China adds an important new dimension, both in terms of the Equifax incident itself and international relations.
The US and China have gone through a turbulent few years on the cybersecurity front. In 2014, the DOJ charged five members of the PLA with hacking crimes against US companies. The following year, the two countries signed what amounted to a digital truce, one that more or less held fast throughout the remainder of the Obama administration.
Recent years, though, have seen indications that the détente is unraveling. The Marriott and Anthem hacks both began in 2014, prior to the Obama truce. But China has of late increasingly focused on cyberattacks in service of corporate espionage. That includes compromising the CCleaner security tool to create a backdoor into enterprise networks, and using its APT10 hackers to infiltrate so-called Managed Service Providers as a springboard to dozens of vulnerable companies.
That aggression, combined with allegations of rampant intellectual property theft and an ongoing trade war, have further stressed the US-China relationship. Adding Equifax to the pile is uniquely troubling.
"This data has economic value, and these thefts can feed China's development of artificial intelligence tools as well as the creation of intelligence targeting packages," Barr said. "Our cases reveal a pattern of state-sponsored computer intrusion and thefts by China targeting trade secrets and confidential business information."
Monday's announcement marks only the second time that the US has indicted Chinese military hackers by name. (Linked with China's Ministry of State Security, APT10 is considered non-military.) The first time was in 2014. As then, and as has increasingly been the case with named Russian hackers in DOJ allegations, the step has potential downsides.
"I worry that the Chinese will engage in tit-for-tat behavior," says former National Security Agency analyst Dave Aitel. "It would be good to have a clear signal in terms of doctrine."
There's also the practicality of ever bringing the accused to face justice, given that they're Chinese citizens working in the service of that government. "Some might wonder what good it does when these hackers are seemingly beyond our reach," FBI deputy director David Bowdich said at Monday's press conference. "We'll use our unique authorities, our experiences, and our capabilities, with the help of our partners both at home or abroad, to fight this threat each and every day, and will continue to do so."
For victims of the Equifax hack—nearly half of all US citizen—the apparent revelation that China was behind it doesn't change much unless you're someone the country might target for intelligence-gathering purposes. Personally identifiable information is leverage, after all. But for most people, the playbook remains the same: Keep an eye on your accounts, and get your settlement money.
The real concern is more existential. It's unclear the extent to which this will exacerbate already troubled relationships between two global powers. Regardless, it's unsettling how seemingly easy it was to pull off a data heist of such unprecedented proportion.
"There's a lot of interesting, mind-bending stuff here," says Aitel. "Like that it only took four people to gather the private information of half of the United States population."
Additional reporting by Lily Hay Newman
---
Mark Zuckerberg: Facebook must accept some state regulation
Co-founder says site sits between telephone company and newspaper as content provider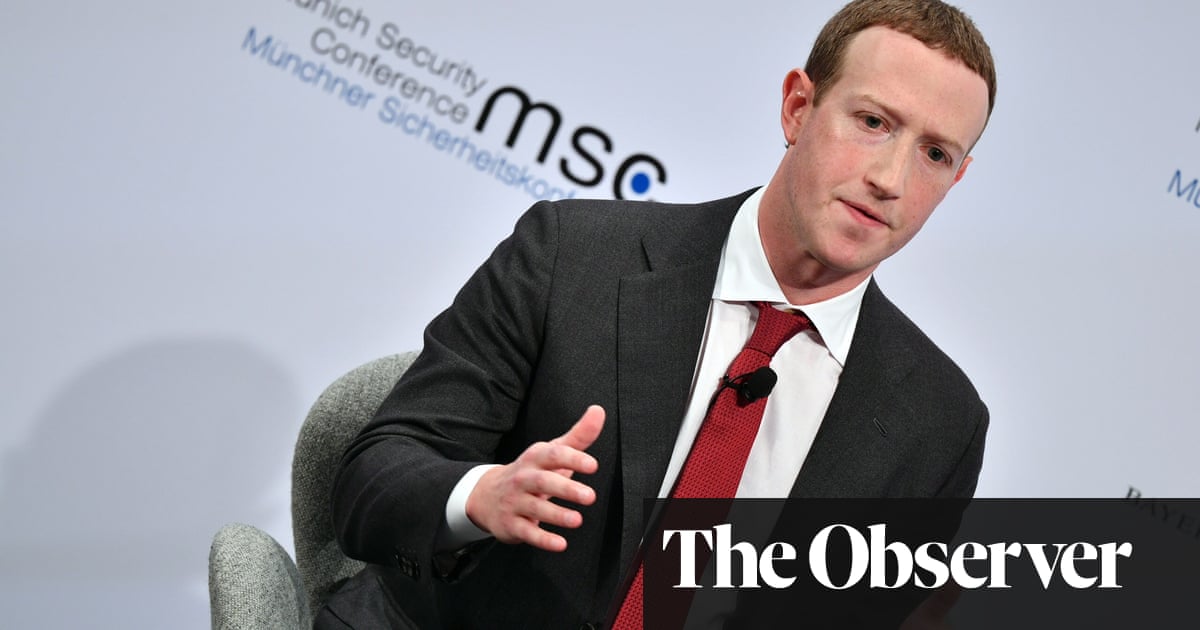 Facebook must accept some form of state regulation, acknowledging its status as a content provider somewhere between a newspaper and a telephone company, its co-founder Mark Zuckerberg has said.
He also claimed an era of clean democratic elections, free of interference by foreign governments, is closer due to Facebook now employing 35,000 staff working on monitoring content and security.
He admitted Facebook had been slow to understand the scale of the problem of foreign interference. He also defended his company from claims that it is leading to political polarisation, saying its purpose is to bring communities together.
Speaking at the Munich Security Conference, an annual high-level gathering of politicians, diplomats and security specialists, Zuckerberg sought to dispel the notion that his company had undermined democracy, weakened the social fabric or contributed to the weakening of the west through spreading distrust.
He said he supported state regulations in four fields covering elections, political discourse, privacy and data portability. He said: We dont want private companies making so many decision-balancing social equities without democratic processes.
Zuckerberg, who is due to have fresh discussions with the EU commission regulators on Monday said, so long as enough people have weighed in to come up with an answer on regulation, the answer will not necessarily be right, but the process by which the decision is taken will in itself help build greater trust in the internet.
By contrast, he said authoritarian states were introducing highly controlled forms of internet that limited free expression. I do think that there should be regulation in the west on harmful content theres a question about which framework you use for this, Zuckerberg said during a question-and-answer session at the event.
Right now there are two frameworks that I think people have for existing industries theres newspapers and existing media, and then theres the telco-type model, which is the data just flows through you, but youre not going to hold a telco responsible if someone says something harmful on a phone line. I actually think where we should be is somewhere in between, he said.
He pointed out Facebook publishes 100bn pieces of content every day, adding: It is simply not possible to have some kind of human editor responsible to check each one.
Facebooks responsibility for its content was not analogous to that of a newspaper editor, he said. Without expanding, he said some kind of third regulatory structure was required settled somewhere between newspapers and telephones.
Denying Facebooks choice of content led to confirmatory bias by only giving its subscribers information with which they agree, he said: We try to show some balance of views.
The average Facebook subscriber has about 200 friends, most of whom share similar views. It is not a technology problem, it is a social affirmation problem, he argued. The choice of what you see is based on the balance of what you share, rather than by choosing what you see. If your cousin has had a baby we had better make sure that is near the top, he said.
He said his firm had been slow to see how foreign powers were interfering in elections, but Facebook was now spending an amount on security and content equivalent to the total value of the company in 2012, and claimed this massive effort was producing a greater understanding about how to protect the integrity of elections. Nearly 1m accounts had been taken down, he said.
But he warned new domestic actors, as well as foreign powers, were seeking to disrupt elections. The outside forces were also becoming more sophisticated in covering their tracks by pretending their messages were coming from a variety of IP addresses in different countries.
Facebook was also offering election campaigns a new free service where the candidate provides the internet details of its staff, and if one or more of the staff is hacked, the campaigns security can be increased to a higher state of protection.
He said the firm had shifted from a reactive to proactive model, so much so that 99% of terrorist content is taken down before any external complaint is made. In the case of hate speech, 80% of content is removed without notification, but Facebooks Artificial Intelligence was still struggling to distinguish the small nuances between content that was hate speech, or content that was condemning the hate speech, he said.
AAsked by Ronen Bergman of the New York Times about Facebook and WhatsApps lawsuit against Israeli spyware company NSO Group, Zuckerberg shrugged off the idea that the case could damage governments ability to work against terrorism. They can defend themselves in court if what they think is legal, he said, but our view is that people should not be trying to hack into software that billions of people around the world use to try to communicate securely.
Read more: https://www.theguardian.com/technology/2020/feb/15/mark-zuckerberg-facebook-must-accept-some-state-regulation