Boy 'lay in pool of blood after rival gang attack'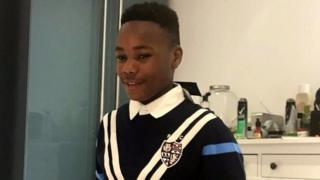 A 14-year-old boy lay "quivering" in a pool of blood after being stabbed at least nine times by a rival gang, a court has heard.
Jaden Moodie was attacked by three men in Leyton, north-east London, on 8 January, the Old Bailey has been told.
In a witness statement, read out in court, one man said he saw three men "stomping on someone" on Bickley Road.
Ayoub Majdouline, 19, of Wembley in north London, denies murder and possession of a knife.
The witness said he had been sitting at home when he heard a loud crash on Bickley Road.
He saw three people get out of a Mercedes before one of them began "stomping on someone" on the ground, the court heard.
He also saw someone with a "London rudeboy accent, kicking someone on the ground" before someone said, "quick, let's get out of here".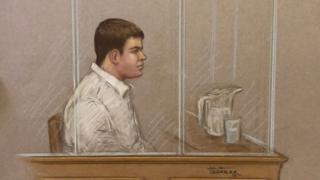 The trial of Mr Majdouline has previously heard Jaden had been riding his moped around the streets where the "Beaumont Crew" gang was known to operate, and with whom he was linked.
"He dealt drugs for them and is likely to have been doing just that on this particular evening – he must have felt safe in this area and it is unlikely that he anticipated that anything untoward might happen to him," prosecutor Oliver Glasgow QC said.
Mr Majdouline, who is allegedly linked to rival gang the "Mali Boys", had been in a stolen Mercedes which was driven at Jaden, causing him to be "catapulted" over the bonnet, Mr Glasgow added.
The defendant and two others, all armed with knives, then got out of the car and began stabbing Jaden repeatedly, jurors heard.
The attack "violent and frenzied" attack lasted 14 seconds, the court has been told.
Another witness told the court Jaden was "quivering" and that "thick trails of blood" were coming from the car the teenager lay underneath.
Forensic practitioner Ian Hounsell, who was in the area at the time of the attack, told jurors he could hear the teenager "grunting" and that he noticed several slit marks at the back of Jaden's jacket.
He administered CPR, but the 14-year-old was pronounced dead at 19:09 GMT.
Post-mortem examinations detected Jaden had previously used cannabis, the court was told.
The trial continues.
Read more: https://www.bbc.co.uk/news/uk-england-london-50626957
6 'probable' vaping-related lung injury cases linked to Massachusetts dispensaries
(CNN)A state investigation into vaping-related lung injury cases in Massachusetts has found that vape products used in six probable cases were purchased legally from dispensaries. All of the products contained THC or tetrahydrocannabinol, the primary psychoactive component of cannabis.
None of the confirmed cases in the investigation involved products purchased from dispensaries.
Details from this investigation into vape products were released on Thursday and included 49 vaping-related lung injury cases total, 16 of which were "confirmed" and 33 of which were "probable."
The Massachusetts Cannabis Control Commission said in an email Friday that it is reviewing the information and will use it for the commission's ongoing investigation into whether marijuana products manufactured by licensees in Massachusetts contain substances of concern.
"Public health and safety remain paramount to the Commission," the statement said. "The agency continues to test samples from licensed Medical Marijuana Treatment Centers and Marijuana Establishments to understand whether legal products contain vitamin E acetate or other contaminants of concern while its quarantine on marijuana vaping products, except medical-use flower vaporizers, remains in place."
There have been 2,291 cases of lung injury in the United States linked to vaping as of December 4, according to the
US Centers for Disease Control and Prevention
. Vaping-related lung injuries have been reported in all 50 states, the District of Columbia, Puerto Rico and the US Virgin Islands.
In tracking these cases, the CDC has decided to include only cases that resulted in hospitalization. As a result, CDC removed 175 non-hospitalized cases from its previously reported national case counts. The last report, released on November 21,
had recorded 2,290 cases
of lung injury linked to vaping.
The CDC on Thursday also reported 48 confirmed deaths in 25 states and the District of Columbia.
While it appears that vitamin E acetate, a thickener used in some vaping products, is linked to the lung injury cases, the agency said it can't rule out other chemicals.
"CDC recommends that people should not use THC-containing e-cigarette, or vaping, products, particularly from informal sources like friends, family, or in-person or online dealers,"
the agency said
. "In addition, people should not add any substances to e-cigarette or vaping products that are not intended by the manufacturer, including products purchased through retail establishments."
Read more: https://www.cnn.com/2019/12/06/health/vaping-marijuana-massachusetts-bn/index.html
Driver rushing to see girlfriend jailed over crash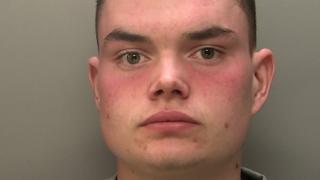 A driver who killed a pedestrian as he rushed to get home to pick up his girlfriend before going on a night out has been jailed.
Ben Jobling crashed while carrying out an illegal overtaking manoeuvre as he drove at 50mph in a 30mph street.
Martin Rogers, 31, was pronounced dead at the scene in Smannell Road in Andover, Hampshire, in February 2018.
Jobling, 20, was jailed for two-and-half-years after being found guilty of causing death by dangerous driving.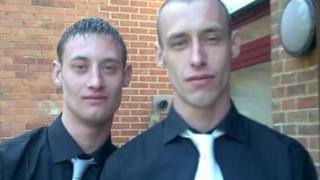 Mr Rogers was with friends when he was hit by Jobling's Vauxhall Corsa at 17:10 GMT on 25 February.
There was "no evidence of braking at all", prosecutors said during Jobling's trial at Winchester Crown Court.
During his journey he had overtaken "slow" vehicles, even doing so on a pedestrian crossing just moments before the crash.
Mr Rogers was probably "drowsy and disorientated" from a "cocktail of drugs" when he entered the road near Icknield Way, the jury was told.
'Moment of madness'
The court heard he had taken cannabis, cocaine, diazepam, methadone and morphine.
Jobling, of Romney Road in Andover, admitted speeding and illegally overtaking but claimed Mr Rogers ran into the road.
He pleaded guilty to causing death by careless driving, but was convicted of the more serious charge after a trial.
Jobling was also disqualified from driving for three years and three months when he was sentenced at Salisbury Crown Court earlier.
Sgt Mark Furse, from Hampshire Constabulary, said: "This was a death that could easily have been avoided. Being in a rush is absolutely no excuse to drive dangerously and at excessive speeds.
"One moment of madness has had a lifelong impact on two families, one of whom will never get to see their loved one again in the case of Mr Rogers' family."
Read more: https://www.bbc.co.uk/news/uk-england-hampshire-50643583
Former Amazon Mexico CEO suspected in wife's murder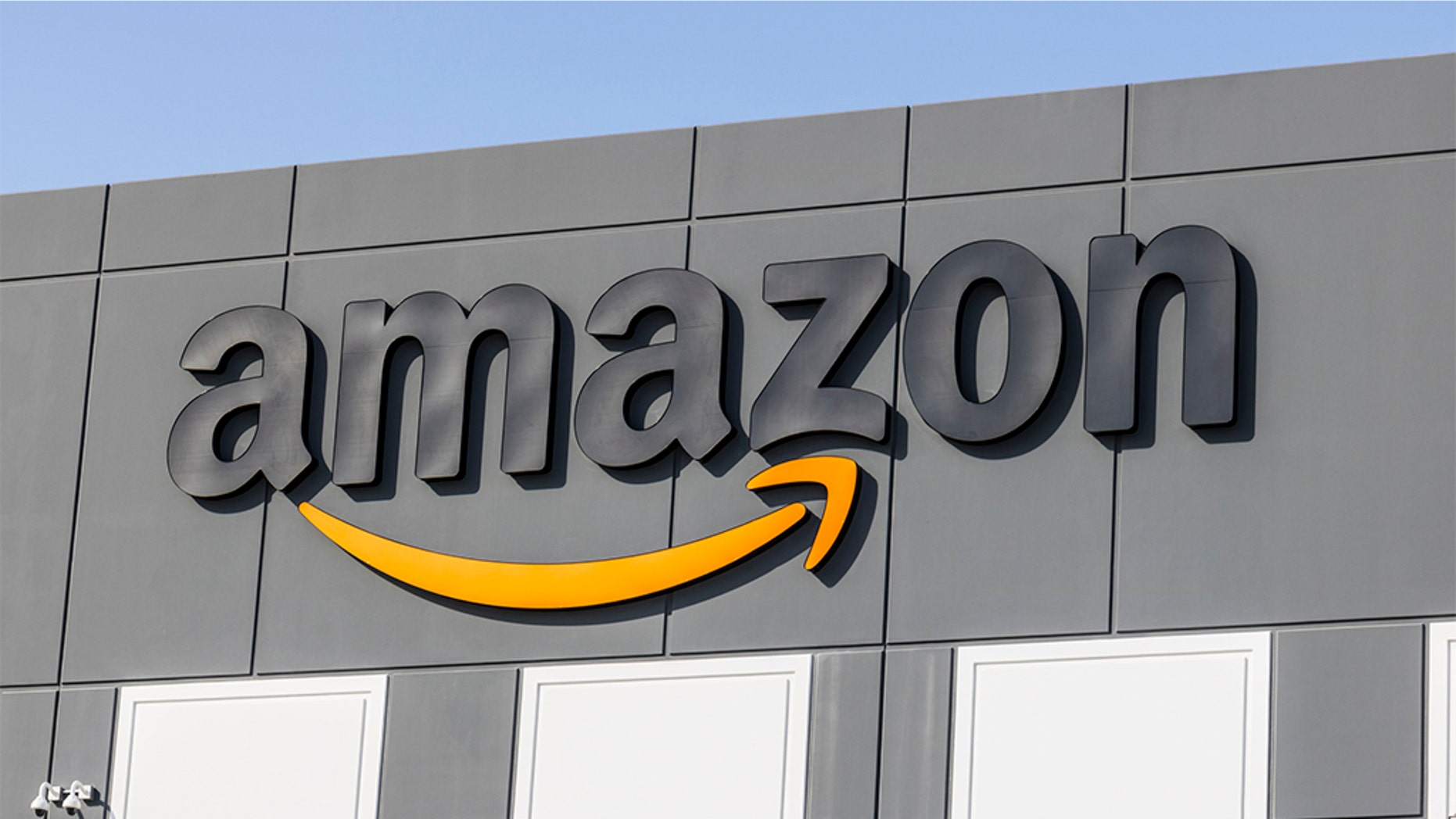 The former CEO of Amazon Mexico is suspected of arranging his wife's murder while engaged in a gritty divorce battle, according to the New York Post.
Juan Carlos García is wanted by the authorities for questioning after his estranged spouse Abril Pérez Sagaón was shot to death by a motorcyclist in front of the couple's two teenage children in Mexico City.
MEXICAN CARTELS POISONING US NATIONAL PARKS THROUGH HIDDEN POT GROWING OPERATIONS: REPORT
According to a report by El Pais, she was shot in the head and neck.
Perez, a mother of three, was in Mexico City for a court hearing regarding custody of their children and was headed to the airport before being ambushed in her car.
According to the BBC, Garcia was taken into custody this January after Perez, who had a restraining order against her husband, accused Garcia of attempted murder, saying he attacked her while she was asleep with a baseball bat.
Garcia was released last month after 10 months in pretrial detention and the judge downgraded the charge to domestic violence.
CLICK HERE TO GET THE FOX NEWS APP
Garcia, who left Amazon Mexico three years ago, is the main suspect although no charges have been filed.
Perez's family believes her husband arranged the assassination.
Read more: https://www.foxnews.com/media/former-amazon-mexico-ceo-suspected-in-wifes-murder