Bitcoin price model predicting rally to $100,000 sees further support with new analysis
This Exchange News was brought to you by OKCoin, our preferred Exchange Partner.
If you've been an observer or participant in Twitter's Bitcoin sphere, you most likely know of "PlanB," who also goes by the moniker "100TrillionUSD." PlanB is an institutional investor in Europe that moonlights as a Bitcoin analyst, focusing on quantitative and technical analysis.
He is best known for formulating the Bitcoin Stock to Flow (S2F) model. The econometric model suggests that there is a relationship between BTC's level of scarcity and its price, and it predicts that in the coming two years, the price of the cryptocurrency will rise to a range of $55,000 to around $100,000.
That means that from current levels, Bitcoin could rally anywhere from five to ten times.
What's important about the model is that it has a high R squared value, which is a measure in statistics terms predicting how closely real data points fit the model predicting those points.
While many have branded the S2F Model is pure "hopium," it recently gained credence with a new scarcity analysis.
A model predicting $100,000 Bitcoin gains some credence
The premise of the model is that whenever Bitcoin experiences a halving, BTC's fair value sees an exponential increase.
In isolation, the model may seem somewhat irrational: how is Bitcoin supposed to rise an order of magnitude (or two) every market cycle without something breaking?
As a pseudonymous analyst explained, the critics of the model forget the exponential nature of the adoption of technologies, whether that be the internet or Bitcoin.
1) Everyone is familiar with @100trillionUSD S2F model. Critics recoil because it seems to scale too rapidly. What they're forgetting is an intangible amplifying force that I wanted to ballpark quantify: the normal distribution of technology adopters. pic.twitter.com/1Me6nACry0

— Croesus 🔴 (@Croesus_BTC) June 11, 2020
Thus far, Bitcoin has a market penetration of around 10 million users, he postulated. (Estimates on this sum vary, but most place it in the 10-50 million range.) This is important because BTC's total addressable market has approximately 2.2 billion individuals, referencing the estimated number of people in the world with more than $10,000 in assets.
That's to say, about 0.5 percent of the people that may theoretically adopt Bitcoin in the future have.
The adoption curve of modern technologies is exponential and faster than ever. Social media can become adopted by billions in literally a few years. TikTok has almost a billion active users just three and a half years after its launch.
The cliche but accurate chart below depicts this exponential phenomenon well.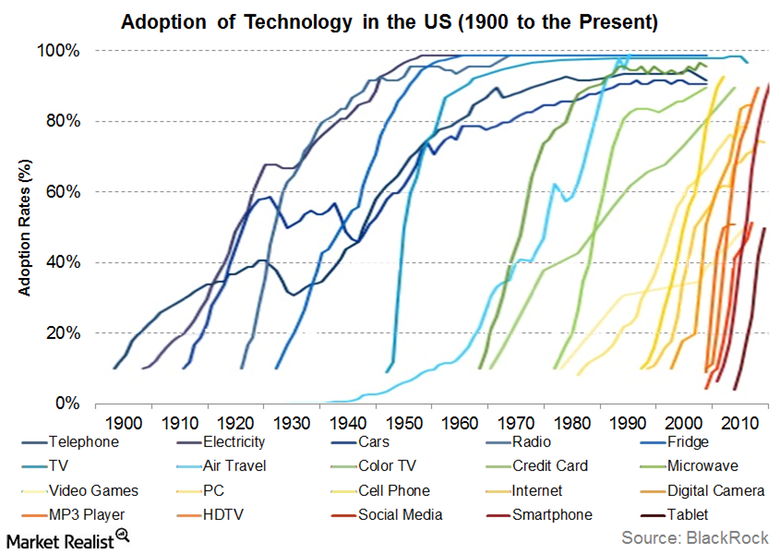 Adoption of technology chart
Although Bitcoin has been moving slower than, say, social media or smartphones, its growth curve has undoubtedly been exponential.
Assuming this continues, the number of Bitcoin users (which corresponds with demand for BTC) will exponentially increase while the number of BTC mined will exponentially decay. This will create a phenomenon where BTC becomes super scarce, with any net marginal increase in demand for Bitcoin pushing up prices in an outsized manner.
"The 'adoption adjusted scarcity' numbers suggest a level of scarcity much more dramatic than the raw Bitcoin mining numbers convey at face value," the analyst wrote.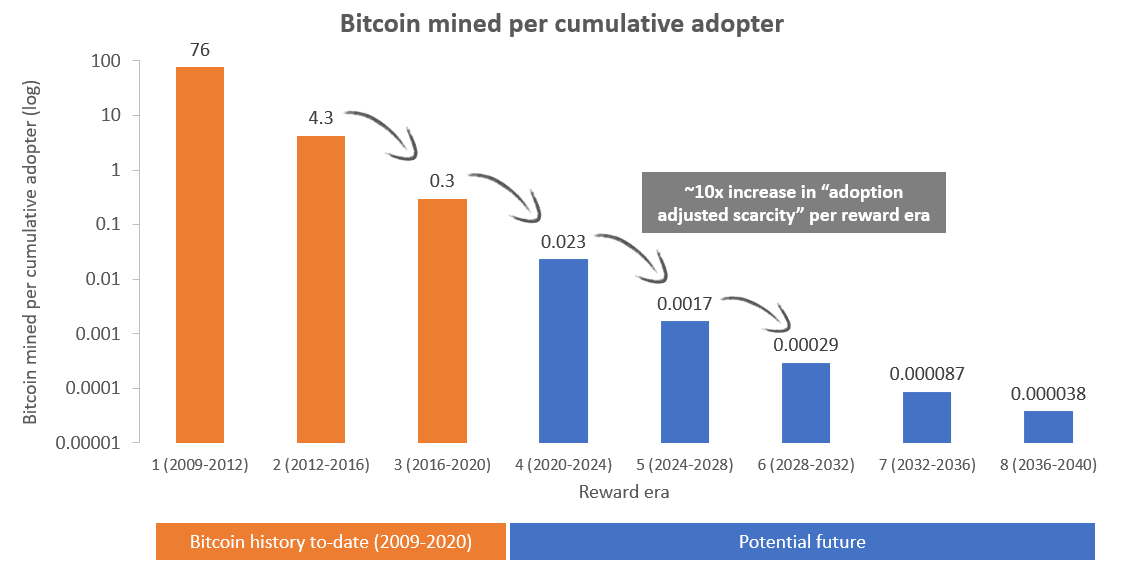 Estimated Bitcoin scarcity (per adopter) over time by "Croesus" (@Croesus_BTC on Twitter).
This, of course, was not 100% precise — there is no telling how macroeconomic factors could either dramatically accelerate or decelerate Bitcoin and cryptocurrency adoption, or if another blockchain could overtake BTC.
But as the analyst explained:
"The intent was simply to factor in how bell curve adoption […] shows a ~10x increase in 'adjusted scarcity' per reward era, much like we see in the S2F Model."
There are still skeptics of the model
There are many skeptics of the model, despite what evidence there may be to back it up.
Alex Krüger, an economist closely tracking the cryptocurrency space, has stated that the model is inherently flawed because Bitcoin's scarcity is algorithmic and known in advance, not random, meaning it can technically be priced in.
As reported by CryptoSlate previously, he wrote:
"People using S2F to predict BTC may as well be using the moon cycles to predict BTC. […] The S2F analysis is interesting. But the S2F model is useless for predicting price, as the underlying assumptions of the model are not met. Now and always."
This was echoed by Hugo Nguyen, a crypto writer and a 2019 resident at Bitcoin development firm Chaincode Labs. He opined that the R squared the model has is derived from a "generous margin of error" and that the data on which the model is based is "pathetic."
Like what you see?
Subscribe for daily updates.
Source: https://cryptoslate.com/bitcoin-price-model-predicting-rally-to-100000-sees-further-support-with-new-analysis/
Self-Sovereign Decentralized Digital Identity
Time & Date: Wednesday, Nov 4th, 2020
8:30 AM Eastern Standard Time
Speakers: Marco Aniballi (BlockBlox)
Luke Stokes (FIO, EosDAC)
Alex Puig (Caelum Labs)
Gordon Einstein (CryptoLaw Partners)
Sander de Bruijn (Crypto Entrepreneur)
Zoom Info: https://zoom.us/j/89200977541
Kucoin and Revain Announce Partnership
Before deciding to buy or apply for any service, consumers are primarily interested in doing their homework via the ability review via 3rd Party Objectivity based on what other people are thinking.
This is especially true for the blockchain universe. The success of Bitсoin and Ethereum has given rise to thousands of young projects that are as complex as they are innovative.
In order not to get lost in multiple offers of wallets, exchanges, and cryptocurrencies, Internet users are starting to look for reviews to guide their decision-making process.
The revain.org project began to use blockchain to keep all reviews unchanged. This gives trust to the community and allows users to learn with the ability to interact with both projects that interest them and the communities they represent.
Trust can play an extremely important role for serious companies. The KuCoin and Revain projects have started cooperation for the common benefit of both communities. The Revain Widget implemented on the main page of one of the leading exchanges allows visitors to read and write reviews directly on the platform.
Companies that have already achieved success should understand that the review widget increases a conversion rate and provides additional traffic.
And there are other pluses as well
For example, why would you buy products on a mystery shopping service if you can simply read a ready-made review on the Revain website?
And it will be fair, fast and, most importantly, it's free.
It's not a surprise when blockchain technologies are used in the crypto community. But the Revain Project doesn't intend to stop there and has serious plans to expand the topic on which the writers will write reviews.
It's important for people that the review includes pros and cons.
This could stem from concerns about fake reviews, and an underlying assumption that balanced reviews feel more authentic than reviews that are overly or exclusively positive.
Consumers want retailers to have better technology, offer more services, and establish better personal connections. Consumers think about what good shopping experience looks like in the first place. Therefore, when people read or write a review, they pay attention not only to the facts but also to the feelings that appeared after the purchase from the company to which the review was then written.
When there are feelings, it is important to preserve a zone of trust and comfort
The usual advertising channels carry information about the product and the brand. But they do not contain the emotions of other buyers. The buyer chooses where he will share his buying experience.
And it is especially important that the credibility of the review that is written on the seller's website does not reach heaven. It is very important to have an independent platform, the need for which has been ripening for a long time in the Internet community.
Therefore, reviews are written on the Revainplatform. You can display these reviews on your website using a simple widget. Thus, customers will see the independence of the review and at the same time, they can read it without leaving your site.
Of course, there were sites for reviews, they exist now and will continue to appear. But a project like Revain meets the expectations of ordinary people and businesses as much as possible. After all, reviews cannot be deleted or falsified because of blockchain. The hash of each review is kept for centuries.
Because of this, some reviews may seem funny as their authors decided to add some new facts or correct mistakes later. I recommend visiting and reading such reviews. A very interesting experience.
Source: Rinat Arslanov has been the Co-Founder and CEO of Revain since its inception. He describes his passion for Revain as a life project for him. He is currently doing his Ph.D. at Plekhanov Russian University of Economics and is expected to complete his doctorate in 2022.
Record Number of Dark Markets Online as Demand for Illicit Goods and Services Continues to Grow
The criminal environment of darknet markets is extremely turbulent. Numerous darknet markets are launched every year and just as many are constantly exiting, being seized, or otherwise going defunct. Despite this barrage, CipherTrace has noted more dark markets online than ever before.
CipherTrace researchers are currently monitoring over 35 active darknet markets. The newest darknet markets – both launched around early September – are Invictus Market and Lime Market. Lime Market, thought to be run by the former admins of DarkBay, appears to be a very small market and is not expected to become a very notable enterprise. Invictus Market, on the other hand, is run by the admins of the well-known Imperiya darknet service—an enterprise that creates and maintains darknet vendor shops for a modest fee. As the admins of Invictus already have a good reputation among the darknet community, it stood to see quick growth. However, while Invictus was able to gain close to 10,000 customer accounts in its first month, by the end of its second month of operation (October 20), Invictus' customer base had barely surpassed 10,000 accounts, indicating its exponential growth appears to have slowed drastically.
Three Tumultuous Exit Scams
Empire Market was one of the largest, longest running and most successful darknet markets. Launched in February of 2018, Empire rose to become the largest darknet market in the Western world during its time. However, by late August 2020 the dark market pivoted and exit scammed—a scheme where a dark market or fraudulent exchange ceases operation and steals all the funds in escrow and account wallets. An exiting market will either abruptly shut down or remain online with escrow payouts and withdrawals disabled, but deposits still enabled, allowing the scammers to net more funds until users catch on.
Following Empire's exit, its vendors and customers had to move to a new market, leading to a large influx of new users on all other open darknet markets.
On September 10—less than three weeks after Empire's exit—Icarus Market also went offline. The site never came back up, taking all their vendors' and customers' funds with them . Icarus had been pushing high effort updates soon before the exit, leading CipherTrace analysts to believe that the exit likely wasn't planned. Rather, it's probable that the large influx of new users from Empire and their deposits made Icarus ripe for a profitable exit. As a result, the admins may have taken advantage of the opportunity and exited sooner than they had originally planned.
Sometime around October 12, DeepSea market also abruptly went offline. After just a few days with no word from market admins, users and one DeepSea forum moderator concluded that the market had exit scammed. As of the writing of this report, it has been one week since the market went offline. It is possible—but unlikely—that the market will return. It could have been seized instead of exit scammed, but law enforcement has yet to announce the seizure. If the market doesn't return and law enforcement don't announce a seizure, it can be concluded that DeapSea has exit scammed.
White House Market, due to its good reputation among darknet users, will take some traffic from these exits and has the potential to be the next biggest market. However, White House Market's high security requirements tends to turn the average dark market user away. It is more likely that DarkMarket will take much of the traffic from the Empire, Icarus, and DeepSea exit scams.
As it stands, DarkMarket and White House Market appear to be the largest darknet markets in the Western world with over 300,000 customer accounts each. White House Market saw a 40% increase in users between August 27 and September 28, following the exit scam of Icarus, and a further 8-10% increase between late September and October 20. The next most notable darknet markets currently active are Versus Market, Monopoly Market, ToRReZ Market, and of course the Russian darknet behemoth—Hydra—which has been active since 2015 and is likely the largest darknet market in the world.
Why So Many Dark Markets Come and Go
Creating a darknet market requires little upfront cost, and the potential rewards can be high—Empire market admins, for example, reportedly profited around $30 million from their exit scam alone, not including the money they made in the two years of their operation. Evolution market exited with $12 million in user bitcoin. This results in numerous darknet markets launching every year. According to CipherTrace research, there has been at least one notable darknet market launched every month on average since early 2019.
However, darknet markets go as quickly as they come. The eventual fate of all darknet markets is to be seized, to be hacked, to exit scam, or to voluntarily shut down. It's most likely that the majority of darknet markets plan to exit scam from their inception, especially as a plan B if things go sideways.
Operating a darknet market is risky. Market operators have a long list of adversaries. Law enforcement is the most obvious, powerful, and dangerous adversary of a darknet market. If a market runs for long enough, it's likely to be seized and its operators arrested. Ten years ago, the first dark market, The Farmers Market, appeared on the Tor network; eight years ago its eight founders were arrested, seven pled guilty and the leader was convicted to 10 years in prison for selling narcotics and laundering money. Ross Ulbricht, aka Dread Pirate Roberts, allegedly operated Silk Road—the first large scale dark market with over 100,000 customers. Ulbricht was also charged with a murder for hire plot and was sentenced to a double life sentence plus forty years without the possibility of parole. Ulbricht built this black market bazaar to exploit the dark web and the digital currency Bitcoin to allow users to conduct illegal business beyond the reach of law enforcement. According to the DOJ "Ulbricht's arrest and conviction – and our seizure of millions of dollars of Silk Road Bitcoins – should send a clear message to anyone else attempting to operate an online criminal enterprise. The supposed anonymity of the dark web is not a protective shield from arrest and prosecution.
Darknet markets are also under constant threat of being hacked by adversaries who want to steal funds from a market's hot wallet, extort the admins, or conduct an attack that might lead to a profit. Furthermore, darknet markets are constantly receiving Denial of Service (DoS) attacks. DoS attacks on a market might be conducted by an individual demanding ransom, by admins of a competing market who want to diminish competition, or even by law enforcement who want to destabilize these criminal enterprises.
Even if a market intends to be around forever and manages to avoid being seized or hacked, there is always the chance of either a slip up in their operational security or an attack that poses too great a threat to the admins that they're forced to execute their plan B: an exit scam. By conducting an exit scam, the admins of a darknet market are able to solve their problem while making a substantial profit.
The Ease of Creating a Dark Market
The ease of creating a dark market adds to its lucrative appeal, particularly if one intends to exit scam. While the biggest hurdle to operating a dark market was once the issue of gaining the trust of vendors and customers to use your site, the barrage of seizures and exits leaves many bouncing to and from one dark market to the next.
There are many ways criminals can quickly produce dark markets, with the easiest being to simply buy a pre-built marketplace template—all the customer has to do is replace any place-holder text and install the software to their servers. This method was used by the popular dark market "DarkMarket." The current price for a standard, pre-built marketplace kit that accepts BTC and Monero is only $599 in BTC. Support for additional coins range from $50-$90 per coin. This upfront cost is minuscule when compared to the profits of many of the established exit scams.
The ease of creating your own dark market, coupled with the profitability of exit scamming and constant demand shown by the volume of customer accounts on these marketplaces culminate in a record number of dark markets now online. It is likely that this number will only grow in the future, however, the use of blockchain analytics such as CipherTrace can ensure that the funds originating from any of these dark markets are identified the moment they are moved to fiat off-ramps such as exchanges.
Source: https://ciphertrace.com/record-number-of-dark-markets-online-as-demand-for-illicit-goods-and-services-continues-to-grow/