Bitcoin Lightning Network Goes Parabolic after Hitting ATH Capacity of 2,738 BTC
The Bitcoin (BTC) lightning network has been experiencing an uptick, given that its capacity recently reached a record high.
On-chain metrics provider Glassnode explained:
"The Bitcoin Lightning Network is currently at an all-time-high (ATH) capacity of 2,738 BTC, equivalent to $116.3M in value."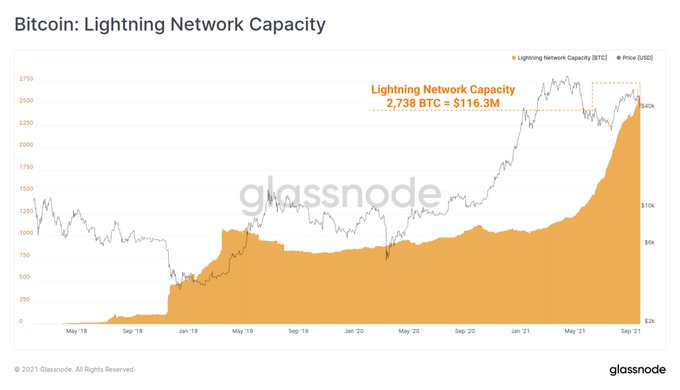 Market analyst Will Clemente echoed these sentiments. He said:
"The capacity of the Lightning Network has now reached 2,738 BTC. In just the last week, we've seen the two largest daily upticks in LN capacity ever. This growth is crucial for BTC to eventually make the transition from primarily being a store of value to a medium of exchange."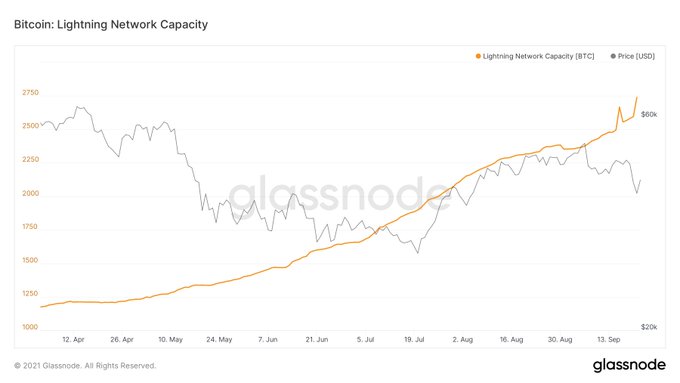 The Lightning Network is a second layer incorporated into the Bitcoin blockchain to undertake off-chain transactions. As a result, micropayment channels are utilized to scale the blockchain's capacity to carry out transactions more efficiently.
Therefore, transactions undertaken on lightning networks are more readily confirmed, cheaper, and faster compared to those processed on-chain or bitcoin mainnet (layer one).
Meanwhile, Bitcoin addresses by holding more than 0.1 coins reached a 4-month high of 3,243. Holding is one of the strategies used in the BTC market because investors store their coins for future purposes rather than speculation.
Bitcoin whales are some of the notable holders, given that they recently added 31,843 BTC to their investment.
Furthermore, Bitcoin supply has been steadily maturing to old hands. Nearly 2 million BTC have transitioned from short-term to long-term holders from the time an ATH price of $64.8K was attained in mid-April.
Nevertheless, BTC's perpetual swap open interest recently dropped below $11 billion for the first time since August. Open interest usually increases with a price surge, thus showing the two are strongly correlated.
Image source: Shutterstock
PlatoAi. Web3 Reimagined. Data Intelligence Amplified.
Click here to access.
Source: https://Blockchain.News/analysis/Bitcoin-Lightning-Network-Goes-Parabolic-After-Hitting-an-ATH-Capacity-of-2738-BTC-abed1c81-37df-4bd5-a058-63d4059e0319
Blockchain Technology Explained – Technology that will change How we use Money
Many computers in the bitcoin network share a digital ledger called the blockchain which records all transactions going in and out. This means that no single user may alter any transaction without the knowledge of the rest of the network, which means that the blockchain is immune to tampering. A new block can't be inserted until all of the previous blocks have been removed.
Bitcoin's "tokens" aren't actual objects like bills or coins, but rather strings of code referred to as "transactions." The cost of these transactions is determined only by the value attached to them. It's feasible to buy anything with bitcoins that would take you weeks to order otherwise due of delays caused by bad weather or long lines at the cash registers of businesses. In hindsight, that is what blockchain is. If you're still confused on what Blockchain technology is then don't worry because I admit it can be hard to understand what it is.
Advent of Blockchain Technology will be Transformed – Blockchain is a relatively young technology can have a profound impact on banking. Banks, currency exchanges, and other financial organisations that conduct business online will utilise this technology, because so much of the history of money has been lost or suppressed, this will be a game-changer.
Since the popularity of Blockchain/Bitcoin is becoming incredibly popular, other industries and sectors have started to implement bitcoin payment methods into their e-commerce store, since many individuals prefer to buy goods and services using digital currency, these businesses have adapted and have accepted this payment method. It's not just e-commerce store that are accepting bitcoin payments, even online gaming websites like Openchange.org accept bitcoin as a form of deposit option, therefore casual and competitive gamblers can wager and play a wide range of games using their digital currencies.
There have been many theories on the appearance and production of paper money, but none have been proven. The world has knowledge on how banknotes work and the only reason we know how they function is because every transaction is recorded in a database that anybody can access.
Since the whole creation process of money can be viewed by everyone at every stage, blockchain has the potential to revolutionise society. At the very least, you'll have confirmation that when money is traded, it's genuine money. Anyone with Internet connection may see every bitcoin transaction that has ever taken place.
Source: Plato Data Intelligence