Bitcoin's upward momentum has dried up because it has spent three months bouncing between $45k and $60k, as alluded to by market analyst Lark Davis.
BTC hit a new all-time high (ATH) above $64,500 in mid-April, but a correction to the $46-48k area has been imminent.
This has been triggered by speculations that the American administration will increase capital gain taxes, new market entrants triggering panic selling, and revelations about Tesla stopping Bitcoin transactions based on environmental factors.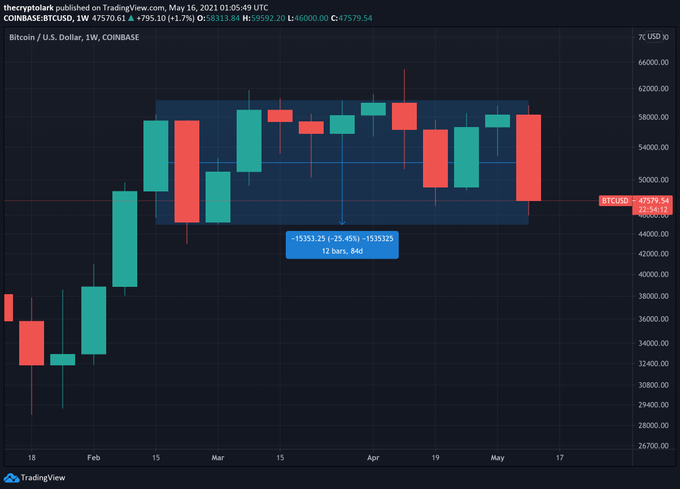 BTC is hovering around the $49.2k price at the time of writing, according to CoinMarketCap. Davis believes that Bitcoin finds itself in a ranging market, which signifies an accumulation zone.
On the other hand, Santiment has acknowledged that BTC supply on crypto exchanges is back to high levels. The on-chain metrics provider explained:
"The supply of Bitcoin sitting on exchanges is currently back to its highest level since January 14th. The 4-month high is indicative of fear."
Nevertheless, financial analyst William Clemente trusts that big money is buying the fear.
Bitcoin ETF is the next rocket fuel
According to Real Vision Group CEO Raoul Pal, Bitcoin ETF is the next rocket fuel in the market. He noted:
"The ETF is the next rocket fuel for this market. The Wall of Money keeps coming, but it takes time for everyone to get internal approvals. I have so many conversations helping hedge funds."
Bitcoin Exchange Traded Fund (ETF) is a type of security that tracks the overall price of Bitcoin and enables investors to trade and purchase shares of it on traditional exchanges, circumventing crypto trading platforms.
In March, Jesse Powell, the co-founder and CEO of leading American crypto exchange Kraken, suggested that the crypto market was entering the early stages of mainstream adoption due to the rise in popularity of Bitcoin ETF.
For instance, at least 6 US Bitcoin ETF applications from Wisdom Tree, VanEck, NYDIG Asset Management, Valkyrie Digital Assets, Skybridge and First Trust, and Fidelity Investments are currently awaiting approval.
Image source: Shutterstock Coinsmart. Beste Bitcoin-Börse in Europa
Source: https://Blockchain.News/news/bitcoin-has-spent-3-months-bouncing-between-45-000-60,000