Bitcoin Futures Perpetual Funding Rate Turns Positive as BTC Balance on Exchanges Slip to a 3-Year Low
Bitcoin (BTC) was up by 4.47% in the last seven days to hit $47.978 during intraday trading, according to CoinMarketCap.
This surge in price has been instrumental in flipping BTC futures perpetual funding rate positive. Yann & Jan, the co-founders of crypto analytic firm Glassnode, explained:
"Traders in Bitcoin futures markets remain reasonably bullish with a positive funding rate returning to perpetual swap contracts. Note how funding rates are positive, but not up to the same level as before the $10K sell-off last week. The Bitcoin market is bullish, but cautious."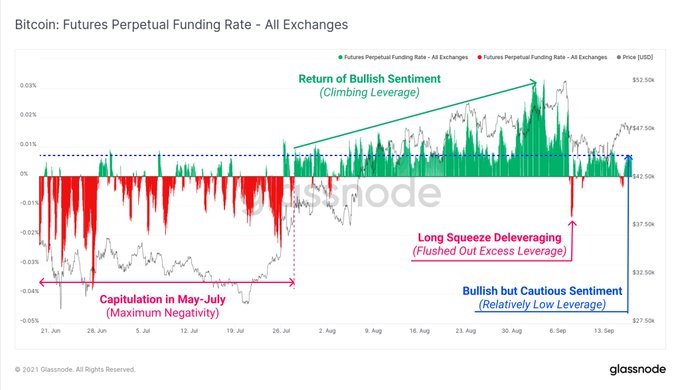 Bitcoin funding rate turned negative as the leading cryptocurrency recently recorded a 10% daily loss as over-leverage factors dominated. Precisely, BTC experienced a significant pullback that prompted a $10K loss, given that Bitcoin longs were over-leveraged.
Bitcoin exit exchanges in droves
According to Glassnode, Bitcoin balance on crypto exchanges sank to a 3-year low of 2,446,784.107 BTC.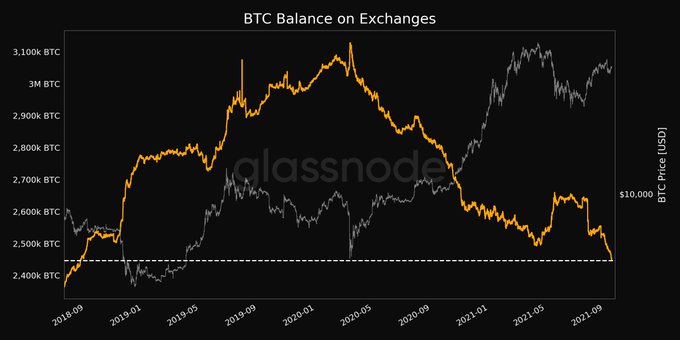 This usually signifies a holding culture because coins are transferred from exchanges to cold storage and digital wallets, which is bullish.
Meanwhile, BTC whales are on a buying spree, as acknowledged by Will Clemente. The on-chain analyst noted:
"Whales bought another 31,848 BTC today, equivalent to $1.5 billion & Exchange balances have now gone down 10 consecutive days."
On the other hand, the amount of unique tokens moving on the Bitcoin network, known as token circulation, is uptrending. This is because 187.9 unique coins recently moved, a fate not seen since July 29.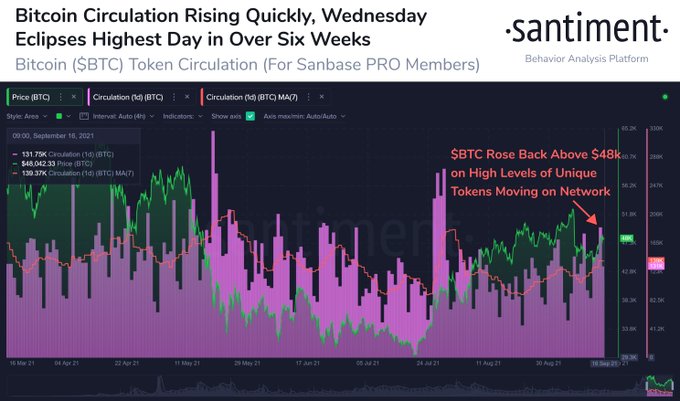 Therefore, BTC has witnessed an uptick in activities, which recently helped the top cryptocurrency surge above the 200-day moving average (MA). Moreover, a golden cross was confirmed, which occurs when a short-term moving average crosses over a major long-term moving average to the upside and is usually interpreted by analysts as an upward turn in a market.
Image source: Shutterstock
PlatoAi. Web3 Reimagined. Data Intelligence Amplified.
Click here to access.
Source: https://Blockchain.News/analysis/bitcoin-futures-perpetual-funding-rate-turns-positive-btc-balance-exchanges-slip-a-3-year-low
Zimbabwe Plans to Support Crypto ETFs, Calming Lower the Cost of Remittance
As many countries make advances toward supporting digital currency innovations, Zimbabwe's Finance Minister, Mthuli Ncube, has confirmed that the government is exploring ways to let cryptocurrencies thrive.
Speaking to the country's citizens at an event in Dubai last week, Ncube said the country is already creating an avenue to make digital currencies like Bitcoin legal, but not to become a legal tender, as in the case of El Salvador.
The minister pointed out the fact that digital currencies are now too big to ignore and that the embrace of digital currencies can help lower the cost of remittance to the country. This inflow is on track to hit $1 billion this year. Amongst the major considerations, Ncube noted the country is working on the launch of a crypto ETF. According to him, the plans for these products are already underway, and private investors are fronting the initiative.
While acknowledging that the nation has no plan to ban digital currencies, he explained, "but our view is that we do not want it to be a currency. Want this to be an investment class. So,… through the Victoria Falls Stock Exchange platform, we will try to create crypto-based products there, which is ring-fenced within the offshore zone."
He reassured that the ministry "has taken the first step already and created a sandbox, at the Reserve Bank of Zimbabwe (RBZ), where the idea and everything else is being tested in a safe regulated, environment where it will then migrate to this safe Victoria Falls environment."
There are no timelines for these crypto ETF pursuits. However, he noted that the active partners helping to develop the index weighting the ETF products will be based on are from Dubai, one of the growing financial hubs in the world today.
Crypto ETF products are becoming popular today. While relatively new, countries like Canada, Brazil, and Germany have active Bitcoin ETF products. The current move from Zimbabwe may place the country as the first in Africa to float the country's first crypto ETF.
Image source: Shutterstock
PlatoAi. Web3 Reimagined. Data Intelligence Amplified.
Click here to access.
Source: https://Blockchain.News/news/zimbabwe-plans-to-support-crypto-etfs-calming-lower-the-cost-of-remittance