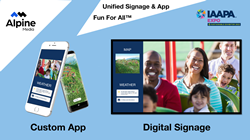 We have seen our guest engagement triple, when compared to our website engagement metrics in terms of depth of use and duration, thanks to the integration of unified digital signage and custom mobile app into our guest engagement experience
DENVER (PRWEB)
October 28, 2022
Alpine Media, the next-generation guest engagement and communication platform to roll out five guest engagement services for amusement parks owners and operators to transform their guest experience and increase loyalty.
Amusement parks owners now benefit from the guest engagement solution that triples guest engagement at major ski resorts in the US and in Canada. They can unify digital signage and a park-branded custom app with the new Alpine Media Fun For All™ platform.
With one single content management portal, park owners syndicate all major guest engagement information – shuttle tracking, attraction status, dynamic maps with points of interest, and event calendars – in real-time to all connected screens and all custom mobile app users.
This reduces deployment and maintenance costs and delivers a consistent guest experience which increases guest engagement and loyalty.
Alpine Media introduces the unified Fun For All™ guest engagement platform
"We have seen our guest engagement triple, when compared to our website engagement metrics in terms of depth of use and duration, thanks to the integration of unified digital signage and custom mobile app into our guest engagement experience," says Michele Canney, Partner | VP of Marketing and Sales at Anakeesta Theme Park.
Amusement park leaders will be able to experience live demos of the Fun For All™ unified digital signage and custom mobile app platform at IAAPA in Orlando between November 14th and November 18th.
In addition, the Alpine Media team makes it really easy on park owners to drive their digital transformation by offering free signage with the purchase of Fun For All™ before November 30th, 2022 and no payments until April 1st, 2023.
Strengthening its leading digital transformation solution, Alpine Media now makes the convenience and ease of mobile eCommerce a memorable ride for amusement park owners.
14 days and no impact on park operation, that's how easily the new mobile amusement park point of sale system integration service, Alpine POS Integration™, can start streamlining the park pass experience for guests.
Guests and their families can now access, in real-time, all information related to their season pass. They can manage their park pass with new interactive features that allow them to add days to their pass for themselves or for anyone in their families. They can also easily change the dates of their stay and manage their reservations.
Single Sign On (SSO) makes it really easy for guests to interact with park services and amenities on any device with only one single account.
Park owners deliver a high engagement, cross-screen guest experience on any mobile or web device.
Alpine Media launches Alpine POS Integration™ – mobile eCommerce makes park passes a tap & ride experience
Come meet Alpine POS Integration™ for an in-person demo at IAAPA where Alpine is a Sustainable Exhibitor from November 14 to 18, 2022.
Park owners get complimentary integration on orders placed before November 30th, 2022.
Complementing the new Alpine POS Integration™ service, Alpine Media introduces a state-of-the-art shuttle tracking and fleet telematics service, Alpine Fleet™.
With this new shuttle tracking service, park owners streamline the guest experience from parking lots to attractions and reduce their operational costs.
Park owners increase guest engagement and loyalty by accurately and conveniently relaying real-time fleet location, shuttle stops and pick up times. Running a staff shuttle? Share all the same information about the location of these shuttles with staff only. Park guests and staff receive this information directly in the palm of their hands.
Alpine Media introduces plug and play shuttle tracking service Alpine Media™ to amusement parks leaders
At the same time, park owners can now streamline their vehicles' operations and limit legal liabilities. The new service collects and analyzes fleet statistics such as vehicle mileage, driving behaviors and even crash data. All this information is available through the new web-based Software as a Service console, Alpine Fleet™.
Entire fleets can be upgraded in less than three days without disruption of the fleet rotations.
You can also come meet Alpine Fleet™ for an in-person demo at IAAPA in Orlando from November 14 to 18.
Amusement park owners get free GPS trackers for up to 10 shuttles on orders placed before November 30th 2022.
Rounding off the novel Alpine Media offering to amusement park leaders, Alpine Text™ pushes the established boundaries of interactive guest engagement and loyalty with a next-generation texting service.
In a simple QR code scan, the growing number of guests who do not want to download another app can now simply interact with a personalized park experience SMS service.
From custom ride alerts, to real-time wait time alerts, in a matter of seconds, guests and their families can now tailor their informational amusement park experience to precisely cater to their specific needs.
Alpine Media gives amusement parks owners a new way to engage app-resistant guests with Alpine Text™
It's easy. It's engaging. This directly increases guest loyalty.
"Alpine Media's vision from the outset has been to create leading-edge guest engagement solutions that help enhance the overall experience. Today, we power this experience for hundreds of thousands of digital devices in dozens of locations in the U.S. and in Canada. Tomorrow, as we deliver the benefits of our unique cross-screen solutions to amusement park leaders, we cannot wait to see the cost savings and engagement impacts of what we do for our new customers. Their success is the reason that has guided our growth from the very beginning of our journey in a single state, Colorado, to now operating across North America. We intend to help park leaders achieve their digital transformation and disrupt their guest engagement metrics throughout the entire customer experience. We'll be happy to show all of our new technologies in action to park leaders curious enough to meet us at booth 1667 at IAAPA in Orlando from November 14 to 18," says Freddie Peyerl, Co-Founder and CEO of Alpine Media.
About Alpine Media
Alpine Media is a digital content delivery company. From a graduate of the Boomtown Startup Accelerator in 2017 to a rapidly growing customer base across the US, Alpine Media helps elevate the guest experience. Alpine services customers across the ski and attractions industry with its patented unified signage and mobile app solution. Alpine offers a centralized, cloud-based content management system which allows resort operators to easily deliver real-time, relevant content to park guests. Park information for guests, such as waiting times, open/close status and more, is seamlessly controlled on all park's screens: digital signage and mobile devices.
To inquire about how your park can benefit from the new Alpine Media offering, you can contact the customer success team by email mailto:success@alpinemedia.com [success@alpinemedia.com __title__ null]
For more information on the full suite of Alpine Media products, check out our website at: https://www.alpinemedia.com/theme-parks