After Spiking to February 2018 Levels, Bitcoin Fees Have Dropped 54%
After spiking a week ago to levels last seen in February 2018, the average Bitcoin (BTC) transaction fee has fallen by more than half.
BitInfoCharts data shows that Bitcoin's average fee decreased by nearly 54% from $6.65 on May 20 to $3.07 on May 25. The median — or most common — fee peaked at $3.91, but has now fallen to $1.65.
Bitcoin Cash proponent Hayden Otto told Cointelegraph that if network congestion continues, it will push users to altcoins. He believes this happened in 2017:
"When BTC is operating at capacity with a huge black log of transactions, it will slowly [lose users to altcoins] again. […] I'm sure most people trying to move funds around would convert to another coin before withdrawing from exchanges."
Bitcoin median and average transaction fee May 20-May 25 chart. Source: BitInfoCharts
Altcoins capitalize on Bitcoin's congestion
Otto is founder of BitcoinBCH.com, and he argues that there is a direct correlation between Bitcoin congestion resulting in the higher fees we've seen recently, and users moving to competing cryptocurrencies. According to him, "this results in BTC's market dominance declining while that of competing cryptos explodes."
As Cointelegraph reported in early May, there was a considerable amount of speculation that Bitcoin's block reward halving might destabilize its blockchain. Otto argues that the halving did indeed have this destabilizing effect on Bitcoin's functional dynamics, although this was beginning to smooth out.
He said the number of unconfirmed transactions held in Bitcoin's mempool recently stabilized at just over 20,000, after having reached this year's highest level of more than 80,000. Otto suggests this is a sign that the Bitcoin network is regaining stability after its economy changed in the wake of the latest recent halvings.
On May 20, Bitcoin's mining difficulty dropped by about 6 percent. Otto says that this difficulty adjustment is helping decrease the network's congestion, but one adjustment may not be enough:
"We have already had one difficulty adjustment since the halving but it will take another one or two adjustments until it settles. Due to a decline in hash rate, blocks are being produced slower. BTC's hash rate has dropped nearly 30% since the halving and the difficulty only lowered by 6%, thus difficulty will need to decrease further before blocks are mined at 10 minute average intervals."
Source: https://cointelegraph.com/news/after-spiking-to-february-2018-levels-bitcoin-fees-have-dropped-54
Bitcoin Just Plunged Under $9,000: Here's What Analysts Are Saying
Bitcoin has collapsed under $9,000 for the umpteenth time in the past few weeks.
Minutes ago, the leading cryptocurrency slipped under $9,000 for the second time in the past week. As of the time of this article's writing, BTC trades for $8,960, having bounced $50 or so from the daily lows.
Bitcoin price chart from TradingView.com
Bitcoin slipping under $9,000 comes ahead of the weekly candle close and a few days after the monthly candle close.
Considering the timing of this drop, it may suggest that investors expect the S&P 500 and other global markets to open in the red. After all, the price of BTC has traded in tandem with the S&P 500 over recent months as global markets enter a period of uncertainty.
Bitcoin's Drop Under $9,000 Did Not Spur Massive Liquidations
The ongoing drop has not spurred a massive liquidation even thus far.
According to data shared by crypto derivatives tracker Skew.com, approximately $5.5 million worth of Bitcoin longs on BitMEX were liquidated in the past hour.
This may sound like a lot, but it's far below the dozens of millions worth of liquidations normally seen during drops to the downside.
The low level of liquidations can be attributed to the fact that Bitcoin barely moved from a macro perspective, falling a mere $100.
What Are Analysts Saying?
As Bitcoin's move below $9,000 took place just minutes ago, analysts are still reacting to it.
According to Blockroots founder Josh Rager, a move below $8,900 would spur a move to even lower levels. He stated last week in a separate analysis that Bitcoin losing the $8,900 support is likely to result to a drop to $8,500.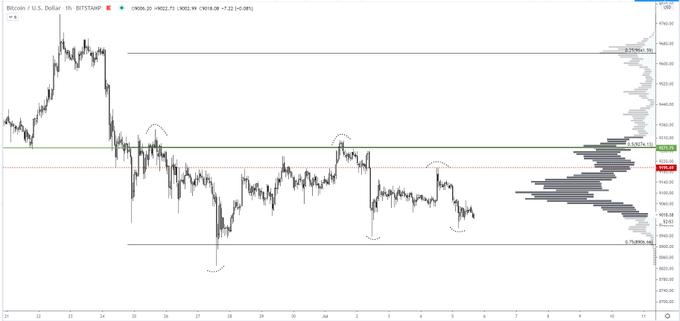 Bitcoin price chart from trader Josh Rager (@Josh_rager on Twitter). Chart from TradingView.com
Fortunately for bulls, the cryptocurrency has yet to lose that level. But considering that this move is still ongoing, it could happen.
Stepping back, others are more optimistic.
Mike McGlone, a senior commodity strategist at Bloomberg Intelligence, wrote on July 2nd:
"Volatility should continue declining as Bitcoin extends its transition to the crypto equivalent of gold from a highly speculative asset, yet we expect recent compression to be resolved via higher prices."
This came shortly after he released an extensive report indicating Bitcoin will head higher due to fundamentals.
#Bitcoin Blahs? Benchmark #Crypto Looked Similar Before Past Gains —
Volatility should continue declining as Bitcoin extends its transition to the crypto equivalent of gold from a highly speculative asset, yet we expect recent compression to be resolved via higher prices. pic.twitter.com/XbIMv5AYAf

— Mike McGlone (@mikemcglone11) July 2, 2020
Featured Image from Shutterstock
Price tags: xbtusd, btcusd, btcusdt
Chart from TradingView.com
Bitcoin Plunges Under $9,000: Here's What Analysts Are Saying
Source: https://www.newsbtc.com/2020/07/05/bitcoin-plunges-under-9k-analysts/?utm_source=rss&utm_medium=rss&utm_campaign=bitcoin-plunges-under-9k-analysts
Ethereum's Vitalik Buterin may have made crypto-tribalism worse
Yes, crypto-tribalism is a big problem; Not Nazi Germany big!
Tribalism is rife in the crypto-community. Ten years ago, there was Bitcoin. Today, there is Bitcoin and everything else, the latter popularly known as altcoins. The foremost among these altcoins is Ethereum. However, for long, Ethereum has been the target of ridicule and criticism, with its co-founder, Vitalik Buterin, often the subject of a lot of trolling.
The level of discourse in the ecosystem and the crypto-tribalism was recently decried by Buterin after he shared screenshots of an article that looked at the in-group/out-group dynamics of World War II. The article in question argued that for the German Nazis in WWII, the Japanese were the unexpected ingroup while the German Jews were the outgroup, despite the fact that they had more cultural and linguistic similarities with the latter.
I feel like this weird half-joking tron stanning in the BTC community might be a perfect example of this from @slatestarcodex: pic.twitter.com/4nQLDqeIwd

— vitalik.eth (@VitalikButerin) July 3, 2020
Citing the same, Buterin hinted that Ethereum were the German Jews to Bitcoin's German Nazis and Tron's Japan.
For now, let us keep the questionable nature of such historical comparisons aside, and let's look at them objectively and singularly.
As was noted at the beginning, Ethereum has long been the target of a lot of trolling, something not helped by the fact that its much-anticipated plans for ETH 2.0 seem to be constantly bogged down by delays. Bitcoin remains the market's most important cryptocurrency, with its proponents and developers often having an overwhelming influence on general crypto-market discussions.
Tron, however, is a curious case. A blockchain-based platform that intends to build the infrastructure for a truly decentralized Internet, Tron has for long been advertised as being the "Ethereum killer," even by CEO Justin Sun, who has also in the past gone on to claim that it is "100% faster than #ETH."
Ethereum killer – This is a crucial piece of advertising since Tron has more in common with Ethereum than Bitcoin. Tron, therefore, is openly antagonistic towards Ethereum, a blockchain it perhaps sees as a rival and a competitor, whereas it is happy to join Bitcoin folks in trolling Ethereum and its community members. This satisfies the "strategic alliance" part of the article Buterin cited.
Here, the keyword is "strategic" because many of the Bitcoin folk ridiculing Ethereum are often those who subscribe to the maximalist school of thought under which Bitcoin is the one, true cryptocurrency to rule them all. Sh*tcoins – the term many of these guys use for the market's alts.
Game of Thrones and The Lord of the Rings references aside, the fact that these people have allied with Tron for the sole purpose of going after Buterin and Ethereum confirms what the Ethereum co-founder was trying to say with his dubious analogies.
This is the state of crypto-tribalism in the community in a microcosm. For many, the blockchain and cryptocurrency they believe in and support is Bible. No longer is the community a thriving pool of ideas and discourse. Long gone is the time when some believed that cryptocurrencies and blockchains with different use cases can co-exist together. Instead, it has largely come down to upmanship and social popularity, one where every blockchain project needs to have had the last word to "win."
Just look at how these projects are using emojis. For now, Bitcoin, Binance Coin, Crypto.com Coin, and Tron are the only ones to get a Twitter emoji. Ethereum doesn't have one and suddenly, being the world's largest altcoin isn't enough. For many, including those who are trending "Tron>Ethereum," having an emoji is the gold standard. On the other end of the spectrum, the fact that Tron and the rest had to pay Twitter for emojis supports those who argue that projects such as Tron run on marketing and hype alone.
You see, crypto-tribalism was already bad, well before Buterin made it worse with the analogy he presented. Not only did he prove Godwin's law which asserts that as an online discussion grows longer, the probability of a comparison involving Nazis or Hitler approaches 1, but it also did little to dispel the notion that the Ethereum co-founder gets triggered too easily.
While he did later clarify that there was "definitely no intent to make any comparison to genocidalness," the damage has been done.
Your feedback is important to us!
Source: https://eng.ambcrypto.com/ethereum-co-founders-nazi-germany-analogies-are-a-step-too-far
Bitcoin Stagnates, Criminals Targeted, $288K Prediction: Hodler's Digest, June 29–July 5
Coming every Sunday, Hodler's Digest will help you track every single important news story that happened this week. The best (and worst) quotes, adoption and regulation highlights, leading coins, predictions and much more — a week on Cointelegraph in one link.
Top Stories This Week
It has been a sleepy week in the crypto markets — and there's barely been any movement in Bitcoin. At the time of writing, BTC is down 0.75% compared with where it was seven days ago. Traders were braced for a big drop this week after Bitcoin dipped below $9,000 for the seventh time in two months. Cointelegraph analyst Michaël van de Poppe says BTC is consolidating below $9,300, but this isn't necessarily bearish as a major breakout may be in the works. He's warned support must hold at $8,900–$9,000 to prevent a further drop into bearish territory — and a key resistance level at $9,300 must be broken. All eyes are on the equities markets amid fears that a nasty downturn here could drag BTC down with it. The coronavirus crisis is going from bad to worse in the U.S., with a key member of the White House's COVID-19 taskforce warning the country could see 100,000 cases per day unless immediate precautions are taken to stop it from spreading.
Some fear PayPal is out to steal the lunch money of crypto exchanges with rumored plans to add Bitcoin to its platform. But not everyone subscribes to this theory. OKCoin chief operating officer Jason Lau believes any PayPal foray into digital assets would be "sure to have a positive impact in highlighting cryptocurrencies to a big new audience," telling Cointelegraph: "PayPal adding crypto would bring additional awareness, adoption and a new low friction payment method for individual users." Lau explained that many crypto users often get involved through mainstream, user-friendly and simple avenues at first. The OKCoin executive added: "Typically, our users first get initiated to crypto via an app like Square Cash, Robinhood or now potentially Venmo, and then come to OKCoin to develop and execute their investing and trading plans."
Police forces across Europe have "successfully penetrated" an encrypted chat network that suspected top-tier criminals used to ferry drugs and import guns. Almost 800 people, including two law enforcement officers, were arrested as part of a dramatic three-month operation. The network is called EncroChat, and the company behind it sold modified Android phones that offered a guarantee of anonymity. The question now is whether this bust is part of a coordinated campaign to discredit privacy-preserving technologies in the eyes of the general public. In recent weeks, a bill was introduced to the U.S. Senate that would ban end-to-end encryption.
The United Kingdom's Financial Conduct Authority has estimated that roughly 2.6 million British consumers have bought cryptocurrency "at some point." Approximately 1.9 million — 3.86% of the adult population — currently own digital assets. The FCA says this is a "statistically significant increase" from its report in 2019. Awareness of the industry also appears to be on the rise… 73% of adults have heard of cryptocurrencies, compared with 42% last year. The FCA's research suggests that 75% of British crypto holders have digital assets worth less than £1,000 ($1,229) — and 83% buy their crypto from exchanges that aren't based in the U.K.
A new report by Cointelegraph Consulting and VeChain forecasts that food items worth $300 billion will be tracked using blockchain technology every year by 2027. As well as solving some of the industry's most pressing challenges, the research suggests that businesses could also save $100 billion annually. It's estimated that as much as 20% of global wine sales are counterfeit — and up to 70% of wild salmon and Atlantic cod are "disguised by species that are less desirable, cheaper or more readily available." Global industry leaders such as Walmart, Carrefour and Dole are among those who are already using blockchain to track items along the supply chain.
Winners and Losers
At the end of the week, Bitcoin is at $9,038.38, Ether at $225.39 and XRP at $0.17. The total market cap is at $258,996,382,559.
Among the biggest 100 cryptocurrencies, the top three altcoin gainers of the week are Flexacoin, VeChain and Digitex Futures. The top three altcoin losers of the week are The Midas Touch Gold, Compound and Celsius.
For more info on crypto prices, make sure to read Cointelegraph's market analysis.
Most Memorable Quotations
"I don't think a fully decentralized platform will necessarily replace YouTube; some content types will probably remain better suited for a centralized platform. But a decentralized alternative can co-exist alongside YouTube, to give streamers and viewers more freedom to choose their content platforms online."

Wes Levitt, Theta Labs head of strategy
"The main difference between Coinbase and traditional banks, which were at issue in Miller, is that Coinbase deals with virtual currency while traditional banks deal with physical currency."
"We expected Millennials to continue buying into cryptocurrencies, but to see more experienced investors also become increasingly interested in Bitcoin, is extremely promising for the growth of the industry."

Janis Legler, Mode chief product officer
"Boomers and Gen X'rs will move to own massive amounts of #Bitcoin and control exponentially more of the asset than millennials when it should be the other way around."

Jason Williams, Morgan Creek Digital co-founder
"The transition to Eth2 is incredibly important for the crypto ecosystem because it allows one of the most important and most adopted blockchains—with millions of users and tens of thousands of dApps—to introduce new scalability options for the protocol and that's a big deal."

Joe Lallouz, Bison Trails CEO
"And then at some point America will say, 'We've got to enter the 21st century space race of mining Bitcoin,' and then they'll try to seek 20% of the hash rate, and then security goes up dramatically, and the price goes to $400,000, $500,000."

Max Keiser, TV host
"The price of $7,200 at the end of 2019 suggests that Bitcoin has penetrated less than 0.44% of its total addressable markets [worth $212 trillion]. If this penetration manages to reach 10%, its non-discounted utility price should reach nearly $400,000."
Prediction of the Week
PlanB has updated his stock-to-flow forecast — and according to his popular model, the next big shift in Bitcoin's price is set to come before the end of 2020. Despite BTC struggling to hit $10,000 right now, the analyst believes the world's biggest cryptocurrency is on track to begin surging toward $288,000 in a matter of months. PlanB's model has faced criticism of late, but he maintains that critics have yet to produce a viable alternative to his forecast, which has traditionally tracked price behavior extremely accurately. One of the skeptics is Nico Cordeiro, the chief investment officer at the crypto quant fund Strix Leviathan. "The model's accuracy will likely be about as successful at forecasting Bitcoin's future price as the astrological models of the past were at predicting financial outcomes," he said.
FUD of the Week
A new ransomware is targeting macOS users who download installers for popular apps via torrent files. "EvilQuest" asks victims to pay a ransom through the same static BTC address in every documented attack. One of the first signs that EvilQuest has deployed an attack is that MacOS Finder freezes. Once file encryption is complete, a text file is generated with ransom instructions. Emsisoft threat analyst Brett Callow believes EvilQuest is unlikely to be anything other than a small-scale threat, telling Cointelegraph: "The fact that Macs have a relatively small market share means they're not a particularly attractive target for ransomware groups, and they're unlikely to invest significant resources in targeting Mac users."
A Russian court has effectively declared that Bitcoin theft is not a crime. Back in 2018, two men impersonating FSB agents kidnapped someone and forced him into giving them 5 million rubles ($90,000) in cash and 99.7 BTC — worth about $900,000 at the time. The kidnappers were sentenced to eight and ten-year prison sentences, respectively — and as part of the criminal proceedings, the victim asked the court for the thieves to repay the funds they stole from him. Although the court said the criminals must repay the rubles, it declared it is unable to satisfy the claim for the BTC because cryptocurrencies aren't recognized by Russia's laws as legal tender.
Prominent angel investor and internet entrepreneur Jason Calacanis says 99% of altcoin projects are "garbage" run by unqualified individuals but holds out hope for the 1% with the power to change the world. Calacanis, who backed the ride-hailing app Uber and the crypto trading app Robinhood, claimed almost all projects are under the control of "unqualified idiots" or "grifters" with below-average skills. "I'm waiting for that 1% to deliver their product so I can talk to their customers," he added.
Best Cointelegraph Features
Cointelegraph Magazine's special feature looks at the evolving use of nonfungible tokens to drive mass adoption of blockchain tech — with art, collectibles and video games just some of the use cases.
Seven experts from different institutions and organizations discussed topics relating to diversity, inclusion, challenges and opportunities for LGBTQ+ with Cointelegraph. Read our neat summary of what happened here.
Find out more about Unitize, a five-day online conference that's being organized by BlockShow and San Francisco Blockchain Week and taking place from July 6–10.
Source: https://cointelegraph.com/news/bitcoin-stagnates-criminals-targeted-288k-prediction-hodlers-digest-june-29july-5