AAVE, Sandbox, Niftygateway, Netflix and many others will join The Conference.NFT
On June 17, 2021, deep-dive into NFT (also known as a non-fungible token) with The Conference.NFT (online edition) to discover what's going on in the digital world. Founders of industry-leading blockchain and NFT companies, famous NFT artists and collectors, developers of NFT marketplaces are willing to guide you through the current state of NFTs and […]
The post AAVE, Sandbox, Niftygateway, Netflix and many others will join The Conference.NFT appeared first on NullTX.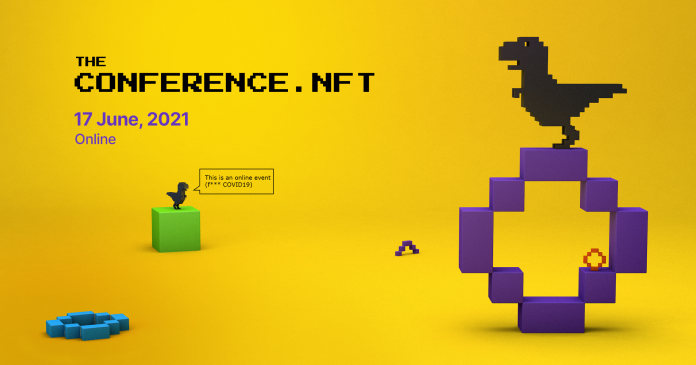 On June 17, 2021, deep-dive into NFT (also known as a non-fungible token) with The Conference.NFT (online edition) to discover what's going on in the digital world. Founders of industry-leading blockchain and NFT companies, famous NFT artists and collectors, developers of NFT marketplaces are willing to guide you through the current state of NFTs and their future possibilities. Moreover, our speakers will share insights and answer all your questions in a neat atmosphere of online networking.
Date: June 17, 2021
Place: Online

Time: 12 pm – 6 pm CET
So, you might be wondering: what is an NFT?
Isn't it crazy that we're already in a digital world? Innovative technologies make the planet we inhabit unrecognizable from even ten years ago. If you're feeling queasy at high speed of change, hold tight, we are going on. Everything is only going to get faster. NFT (also known as a non-fungible token) is a unique digital item that can't be replaced with something else. The combined market cap of major NFT projects has increased by 1,785% for the year to date. You may call NFTs an over-promoted phenomenon, but the facts say the opposite.
While Reebok launches its first NFT collection, Gucci begins to work on its own NFTs. Anyway, thousands of digital arts are sold every day at tremendous prices. Along with the crypto industry, NFTs are slowly but confidently conquering the world. Who would pay hundreds of thousands of dollars for what basically amounts to an ordinary trading card? Who develops an NFT marketplace? Who pays and who is being paid? Our speakers are willing to answer all of your questions.
What, are you already crazy about NFTs?
Don't miss your chance to:
✔️ Lay the first stone with NFTs and learn what they are and what you can do with them;
✔️ Learn how to become an NFT buyer or seller;
✔️ Get insights and tips from the industry's top professionals;
✔️ Enjoy informal networking.
Do you want to join? Register here on their website >>> https://thenft.wtf/#header
Current Speakers Include:
Stani Kulechov
Founder and CEO, AAVE
Sébastien Borget
Co-Founder & COO, SANDBOX
Pranav Maheshwari
Solutions Lead, POLYGON
Erick Snowfro
Founder, ARTBLOCKS
Steve McGarry
Co-Founder, GROWYOURBASE, host of HACKCRYPTO
Tejas Chopra
Senior Software Engineer, NETFLIX
Michael Sofaer
CEO, PYLONS, Director of NFTs, TENDERMINT
Yan Ketelers
Chief Marketing Officer, ARKANE NETWORK
Maria Paula Fernández
Founder and Managing Director, ETHBerlin
Peg Samuel
Head of Entertainment Partnerships, ANRKEYX
Find us and subscribe to our Twitter and Telegram group.
See you there!
Checkout PrimeXBT
Trade with the Official CFD Partners of AC Milan
Source: https://nulltx.com/aave-sandbox-niftygateway-netflix-and-many-others-will-join-the-conference-nft/
Hedge Funds Plan to Allocate 7% of Portfolios in Cryptocurrencies by 2026: FT Survey
A survey with 100 hedge funds concluded that CFOs plan to allocate over 7% of their portfolios in bitcoin and other cryptocurrencies by 2026.
Large hedge funds expect to increase their cryptocurrency holdings to 7% in five years, a recent survey conducted by the Financial Times concluded. This comes after the increased involvement from prominent names like Stan Druckenmiller, Paul Tudor Jones III, SkyBridge Capital, and more.
Hedge Funds to Increase Crypto Holdings
It's safe to say that 2020 was Bitcoin's breakout year in terms of institutional adoption. The COVID-19 pandemic and the financial catastrophe it caused ultimately highlighted BTC's merits over most traditional investment tools, which attracted corporations and institutions that steered clear of it up until that moment.
According to a survey by the FT, this will only increase in the next five years. Following a survey among officers from over 100 global hedge funds, the paper concluded that "executives expect to hold an average of 7.2 percent of their assets in cryptocurrencies in five years' time."
Although the current holding numbers are unknown, the publication concluded that such an allocation would "represent a large increase" in funds put in various digital assets.
Per David Miller, executive director at Quilter Cheviot Investment Management, hedge funds are "well aware not only of the risks but also the long-term potential" of bitcoin and other cryptocurrencies.
However, analysts from the consulting company Oliver Wyman argued that digital asset purchases still "remain limited to clients that have a high-risk tolerance, and, even then, investments are typically a low proportion of investable assets."
Who Bought In?
While some institutions contemplate on whether or not they should buy or increase their crypto holdings now, others have already done so.
Perhaps it all started with the billionaire hedge fund manager – Paul Tudor Jones III. He was among the first to openly praise BTC after the COVID-19 pandemic because he considered it a proper safe haven instrument against the rising inflation in the US.
He allocated up to 3% of his portfolio in BTC at the time but said he wants to have 5% in the primary cryptocurrency just recently. Stan Druckenmiller, another legend of the legacy financial markets, echoed his words shortly after.
Anthony Scaramucci, the founder and CEO of SkyBridge Capital, was next. He and his organization came on board in late 2020 through a Bitcoin Fund with an initial multi-million dollar investment.
It's also worth highlighting that US banks, some of the biggest critiques until recently, have also expressed interest in entering the space. Some, like BNY Mellon, have revealed plans to launch cryptocurrency custodians. Others, like Morgan Stanley, will enable their institutional clients to receive BTC exposure through several funds.
Goldman Sachs filed for a Bitcoin ETF, while JPMorgan is reportedly developing an actively managed BTC fund.
SPECIAL OFFER (Sponsored)
Binance Futures 50 USDT FREE Voucher: Use this link to register & get 10% off fees and 50 USDT when trading 500 USDT (limited offer).
PrimeXBT Special Offer: Use this link to register & enter POTATO50 code to get 50% free bonus on any deposit up to 1 BTC.
---
Coinsmart. Beste Bitcoin-Börse in Europa
Source: https://cryptopotato.com/hedge-funds-plan-to-allocate-7-of-portfolios-in-cryptocurrencies-by-2026-ft-survey/