5 Best Cryptocurrencies to Buy as the Market Finds Its Bottom
Our roundup of the 5 best cryptocurrencies to buy as the market starts to put in a bottom could be the most profitable reading you […]
Our roundup of the 5 best cryptocurrencies to buy as the market starts to put in a bottom could be the most profitable reading you do this year. Cryptocurrencies have blazed a trail through the financial market these past few years, with the nascent industry reaching a trillion-dollar valuation in under a dozen years.
It didn't stop there though, crossing the $2 trillion mark earlier this year and topping off at $2.5 trillion before slumping to $1.5 trillion. It has rallied somewhat to $1.66 trillion (at press time), showing a 1% increase, according to coinmarketcap.
But the fanfare seems to be dying down as there are calls for regulating the crypto market. Increasing criticism of the nascent industry by government officials and supporters-turned-critics has seen the crypto market losing a large portion of its gains.
Despite this, market analysts believe that the crypto market is set for a bullish run. So we bring you the five best cryptocurrencies to buy as the market prepares for an uptrend. These digital assets would cushion the effect of a crash and will give you bigger payoffs in the event of a market surge.
1. Ether (ETH)
Top on our list of the best cryptocurrencies to buy is ETH. The asset lost 56 percent of its total value at the height of the May downturn, dropping from a high of $4,109 on May 10 and bottoming out at $1,792 on May 24.
However, like many top cryptos, ETH is climbing again. The asset's price is holding steady at $2,843 at press time, and investors hope that it can do much better going forward.
Last week, ETH turned down from the 50-day Simple Moving Average (SMA) of $2,908, re-entering the symmetrical triangle. However, bulls continued to buy the dips, ensuring that the asset's price didn't slip below $2,500. Analysts are now watching to see if buyers can drive ETH's price above the 50-day SMA. If they can, they could regain control of the market and drive ETH's price up to $3,300.
ETH is also enjoying some positive developments in the crypto space. Last week, Anchorage Digital – a top digital banking firm – announced the launch of ETH-backed loans to some of its institutional investors.
A report from Goldman Sachs last month also revealed the bank's belief that ETH could eventually overtake Bitcoin as a dominant store of value. With the Ethereum network enjoying a boost from decentralized finance (DeFi) and non-fungible tokens (NFTs), things look bright for the second-most valuable crypto asset.
2. Buy Cardano (ADA)
Another large-cap asset, ADA is the fifth-most valuable digital asset. It managed to weather the May downturn better than most of its compatriots above the market cap rankings, rising to an all-time high of $2.46 on May 16. The downturn eventually affected the asset, with ADA's price dropping by 58 percent from its all-time high to bottom out at $1.03 on May 24.
ADA has managed to rise to $1.72 at press time, sliding into our list of the best cryptocurrencies to buy in June 2021. The asset spent most of last week between the $1.0 and $1.9 range, and bills are looking to defend the 20-day exponential moving average (EMA) of $1.66.
This week, analysts will watch to see if ADA can break out of $1.94 – a strong indicator that bulls have held the market once more. If this happens, a breakout above the $2 point and toward the previous all-time high will be in play.
As for fundamentals, ADA is also showing positive signs. Elon Musk's comment on the environmental sustainability of Bitcoin caused investors to move into several proof-of-stake assets, and ADA got a piece of that. CoinShares reported that investors saw $10 million worth of ADA products in the week ended May 24. That could signal even more hunger for the burgeoning asset.
3. Buy Aave (AAVE)
The DeFi sector has been holding firm amid the downturn. Data from DeFi Pulse shows that assets locked in all protocols stand at $67.92 billion – a 23 percent drop from the all-time high of $88.90 billion seen on May 12.
With the DeFi sector holding strong, it's no surprise that a DeFi token is in our list of best cryptocurrencies to buy. AAVE is the in-house token for Aave – the top lending protocol and highest-ranked overall protocol in the DeFi space. The asset's price has taken a bit of a beating, dropping from $664 on May 18 and bottoming out at $229 on May 23.
Currently, AAVE trades for $384.18. That is a 67 percent gain in the past two weeks. The sentiment surrounding AAVE is relatively confident, especially since Aave remains a shining beacon in DeFi. Aave surged to the top of DeFi protocols by total volume locked(TVL) last week, with funds locked blowing past $20 billion.
4. Buy Dogecoin (DOGE)
Dogecoin has had a bit of a rollercoaster ride. The meme-inspired cryptocurrency shot to the top of CoinMaarketCap's rankings and is currently the sixth-ranked cryptocurrency.
The rollercoaster ride for DOGE started with social media hype – as it always does. Elon Musk, Tesla's CEO and the world's most famous DOGE enthusiast, appeared on Saturday Night Live on May 8, and anticipation for the appearance shot DOGE to an all-time high of $0.75. Sadly, duds in Musk's performance led to a flatline, and DOGE soon began trending down.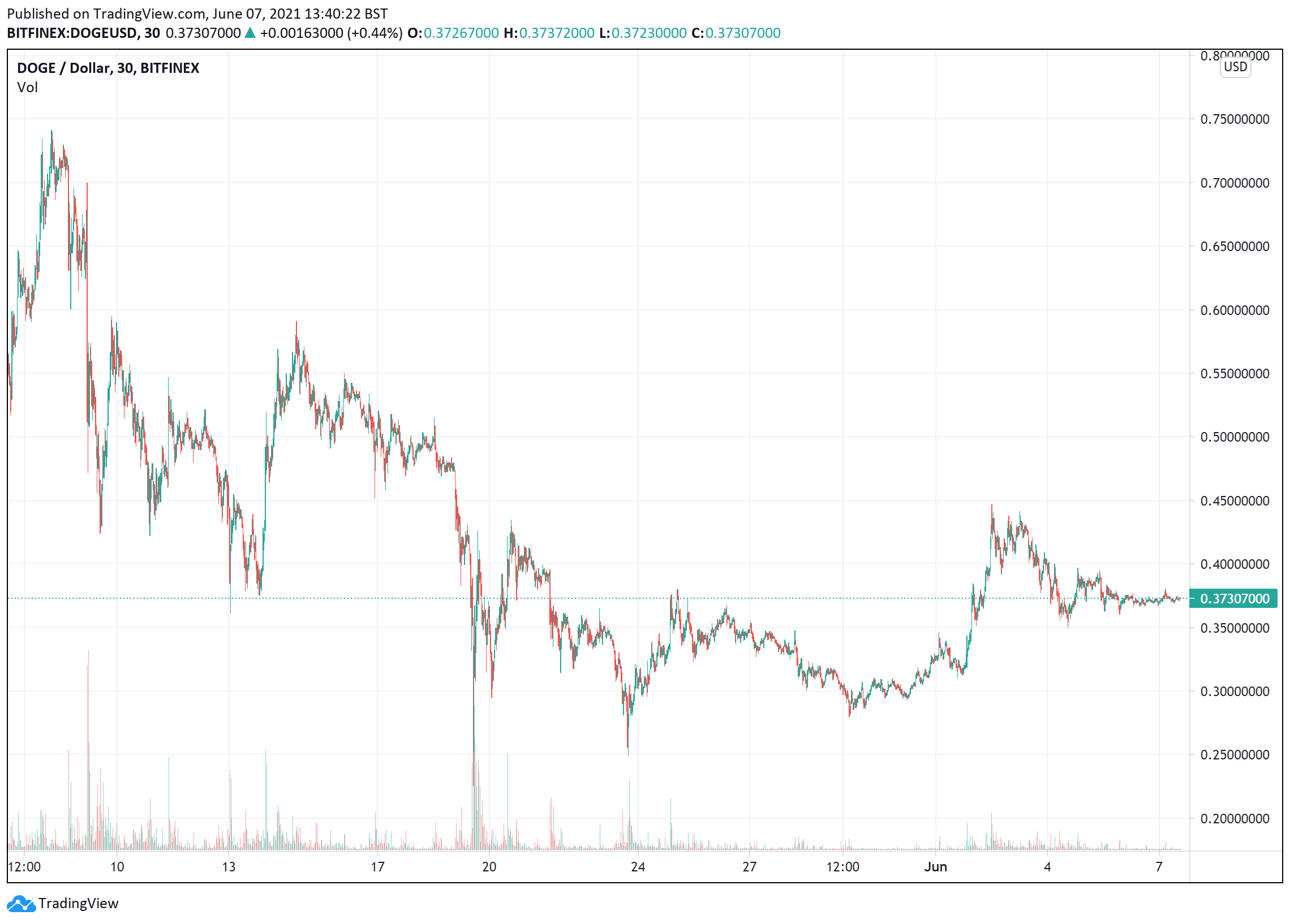 Tesla made its announcement the next week, and DOGE was one of the top assets to suffer losses. When the dust cleared, DOGE had lost 70 percent of its value and bottomed out at $0.223 on May 19. With a current price of $0.373, DOGE has done a relatively good job of rebounding.
The asset got as high as $0.43 last week, but a sharp downturn affected it – as well as other large-cap assets. Musk has continued tweeting DOGE memes, and long-time believers continue to hold the asset as they believe a price surge could soon be on the way.
5. Buy Solana (SOL)
SOL is the token for Solana – a blockchain platform that supports high-performance decentralized applications. It makes our list of cryptocurrencies to buy as its fundamentals are very strong. The asset did its best to weather the storm of last month's downturn, with its price drop starting on May 18 – much later than most other cryptocurrencies. SOL dropped from its high of $58.16 on the day and bottomed out at $20.20 on May 24. With a current $43.69 price tag, SOL is working to get back into the bull market.
Bears have so far tried to stall the asset's growth, keeping it below the $45 mark so far. However, they've failed to plunge SOL's value below the 20-day EMA of $36.39. This indicates that market sentiment is favoring SOL.
In terms of fundamentals, SOL is also looking strong. The Solana Foundation partnered with investment firm ROK Capital to launch the Solana Eco Fund – a $20 million fund that will spearhead the blockchain's expansion to Asia. Last month, the foundation also inked partnerships with OKEx and MXC to launch two investment funds – valued at $40 million – to help it bring more of its decentralized applications and protocols to market.
Looking to buy or trade Crypto now? Invest at eToro!
75% of retail investor accounts lose money when trading CFDs with this provider
Coinsmart. Beste Bitcoin-Börse in Europa
Source: https://insidebitcoins.com/news/5-best-cryptocurrencies-to-buy-as-the-market-finds-its-bottom
30-Year-Old Entrepreneur Josh Riddett Uses Cow Waste to Mine Bitcoin
The topic of bitcoin mining is a controversial one as of late given the alleged carbon footprint it leaves behind, though one man feels he may have found a probable solution. 30-year-old Josh Riddett – the managing editor at Easy Crypto Hunter in Manchester, England – claims he has found a way to extract crypto…
The post 30-Year-Old Entrepreneur Josh Riddett Uses Cow Waste to Mine Bitcoin appeared first on Live Bitcoin News.
The topic of bitcoin mining is a controversial one as of late given the alleged carbon footprint it leaves behind, though one man feels he may have found a probable solution. 30-year-old Josh Riddett – the managing editor at Easy Crypto Hunter in Manchester, England – claims he has found a way to extract crypto from the blockchain utilizing cow manure.
Josh Riddett Is Finding Greener Ways to Mine Crypto
Bitcoin mining has been a hot topic recently, with many environmentalists saying it does irreversible damage to the Earth's atmosphere. Reports have been issued claiming bitcoin mining has as big a carbon footprint as the city of Las Vegas, Nevada, while others claim that the process requires more energy than certain countries such as Iceland and Argentina.
Many institutional investors have thus turned away from bitcoin due to questions surrounding the mining process. Tesla CEO Elon Musk, for example, has rescinded his decision to accept BTC payments for any Tesla-based goods and services, while Kevin O'Leary of "Shark Tank" fame says he will no longer buy bitcoin mined in China given that it still utilizes coal and standard fossil fuels to extract new units.
All this does not place bitcoin or BTC mining in the best light, but Riddett is confident his way is greener, fresher, and better for the atmosphere. In a recent interview, he explains:
Years ago, farmers were encouraged to develop green energy solutions, which is one of the reasons why we have seen solar panels appear in fields over the last ten years, and these schemes came with good financial incentives. More recently, those incentives have dwindled to virtually zero, but our machines are now providing those incentives.
Riddett is tasked with operating a large mining system that utilizes methane from cow waste. This methane powers the several "computer graphics cards" that go into the mining machines. In addition, the company also utilizes several wind and solar-based generators to establish the energy needed to mine new units of bitcoin.
Despite the strength of the company, Riddett claims he has very little knowledge regarding how it all works. At the end of the day, he is the business owner, but could not even write "a single line of code" per his own words. He states:
I have always been business minded, but I am not a tech nerd. I just had months and months of studying the market to learn about cryptocurrency and blockchain while having lots of late nights watching YouTube videos about it.
Things Couldn't Be Cleaner…
In the end, however, he confidently mentioned in his interview that the work he is doing "could not be greener. He says:
When we started this business four years ago, green energy was not on our customers' radar, but now it is approximately 40 percent of our business, and growing every day.
Tags: Bitcoin Mining, cow manure, Josh Riddett Coinsmart. Beste Bitcoin-Börse in Europa
Source: https://www.livebitcoinnews.com/30-year-old-entrepreneur-josh-riddett-uses-cow-waste-to-mine-bitcoins/